I'm sure you've heard that breakfast is the most important meal of the day. When you think about it, it makes sense. It gives our bodies and brains the fuel we need to get going in the morning.
However, eating first thing in the morning wasn't always a daily ritual for everyone. It wasn't until after Tudor-era that folks increasingly started working for employers instead of working for themselves. That big breakfast was imperative to working longer days, especially because they were no longer operating on their own time. Now in the post-Industrial Revolution days, most people are eating breakfast before heading to their 9-to-5s.
Related: Healthy Protein-Packed Breakfast Ideas for When You're Tired of Eggs
In the U.S., we mostly think of foods like eggs and bacon as breakfast foods. But around the world, people eat tons of different foods in the morning. So, if you're tired of your regular ol' breakfast menu – or maybe your breakfast only consists of a massive coffee as you dash out the door – check out these breakfast dishes from around the world!
Israeli Breakfast from Israel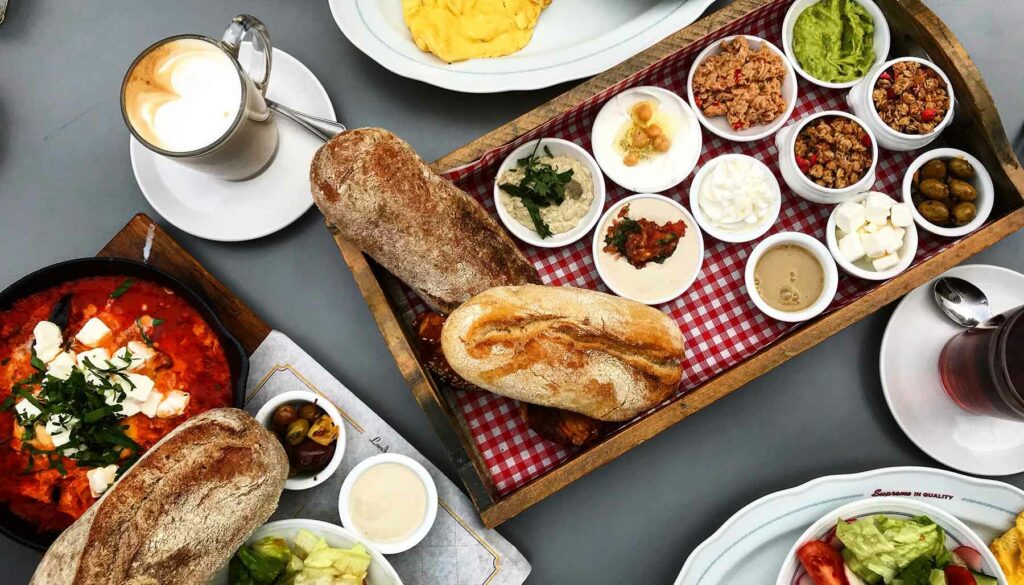 This unique style of breakfast originated in the kibbutz, which is a type of settlement unique to Israel. It was traditionally based on agriculture. Residents of a kibbutz would eat together in a communal dining hall. It would be a mid-morning buffet-style meal after having worked in the fields some already.
Really, it wasn't until Israeli hotels began to promote the Israeli breakfast to travelers that it really took off. The breakfast spread will include items like fish, Israeli salad, hummus, halloumi cheese, eggs, baba ganoush, olives, fresh vegetables, and lots of bread. Unlike many other breakfast dishes around the world, this one contains no red meat or poultry. This is because meat and dairy are not served together in Jewish households, and pork products are not consumed.
Chilaquiles from Mexico
Have you tried chilaquiles yet? This traditional Mexican breakfast dish is simple, hearty, and delicious. Plus, it's an easy and tasty way to use up leftover tortillas, so it scores extra points in my book.
Tortillas are cut into quarters and fried and are then cooked in salsa and sprinkled with cheese. You'll usually find it topped with Mexican crema (very similar to sour cream) and a fried egg, as well. Depending on where you are in Mexico, it's likely that chicken, refried beans, avocado, or other regional favorites may be added to the mix. I'll take all of the above!
Related: Tasty 'Breakfast for Dinner' Recipe Ideas
Full English Breakfast from England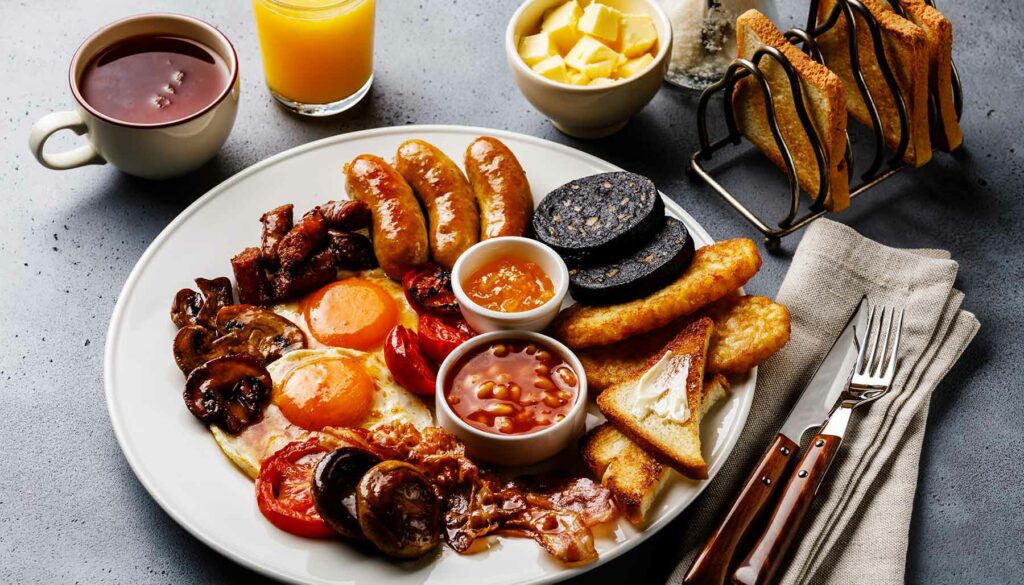 The Full English Breakfast, also known as a fry-up, is an instantly recognizable dish. Since at least the 13th century, it has been served in some form or another. Although it has evolved over the centuries, it is still eaten today!
Take the word "full" seriously. This meal is the definition of substantial! It features a heaping plate filled with bacon, eggs, sausage, bubble, and squeak (potatoes and cabbage), baked beans, tomatoes, and mushrooms, all served with buttered toast on the side. Winston Churchill famously started his day with this fry-up each morning as he read newspapers and reports. Don't forget the English breakfast tea to wash it all down!
Full Irish Breakfast from Ireland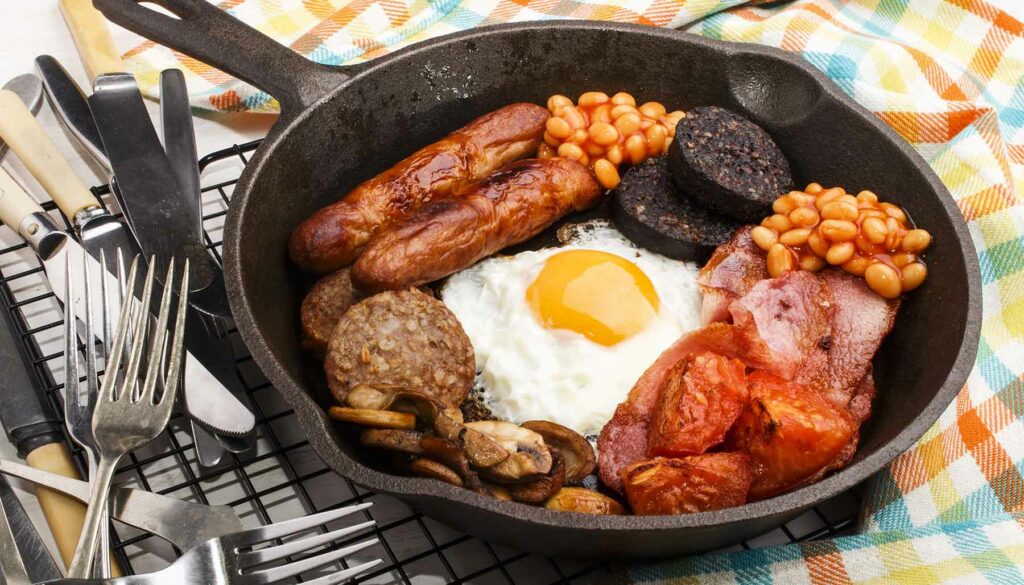 Of course, the Emerald Isle has its own version of a fry-up. It's relatively similar to the English counterpart, with a few key differences. It's a giant plate loaded with bangers and rashers (that's Irish for sausages and back bacon), canned baked beans, Irish soda bread, cooked tomatoes, and button mushrooms cooked in butter.
There are two other items you will find included on this plate: black and/or white pudding. Without this addition, it's not a true full Irish breakfast! The name may be misleading to most Americans because they're not anything like what we call pudding. Instead, these pork products are more like fat sausages. White pudding is made from oats and pork fat, while the black pudding is made from pigs' blood.
Burek from Bosnia and Herzegovina
Burek is a popular dish in Bosnia and Herzegovina that is a favorite for both breakfast and lunch. Sometimes, it's even eaten for dinner! Several other countries in the Balkan region have their own versions of burek, as well.
So, what is it? To make it, a thin, flaky pastry dough is stuffed with a variety of fillings. It is then baked to perfection in a large baking dish. A traditional burek in Bosnia will be stuffed with ground beef, but there are many other filling options to try. Another popular filling is cheese and spinach, and a sweet cream version may be served for dessert.
Kahvalti from Turkey
Speaking of the Balkan region, breakfast in Turkey is incredible. This is because Turkish people regard breakfast as the most important meal of the day, and it is a time for family gatherings. You will see this reflected in the traditional Turkish breakfast known as kahvalti. It consists of a variety of bite-sized, easy-to-eat foods that are spread across the table – making it easy to share with the fam.
Olives, cucumbers, cured meats, eggs, fresh cheeses, dips and sauces, honey, and plenty of bread are typical. The actual list may differ depending on the region and from day to day. It wouldn't be complete without some strong black tea.
Dim Sum from China
If you live in the U.S., it might sound unusual to list dim sum as a breakfast dish. We have dim sum in the U.S., but Americans typically don't eat it at the beginning of the day. However, it is traditionally enjoyed as breakfast or brunch in China.
The meal is made up of small plates containing dumplings and other snack foods, and everything is shared with family and friends. Think of it as a sort of breakfast tapas. Dim sum is usually enjoyed with tea, thanks to the meal's origins in Cantonese tearooms. Silk Road travelers and traders would take breaks in tea houses, and enjoy a dim sum meal before continuing on.
Nasi Lemak from Malaysia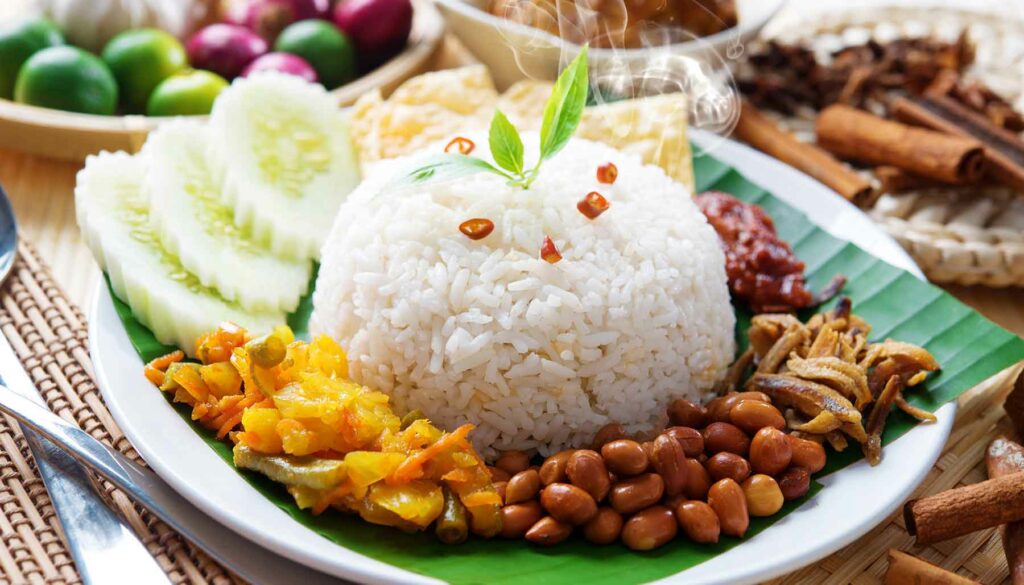 Malaysia has a lot of delicious food, such as laksa, satay, and the popular street food char koay teow. All that said, nasi lemak is so delicious that it's beat out all the rest to become Malaysia's national dish! Nasi means rice, and lemak can be translated as rich or creamy in this context. That all makes sense because the dish is built around creamy rice that has been soaked in coconut cream and then steamed in pandan leaves.
The traditional Malaysian version will include foods like sambal, fresh cucumber, peanuts, anchovies, and a fried or boiled egg. However, all those ingredients can differ, depending on the region and the chef preparing the dish.
All-American Breakfast from the USA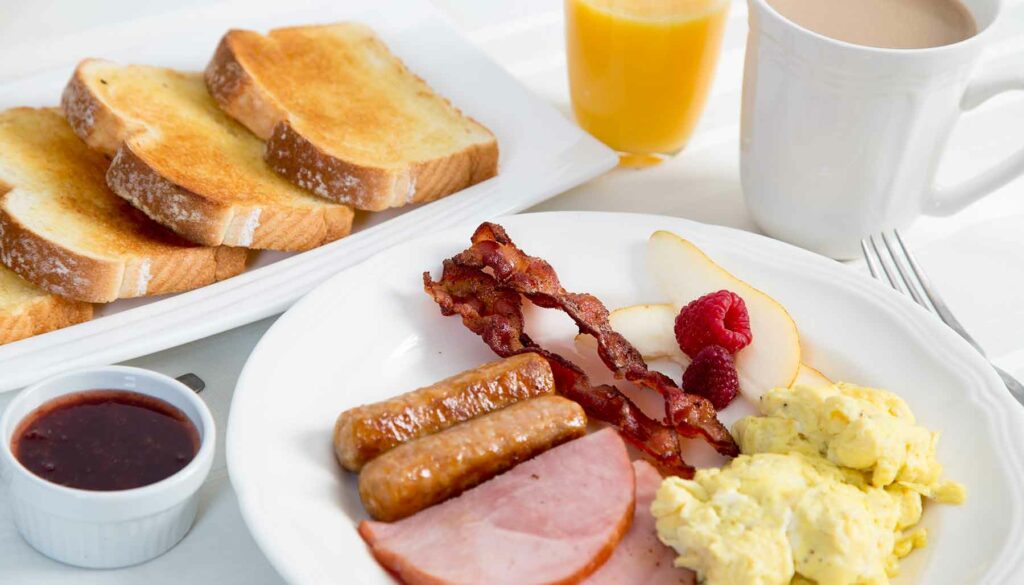 Most Americans aren't eating a full all-American breakfast every morning. Everyone is typically rushing around to get to school or work on time, which limits the amount of time we've got to enjoy a big breakfast. But during the weekends, when most people are off, that's when people can take the time to have a substantial plate of breakfast goodness.
What appears on the plate will vary by region. Most everywhere, you'll find eggs, bacon, sausage, hashbrowns, and toast, with coffee or juice on the side. A stack of pancakes is likely, and you're likely to find grits or biscuits and gravy in the South. Despite regional differences, you can expect a heaping plate of salty goodness. Who's ready for a nap?
Read More: Want to Eat Healthier at Fast Food Chains? Here's How