When it comes to social media influencers, we often think of their bread and butter: engaging videos with witty commentary from camera-friendly personas. They amass scores of followers, monetize content, and even pick up brand endorsements and sponsorships.
However, many digital content creators are looking for a more traditional medium to continue their success: published books. And for food content creators, this means cookbooks!
FoodTok is a very special (and tasty!) corner of TikTok. Plus, you'll find foodie influencers across social media, from Instagram to full blogs. Personally, I love all these new avenues for finding food inspo. Look, Ina Garten is great and all, but there are only so many times I can watch her make beef bourguignon while sipping a glass of wine with her famous friends.
I want to see tried-and-true time-saving dinners from a busy mom of three. Let's test out some never-before-seen culinary mashups. Can we make cooking from scratch with fresh ingredients accessible to everyone?
Related: When to Replace All Those Pantry Staples
And now, all of those unique takes on cooking are in bonafide books. That means I can sift through the pages in search of the perfect weeknight dinner recipe or earmark that perfect appetizer that always pleases party guests.
If you're ready to whip up the best of the best from FookTok and beyond, check out these cookbooks from foodie influencers!
The Korean Vegan Cookbook: Reflections and Recipes from Omma's Kitchen by Joanne Lee Molinaro
Although many see Korean food as being synonymous with meat dishes (barbecue, Korean fried chicken, and bulgogi, anyone?), Joanne Lee Molinaro is ready to bring us unbelievable Korean flavors in fully plant-based dishes. Recipes in The Korean Vegan Cookbook include the Jjajangmyun she ate on birthdays and her father's humble Gamja Guk. Some are traditional, while others are reimagined by Molinaro. This book also paints a rich portrait of the immigrant experience and celebrates how much food and our loved ones shape our identity.
The I Heart Naptime Cookbook: More Than 100 Easy & Delicious Recipes to Make in Less Than One Hour by Jamielyn Nye
Busy parents know the value of quick, kid-pleasing recipes. Jamielyn Nye is one of those busy parents, and that's why she founded I Heart Naptime. It's a blog filled with easy, family-friendly recipes that come together before the kids are done napping. The I Heart Naptime Cookbook compiles more than 100 recipes for meals, snacks, and desserts from Nye. You'll never have to ask ,"What's for dinner?" ever again.
Related: Cooking Oils 101: Choosing the Best Oil for Every Recipe
Joshua Weissman: An Unapologetic Cookbook by Joshua Weissman
On the opposite side of the spectrum, Joshua Weissman believes that great cooking takes time. Instead of relying on stuff that was made by someone else – like piling a burger with premade condiments, buns, and pickles – why not try making food from scratch? It might end up being the greatest meal of your life. An Unapologetic Cookbook contains over 100 delectable recipes that won't let your tastebuds down.
Poppy Cooks: The Food You Need by Poppy O'Toole
Unlike most other foodie influencers, Poppy O'Toole actually has a Michelin-starred past. She spent a decade working in professional kitchens, and some of those kitchens were in Michelin-starred restaurants. Unfortunately, she was let go when the pandemic hit. But, she used that as an opportunity to launch a massively successful TikTok channel. Now, she's authored Poppy Cooks: The Food You Need, which is filled with core skills and recipes to help everyone up their at-home cooking game.
Related: Versatile Ingredients You Should Always Have On Hand
What's Gaby Cooking: Everyday California Food by Gaby Dalkin (photography by Matt Armendariz)
Gaby Dalkin is a blogger and all-around social media fixture that focuses on that California state of mind. According to her, the "California Girl Life" is filled with really good food and plenty of food-related adventures. In keeping with that Cali spirit, What's Gabby Cooking: Everyday California Food is filled with easy and healthy recipes that take advantage of fresh produce. You'll find things like avocado toast, grain bowls, greens, and grilled fish.
Cooking With 5 Ingredients From Trader Joe's: Simple Weeknight Meals Using Your Favorite In-Store Products by Tracey Korsen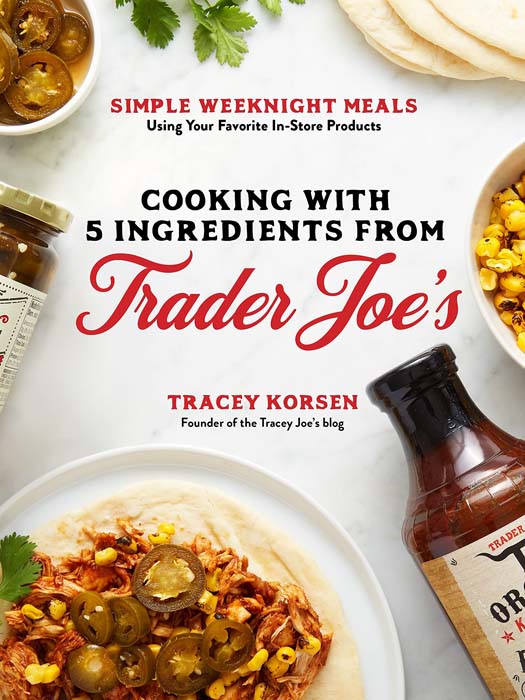 The ability to build your own brand and reach people means that you can kind of do it however you want. I mean, provided there are enough other people out there who are interested in the same thing. Tracey Korsen, better known as Tracey Joe's on Instagram, has been dishing out her Trader Joe's-inspired recipes for a few years now. And now, this self-taught recipe developer has a cookbook to boot. If you're interested in dishes that exclusively use ingredients from the popular grocery chain, check out Cooking With 5 Ingredients From Trader Joe's: Simple Weeknight Meals Using Your Favorite In-Store Products.
Cooking With Shereen From Scratch: Because You Can! By Shereen Pavlides
Shereen Pavlides is the star behind the mega-viral brand Cooking With Shereen. She delivers knowledge about cooking from scratch to millions of fans on social media. She's now compiled 60 impressive recipes into one book so that you can cook home-cooked meals from scratch. There are a variety of recipes in Cooking With Shereen From Scratch, from regular weeknight dinners to fare fit for a show-stopping party. But all of them focus on making delicious food without depending on frozen, pre-cooked, or store-bought ingredients.
Breakfast for Dinner: Recipes for Frittata Florentine, Huevos Rancheros, Sunny-Side-Up Burgers, and More! by Lindsay Landis and Taylor Hackbarth
I'm a sucker for eating breakfast foods at dinnertime, and I'm clearly not alone. Lindsay Landis and husband Taylor Hackbarth are normally chronicling their culinary adventures on their blog. Of course, they also took the time to pen their own cookbook. Breakfast for Dinner is more than just serving up pancakes on the dinner table. It promises to be a "celebration of breakfasts meant for the dinner table," reimagining traditional breakfast fare into original "brinner" dishes. You'll find dishes such as breakfast ravioli, bacon fried rice, and cornmeal pancakes with beer-braised short ribs.
Related: Delish Breakfast Dishes From Around the World
As Cooked on TikTok by TikTok (with a foreword by Gordon and Tilly Ramsay)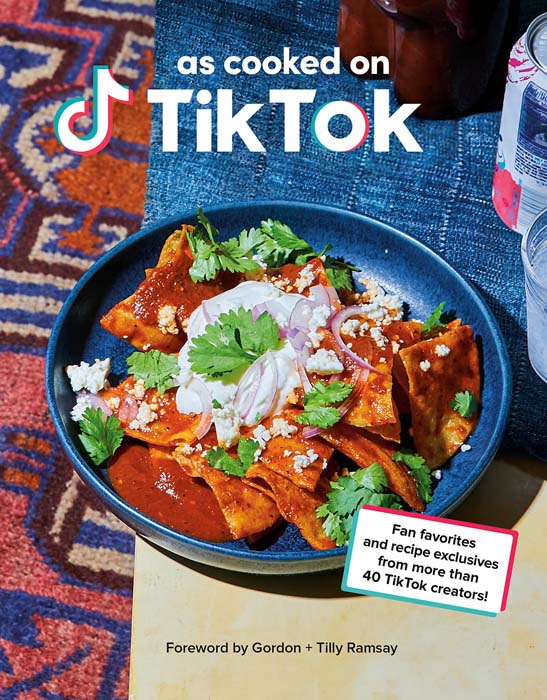 While the rest of the books on our list are from single influencers, As Cooked on TikTok aims to bring a little variety to the table. You'll find something deliciously different on every page. More than forty food creators from TikTok have been tapped to fill the book with some of the most popular recipes to go viral. Each recipe also includes a QR code to scan, leading straight to the creator's page. You might find a new favorite #FoodTok star! The book also features a foreword from celeb chef Gordon Ramsay and his daughter Tilly Ramsay.