I made tofu scramble the other day.
I know that isn't exactly newsworthy or anything. Plenty of people make tofu scramble all the time. It got me thinking, though: what are some other breakfast foods I've been missing out on?
When you're trying to find breakfast foods that can keep you full until lunch, it's easy to get stuck in a breakfast rut.
Eggs make such a great breakfast item because they are high in protein. Protein is obviously a crucial component of a healthy diet, but it is also important at breakfast time because it will keep you feeling full until lunch. That's when you get stuck in that rut. And I'm not knocking eggs or anything, but maybe it's time to jazz things up a bit.
So if you're stuck in a breakfast rut, I've got you covered. Here are some delicious high-protein breakfast ideas that aren't eggs.
Avocado Toast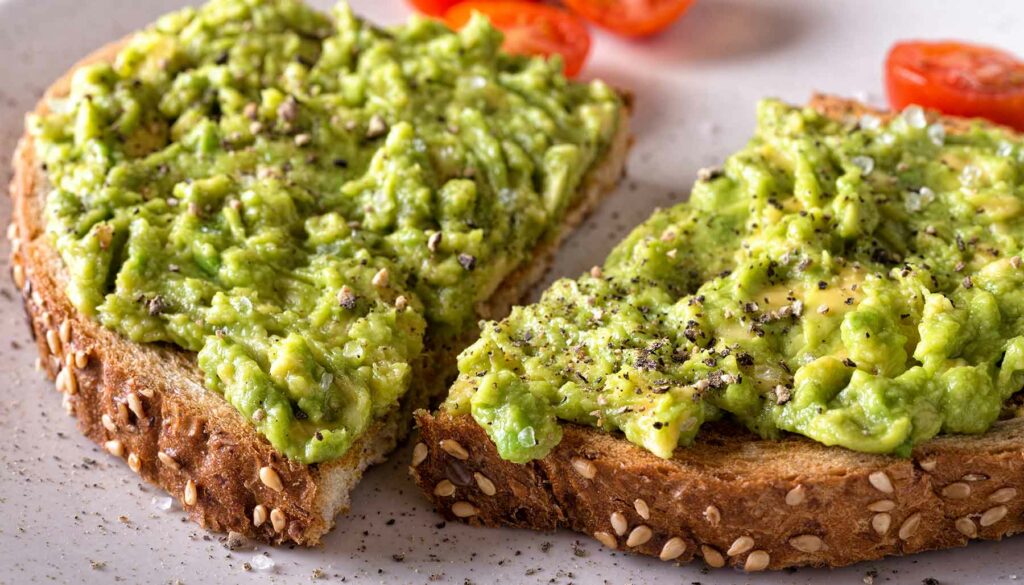 You can't go wrong with a classic avocado toast. It really doesn't get much easier than this trendy food. Plus, avocado toast is endlessly customizable. That means that you can have it for breakfast every morning, without it ever being the same. Avocado slices are good too, but mashed avocado is where it's at when it comes to a toast topping!
Try tomato slices, fresh herbs, pico de gallo, or even smoked salmon on top. Avocado itself contains protein, but you can also add ingredients like sesame seeds, sunflower seeds, or nuts on top to boost the protein even more. Or, swap that regular sandwich bread for something like the nutrient-dense Ezekiel (sprouted grain) bread, which is also rich in protein.
Check out the recipe here: Avocado Toast With Six Easy Recipes
Ricotta Toast
Most people have had trendy avocado toast, but have you had ricotta toast? Once you try this, ricotta might be your new go-to breakfast ingredient. That's because not only is it creamy and delicious, it is also a good source of protein.
Much like avocado toast, ricotta toast is endlessly customizable. Just slather ricotta cheese on some toast and go nuts with plenty of topping options. Ricotta lends itself to both sweet and savory variations, so don't be afraid to mix it up. Personally, I prefer toppings like tomatoes, fresh herbs, and a little sea salt. However, you can't go wrong with fruits like blueberries or pears!
Check out the recipe here: Nine Ways to Make Ricotta Toast
Banana Nut Overnight Oats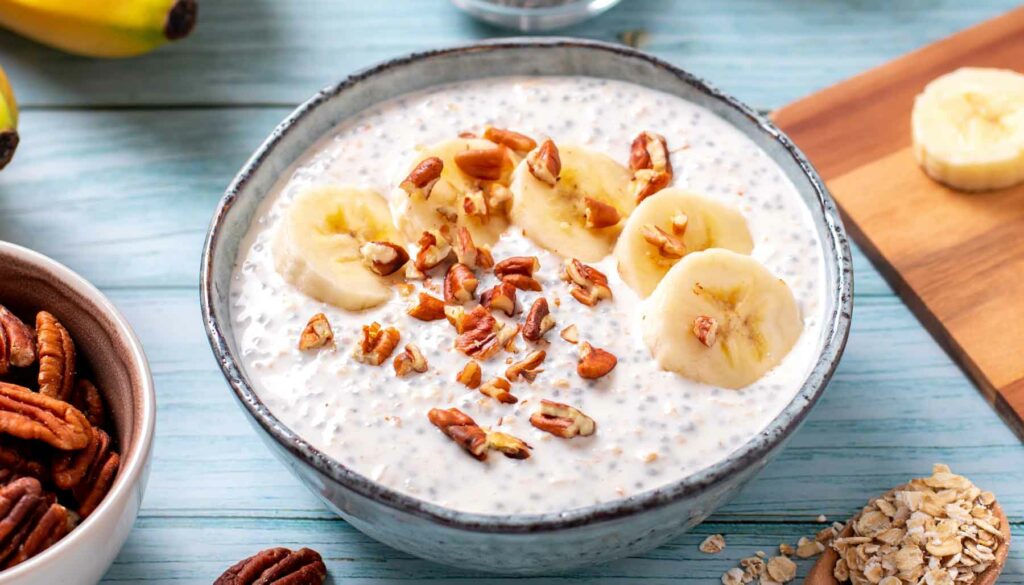 Overnight oats are the perfect breakfast choice for people who hate mornings. They are prepped the night before (hence the name) so you don't even have to think about breakfast in the morning – just grab it and go. Similar to ricotta toast, overnight oats can go in both savory and sweet directions.
I like this recipe for banana nut overnight oats because it comes out tasting like a dessert! My tastebuds are none the wiser that this is actually a protein-packed breakfast dish that will keep me feeling fuller for longer.
Check out the recipe here: Banana Nut Overnight Oats
Pumpkin Protein Pancakes
Pancakes aren't always considered a healthy option. Most of the time, they are made with refined white flour, which lacks nutrients and can cause blood sugar spikes. And they're usually smothered in pancake syrup – which is really just a bottle of high fructose corn syrup and has no relation to real maple syrup.
These pancakes prove that pancakes can be a healthy choice, after all! With ingredients like whole wheat flour, Greek yogurt, rolled oats, pumpkin, and pecans, you're looking at a high-protein, high-fiber breakfast to keep you satisfied.
Check out the recipe here: Pumpkin Protein Pancakes
Peanut Butter and Banana Toast
I know that you don't really need a recipe for putting sliced bananas and peanut butter on a piece of toast. I'm pretty sure that everyone has tasted this childhood classic at least a handful of times. But what if I told you that we could take it to the next level?
Now, if you'd rather just eat peanut butter and bananas on toast, that's perfectly fine. It's a delicious combo as is. But if you're ready to graduate to an even tastier version, look no further. We're swapping regular, boring sandwich bread for whole grains and adding ingredients like granola and coconut flakes on top!
Check out the recipe here: Gourmet Peanut Butter and Banana Toast
Read More: Eat These Foods to Help Ease Depression and Anxiety
Veggie and Cream Cheese Bagel
I love a good bagel. Unfortunately, they aren't always the healthiest choice. Bagels are really dense. That's what gives them that amazing chewy texture, but it also means more calories. And don't be fooled into thinking that wheat bagels are really any healthier than plain bagels, either.
To keep this a healthier breakfast option, we're going to keep portion size in check – and then load it up with veggies. And although the recipe calls for a rainbow of veggies, you can't go wrong with a little smoked salmon, either.
Check out the recipe here: Vegetarian Cream Cheese and Bagels
Oatmeal Griddle Cakes With Whipped Ricotta
I already mentioned ricotta as a surprising protein source, so you're probably not surprised that it's appearing on this list again. But this time, it's used as a topping on griddle cakes.
These griddle cakes are made with oats, almonds, and Greek yogurt, for a surprising punch of protein. Add in chopped fruit, such as peaches or apples, and you've got a really tasty cake to get your morning going.
Check out the recipe here: Oatmeal Griddle Cakes With Whipped Ricotta Topping
Easy No-Bake Energy Bites
I know that these no-bake balls have chocolate chips in them… but hey, everything in moderation, right? The truth is, these bites are packed with rolled oats, flaxseed, and crunchy peanut butter. That's a lot of protein and other goodness packed into one easy-to-eat, easy-to-make package.
These are the perfect solution for anyone who has zero time in the morning, or really, zero time at all. They come together in a quick fifteen minutes. You can throw together several batches all at once, and then store them in the freezer. Now you've got a super-quick grab-and-go breakfast.
Check out the recipe here: No-Bake Energy Bites
Buckwheat Porridge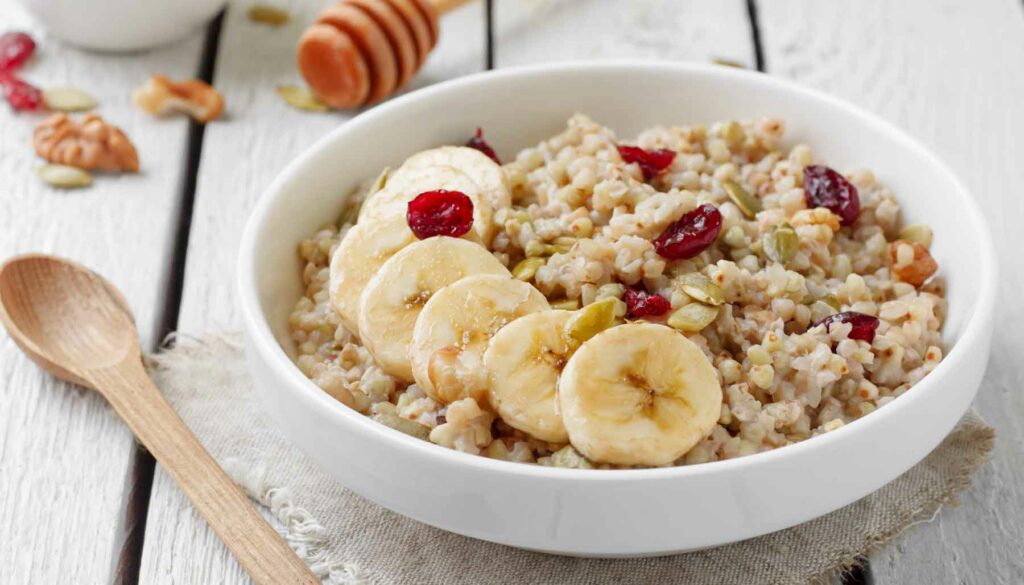 I've talked about buckwheat once before, as a healthier alternative to white rice. Although buckwheat can be considered a little carb-heavy, it also contains protein, fiber, minerals, and antioxidants. Plus, it's gluten-free!
This Russian staple isn't just a rice alternative. It also makes a delicious porridge for breakfast. It's nutty and hearty and will keep you going all morning long. This recipe gives two different variations, but feel free to use any fruits you wish.
Check out the recipe here: Buckwheat Porridge
French Toast Bake
Okay, so this one does have eggs in it, but it still qualifies for this list because it's not an actual egg dish. Right? Right.
This French toast casserole does get a lot of its protein content from eggs, though, because eggs are an egg-cellent source of protein. And unlike some other French toast casseroles, this one isn't loaded down with tons of sugar.
It's also super easy to put together. You will only have to spend around five minutes prepping before letting it sit overnight. When you wake up in the morning, just bake it in the oven! And if you aren't cooking for the whole family, you can always store leftovers in the fridge to be reheated again.
Check out the recipe here: Easy Weekday Protein French Toast Bake
Hummus Toast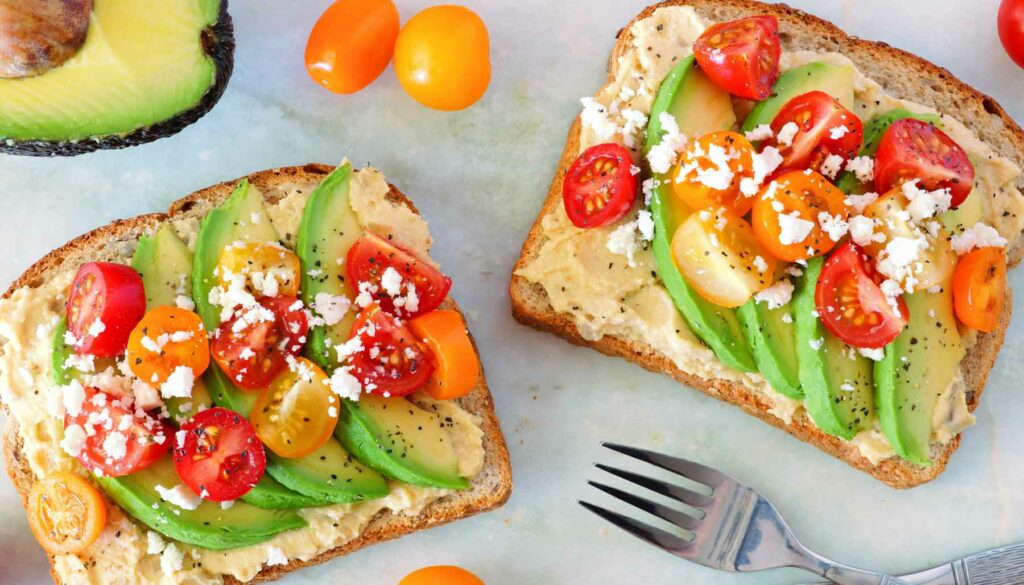 Americans don't commonly eat hummus for breakfast, so it might not be the first thing you think of. However, this incredibly healthy food is commonly eaten for breakfast in the Middle East. It's full of protein, fiber, calcium, iron, antioxidants, and other important nutrients.
After you smear a heap of hummus on your toast, it's time to get creative with toppings. There are a lot of ingredients that go well with it, so don't be afraid to let loose. However, if you need some suggestions to get started, I have several different variations for you to check out below. I really like the tomato basil variation, but the Mediterranean hummus toast might be the best one on the list!
Check out the recipe here: Hummus Toast + Eight Variations
Southwest Tofu Scramble Breakfast Bowl
As I already mentioned, I recently made tofu scramble for the first time. I am fascinated with just how simple it was to make something so tasty – and I'm already looking for all the ways I can use it.
This Southwest tofu bowl is the perfect way to start the day. Choose from any number of Southwest-inspired toppings, like diced onion, black beans, avocado, and more. Any vegetarian will tell you that tofu is an excellent source of protein. Plus, you can store the scrambled tofu in the fridge for an entire week, making this an easy option for meal planning.
Check out the recipe here: Southwest Tofu Breakfast Bowls