I've seen plenty of people working towards eating healthier. Whether it's part of a full diet plan to lose weight, or simply to take better care of themselves, there's a lot of label checking and calorie counting going on lately.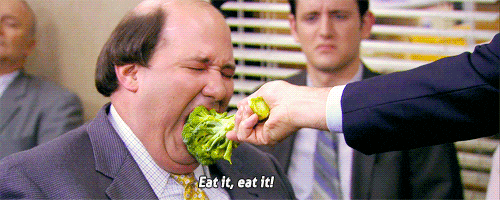 It's all well and good until you're out on a long road trip, and you're nowhere near your kitchen. Or, you just got home from a 12-hour shift. You're just too exhausted to even think about cooking a meal.
What do you do when you can't cook? Well, the obvious choice is taking a trip around a drive-thru for a quick fix. Fast food is an easy, convenient, and cheap option when you're on the go. It's just not all that great when you're trying to eat a healthy diet. After all, fast food isn't necessarily known for being healthy.
A lot of the time, a combo at a fast food joint can rack up 1,500 calories or more. On top of that, you'll also get a whole day's worth of saturated fat and more sodium than what is recommended for an entire day.
Luckily for those of us who aren't trying to scarf down an entire day's worth of calories in one sitting, there are actually some options these days. Many fast-food chains have stepped up their nutrition game in recent years, making it easier for consumers to make better choices.
Now, don't hit up a drive-thru expecting a heaping plate of superfoods or anything. But it's safe to say that some of these chains have started to think outside the Big Mac box, if you will. We're seeing more low-calorie and veggie-forward options on menus.
The key is to plan ahead. Knowing which menu items to order and what ingredients to swap – or skip – can make all the difference. It might seem logical to order a salad or swap a regular burger for a veggie patty, but these surprisingly aren't always the healthiest options. Planning ahead will help you from falling off the healthy wagon.
So, to help you on your healthy journey that requires the occasional fast food run, I give you: healthy-ish options you can find at fast-food and fast-casual restaurants! It will help keep your drive-thru trip from turning into a drive-thru tumble.
Arby's: Roast Chicken Entree Salad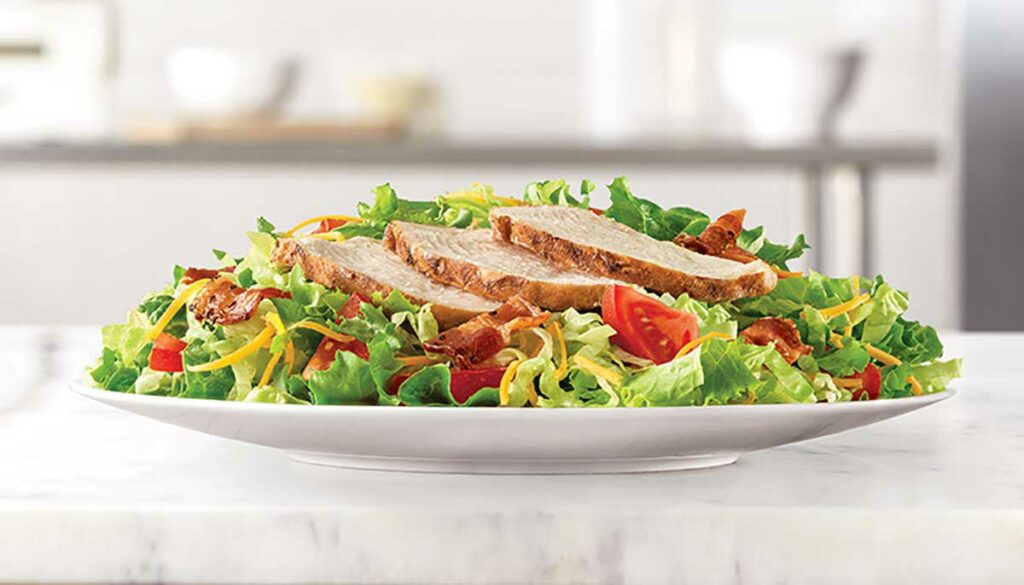 Arby's spends all of their marketing budget on convincing everyone they have the meats, so finding something light here doesn't sound like the easiest task. And before you even think about their healthy-sounding Market Fresh options (I hate to be the bearer of bad news here), these can be some of the least healthy options on the menu.
If you don't believe me about the Market Fresh menu, check this out. The Roast Turkey Ranch & Bacon Sandwich contains more than 800 calories, an entire day's worth of sodium, and as much sugar as a Little Debbie chocolate chip muffin. That's without any sides or drinks. Their Half Pound Beef 'N Cheddar sandwich has fewer calories, sodium, and sugar, and that's saying a lot.
Skip all that mess and order the Roast Chicken Entree Salad. You don't have to skip "the meats" because the juicy chicken is accompanied by crispy bacon. It still comes in much healthier than the rest of Arby's offerings at a mere 250 calories.
Chick-Fil-A: Grilled Chicken Cool Wrap
I know everyone goes to Chick-Fil-A for the iconic fried chicken sandwich, but you and I both know it's not a healthy option. The regular Chick-Fil-A Chicken Sandwich is 440 calories, while its Spicy Chicken Sandwich sibling is 460 calories. They're both loaded with cholesterol, carbs, sodium, and even sugar.
Order the Grilled Chicken Cool Wrap instead for a healthier option that's just as filling. It's only 90 calories less than the Chick-Fil-A Chicken Sandwich, but it has significantly less sodium, carbs, and sugar. It also has 13 grams of fiber, as opposed to 2 grams in the regular sandwich.
Starbucks: Protein Box
To be honest, Starbucks is a little easier than some other places when you're trying to find something healthy, as long as you know what to say "no" to. Obviously, you need to skip the cake pops and brownies. And we all know that the fancy frappuccinos are full of calories.
However, Starbucks also boasts a few healthier, yet filling, options. My favorite is their Protein Box, which actually comes in five different options. You'll find ingredients like nuts, fruit, cheese, and crisp veggies packed in there, sometimes with hummus or mashed avocado. One box features grilled chicken, while another has chickpea bites. No matter which box you choose, they all present a good balance of healthy carbs, lean proteins, and healthy fats.
If you're looking for something even easier to eat while on the go, they also offer high-protein Sous Vide Egg Bites. They are also gluten-free. The Kale & Portabella Mushroom Sous Vide Egg Bites have 230 calories for the pair, while the Egg White & Roasted Red Pepper Sous Vide Egg Bites only have 170 calories.
McDonald's: Happy Meal
McDonald's is a fast-food chain that doesn't exactly make it easy to eat healthily. Quite a few meal options at McDonald's not only pack in the calories, but they have enough fat, carbs, sodium, and sugar to meet recommended limits for an entire day. It doesn't help that some of their healthier options, like salads and the grilled chicken sandwich, disappeared off the menu last year, and the fries are coated in beef fat.
The next time you find yourself at the golden arches, the healthiest thing you can do for yourself (besides leaving, sorry Mickey D's fans) is order a Happy Meal. Smaller portions will help keep you in check, and it comes with apple slices, too. Both the Hamburger Happy Meal and the 6-Piece Chicken McNuggets Happy Meal come in at 475 calories, although the Hamburger Happy Meal has more sugar and carbs in total.
Burger King: 6-Piece Chicken Nuggets King Jr. Meal
I'm sure you thought McDonald's made it hard to eat healthily, but Burger King is here to take the crown. They even offer not one, but three different burgers that top 1,000 calories each. The Bacon King is a whopping burger that comes in at 1,361 calories all on its own.
The key to Burger King is the same as McDonald's: keeping your portions in check. Order a 6-piece Chicken Nuggets King Jr. Meal. Stick with BBQ or Sweet & Sour Dipping Sauce to go with your nuggies to save some calories. If you can stomach swapping the fries for applesauce, you'll also save yourself 265 calories, saturated fat, and tons of sodium.
Subway: No Bready Bowl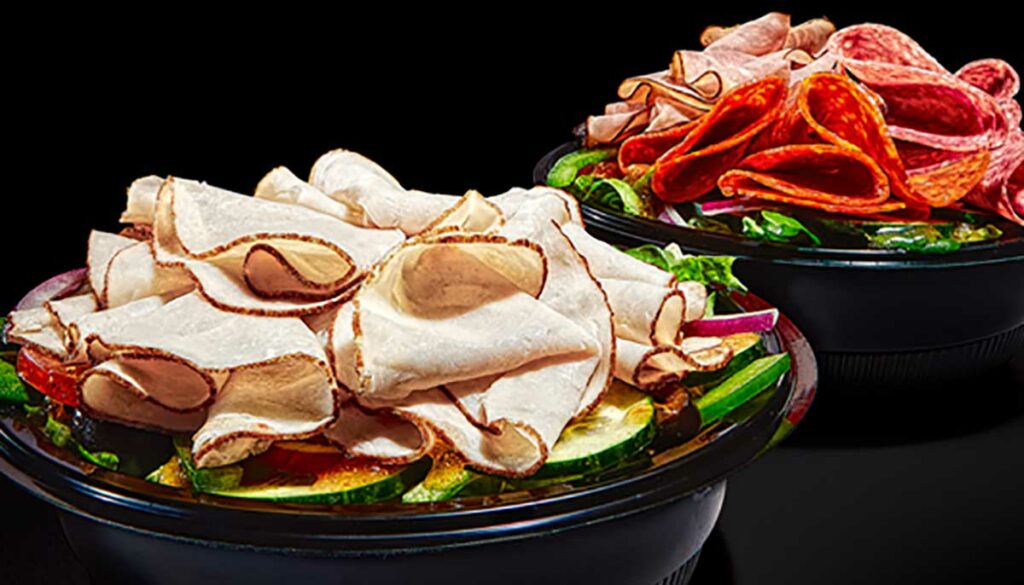 You would think that the "Eat Fresh" chain would be healthier than it is, but it's fast, convenient food after all. The trick is knowing what to order because not everything on the menu is "Fresh Fit" worthy. In fact, if you choose the Italian Herbs and Cheese bread for a small 6-inch sandwich, just the bread alone will knock out 20% of your daily sodium intake.
If you really want to eat healthy while you "Eat Fresh," the No Bready Bowls are the way to go to get your fill. It's just like everything you'd get on a Footlong, without the bread. That means you can focus on loading up on veggies and protein! Just make sure you pay attention to the sauce you choose to keep it healthy. Mayo adds a whopping 200 calories, while the MVP Parmesan Vinaigrette adds 150 cal. That's a lot when you consider the entire Black Forest Ham No Bready Bowl is only 250 calories total after you add cheese.
Taco Bell: Power Menu Bowl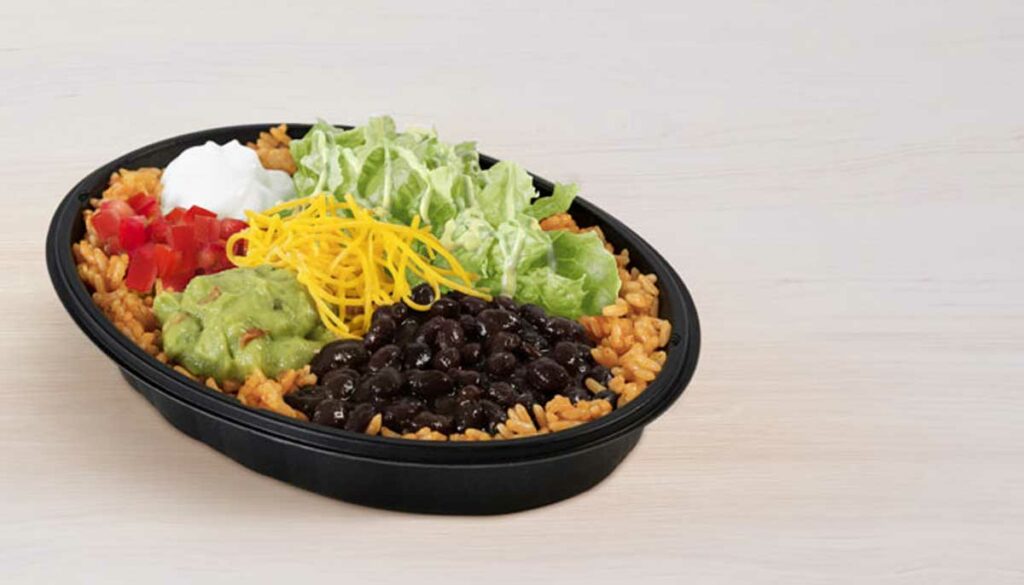 If you're trying to cut calories but still hit the drive-thru, Taco Bell is aiming for your wallet. Not only do they offer an entirely vegetarian menu, but they also have the "fresco style" option that swaps high-fat ingredients like sour cream, cheese, and mayo-based sauces with pico de gallo. Note: this does not mean that everything on the menu made fresco style is healthy… but I'll still eat it…
For healthy-ish eating, I'll always recommend the Veggie Power Menu Bowl. It's full of black beans, cheese, iceberg lettuce, guacamole, diced tomatoes, rice, sour cream, and a creamy avocado ranch sauce. Altogether, you're looking at 410 calories, including 12 grams of protein and 10 grams of fiber. Want a little extra protein? The Grilled Chicken Power Menu Bowl is only 450 calories with 26 grams of protein!
Wendy's: Baked Potato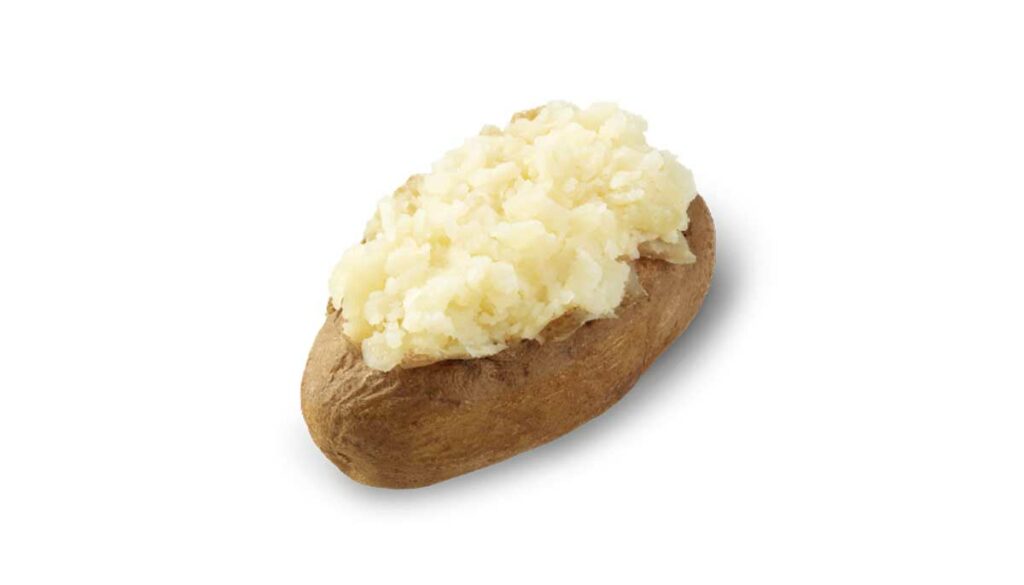 Sometimes I don't think Wendy's gets the credit it deserves. Sure, they have the Frosty and square burger patties, but they largely get lost in the shuffle of fast-food burger chains. It's time to stop skipping past this drive-thru to get to McDonald's, though.
First of all, Wendy's is one of the few big chains left that still has salad options on their menu. Mickey D's, Burger King, and even Taco Bell have ditched the salad bowls. Wendy's still has several to offer, including the Jalapeno Popper Salad.
However, if you're looking for something that's both healthy-ish and super hearty, Wendy's has the always amazing baked potato. The Plain Baked Potato is only 270 calories and brings a serious dose of potassium. Order the Chili and Cheese Baked Potato to pump up the protein, and you're still only looking at 500 calories total.
Panera Bread: Turkey Sandwich or Ten Vegetable Soup
Panera Bread is another chain that tricks you into thinking everything is healthy when it's mostly not. That wide variety of soups, salads, and sandwiches are all secretly loaded with your day's worth of fat and sodium, among other things.
It's hard to avoid high sodium at Panera Bread, even in their low-calorie offerings. Keep that in mind when ordering food here. Even the salads are full of sodium. Ten Vegetable Soup is a good option, at 100 calories per bowl, but the sodium is half your recommended daily intake. Similarly, the Turkey Sandwich, featuring oven-roasted turkey breast, is only 510 calories with plenty of protein, but it's also loaded with sodium.
Chipotle: Lifestyle Bowl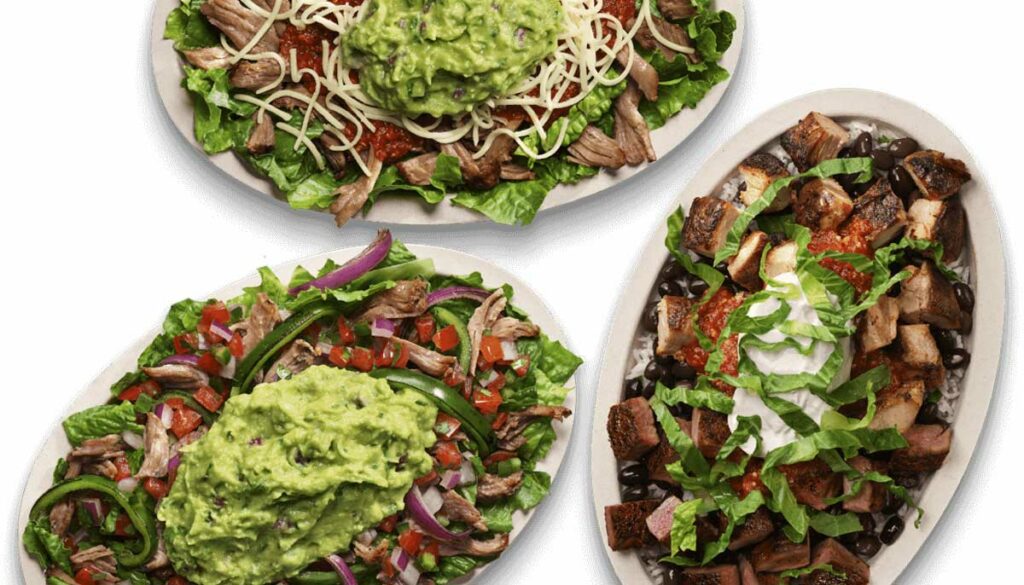 Chipotle emphasizes its use of fresh ingredients and environmentally-friendly sourcing, but don't confuse that for "everything is healthy here!" That's what they're hoping for, but it's not exactly true.
Even still, you can order some pretty healthy meals from Chipotle, you just have to know what to look for. As a whole, the Lifestyle Bowl is where it's at. There are plenty of different options that adhere to different diets, but they're all loaded with vegetables and tend to have plenty of protein and fiber.
You can also build your own salads and burrito bowls, as long as you keep it within reason. Double up on veggies, opt for whole-grain brown rice (or no rice) instead of white rice, and keep the dairy toppings to a minimum.
KFC: Chicken Little Kids Meal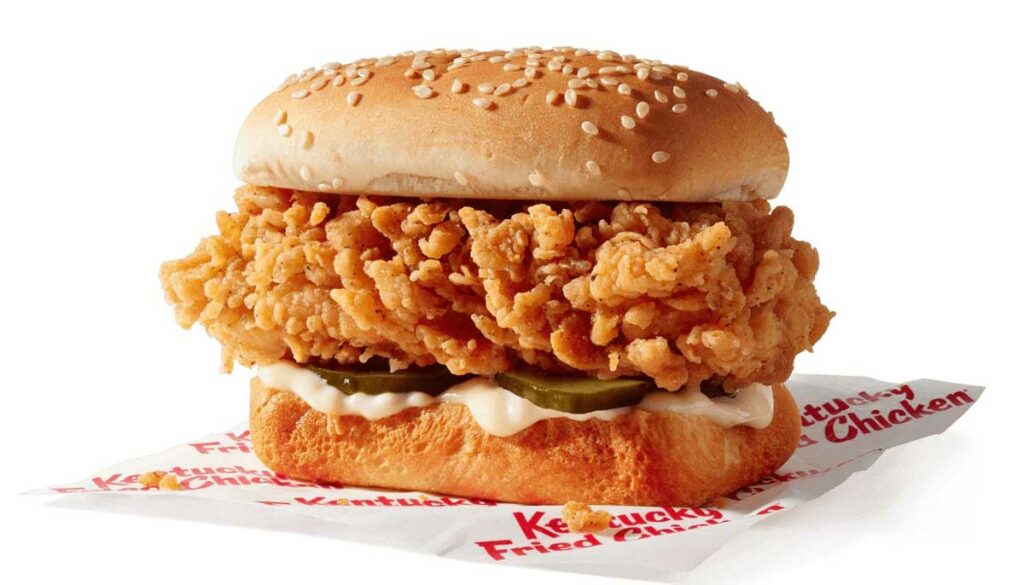 If you're hoping to eat healthy-ish at a fast food joint, KFC is probably at the bottom of your list of options. As it should be. It's got "Fried" right in the title.
Look, if you're trying to eat healthily, avoid KFC at all costs. But if you happen to find yourself in a spot where this is the only option, your best bet is ordering off the kid's menu. The Chicken Little Kids Meal with a side of green beans and some applesauce will only cost you 390 calories. Be careful the side you choose, though. BBQ baked beans will take that total all the way up to 650 calories, and that's a lot of calories for small portions.