If you got a skin issue, there's a good chance retinol can treat it. This transformative ingredient is a pro at fighting acne, fine lines, dark spots, drooping, dullness, dark circles, uneven skin tone, clogged pores, enlarged pores… you name it. Most notably, the best retinol products tackle all these issues simultaneously.
If you're looking for the right retinol, don't assume you need a prescription to get quality results. From drugstore buys to more luxurious brands, tons of over-the-counter options can get the job done and then some. You just need to know what's truly worth buying. So start by assessing your skincare needs.
But before we go further, let's talk about what retinol is and what it actually does.
What Is Retinol and How Does It Work?
Retinol is a derivative of pure vitamin A. In other words, it's a key component in maintaining healthy skin and aiding cell regeneration. Often dubbed skin perfectors, retinols and retinoids work their restorative magic similarly. However, retinols are usually on the gentler side. That's often why amazing over-the-counter finds are easier to come by. But stay tuned for my over-the-counter retinoid roundup coming soon.
Retinol's biggest claims to fame are faster cellular turnover and successfully fighting breakouts. But results will always vary no matter how glowing a retinol review might be. Based on your unique skincare needs, a retinol's strength will play the most significant role in how well it works, or doesn't. As noted by Allure, "Studies have shown that retinol is about ten times less potent than prescription-strength retinoic acid, so I usually recommend products with at least 0.25 percent retinol." 
If you're a first-time user, skin experts advise starting with a lower percentage and working up to stronger formulations to avoid excess irritation. While there are versions suitable for all-day wear, it's generally recommended that you add retinol to your nightly routine, follow with a moisturizer, and thoroughly wash it off in the morning.
Expect at Least a Little Irritation
With all of that said, minor irritation is common while the skin adjusts to a new retinol regimen. Dryness, peeling, redness, and burning are all normal reactions, especially at first. But don't fret. Not all retinols are irritating, and everybody's skin is different. Generally, most irritation will pass as your skin becomes tolerant.
If you have sensitive skin, it's best to start slow. Use your new wonder product every few nights and only graduate to nightly use when it's clear your skin has acclimated.
And always, always, always wear SPF! Retinols work to reveal and regenerate your most baby-smooth skin. In turn, your risk of developing sunburn and skin damage increases when you use them. Frankly, if you're using retinol at night and not protecting your skin throughout the day, you're likely doing more harm than good.
Don't waste your time or money. If you're ready to use a great retinol and get lasting results, protecting your skin is vital.
Murad Retinol Youth Renewal Serum
I've never met a Murad product that didn't make good on its promise. And if your skin is on the sensitive side or you're a first-time user, the Retinol Youth Renewal Serum was formulated for beauties like you. Combatting the irritation and dryness sometimes caused by vitamin A, Murad's Retinol Youth Renewal Serum is formulated with hyaluronic acid, which helps the skin retain moisture. Adding to its non-peeling appeal, this gentle cream contains only 0.3% retinol. But it really works. And it's free from preservatives, fragrances, and parabens.
The Ordinary Retinol 1% in Squalane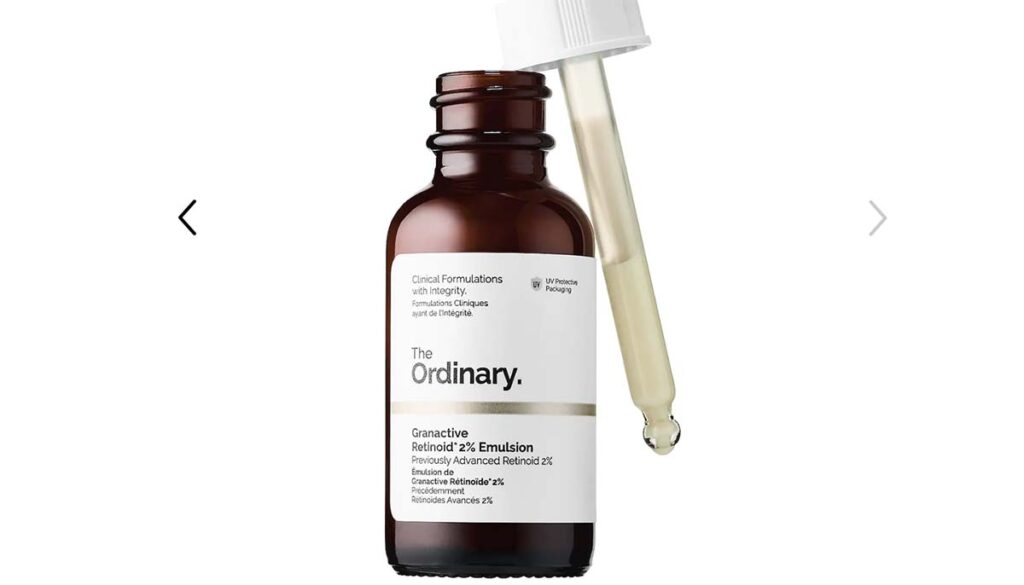 The true beauty of great over-the-counter retinols is that while they're worth every penny, they don't have to cost a fortune. And some are downright cheap. Case in point: this wow-worthy retinol from The Ordinary. Formulated with squalane and blended with jojoba oil, it won't dry your face out. It's high-strength, water-free, and ideal for reviving damaged or aging skin and maintaining a flawlessly balanced complexion.
Related: The Best Serums From The Ordinary to Buy For Different Skin Issues
Paula's Choice Anti-Aging 1% Retinol Booster
If you search the web for retinol roundups, you'd be hard-pressed to find one without this potent perfector from Paula's Choice on it. The 1% Retinol Booster stands in a league of its own for a variety of radiant reasons. For starters, it's innovatively designed to be seamlessly added to your moisturizer. It's also working with soothing ingredients like licorice and oat extract. Adding to its uniqueness, this one hydrates instantly while gradually releasing its high-strength, deeply effective, encapsulated formula.
Kiehl's Retinol Fast Release Wrinkle-Reducing Night Serum
Kiehl's Retinol Fast Release Wrinkle-Reducing Night Serum goes the extra mile, to put it mildly, Deeply penetrating. It works its way into 15 surface layers to accelerate skin turnover. And this one's said to work its magic in just five days. The standout serum's 'fast-release' formula contains 0.3% pure retinol. According to Kiehl's website, 100% of those who tried it saw a "reduction in wrinkles."
CeraVe Resurfacing Retinol Serum with Ceramides & Niacinamide for Blemish-Prone Skin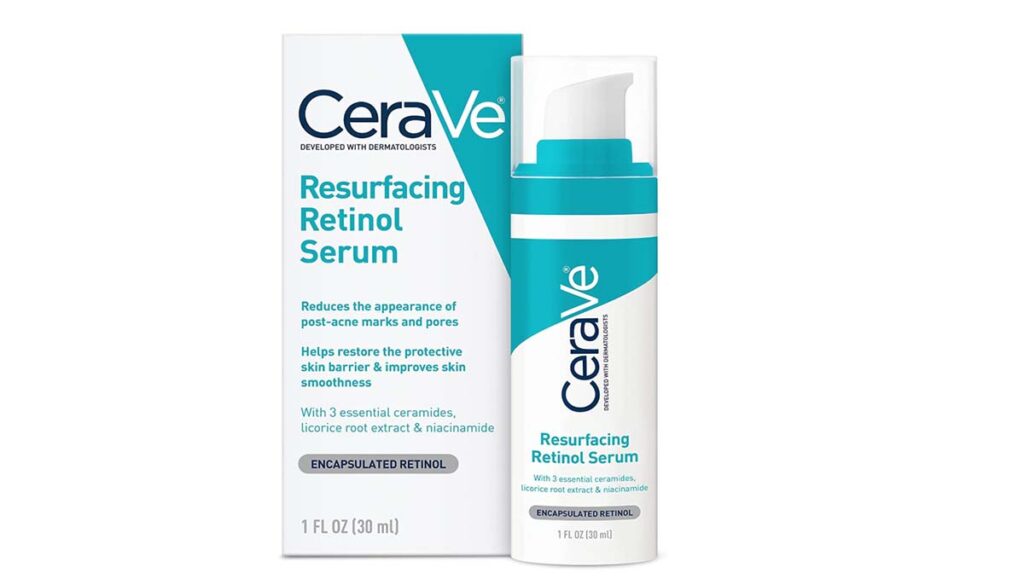 If you're still a little nervous about trying retinol, CeraVe is here to put your mind, and skin, at ease. Ideal for first-timers, CeraVe's Resurfacing Retinol Serum was developed by brainy and beauty-savvy dermatologists. This gentle yet effective retinol reduces fine lines and diminishes the appearance of acne marks without compromising the strength of your skin barrier.
Elizabeth Arden Retinol Ceramide Capsules Line Erasing Night Serum
These serum capsules from Elizabeth Arden are wrinkle-busting wonders. The Retinol Ceramide Capsules Line Erasing Night Serum is great for on-the-go use. The pods preserve the retinol's potency, making it 76% stronger than unencapsulated varieties. And the ceramides help to keep the skin hydrated.
First Aid Beauty Skin Lab Retinol Serum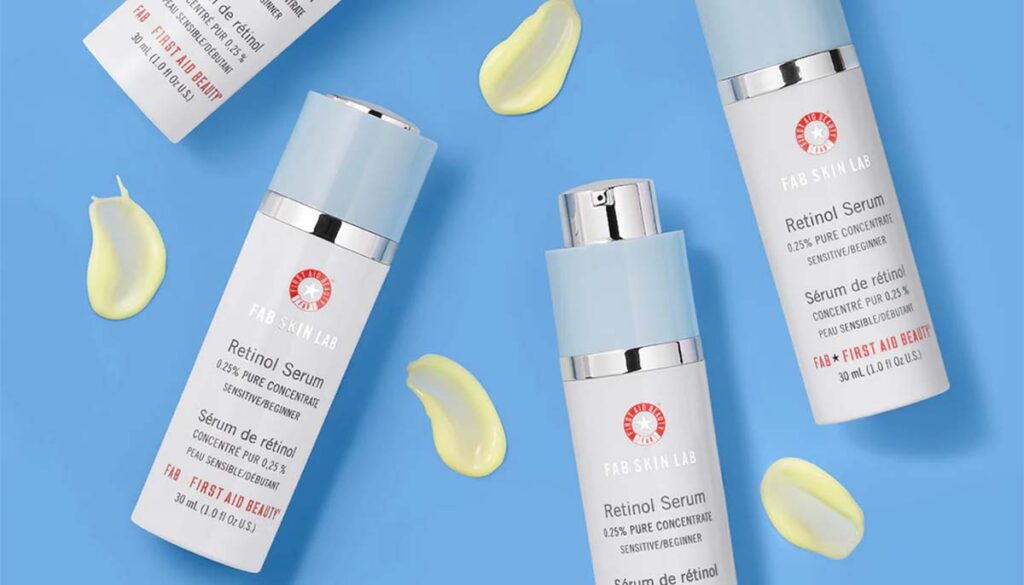 First Aid Beauty knows its way around sensitive skin. That's especially true when it comes to its rightfully popular retinol. The Fab Skin Lam Retinol Serum 0.25% Pure Concentrate is gentle, fragrance-free, and comes with a miracle mixture of skin-soothing ingredients like colloidal oatmeal, vitamin E, allantoin, and aloe. When it comes to anti-aging properties, FAB didn't skimp on the good stuff. They've loaded this retinol serum with hyaluronic acid, potent peptides, brightening vitamin C, and skin-strengthening ceramides.
Peter Thomas Roth Retinol Fusion PM Night Serum
Almost strong enough to be prescription, Fusion PM keeps climbing to the top of best retinol lists. And it's the real deal. Boasting a 1.5% concentration of encapsulated, time-released retinol (making it surprisingly gentle), you're getting so much more than you bargained for with this one. Packed with a mega dose of antioxidants, you'll be showing your skin some serious love, too. It's also formulated with squalane and humectants, which help prevent irritation. The longer you use this one, the more you'll see why beauty buffs can't get enough of it. Over time, your skin will become significantly smoother, firmer, bouncier, and brighter.
Olay Regenerist Retinol24 Night Serum With Retinol & Vitamin B3
Those who swear by this one say once they lathered it enough times, they never looked back. Highly effective and highly affordable, Olay's Retinol24 Night Serum is potent and amplified by the power of vitamin B3 (niacinamide). This multi-tasking complex is smoothing, wrinkle-reducing, and masterful at fading even the darkest dark spots. It's also instantly hydrating. Your skin will appear more supple the second you put it on, and it only gets better with time.
Typology Fine Lines & Wrinkles Serum 0.3%. Retinol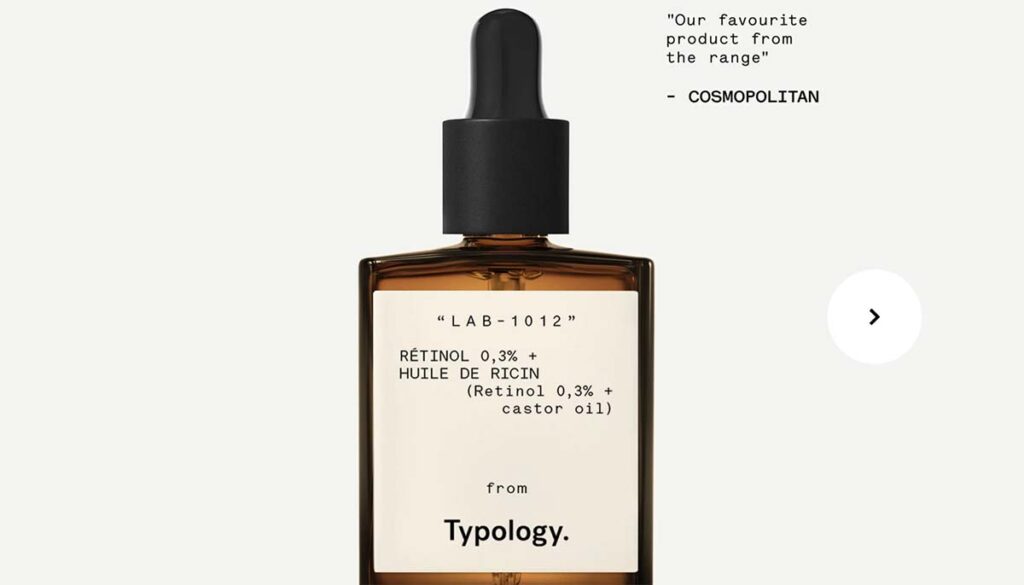 99% naturally derived, this Paris-based, environmentally-friendly brand is easy on the eyes and serious about sustainable, swoon-worthy skincare. If you're looking to ease into a retinol routine, the Fine Lines & Wrinkles Serum 0.3%. Retinol is on the lighter side. Still, it packs a uniquely powerful punch. Blended with castor oil, its water-binding properties help the skin better absorb its ingredients. And the amber-hued bottle extends the shelf life.
In general, retinol can become unstable when exposed to light and heat. That's why beauty gurus suggest storing retinol in the fridge.
Drunk Elephant A-Passioni Retinol Cream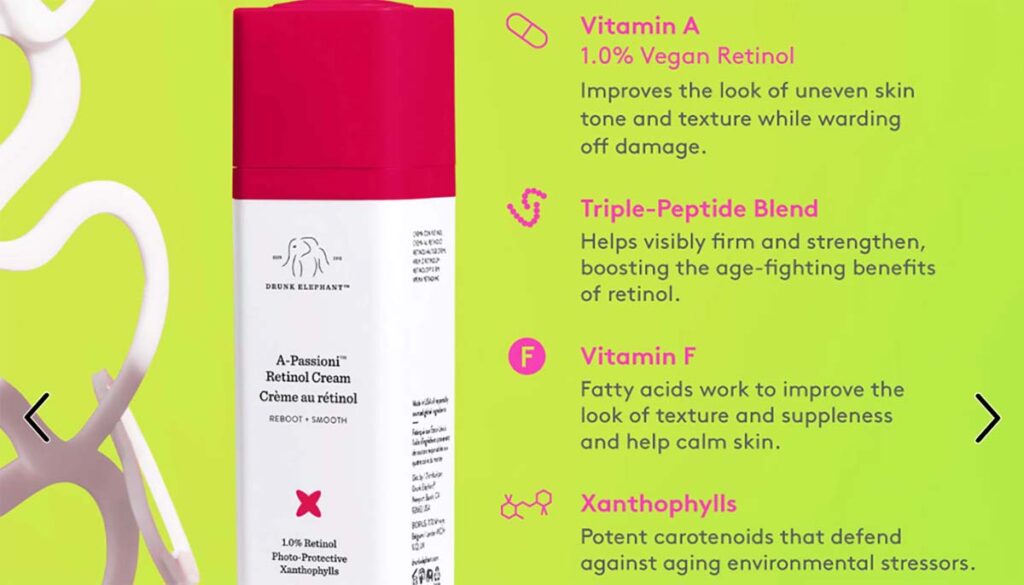 If I'm honest, this brand has been so endlessly hyped up (and for so many years) that I didn't want to praise their retinol. Not to mention, I worried wildly glowing reviews were just too good to be true. But alas, Drunk Elephant's A-Passioni Retinol Cream has earned its bragging rights.
If your skin is highly reactive and hard to please, you'll likely be dazzled by this plumping perfector. This ultra-clean, fatty acid-rich formulation boasts 1% retinol. It's also peptide packing and collagen boosting. Blended with a plethora of botanical extracts, it's rejuvenating, balancing, refreshing, and surprisingly gentle. A vitaminized treat for your skin, it works with superfood ingredients like passionfruit, kale, apricot, and cherry.
Neutrogena Rapid Wrinkle Repair Regenerating Retinol Cream
If you're looking for a budget-friendly brand you can always count on, look no further than Neutrogena. The Rapid Wrinkle Repair Regenerating Retinol Cream masterfully combines retinol with a glucose complex and hyaluronic acid. Also, accelerated Retinol SA is the star ingredient, which the brand claims will speed up retinol's effects. More research needs to be done to confirm just how much faster it really works, but this non-irritating retinol still works wonders, and that's what matters here.
Read More: Under-Eye Creams Worth the Price Tag