SPF and skincare products are getting more sophisticated all of the time. Lately, they're starting to appear in promising combinations more frequently. If you've dreamed of a comprehensive broad-spectrum sunscreen with skin-soothing benefits like free radical protection, brightening, hydration, and acne-fighting properties, I'm here to tell you those SPF skincare dreams are coming true.
With the latest formulations, next-level sunscreens can function as skincare products too. This means we can finally protect our skin from the sun and get the benefits of oils, serums, and so on with an all-in-one product. More and more, these brands are finding brainy ways to bypass sunscreens' typical downfalls, like being greasy, chalky, or pore-clogging. Brands are becoming obsessed with perfecting and broadening what an SPF can be. Frankly, so are we, and for good reason.
Whether you suffer from breakouts, redness, dehydration, fine lines, dullness, dark spots, or other forms of hyperpigmentation, there's an SPF on the market designed with your skincare needs and desires in mind. And, of course, they all protect against UVA and UVB damage with the most advanced and evolved sun filters and mineral block technology.
UV Rays Can Make Many Skin Concerns Worse
We're all familiar with the lasting effect of sun damage and the dangers of not protecting our skin. As noted by one Byrdie expert, "UV rays can make skin concerns worse, especially post-acne scars, age spots, and wrinkles."
The more we learn about the importance of wearing sunscreen and taking care of our skin, brands are jumping at the chance to make better and better products. And so, our options are constantly expanding all the time.
If you prefer your traditional sunscreens, there's no harm in sticking with what you know and love. But if you can find a dual-action product that works for you in more ways than one, why not give a forward-thinking formulation a try? In the world of skincare SPFs, these are widely regarded as some of the most innovative, enhancing, correcting, and protecting.
EltaMD UV Glow SPF 36
In recent years, EltaMD has become dermatologists' darling. Not only does it offer top-tier sun protection, but it also comes highly recommended for those with sensitive skin types.
The brand's latest SPF takes skincare benefits to the next level. From eliminating dullness to bringing out your skin's brightest glow, this one gets the job done and then some. It's formulated with advanced skincare actives and vitamins, leaving your face feeling hydrated and healthy.
Thanks to UV Glow's triple antioxidant blend of niacinamide, vitamin E, and ergothioneine, skin experts say your skin will not only look its best but reach its full potential whilst warding off harmful free radicals.
Mara Algae + Zinc Sea Kale Sunscreen Sérum SPF 30
If you're not using marine botanicals with plant oils in your beauty routine, I highly recommend you start. Beauty experts deem this potent combination an anti-aging and skin nourishment powerhouse. Here are six major benefits of algae in skincare, compliments of MindBodyGreen.
The first of its kind, Mara's marine botanical blend with 100% oil-soluble zinc works to protect and treat. Per Byrdie, the creators "believe every ingredient in a formulation should serve a purpose, even in SPF."
This little number boasts plant oils like moringa mixed with an algae blend and marine actives, which fights against blue light damage, combat photoaging, improves elasticity, help with firmness, and pack a powerful punch of vitamin C to defend against oxidative damage.
Skinceuticals Daily Brightening UV Defense SPF 30
Skinceuticals Daily Brightening UV Defense Sunscreen employs things like antioxidant niacinamide to help treat and prevent dark spots and discoloration. One of its unique star ingredients is tranexamic acid.
According to Healthline, "Tranexamic acid for the skin can act as a brightening agent to reduce dark spots and improve hyperpigmentation…This is because tranexamic acid interferes with melanin production."
And its creators had this to say. "This formula is a major innovation as the ways in which the ingredients interact together truly offer a multi-benefit product that is significantly different from a traditional SPF," per Byrdie.
Dr Sturm Sundrops SPF 50
Dr. Barbara Sturm knows a lot about skincare. As Vogue puts it, believe the skincare hype when it comes to Dr. Barbara Sturm. And if you prefer SPF-free moisturizers to those with SPF, Dr. Sturm now has a solution.
With just a few drops of this radiance-boosting serum, your skin will be protected with SPF50 and glowing. And yes, you can apply it straight to your skin.
ZitSticka MegaShade Breakout Proof SPF 50 Serum
Face sunscreen is infamous for clogging pores, irritating sensitive or acne-prone skin, and capable of causing breakouts to even those with typically flawless skin. Diligent daily use can leave your pores clogged and irritate acne-prone skin. But alas, wearing SPF every day is important for all of us.
ZitSticka MegaShade Breakout Proof SPF Serum is designed with this classic conundrum in mind. Their claim to fame? "Creating a sunscreen that not only won't induce pimples but that actively works to calm them in the process as it helps stop dark spots from forming or worsening," per Byrdie. ZitSticka also promises to add non-greasy hydration to the skin. But wait, there's more.
This formulation was also created to fight/treat acne. In addition to SPF actives, they've thrown niacinamide, tea tree, and hyaluronic acid into the mix, all three of which are famed for soothing irritation. Many reviewers with blemish-prone skin have said it's the only one that doesn't make them breakout. It also has skin-enhancing ingredients, like ferulic acid, vitamin E, vitamin C-rich Kakadu plum, hyaluronic acid, and ceramides.
Urban Skin Rx ShineBlock Oil Control Moisturizer SPF 30
If you need something that soothes and hydrates sensitive or blemish-prone skin, give SHINEBLOCK an immediate try. Formulated for melanin-rich skin types, this SPF 30 wonder moisturizer uses oil-controlling ingredients like camphor bark.
It also uses safflower extract to help with shine and skin balance. Made with a variation of nano zinc, it's an unusually highly blendable mineral sunblock.
Ultra Violette SPF 50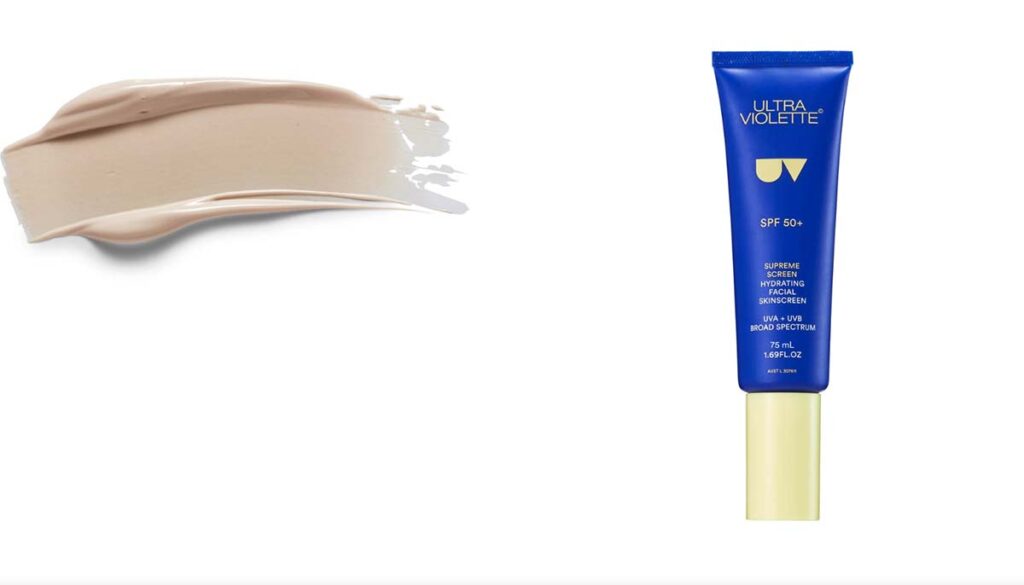 Ultra Violette hails from Australia, the country with the strictest SPF regulations. Not to mention, it has that hot, harsh blazing sun. Thankfully, this brand is at the top of its game.
For starters, it's more pleasant to wear than your average sunscreen. Byrdie experts called it "slick and sensorial." And it's said to do way more than simply shield your skin from the sun (although that's obviously still very important.)
A lightweight serum containing vitamin C-rich Kakadu plum, it boosts the skin's quality and smells like roses. But for those more into mineral varieties, do note that this one is a chemical sunscreen.
Le Prunier Plumscreen SPF 31
I'll be honest; I'm itching to try this one for a plethora of reasons. Le Prunier uses upcycled, antioxidant-rich plums straight from a century-old family farm. Formulated with Non-nano zinc oxide, Plumscreen is all about "nature-meets-science innovation."
Combining broad-spectrum protection with skin-boosting ingredients, it boasts Le Prunier's cult-favorite Plum Beauty Oil, an antioxidant-rich Plum Superfruit Complex. This way, your skin is protected in more ways than one. The oil protects collagen from pollution and blue light along with harmful UV rays. It's topped off with hydrating Zonaria Tournefortii Extract, which wards off future wrinkles and moisturizes the skin. It's also reef-friendly.
It's made with SPF 31, which is great. But the downside for those of us on a budget is that it's about $78 dollars a tube. Fingers crossed, I stumble upon a sample.
UV Plus Anti-Pollution SPF 50 Rose
If you live in a hustling, bustling city, Clarins' latest UV Plus sunscreen might become your new go-to. It's good for all skin types, but especially those concerned with skin pollution or those with oily skin.
This anti-pollution sunscreen wards off both UV rays and pollutants. It also comes in tints ranging from translucent to rose, which does a little more skin brightening.
Supergoop! Superscreen Daily Moisturizer SPF 40
The general consensus is that it's tough to find an SPF moisturizer that doesn't clog the pores. When I invested in Supergoop! Superscreen, I was skeptical about this line's promise of a sunscreen that "does it all." But it definitely delivers.
Not only is it incredibly hydrating, but it's also acne-prone-skin friendly. My skin is pretty sensitive, and I get blackheads easily. While I haven't tried them all, this hybrid sunscreen improves the quality of my skin all around and never breaks me out. And for those who can't find a sunscreen/moisturizer hybrid that works with their makeup, look no further. This one's become a cult favorite for its ability to function seamlessly as a makeup-gripping primer.
Lightweight and bouncy, this beauty award-winning SPF moisturizer is formulated with hyaluronic acid (for hydration), Cocoa Peptides (fights blue damage), Vitamin B5, and Sea Lavender, a powerful antioxidant that protects the skin and locks in hydration. It's designed to combat dullness, dryness, fine lines, and wrinkles while blocking out blue light, UV, and UB rays whilst giving an all-day glow. Talk about a bright idea.
Read More: Summer Sunscreen Rules That Will Protect Your Skin