There's something magical about taking the train, especially when passing by some of the best views on the planet. From globally revered luxury lines to historic rural railways, these iconic and underrated trains offer a rare chance to slow down, take it all in, and just enjoy the ride. So let's!
Here are some of the most scenic train rides in existence.
The Settle-Carlisle Railway
On this 72-mile journey, you'll weave through some of England's most magical countryside. You'll go over hills and around villages, over 24 incredible arches, and inside historic tunnels. You'll likely spot some grazing sheep along the way. Keep your eyes peeled for shimmering lakes and streams as well, compliments of Cumbrian Falls. 
This famous route is just as revered for its scenery as its Victorian architecture. Your final stop will be along the Scottish border in Carlisle. After you've explored the city, you might want to hop back on. This train ride is equally beautiful in both directions. There's so much to see; you can't ogle it all in one ride. 
Kandy to Ella
In the heart of Sri Lanka, hop on this baby blue gem for one of the most stunning rides of your life. Feast your eyes on stunningly lush tea plantations, expansive rice fields, rolling mountains, and endless hills of green.
Back in 1864, this joy of a ride was used to transport tea. Now you can take a uniquely picturesque journey on one of the world's most historic lines. I promise you'll never see anywhere else quite so lush. At about $1 a ride, it's more than an amazing bargain; it's a globe-trotting must.
Venice Simplon-Orient Express
If you're in the mood for the most glamorous, comfortable, and luxurious train ride ever, the Venice Simplon-Orient Express is just the ticket. This iconic train's main claim to fame is "luxury rail travel."
Passengers say the only thing more gorgeous than the outside scenery is its "golden age of rail travel" styled interior. You'll travel in pure luxury from London to Paris to Venice, Florence, Rome, and Verona. 
The Flam Railway
Dubbed the highest major train route in Northern Europe, this 310-mile Norway journey traverses from Oslo to Bergen. It's frequently voted one of the world's most scenic (and steepest) railways. 
From the highest mountains to the deepest valleys, marvel at the glittering waterfalls as you descend to Aurlandsfjord below. And don't forget your camera!
The Bernina Express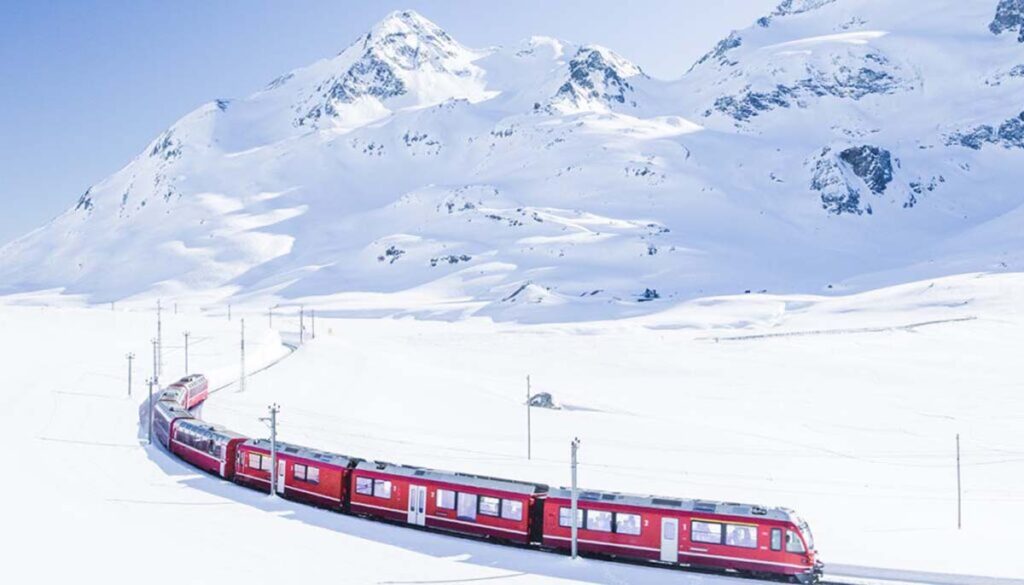 Often considered the most scenic train ride of all, The Bernina Express runs from eastern Switzerland to Northern Italy. The 90-mile, four-hour route winds through 55 tunnels and over 196 bridges. As for the surrounding scenery, it only gets more breathtaking over time.
Once you see the alpine landscape, cascading waterfalls, unbelievable glaciers, and deep ravines, you'll never get over it. And pick any seat you'd like. Thanks to the panoramic windows, you'll get an eye full no matter where you sit. 
The Rocky Mountaineer
All aboard! We're off to see the Canadian Rockies in all their natural glory. The Rocky Mountaineer goes to wondrous places cars cannot go. When you reach Yoho National Park, be on the lookout for the Emerald Lakes. The popular yet secluded jewel-colored pools are nestled into Mount Burgess and Wapta Mountain. 
Many consider the Mountaineer and its connecting trains the best way to see Canada coast to coast. Obviously, Niagara Falls is a highly frequented stop, but you'll be just as dazzled by the rural heart of the Canadian Rockies. Before you ride to Toronto, spend some time in Jasper and Banff National Parks. Don't miss the turquoise waters of Lake Louise.
Eastern & Oriental Express
Looking for something sophisticated? Going to Bangkok? Take the Eastern & Oriental Express once you're there. You'll move through city lights, pass quaint villages, and ride alongside ancient monuments. Most notably, you'll be being pampered all the way. 
This once-in-a-lifetime train ride boasts 5-star cuisine. In addition to "the finer things," the famed exotic rail journey is often declared the most captivating way to experience the Far East. It's also dubbed one of the coziest and most stylish. You'll feel like you're going back in time and on the plushiest of couches.
The Jungfrau Railway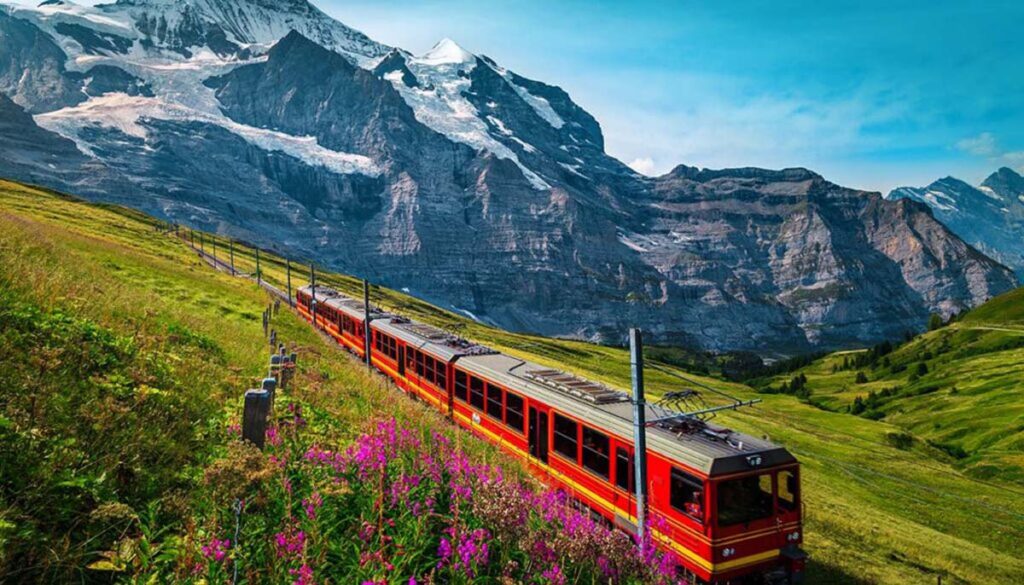 This one runs a mere five and a half miles from Kleine Schedegg to the highest railway in Europe, making the objectively stunning view more spectacular. The Jungfrau Railway is a narrow gauge railway in the Bernese Alps of Switzerland. 
You'll ascend 11,332 feet above sea level to the "Top of Europe" and find yourself surrounded by majestic mountain ranges. The journey is on the short side, but the trip to the top is well worth it. Those who've taken The Jungfrau Railway call the view one of Europe's most beautiful experiences. 
Trans-Siberian Railway
Traveling across Russia and Mongolia, the Trans-Siberian Railway promises you a lively adventure. You'll stop in Kazan, Yekaterinburg, Novosibirsk, Irkutsk, Lake Baikal, Ulan Ude, and Ulaan Baatar.
After seeing parts of Russia rarely explored, you'll go to the heart of Mongolia and end your journey along the Pacific Ocean. The longest railway in the world, you'll pass through eight time zones. 
The Jacobite Steam Train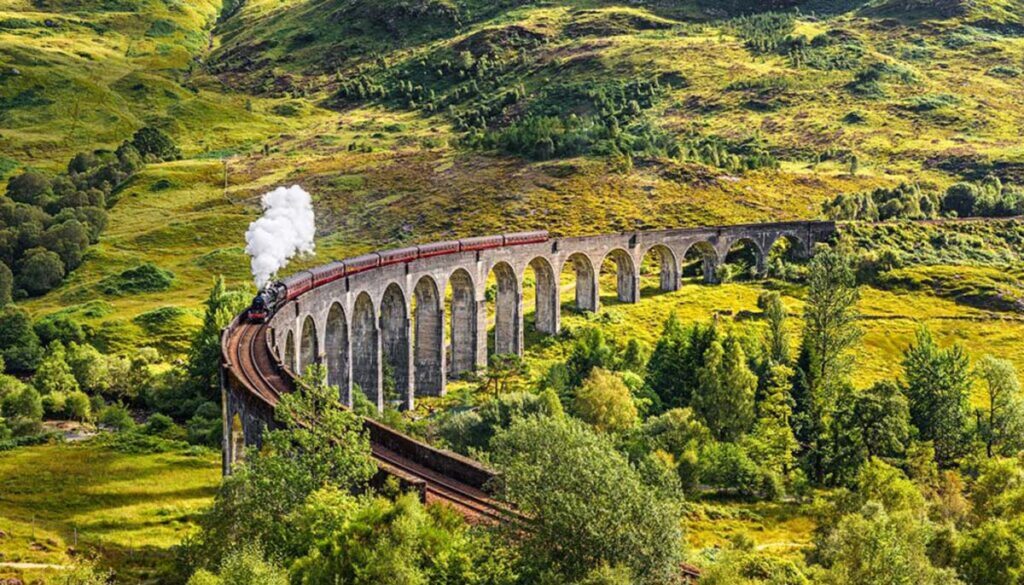 Yes, the Jacobite Steam Train is frequently compared to the Hogwarts Express. The beloved 42-mile journey chugs through the lush and vibrant Scottish Western Highlands. Charming inside and out, The Jacobite is an old-timey wonder with lovely vintage carriages. Oh, and it starts at the highest mountain in Britain. 
As the train winds through mystical mountains and glens, staring out your window will never get old. Get your camera out and keep it out. On your way to Mallaig, you'll see Europe's deepest seawater loch, Loch Morar. Finally, you'll roll by scenic beaches as this memorable ride comes to a stunning close. 
Related: 10 Breathtaking Destinations in Ireland
The Blue Train
Welcome to a five-star hotel on wheels. The Blue Train happens to be its region's most famous line. Described as "a window to the soul of South Africa," it offers an ever-changing view with 1,000 miles of nature between coastal Cape Town and Pretoria, the inland capital.
All around elegant and genuinely decadent, this train ride will leave you hard-pressed to find another quite as luxurious. Top chefs prepare meals morning, noon, and night while you weave through jaw-dropping landscape after landscape. 
Glacier Express
This 7 ½ hour trek has been crowned the slowest train in Europe. But its unmatched scenery makes it worth slowing down for a while. Across almost 300 bridges and through 91 tunnels, you've never seen the Swiss Alps quite like this.
While this train is notably luxurious at every end, you'll likely never want to leave your panoramic window. The mountains, the valleys, the meadows, and the streams are mostly undisturbed and untouched for your viewing pleasure. 
Related: Solo Travel Tips for Single Women