Clean beauty isn't always what it's cracked up to be. It's so trendy right now, it's hard to be sure of the quality you're actually getting, no matter how high the cost. Many beauty brands are claiming to deliver incredible, sustainable, safe, plant-positive products these days. But some are doing it better than others.
Unfortunately, not all brands are living up to the clean beauty standard they should be. In other cases, brands are creating clean and earth-conscious products, but they fall short when it comes to delivering highly effective results. In turn, finding a trustworthy brand making wonderfully clean products that do a truly wonderful job to boot can be tricky and overwhelming.
That's where Youth to The People comes in.
What to Know About YTTP
After founding their now highly hyped company in 2015, Greg Gonzalez and Joe Cloyes have kept their promise to positively impact the planet. They continue to create scientifically innovative, pro-grade vegan products responsibly. YTTP is adored for delivering the best of what nature offers with "unconventional superfood ingredients." And their clean, green mission doesn't stop with great skin.
Related: Spring Clean Your Beauty Routine
By partnering with nonprofit organizations via Good To The People Funds, this award-winning beauty brand is doing its part to benefit the climate, gender equity, racial equity, human rights, and the planet as a whole. In addition to its applaud-worthy products, this California-based brand opts for purposeful packaging. Everything comes in glass jars, vials, and bottles; they always steer clear of plastics. They also smart-source from local suppliers whenever possible. And my water plants love their glass bottles too.
Not to be that person, but I fell in crazy love with Youth to The People before it was topping Best of Beauty lists left and right. Around 2018, I suspected my best-kept skincare secret was out of the bag when prices of my must-haves kept going up. While my wallet wasn't overjoyed, I was thrilled for this clean company that deserves the attention they've been getting. And I'm eager to brag about their products.
In the spirit of spreading the good word in clean beauty, here are my YTTP favorites, and I know I'm not alone.
Yerba Mate Resurfacing Energy Facial
Youth to The People's Yerba Mate Facial gets the job done. Just be gentle.
This powerful chemical exfoliant with enzyme action borders on microdermabrasion, but it won't scrub your skin raw. The super-fine granules combined with caffeine will leave your face fresh, glowing, and energized. Like most YTTP products, it's not cheap, but a little goes a long way. You only need to use this one about once a week.
Adaptogen Soothe + Hydrate Activated Mist
I've never been the kind of gal who carries around fancy face mists, until this one.
So don't knock this ashwagandha, reishi, and peptide packing product until you've misted it on your face. It's cooling, calming, and never sticky. The main thing I noticed: it's incredibly hydrating. Thanks to the antioxidant-rich adaptogens and activated pentapeptides, you'll see your skin is a little more supple right away.
Superfood Air-Whip Moisture Cream
YTTP's Superfood Air-Whip Lightweight Moisturizer with Hyaluronic Acid is an easy, daily go-to.
This incredibly lightweight cream remains a frequent Best of Beauty winner and a clean community favorite for all the right reasons. Formulated with kale and green tea, it's loaded with antioxidants, enriched with brightening vitamin C, and loaded with nourishing vitamin E. It also boasts ultra-hydrating hyaluronic acid. I'd highly recommend trying this one for those looking for a summer-friendly moisturizer that's never heavy but always effective.
Read More: How To Naturally Protect and Restore Your Skin Barrier
Kombucha + 11% AHA Exfoliation Power Toner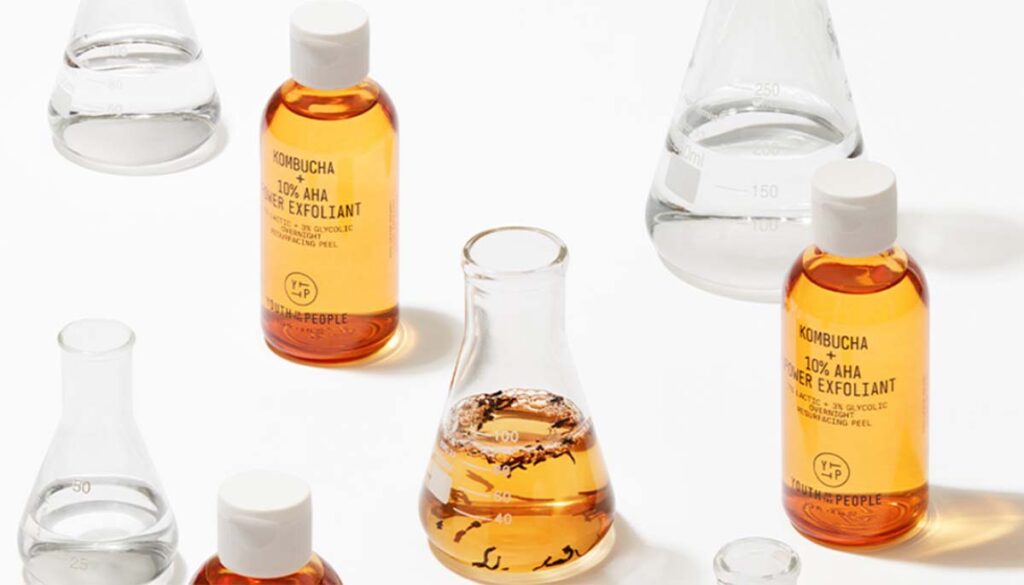 I was pleasantly surprised by just how powerful this YTTP toner really is. And if you suffer from perpetually clogged pores like me, this may just be your new best friend. But it's worth noting: this definitely isn't your average toner.
"This overnight leave-on liquid peel reveals brighter-looking skin and smoother-feeling texture, with a potent blend of 7% lactic and 3% glycolic acids. It's non-sticky, fragrance-free, and boosted with hydrating agents and antioxidant-rich black tea ferment filtrate to help reveal more even-looking skin tone and improve the look of dark spots over time," per Youth to The People. Also, be sure to wear at least 30 SPF the day after you use it!
Adaptogen Deep Moisture Cream With Ashwagandha
Those with skin on the dryer side often consider this creamy wonder the holy grail. While I have combination skin, I actually prefer this one to the air-whipped moisturizer.
It's like my skin is thanking me every time I put it on. Other people also seem to notice when I'm using my Adaptogen Deep Moisture Cream, often telling me my skin is seriously glowing. Squalane, jojoba, and shea butter are a winning trio. The peptide complex keeps environmental stressors at bay. Still, I think the detoxifying fermented reishi really sets this one apart. No matter how deeply it penetrates my pores or what mood my skin is in, this one never clogs, and it soothes irritation with ease.
Read More: 8 Peculiar (But Effective) Skin Care Ingredients Worth Trying
15% Vitamin C + Clean Caffeine Energy Serum
I'm on a never-ending search for a caffeine serum that actually does what it claims to do. In fact, I was on the verge of calling it a day until I found Youth to The People's Vitamin C + Clean Caffeine Energy Serum.
Loaded with serious de-puffing power, its clean caffeine comes from the combined power of Yerba Mate and Guayusa. On top of that, this wonder serum is super high in skin-nourishing antioxidants thanks to Passion and Dragon Fruit. It's ideal for treating dullness, diminishing dark spots, and giving your skin an insta-awake glow on even the groggiest morning.
Superfood Hydrate + Firm Eye Cream
I have to admit, I've never been crazy about eye creams. In fact, I'd say I've been downright skeptical.
However, as I've probably made clear by now, I'm totally in love with Youth to The People, and if my beloved brand says to try or buy something, I usually say, "how much?" Unsurprisingly, The Superfood Hydrate + Firm Eye Cream has proven worth every pretty penny. Great for all skin types, this aloe-rich, peptide-packed treatment diminishes fine lines, hydrates the under-eye area, and restores firmness and elasticity. And if you're a skeptic too, trust me: it makes a difference you'll definitely notice.
Superberry Hydrate + Glow Dream Mask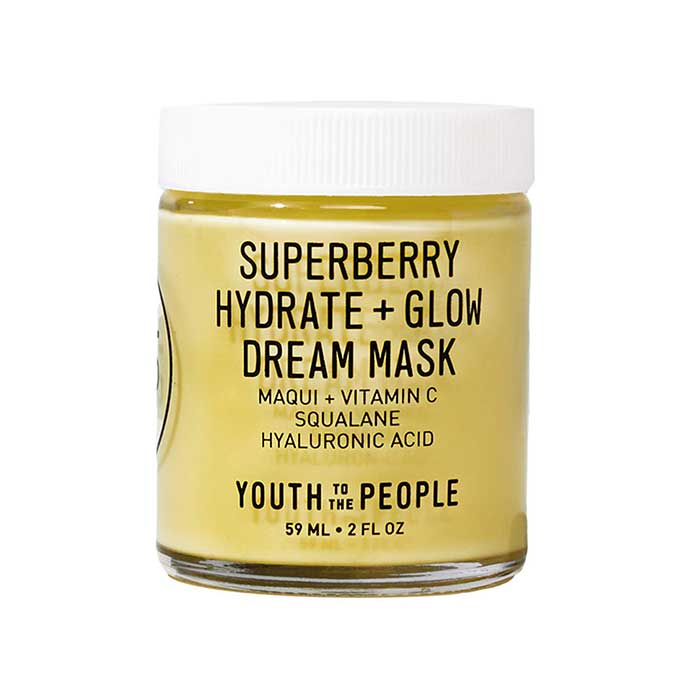 This might sound dramatic, but words cannot express how much I adore The Superberry Hydrate and Glow Dream Mask. Of all YTTP's products on this list, it's one of two products I won't do my beauty routine without.
This Allure Best of Beauty winner gets consistently high marks for its ability to plump, moisturize, brighten, and smooth in the most powerful yet gentle of ways. It feels great going on, and largely thanks to the prickly pear, it smells delicious. As a troubled sleeper, most masks distract me, but this lemon-hued dream cream feels light as air once my skin absorbs it. The vitamin C gives your complexion a significant boost, while the squalane, hyaluronic acid, glycerin, and betaine will leave your skin refreshed, replenished, and radiant the next morning.
Read More: What Is Squalane and Why Is It in All My Skincare Products?
Polypeptide-121 Future Cream
A recent Best of Beauty winner, The Polypeptide-121 Future Cream with Peptides and Ceramides turns skin nourishment up a notable notch and strengthens the skin barrier over time.
Morning and night, its weightless formula loaded with plant proteins does what it claims to do and then some. It maintains the skin's moisture while smoothing out fine lines and wrinkles. Obviously, this product's real star is polypeptide-121 (a vegan peptide boasting over 180 amino acids). It's also working with niacinamide and collagen, and it maintains moisture for up to 24 hours.
Superberry Hydrate + Glow Dream Oil
A clean beauty community favorite, the Superberry Hydrate + Glow Dream Oil works wonders for all skin types.
Formulated with ingredients like maqui, prickly pear, goji, and acai, this fast-absorbing, rare superberry antioxidant blend delivers rapid hydration. YTTP promises your skin will be velvety soft and healthily glowing. And I can vouch for that! This blemish-friendly, potent elixir replenishes my skin on even its most dehydrated days.
Superfood Antioxidant Cleanser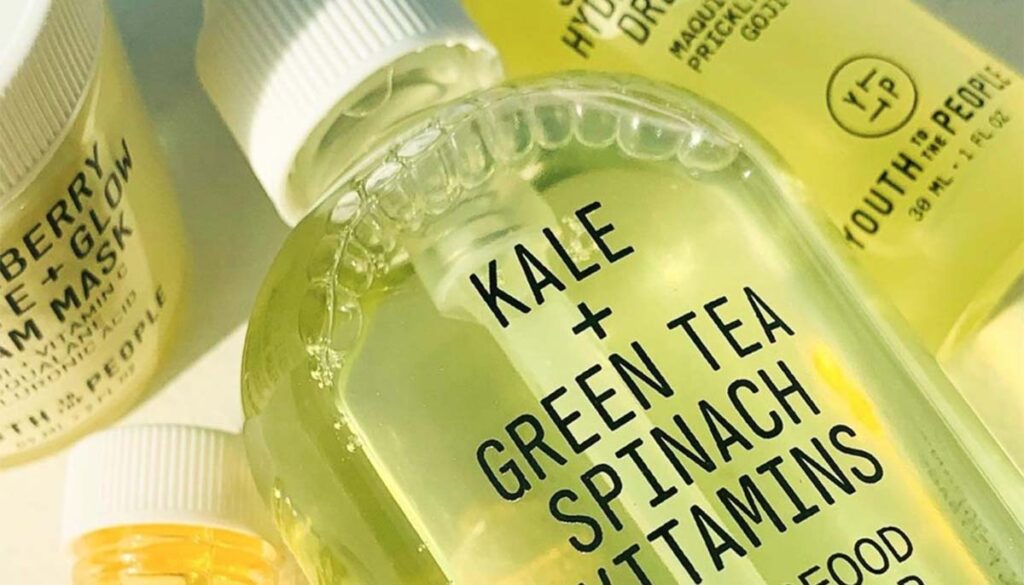 Consider this a superfood juice for your face! A Readers' Choice Award winner, it's also my favorite product from Youth to The People, and I've officially been using it for years.
Every time I stray from the Kale + Green Tea Spinach Vitamins Superfood Cleanser, I always come back. Thus far, no other cleanser compares. The antioxidant-rich formula is incredibly nourishing and gentle. It leaves my skin feeling deeply cleansed and dewy, but never dried out or stripped. Best of all, it only takes a tiny bit to get a lot of lather.
The Superfood Cleanser supports the skin's pH balance, easily clears stubborn buildup in pores, and has a cooling, soothing effect. Ultimately, if there were one YTTP product I'd say you absolutely must try above all others, it's positively this one. But the Superberry Dream Glow Mask is a close second.
Read More: Why You Should Use a Cleansing Oil, According to Beauty Experts