We're breaking down what the fashion experts at Vogue have to say about the fall trends and colors to watch out for this year. If recommendations from Vogue are out of your price range (at over $3,000 for a trench coat, they're definitely out of mine!), don't worry. You don't have to have Meryl Streep's wardrobe budget in The Devil Wears Prada to be on trend.
While we'd all love to have Miranda Priestly's style, most of us are working with a smaller budget. And you might be concerned with the sustainability of your clothing, too.
You can be on-trend without a massive budget while also buying clothes that are better for the environment. Take a look at what items – and colors – are on-trend for fall 2022, as well as where you can find those items at an affordable price or sustainably made.
Baggy Jeans
The age of skinny jeans is coming to an end. Fans of the super-tight look, don't worry – of course, you can still wear your skinnies as much as you like, and you can still be trendy in them by pairing them with an on-trend top.
But if you're looking to add new pants to your wardrobe, celebrate the fact that baggy jeans are in because they're just so much more comfortable. And the baggier they are, the better!
That means it's time to hit the thrift stores to find a retro pair with a baggy fit you love. Or, check out affordable baggy jeans from Old Navy and sustainable options from Outerknown.
Leather Jackets and Coats
Pair those baggy jeans with a leather jacket or coat and you've got a trendy ensemble! Long leather trench coats are in, but so are double-breasted classic styles. There are so many options with leather jackets, and you really can't go wrong.
As the executive fashion director of Vogue.com Lisa Aitken watched the Khaite runway show, she noticed that "The collection showed multiple silhouettes, and they were all perfect, from the bomber to the blazer to the lacquered puffer. And now I am being seduced by the array of transitional slim-line, long-length '90s jackets too." 
No matter what style you like, leather is in. Wear what makes you feel good, and if you're focused on the environment, wear what's been ethically produced. Yes, that means faux leather is actually a great option. Check out Levi's Faux Leather Moto Jacket or – you guessed it – look through the racks at your local thrift stores.
Maxi Dresses
Once again, maxi dresses are in. I love maxi dresses for so many reasons: they're so comfortable and easy to wear to work or while I'm out running errands. It's a good idea to try on maxi dresses before you buy them. While you would think that the long fit means that they're easy to wear, that's not always the case, especially if you're on the short side. Definitely try before you buy!
When it comes to finding an on-trend maxi dress, the simpler the design, the better. But of course, choose an option that fits your personal style. Pair maxi dresses with blazers or big jackets for a polished, trendy look. 
A black maxi dress is a stylish choice, but if you prefer a brighter wardrobe, then buy a maxi dress in an on-trend color (see below). Madewell's maxi dresses are a great option, as are the ethical options over at Organique.
Classic Trench Coats
It's back in style! The classic trench coat was once again all over the runway this year, and that means we'll be seeing it as a fashion staple in fall 2022. Layer your trench over practically any outfit (maybe not leggings and a tank top) to elevate your look.
Already have a trench in your closet? Dig it out, iron it if you need to, and start pairing it with baggy jeans and maxi dresses. If you never jumped on the trend but you're feeling like now is the time, look for sustainable versions from Reformation or find a more affordable option at retailers like Macy's.
Bomber Jackets
Oversized is in, and it's not limited to baggy jeans, maxi dresses, and long leather coats – oversized bomber jackets are trendy this fall. The bomber jacket is a versatile piece to have in your closet. Wear it with baggy jeans or a maxi dress for a super trendy look. Or, throw it on over one of your favorite tops and a pair of old skinny jeans.
No matter what you're wearing, a bomber jacket is the perfect fall layer. For affordable bomber jackets, head to Kohl's, and for a more sustainable option, check out the Cloud Shell Bomber Jacket from tentree.
Blue Jeans with a White Tank
This classic combination is totally on-trend this year, which is great for so many reasons. First, you probably already have it in your closet! It's also so easy to style this combination with other pieces that you already have. Dress it down with a flannel or dress it up with a blazer. You won't ever go wrong with blue jeans, a white tank, and a cardigan.
Baggy denim will elevate your look to on-trend, and if you're looking for a sustainable option for your tank, check out the Pima Micro-Rib U-neck tank from Everlane.
Read More: Fall/Winter NYFW Trends Worth Trying in 2022
Bright Sweaters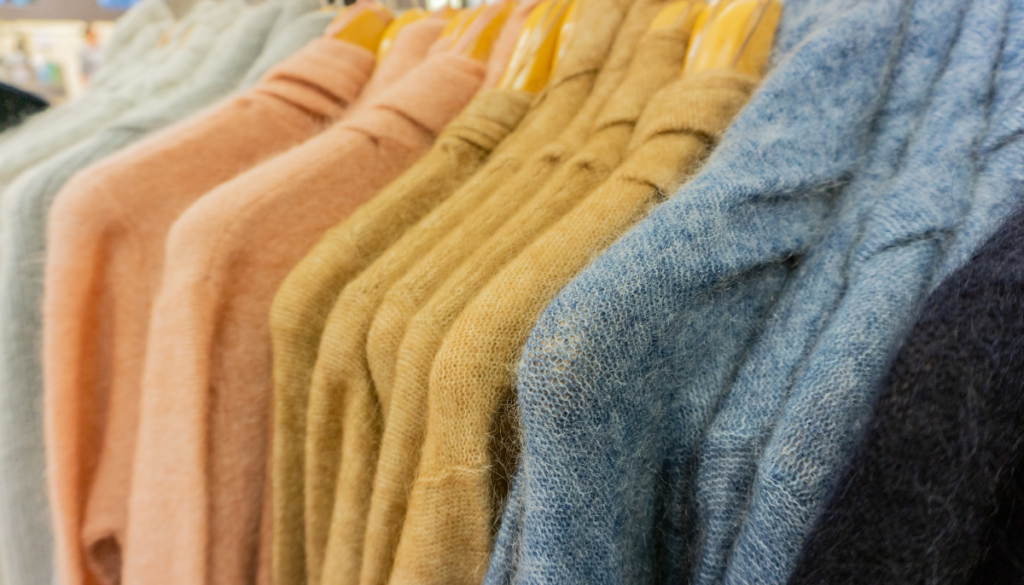 I live in sweaters once the chilly weather rolls around, but sometimes it can feel like I'm wearing the same old frumpy sweaters again and again. This year, the fashion world is saying goodbye to the drab old sweater and hello to brightly-colored (even neon) fuzzy sweaters. Vogue describes this year's on-trend sweaters as "saturated and strokable knits," adding that mohair is a fantastic material. 
Who doesn't want a new fun sweater to add to their wardrobe? For an affordable option, see what Old Navy has to offer this year. If you're looking for sustainable and saturated, check out Sezane.
Fall 2022 On-Trend Colors
Speaking of brightly-colored sweaters, which colors should you be looking to add to your wardrobe to be on-trend? Vogue chose nine colors from all the rest as the most on-trend for fall 2022, and here are our recommendations for how to style them.
Zesty Lime
Lime green may traditionally be a spring color, but this year Vogue sees it sticking around for fall. According to the magazine, "A color Pantone has defined as Lime Punch, this zesty lime was spotted all over the streets of Copenhagen this season in the form of slinky slip dresses, blazers, and even boots."
If you're not wearing slinky slip dresses or blazers these days, try out a lime green sweater, cardigan, or maxi dress instead.
Vanilla-Latte Beige
While many of the colors on Vogue's list are shockingly bright, Vanilla-Latte Beige will put the neutral-loving at ease. For maximum trendiness, wear it from head to toe. But if you're simply looking to elevate your jeans-and-a-t-shirt look, wear a Vanilla-Latte Beige top.
Mellow Yellow
Mellow Yellow is actually a pretty bright shade of this sunny color. While it's not a neutral, it's still relatively easy to pair this beautiful color with other items in your wardrobe. Wear a mellow yellow sweater with jeans or find a bright yellow maxi dress to wear this fall.
Barbiecore Pink
Yes, Barbiecore Pink is exactly what it sounds like: the shocking bright pink we all associate with Mattel's Barbies. If you're like me, you probably think of Barbiecore Pink as a spring and summer color, but Vogue sees it sticking around for fall in a major way. Fans of the color can excitedly embrace it during the autumn months, and pink leather pants are a trendy way to make it part of your wardrobe.
Burnt Orange
Burnt Orange is really more of a bright, tangerine orange that will look have heads turning your way. If you'd rather embrace this hue in a more minimalistic way, pick up a pair of bright orange shoes or a shoulder bag to add some trendiness to your wardrobe.
Pacific Ocean Blue
Calm and cool, Pacific Ocean Blue is a beautiful shade of bright blue that evokes the ocean waves. Fans of blue will find this shade an easy color to add to their wardrobe. Pacific Ocean Blue sweaters and pants are easy to pair with other items in your wardrobe. Find a maxi dress in the color and pair it with a leather jacket for a chic, on-trend look.
Dark Gray and Off-White
Vanilla-Latte Beige isn't the only neutral on the list. Dark Gray and Off-White both are on-trend this fall, and the chances are good that you already have both these neutrals in your wardrobe. A dark gray waistcoat is super on-trend (waistcoats are in this fall), and wearing all off-white is trendy any time of year.
Autumnal Brown
You'll see Autumnal Brown in both the natural world and the fashion world as fall rolls around. Autumnal Brown is an on-trend and beautiful color to add to your wardrobe. Classic and refined, this color can elevate your outfit, especially when paired with Vanilla-Latte Beige or Off-White. While brown sweaters aren't making the trendy rounds this fall, a silky brown top or wide-fit brown pants will add dimension to your wardrobe.