Whether you're getting some shut-eye or up all night, your bedroom should be the place you want to be. And while you might decorate and design with your personal style in mind, there are other things worth considering when you make one of your biggest decisions: paint color.
"Most people select bedroom decor such as paint, furniture, and bedding based solely on their personal aesthetic preferences. But research suggests you may also want to take the psychological impact of certain colors into account," per Mattress Clarity.
Studies show that certain wall colors may improve sleep quality or overall mood. And let's not forget about romance. Color experts say that the perfect paint color can help turn your boudoir into a place you (and others) want to be. But what works best for each of us can vary greatly.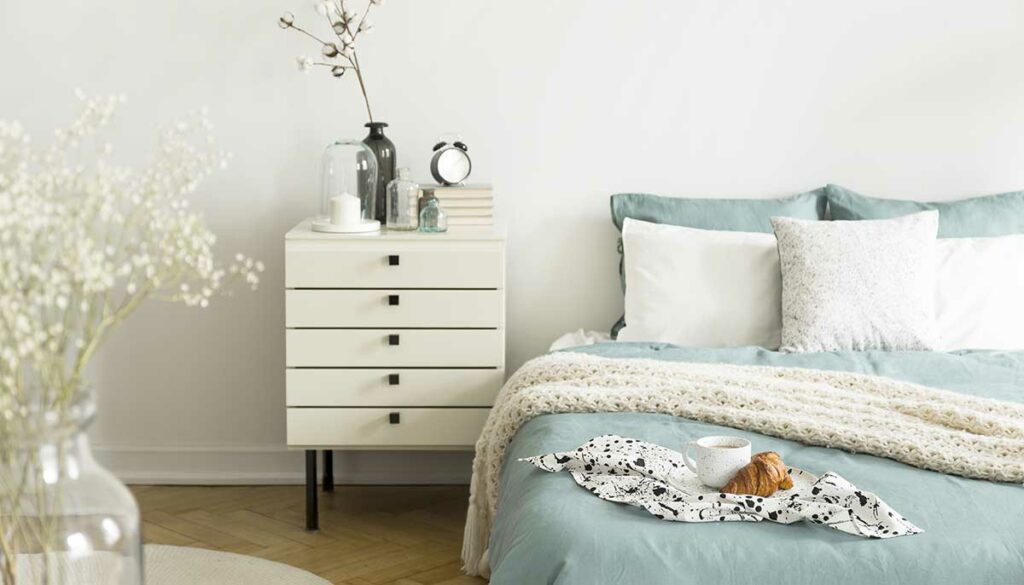 Tired of your white walls? Take this opportunity to live a little. No matter what you're into, it's amazing what one color change can do for your bedroom. And if you don't like your first choice, you can always paint over it. Thankfully, making this romantic upgrade doesn't have to require a ton of money or time. However, you'll need to do a little romantic research and self-reflection.
What color feels most romantic to you? Are you lovestruck by an eye-catching pop of pink or do you gravitate toward more subdued colors? Figuring out what colors you're most drawn to is a solid place to start. And we're here to help with the rest.
What to Consider When Choosing a Color
Before you commit to one color, get some samples. Lots of samples. Even if you've done your research and chosen one of the most romantic colors in existence, how it's going to work in your room might be a totally different, unfortunate story.
One of the most important factors to consider is lighting. Pay attention to the natural and artificial lighting in your room. Colors always show up differently in different lighting situations, no matter how romantic they might be in your mind.
If you live with a partner, don't forget to get their opinion before you paint the walls of your most private, shared space. And think outside of the box. Yes, pink and red are always ranked highly when it comes to their romantic prowess, but there are plenty of other alluring colors worth looking into. Here's where to start.
Passionate Purples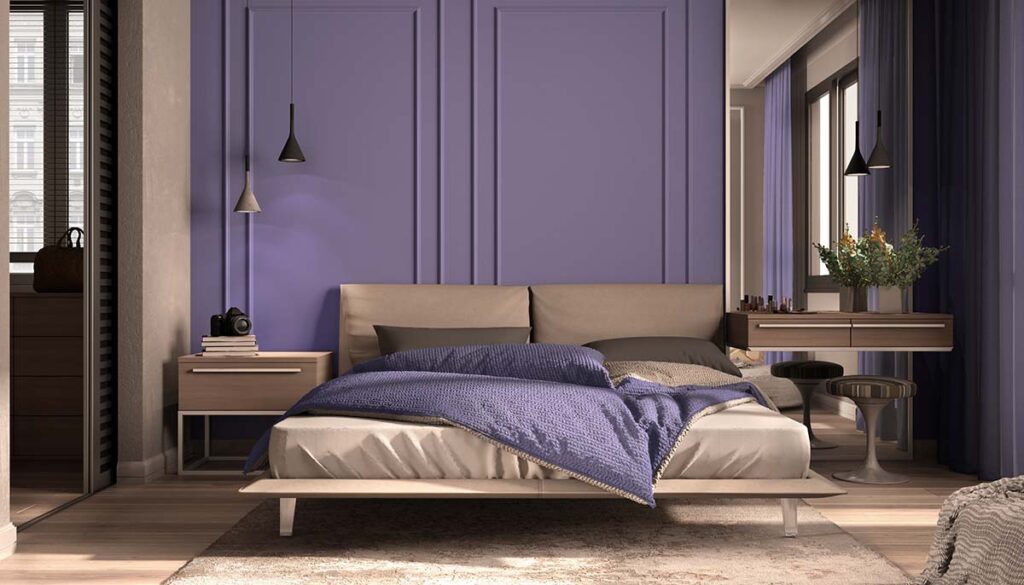 Whether you go with deep purple or creamy lavender, purple has power. VeryWellMind notes that "light purples are associated with light-hearted, romantic energies," while darker, moody purples will give your bedroom a more intense, sensual vibe.
Consider playing with purples. If you go with something dark on the walls, add lighter accents around the room. For decor, go with white, cream, gold, and metallic finishes. Place fresh plants for a touch of nature and a stunning contrast against your new walls. And for a touch of jaw-dropping glamour, just hang mirrors. 
A Warm Mixture of Browns
When you think of romance, brown may not be the first color that springs to mind. But its earthy, erotic energy will warm you up in no time. The trick is to mix and match many shades of brown.
Try taupe with chocolate or caramel brown with pops of orange and tan. Working with neutrals will not only give your room an inviting, earth-mother aura, but brown walls may also relax you.
Read More: The Most Calming Colors to Paint Your Bedroom
Dramatic Green
There's something undeniably intimate about green. Maybe it's because it connects us to nature and the feeling of being alive. It's also adored for its grounding properties. "Green is deemed the color of life, representing nature, and conveys a lively and calming ambiance perfectly conducive to a romantic bedroom," per Designing Idea.
Your bedroom should be a balanced place, and green is a color that always comes packed with lively and laidback vibes. To pick the right green, think about the surrounding details. If you're ready to go all in, go with a deep green. Experts say they're the most romantic. But again, think about your space.
How will an emerald green go with your flooring and your bedding? Would a sage match the furniture better? No matter what you're already working with, there's a green that will work in your room in the most inviting of ways.
Cream
Cream might not tickle your fancy at first. But give this calming color time. The warm undertones and all-around coziness will inevitably work their magic. And, if you're looking for a wall color that is timeless and forgiving, you can't go wrong with a classic cream.
This elegant yet practical option is endlessly easy on the eyes. And remember, neutral doesn't have to be synonymous with dull. In reality, it's an ideal color for a tranquil space that encourages you to fully unwind. "Cream enhances natural light and softens your space into a soothing sanctuary," per Dulux.
Serene Shades of Blue
There's no doubt about it: blue is soothing and serene. And the sky is the limit when picking a palate. The right shade can turn any bedroom into the relaxing treat you've always dreamed of. Not to mention, it can be pretty romantic too.
In every hot and heavy moment, blue walls, bedding, and accents provide a cool respite. Generally, the softer the shade, the better. But that doesn't mean deep colors don't work. Studies show they can be just as romantic, but the room you paint will often decide that for you. For instance, a smooth, penetrative navy can work beautifully if you have the space to pull it off. So don't forget to play around with those samples!
If you like to stay up late, look for a blue that's medium to dark. Color experts say that darker blues come most alive at night. But if you prefer a shade that most romantically captures morning light, you should go with something lighter.
Read More: How To: Turn Your Sexual Energy into Heightened Creativity
Pink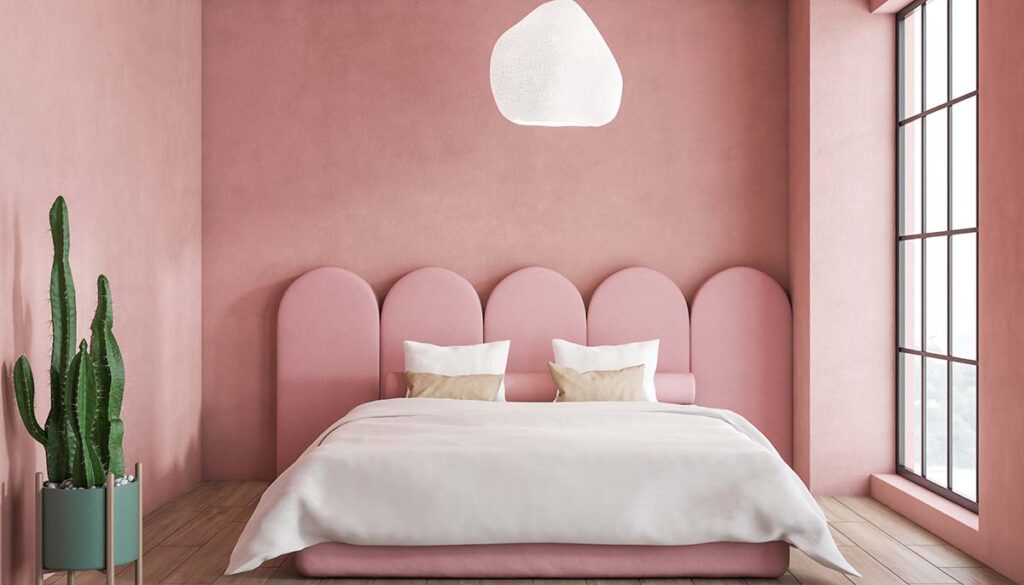 Pink is one of the more obvious colors tied to romance on the list. It's known for conveying romance, calmness, kindness, and sweetness. If you think it's a little much for your bedroom, that's fair. But I wouldn't knock it until you've tried it out.
Look for something muted, dusty, and rosy. Blush, dusty rose, and powder pink can all give your room an antique feeling. Pink is also surprisingly sophisticated. It's a great color to combine with hardwood floors, metallic touches, modern art, earthy accents, and darker details. "Girly" connotations aside, this one allows you to create a space that has a serene balance of femininity and masculinity while adding an all-around touch of pizazz.
Flirty Peach
Pink and red might be the most frequently associated with love and romance, but don't sleep on colors like peach! If you're looking for a fun and flirty change, this might be the way to go. In any shade, peach has a striking and relaxing quality, making it ideal for creating a romantic bedroom. It's also known as the color of encouragement.
Since peach comes from the orange family, it'll still give your space a warm, playful look. If you want something a little more subdued, try pastel peach. Or, for a room that's deeply romantic yet understated, go with a peach blush. It will create a sensual, soothing atmosphere with just a coat.
Soft Gray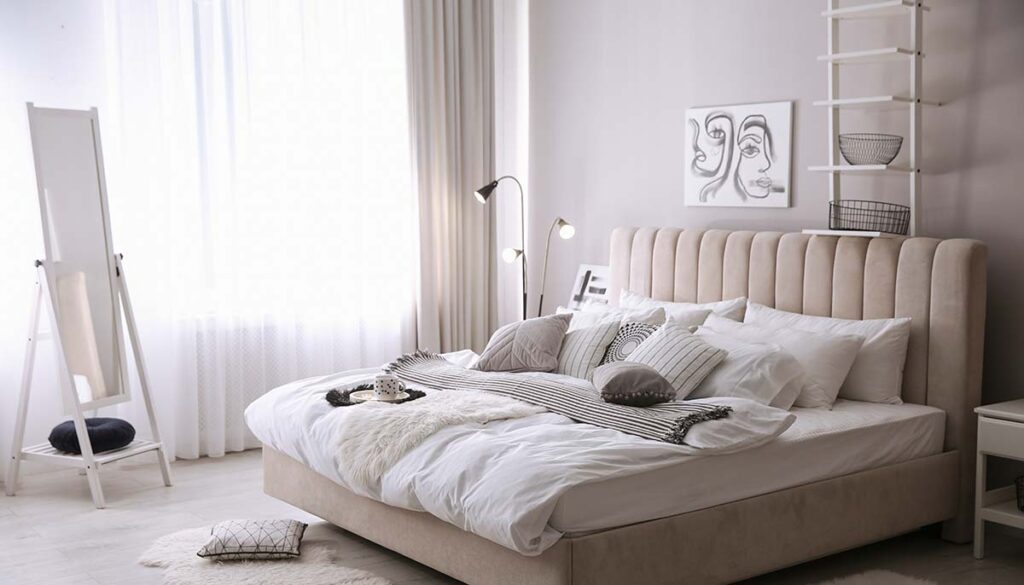 Grey is often associated with things like mystery, power, and seriousness. It also instantly gives any space neutrality and balance. With grey, it's key to consider what else you're decorating with to make this wall color as romantic as possible. In other words, romance is in the details. Grey provides a romantic chance to play with textures like marble or dark wood, flower patterns, gold trim, or fragrant lavender in a vase on your nightstand.
Believe it or not, this sometimes cold color can make your bedroom a feast for the senses. Because of its modest, blank slate nature, it allows you to play with focal points and switch up your surroundings easily. Use colors like pink, green, purple, or white to draw the eyes where you want them to go. Just be sure to go with something soft. And do have fun with your throw pillows.
Earthy Orange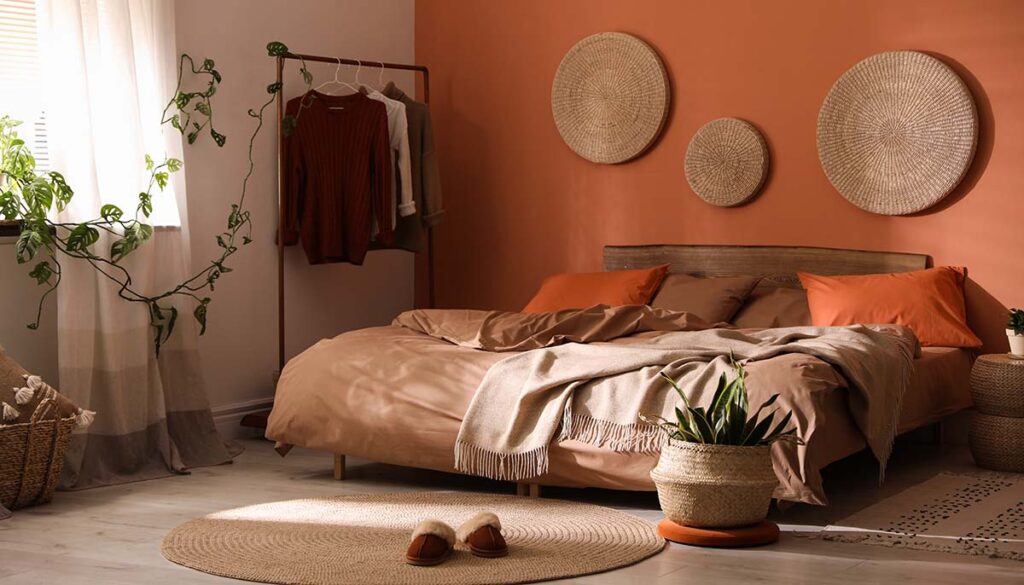 Since ancient times all over the world, orange has been seen as the color of fertility, and that's a good place to start. A love child comprised of red (love) and yellow (happiness), it's an unusually uplifting, hopeful color.
Orange has a free-spirited, creative vibe. With an earthy shade on the walls, you can easily balance out your space with complimentary neutrals, like brown. Science shows that orange doesn't just make us feel happier. It may also put us in the mood to bond. The color of stimulation and enthusiasm, "research has found that orange increases oxygen supply to the brain, produces an energizing effect, and stimulates brain activity," per Science of People.
Studies also show that orange is one of those colors that people either love or hate. So undoubtedly, using it on your bedroom walls is guaranteed to provoke strong emotions. But according to color experts, it radiates warmth and boundless energy no matter what. It's also said to be the color of our sacral chakra, which stimulates our sexual side and true emotions.
Not to mention, orange may also help us sleep more soundly. And what's more romantic than that?
Read More: The Foolproof Way to Pick Interior Paint You'll Love