Do you have a little extra cash in your budget this spring? Is your garage overflowing with DIY supplies that you just can't wait to use creatively? Spring is a fantastic time of year for refreshing your home decor, whether you're ready to embark on a full renovation or you just want to make some minor changes. Go all-out or change the small details to make your home feel trendy and fresh for the new season. Take a look at these fifteen spring design trends that we're loving!
Go Floral
Of course, spring is the perfect time of year to bring floral patterns into your home. Add some floral-patterned pillows or blankets to your space to capture the spirit of spring. You can also change out artwork for floral prints, or use dried (or fresh) flowers to bring some life and texture into your home.
Or, if you're up for a bigger project, re-vamp one of your walls and turn it into an accent wall with floral wallpaper. An accent wall can totally change a room, and a floral wallpaper is perfect for spring.
Read More: Spring Clean Your Closet and Your Mindset
Or Spring for Matte Black
On the other hand, matte black has been popular for a while, and good news for its fans – it's still in! You can use this versatile shade in so many different ways. For example, you can use it the same way you'd use a floral pattern by painting an accent wall matte black in your home. A black accent wall can completely transform the look and feel of a room.
If you'd rather be more subtle, swap out your old fixtures – your faucets and handles in particular – for new matte black fixtures. They look sleek, dramatic, and on-trend. Plus, because it's so easy to coordinate with black, you can style the rest of your room in so many different ways!
Add Layers of Texture
There's nothing like texture to add some depth and warmth to a home, and it's very on-trend this spring. Think about what textured items would coordinate with your current home décor. Bring in patterned jute décor, like rugs, wall tapestries, and baskets. Rush and abaca are two more natural fibers, similar to wicker, that will help you add more texture to your home.
Bring the Outside Inside
Nature-themed décor has been popular for a while, and it is still very much on-trend this spring. Author and interior designer Athena Calderone told Vogue, that there's now "a resurgence in natural surfaces—think stoneware, terracotta, marble, and travertine being used across the board from backsplashes to bathtubs, furniture, and decorative objects." The more porous and natural the objects are, the better!
As part of nature-themed décor, it's on-trend to incorporate biophilic design. What is that exactly? Country Living states that, "Biophilic design principles connect a space to nature by maximizing natural light and ventilation, introducing plants and nature-inspired colors and materials."
See if you can maximize the natural light in your home or if you can improve your ventilation. Don't forget to head to a local nursery or greenhouse for houseplants and to decorate with greens, browns, and blues.
Bring in Vintage Pieces
One vintage piece can totally transform a room. No matter how you've styled your home, a vintage piece (or two!) can take a room to the next level. A vintage lamp, couch, or chair can add a touch of warmth or texture to a home. As a bonus, choosing a vintage piece is good for the environment, too! Look for your vintage finds at thrift stores and consignment shops. Keep an open mind!
Embrace Luxury
Vintage is on-trend, but so is shiny, new, and luxurious. And what screams "luxury" more than gold? Gilded details allow you to bring a polished and new finish to your home. Gold fixtures and accents are on trend this spring, and gold fabrics like throw pillows and blankets can help you make your home feel more trendy.
Mix Materials
No one wants to be like everyone else, and mixing different materials in the search of your own style is a great way to find your own style. Try out a variety of materials and discover what truly fits your home.
For example, instead of decorating your living space with all-glass and all-metal materials, mix natural wood, rich fabrics, and soft décor with harder-edged furniture to create a balance that reflects your style. After all, if you match too many objects, you'll end up making your home feel like a doctor's office – and no one wants that!
Invest in Sustainable Pieces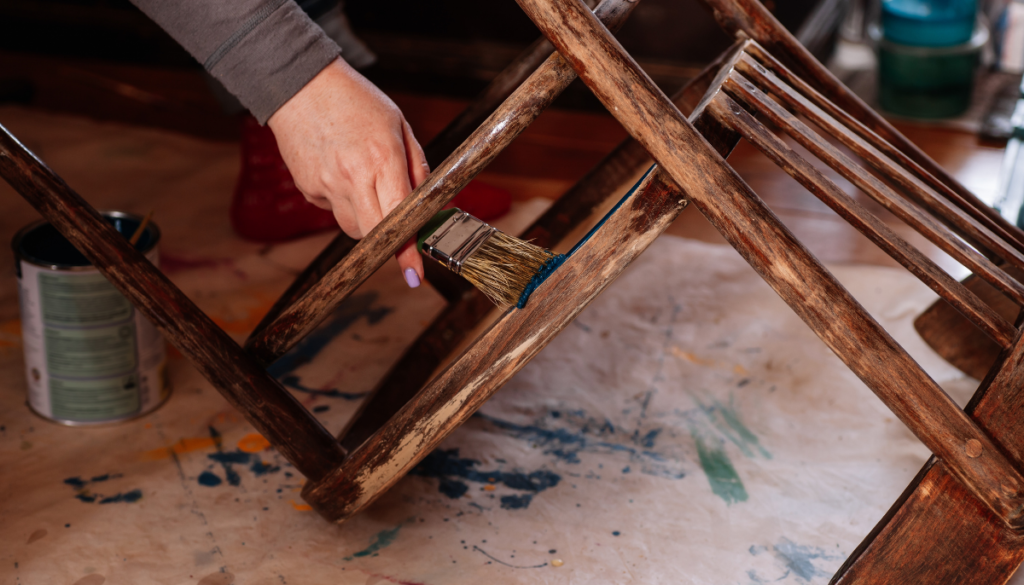 Like purchasing vintage pieces, it's currently very on-trend to invest in sustainable pieces that are good for the environment, look beautiful in your home, and will last for a long time.
Consider choosing sustainable fabrics for your blankets, pillows, rugs, and furniture. You'll feel better about yourself knowing you've chosen a couch, for example, that was made with minimal damage to the environment, instead of just blindly hoping that what you're buying was made ethically.
Choose Sculpture-Like Furniture
This spring, if you're looking to upgrade your furniture, sculpted pieces are on-trend. If you're having trouble imagining sculpted pieces, think glass-top coffee tables with carved tree branches for legs.
Does that sound like something you'd enjoy looking at? Then choose curved, sculptural pieces, like coffee tables, end tables, and shelving, that are inviting and open. Catalpa wood is currently a popular choice for tables and bowls in particular. The more curved, soft, and inviting the furniture is, the better!
Cultivate Your Dream Garden
Make this spring the year you get outside and start a garden. With many people continuing to spend more time at home, it's more important than ever to have an outdoor space at your home where you can both connect with nature and escape from the confines of your four walls.
Research the flowers that are native to your area before you begin to plant. The same applies if you're thinking of planting a vegetable garden or fruit trees. Consider getting a planter box or devoting an area of your yard to be nothing but your garden.
Brighten Up the Kids' Space
Make sure you take time to brighten up your kids' space this spring! Bold colors and patterns are great for furniture and décor. Apartment Therapy notes that "Animals, nature, and wildlife are a safe bet for little ones, but let their imaginations run wild with abstract patterns and bold colors—just remember to keep their sleep space neutral."
Self-Care Spaces
Take more than time for yourself – make space for yourself, too! If you already have a "me" space, meditation corner, or another space that's just for you, give it an upgrade!
Depending on your budget, either go with a full-scale renovation to create a self-care space that's designed exactly for you, or, stick to upgrading what you can.
Improving your bathroom so that it's centered around your self-care is a great way to do this. Upgrade your showerhead, bring in candles, and swap out harsh lights for softer bulbs.
Read More: Focus On Your Mental Health This Spring Break
Bring in More Green
Because going floral and embracing nature in your design are two popular trends this year, it should come as no surprise that the color green is very on-trend this year. With so many different shades, like mint, forest, eucalyptus, sage, olive, and hunter green, there are plenty of different options to choose from if you decide to renovate or spruce up your home by including some trendy green décor. Think green this spring!
Think About Maximalism
As the name implies, maximalism is the opposite of minimalism, which means it's all about bright colors, bold patterns, and developing your own style. Rather than sticking to a certain color palette or focusing on paring down your possessions, maximalism encourages you to embrace your personality and to show it off in style!
If you're looking to incorporate more objects – such as sculptures, books, and plants, make sure that you strike the balance between maximalist and cluttered. There is a line! Look for maximalist design inspiration to see how it's been done well by professionals.
Avoid Gray
In a similar vein, it's important to avoid gray, which has dominated the design world for years now. Whether it's light gray, dark gray, or 50 different shades of gray, it is out! Instead, experiment with warm camel colors or shades of chocolate brown, which may be a major trend this year. Just make sure to keep the gray away!
If you're like many people, you spend plenty of time in your home, whether you work from home full-time or you spend most evenings with your family at home, or you do both. Whatever your situation may be, it's important to strike the balance of making your home feel trendy, making sure it's functional for your needs, and making sure that it's the style and design that you like. Don't try to incorporate all of these trends at once, but have fun experimenting with a few!