Once upon a time, I thought "what's so great about tinted moisturizer?" As a person who has never really been into putting on a full face of foundation, I didn't think it applied to my routine, nor did I want more steps. Then I tried a few really great tinted moisturizers and found out just how wrong I'd been. It's a beautifully brilliant way to combine many steps into one.
"Tinted moisturizer hydrates your skin and provides just a hint of coverage. It's the perfect replacement for foundation for those times when you don't need full coverage, like a day at the beach or poolside. Many of the best-tinted moisturizers — including several on our list — also include SPF," per People.
Lately, beauty buffs, major publications, and skin experts have been singing tinted moisturizer's praises more than ever before. So unsurprisingly, beauty brands are on top of this trend. In 2022, some standout brands and their star products boasted way more tinted moisturizer converts than others, so let's talk about them.
According to experts, professional reviewers, and satisfied customers all over the internet, these are the tinted moisturizers you should be checking out too.
Clinique Moisture Surge Sheertint Hydrator
If you love Clinique's Moisture Surge cream (and frankly, who doesn't?), you'll adore the Moisture Surge Sheertint Hydrator too. In the world of tinted moisturizers, it stands out for its wide variety of skin tones and ability to deeply hydrate the skin for hours.
Endlessly satisfied customers can thank this one's potent concentration of cucumber, hyaluronic acid, and "activated aloe water" for that.
Neutrogena Healthy Skin Radiant Tinted Moisturizer
Neutrogena is one company that knows what it's doing. Its products continue to be affordable and effective, including this one. They've outdone themselves by creating one of the best-tinted moisturizer formulas money can buy.
Formulated with ingredients like vitamins A, C, and E, it's loaded with antioxidants. This beloved tinted moisturizer also contains small pearlescent pigments that will give you a luminescent sheen.
Saie Slip Tint Dewy Tinted Moisturizer
This one gets high marks for a formulation that gives both major hydration and sheer yet buildable coverage.
Famed for using non-toxic ingredients and often deemed "worth the splurge," Saie's Slip Tint Dewy Tinted Moisturizer boasts a powerful combo: hyaluronic acid and licorice root extract. It's also working with mineral-based SPF 35 to guarantee your effortlessly glowing sky stays truly healthy.
Read More: Why You Should Use a Cleansing Oil, According to Beauty Experts
Laura Mercier Tinted Moisturizer Oil Free Natural Skin Perfector SPF 20
If a pearly shine is not your thing but perfect-looking skin is, Laura Mercier might be your new go-to. Those who love this product call it things like "lightweight and "invisible," noting that the oil-free formulation is also easy to blend and consistently hydrating.
For those looking for something non-greasy with effective coverage that still looks natural, the Natural Skin Perfector is the way to go. It's been in the tinted moisturizer game since 1996, and it's still around for good reason. With that said, it's pricy for good reason too.
Maybelline Fit Me Tinted Moisturizer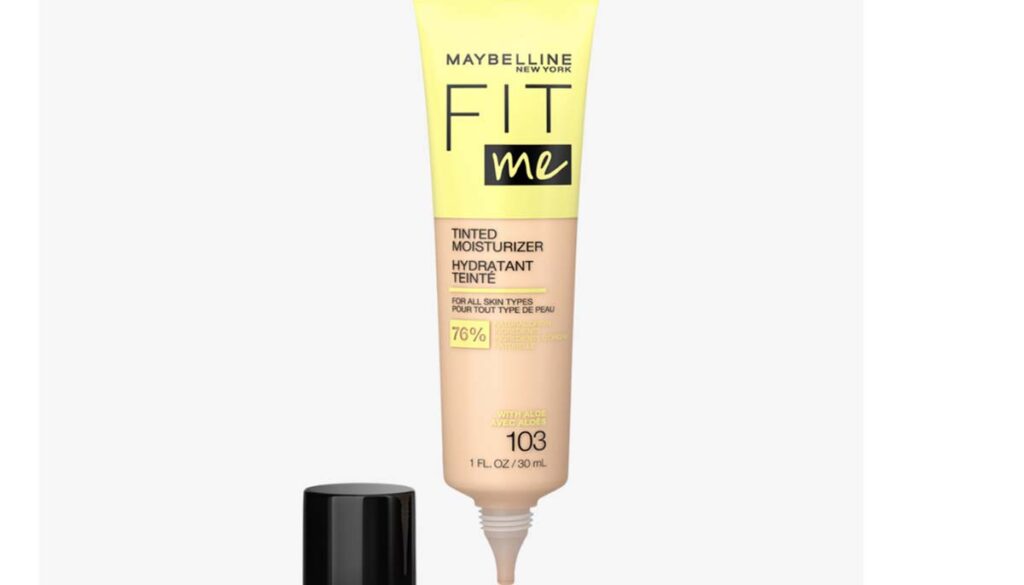 If you're looking for a top-notch drugstore pick, the Maybelline' Fit Me Tinted Moisturizer continues to be a crowd-pleaser. And for $11, you truly can't beat it.
Weightless and great with heavy coverage (without appearing heavy,) it's easy on the eyes and easy on the budget. As for the formulation, its super ingredient is the extremely moisture-retaining, skin-plumping glycerin.
bareMinerals Complexion Rescue Tinted Hydrating Gel Cream SPF 30
BareMinerals Complexion Rescue has been the holy grail for many this year. It's lightweight, silky smooth, and requires only a little to achieve major coverage. Blendable and buildable, it's great for those days you need all-over coverage or the times you just want to conceal a few blemishes.
Unlike regular foundation, this one's natural to the eye and to the touch. Hydrating from start to finish, your skin will stay soft. On top of that, it's formulated with SPF 30. So it's great for both day and night.
NARS Pure Radiant Tinted Moisturizer SPF 30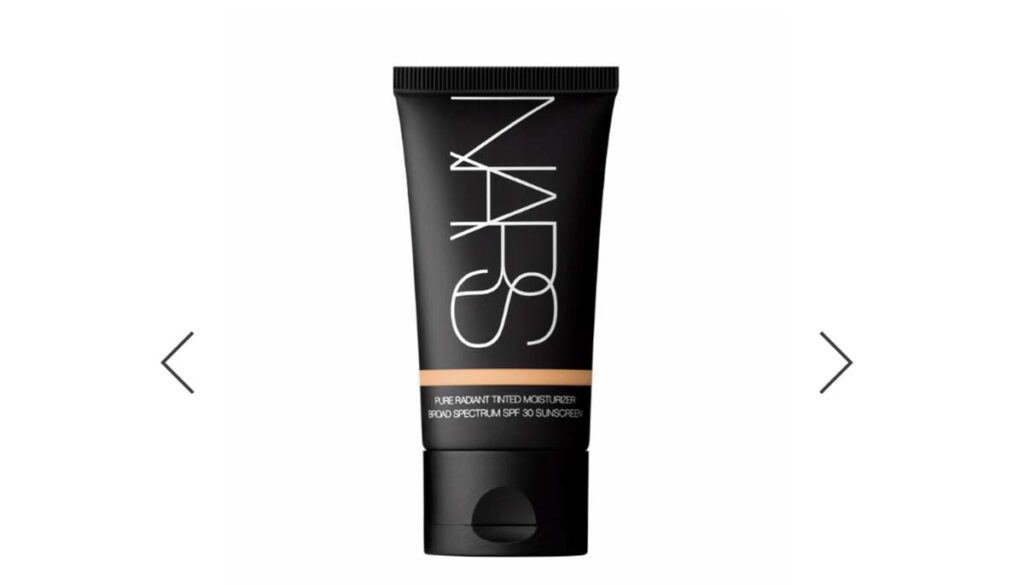 The truth is, I dread trying Nars samples because 9 times out of 10, I love whatever it is. The next thing you know, I'm happily paying $25.00 dollars for this mascara. But I've yet to find one that works better. Many say this product is no exception to that rule.
From its lightweight, blendable texture to its deeply hydrating nature, people love it. It helps that Nars Pure Radiant Tinted Moisturizer does something that most can't seem to master: it doesn't settle into your fine lines. If you want a tinted moisturizer that provides a natural yet boosted complexion and can really go the distance, you'll probably consider this one worth every penny.
DRMTLGY Anti-Aging Tinted Moisturizer with SPF 46
This one is famous for its "universal tint." The second it hits your skin, it plumps it up while it settles in. A friend of mine loves this stuff. She gifted me a bottle of the color she uses, and even though our complexions are nothing alike, it was a perfect match.
DRMTLGY Anti-Aging Tinted Moisturizer improves hydration levels, texture, and firmness. Cruelty-free, medical grade, and boasting broad spectrum protection, this potent product is definitely worth a try. With that said, I quit using it because the results started out stellar, but it gradually broke me out. So if you have sensitive skin too, don't ever fall asleep in this stuff… not even once!
Read More: How Often Should You Really Wash Your Face?
No7 City Light Tinted Moisturizer SPF 15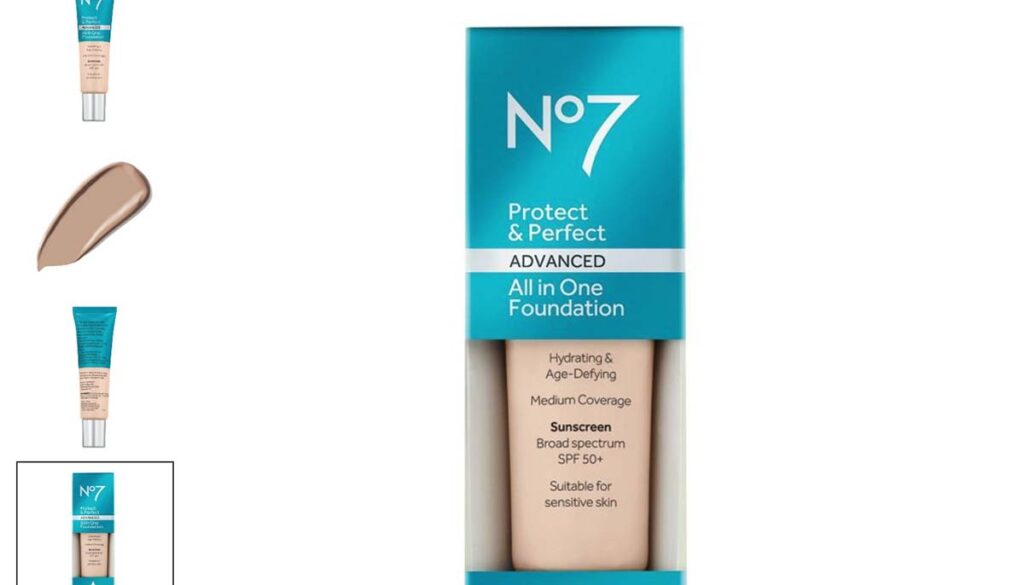 To make a great tinted moisturizer, it's key to prioritize the moisture part above all else, and No7 does that well. Its line of tinted moisturizers is adored for products providing all-day hydration, natural-looking color, and just the right amount of sheerness.
If you're looking for something that gives you a glow but keeps it natural at the same time, give the City Light Tinted Moisturizer a try. It's got just enough SPF to make a seamless layer before you put a thicker product (like foundation or bronzer) on top of it. And it's on major sale.
Ilia Beauty Super Serum Skin Tint
While I haven't tried every product on the list, I can be hard to please when it comes to anything tinted. My skin can be pretty finicky about any pore-clogging possibilities, so mostly avoid makeup-related products altogether. Still, I've tried enough tinted moisturizers to know that this one is superior. So even though I surely cannot afford a $48 tinted moisturizer, I keep coming back to it after everything else breaks me out or doesn't work quite as well as I know it works.
Award-winning and clean, Ilia's Beauty Super Skin Tint is formulated with squalane, hyaluronic acid, and niacinamide. This hydrating, skin-soothing serum also boasts SPF 40. Lightweight and dewy, it's buildable, easy to rub in, and like so many reviews note, it looks better and better as the day goes on. Not to mention, it protects against UVA, UVB, UVC, blue light, and pollution.
Beautycounter Dew Skin Tinted Moisturizer
Let's start by noting Beautycounter's commitment to working with ingredients you can feel good about slathering on your skin. Phthalate, paraben, and cruelty-free, the Dew Skin Tinted Moisturizer steers clear of about 1,500 other potentially harmful or irritating ingredients while it gets the job done.
Working with powerful humectants, this one is said to draw moisturize to the surface while keeping your skin hydrated on a cellular level. Creamy and richly pigmented, it provides masterful, even coverage.
Tarte Maracuja Tinted Hydrator
An Allure staff favorite of 2022, The Maracuja Tinted Hydrator is loaded with skin-nourishing and plumping properties, including hyaluronic acid, collagen, and the vibrancy-boosting turmeric.
Natural looking and buildable, you'll have up to 12 hours of sheer radiance with this vegan, superfruit-infused wonder. And if ultra-lightweight is your thing, this tinted moisturizer might be your new best friend.
HUDA BEAUTY GloWish Multidew Vegan Skin Tint Foundation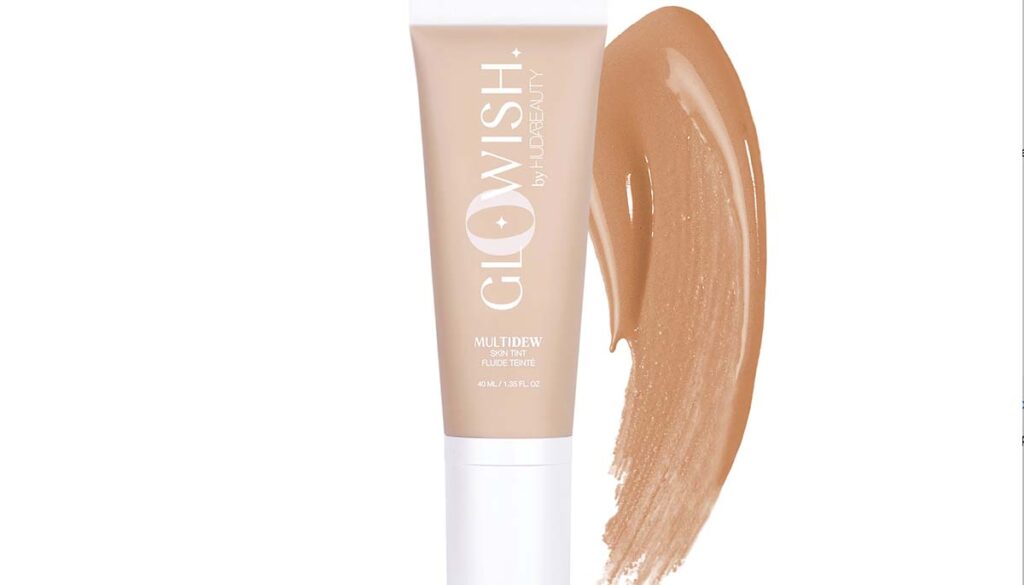 I wish my skin was always as dewy as it was when I tried this one. Sephora's samples have given me many things to covet this year, but Huda Beauty's GloWish Multidew Vegan Skin Vegan ranks highly. Those who swear by this fan-favorite call it high quality, easy to spread, velvety, and breathable.
Warning: it's not the cheapest choice. However, this wonderful tinted moisturizer makes up for the notably higher price tag with all-day hydration and red carpet-ready radiance that is surprisingly lightweight.
L'Oréal Skin Paradise Water-Infused Tinted Moisturizer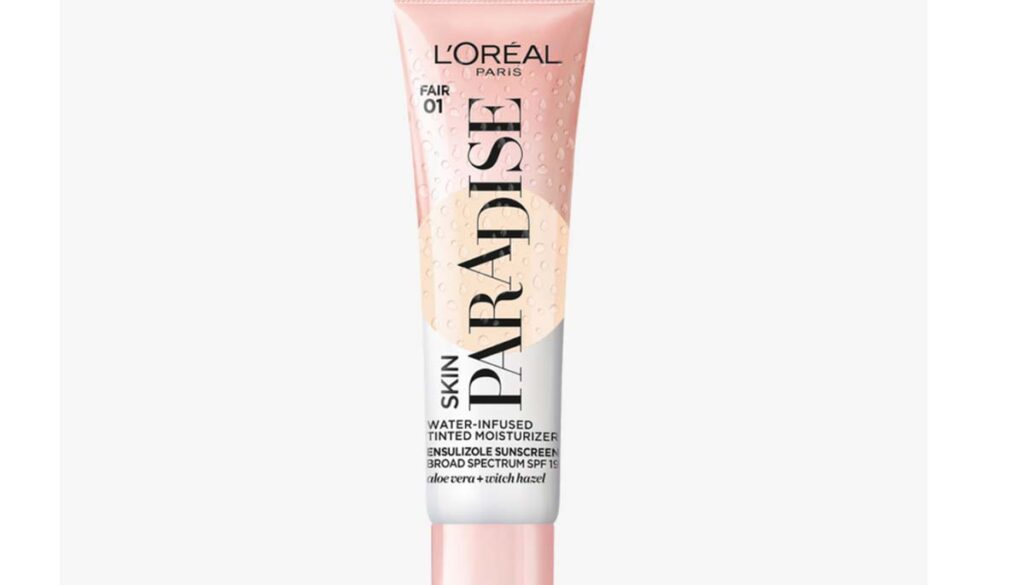 Voted the best budget buy by People, this water-based, tinted moisturizer practically melts its way into your skin. Infused with aloe vera and witch hazel, L'Oreal's Paradise Water-Infused Tinted Moisturizer will leave your skin feeling extra soothed.
While it is pretty sheer (and not ideal if you want layered coverage), it does go on seamlessly. Personally, I like that it can't turn my face into a blank canvas. If you like it when beauty marks and freckles are still visible, too, you'll probably like this tinted moisturizer. Full disclosure: some people said they didn't love it because it wasn't hydrating enough. Thanks to its low price and lightweight formulation, it's still a great everyday base, especially during the warmer months.
Read More: BB Cream, CC Cream, or Tinted Moisturizer: Which One Should You Choose?