Grilling season is in full swing!
How many times a week do you skip the kitchen in favor of the grill? Not only does it mean not heating up the kitchen with an oven, but it also adds that hint of smoke and char that you just can't get any other way.
But if you're getting bored with burgers and complacent with corn on the cob, I've got some fresh ideas to jazz up your next cookout.
Check out these surprising grilled food ideas to try the next time you fire up the grill!
Avocados
It might seem like avocado is too delicate to grill, and maybe that's why no one ever tries it. But I was watching Food Network the other day and I watched Jeff Mauro on The Kitchen throw avocado halves on a grill. You should have seen my face!
All you have to do is cut the avocados in half and remove the pits, brush each half with oil, and throw them cut side down on the grill. After a minute and a half, turn the halves 90 degrees to get cross grill marks, and cook for another minute and a half to two minutes. Season with salt and pepper.
You can use grilled avocado to take your guacamole to the next level with a slight hint of smoke flavor. Dice it up for a refreshing mango and avocado salad. Or, just leave it as is, and fill it with a heaping scoop of salsa in the center!
Cheese
This one will give new meaning to "grilled cheese." While we are used to many cheeses melting with heat, not all of them do. And certain varieties are an amazing addition to your summertime grilling lineup.
Halloumi, a semi-hard, salty cheese with a high melting point, is likely the best-known cheese for grilling. Throwing it on the grill makes it tender and soft, with a crispy and golden-brown exterior. Cut the halloumi into thinner slabs, about a half inch thick, and brush each side with oil. Grill two to three minutes per side, or until the outside is golden brown.
Kefalotyri has a very high melting point, too, making it good for browning on the grill. Queso panela is a little softer, but it does retain its shape on the grill. You can also grill brie, though you have to make sure the brie is fully surrounded by the rind to keep it from melting through the grates.
Lettuce
Like avocados, lettuce seems too delicate to grill. These leafy greens should never be anywhere near the flames of a grill, right? Grilled romaine is here to prove you wrong, and add some extra oomph to your summertime salads.
Cut romaine hearts in half lengthwise, and lightly brush the cut sides with oil. Place the romaine on the grill cut side down, and cook until grill marks form and the leaves are slightly charred — about one to three minutes.
Peaches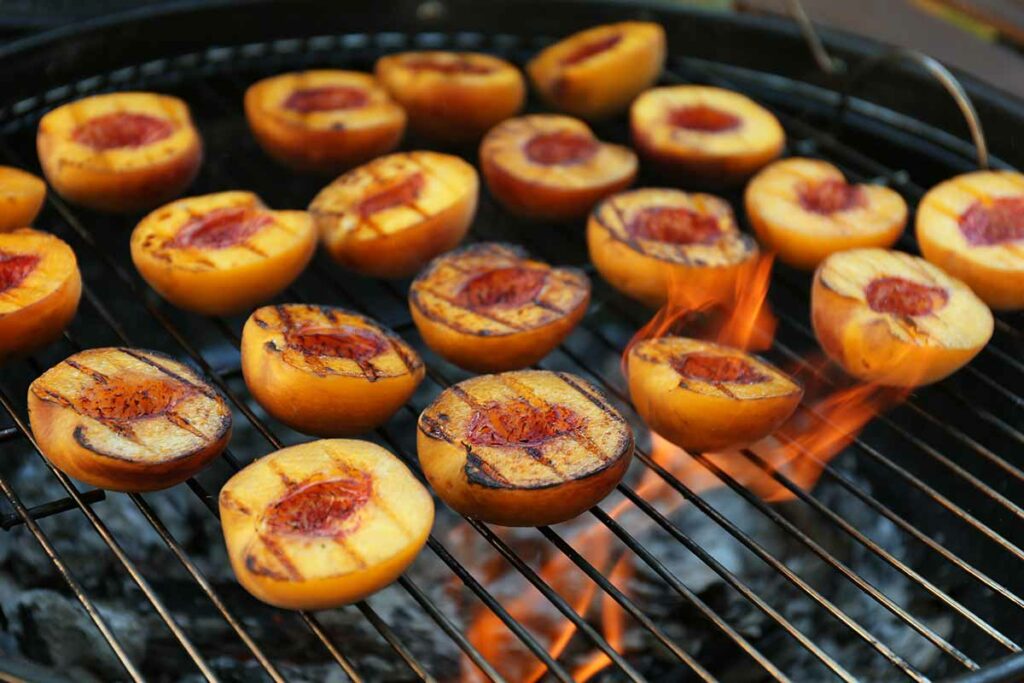 You've likely already heard people raving about grilled pineapple, or even grilled watermelon. But have you tried grilling peaches yet? Nothing says summer quite like them. The fruit's natural sugars caramelize on the grates, intensifying the fruit's natural sweetness. And of course, it infuses the peaches with a light smoky flavor that compliments the sweet taste.
Cut the peaches in half and remove the pits. Brush the cut sides with oil or butter, and put them cut-side down on the grates until grill marks form and they are lightly charred. You can top them with extra butter and a little cinnamon sugar when they come off the grill à la Bobby Flay, or simply throw a scoop of vanilla ice cream on top.