I can't tell you the number of times I've done a full face of makeup in the summer (foundation, bronzer, mascara, eyeliner…the whole nine yards), only to sweat it off less than an hour later. And let me tell you, it's not pretty.
While there are countless benefits to summer weather — like being able to wear tank tops and shorts — it's not necessarily the best temperature for long-lasting makeup. However, there are ways to keep your makeup looking flawless and fresh, even on extremely humid days.
So, whether you have an outdoor wedding coming up or just want to look good for your family BBQ, here are some helpful tips and tricks:
Skincare Is Key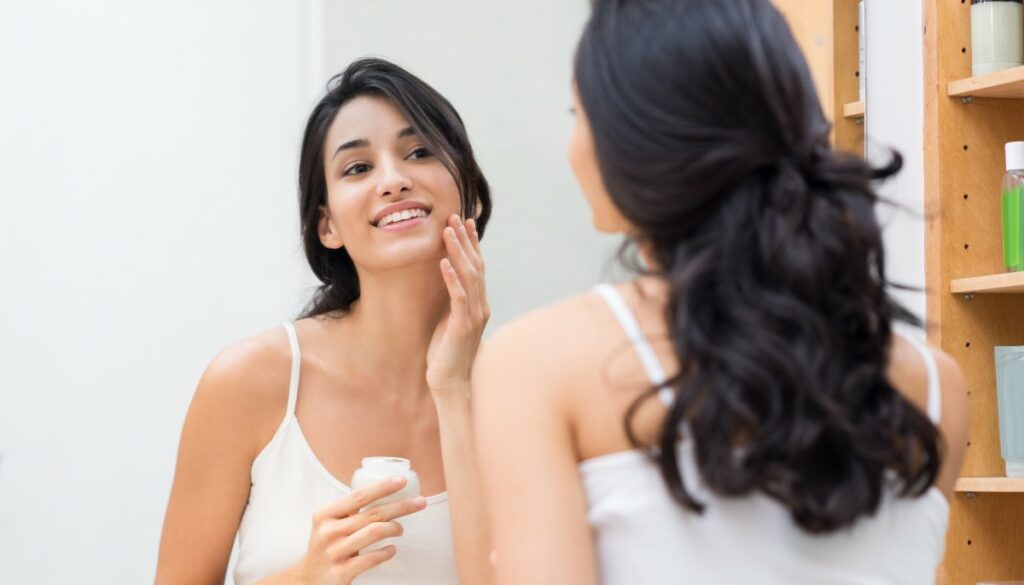 The best thing you can do to ensure your makeup stays on all day is to really commit to a solid skincare routine. Make sure you are hydrating your skin morning and night (a hyaluronic serum is a great way to go) and using an oil-free moisturizer in the morning.
This will keep your face from looking greasy when you put on your makeup, but it'll also give your makeup a nice, solid base. You should never be putting makeup onto your face before doing your skincare routine, but it's especially important in the summer.
Invest in a Primer
Along with putting on moisturizer every morning, you should also invest in a solid primer for the summer. They hold your makeup in place and prevent you from looking too shiny or oily. There are plenty of good primers on the market, but some of the best include Milk Makeup Hydro Grip, Tatcha The Silk Canvas, Elf Putty Primer, and Benefit Cosmetics POREfessional.
Less Is More
I know it seems counterintuitive, but if you want your makeup to last longer you should be putting less of it on. When you put globs of foundation and concealer on your face, it begins to crease and look cakey (especially in the summer).
Go for a lightweight tinted moisturizer instead, as well as a creamy concealer to cover up any noticeable imperfections.
Cream > Powder
Again, to avoid looking cakey, ditch your powder bronzers, highlighters, and blushes. Go for cream products instead. These luxe-feeling makeup miracles will give you a beautiful, natural finish and won't sweat off in less than 30 minutes. The good news is countless brands now offer cream products, so it won't be hard to find what you're looking for.
Waterproof Mascara
I know it's a pain to take off, but if you really want your eye makeup to stay put in the summer you have to use waterproof mascara. There are countless drugstore brands that make great waterproof mascara, such as Covergirl and Maybelline, so you won't have to spend more than $10. Now you won't have to worry about having raccoon eyes after an afternoon of hiking or spending time by the pool!
Setting Spray Is a Must
A setting spray is a great product to have all year round, but it is especially important in the summer. It helps to seal your makeup in place and keeps it looking fresh longer. In fact, I would recommend carrying a travel-size setting spray in your purse or car so you can reapply and refresh wherever you are.