If you are feeling a little frazzled, it might be time to get creative! I love some good crafty hobbies. If there was an award for collecting a ton of crafting skills, I'd probably be a contender. Mostly, I just like being able to create unique things.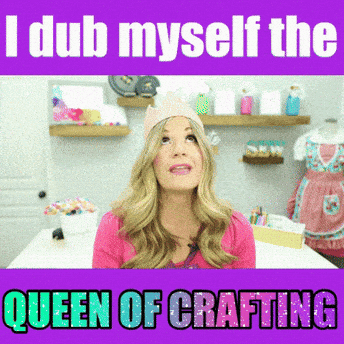 However, crafty hobbies can also help you bring your stress under control!
In a fast-paced world full of deadlines, expectations, and responsibilities, sometimes you just need a little escape. And with hobbies, you can get that escape without actually going anywhere. It's pretty cool when you think about it. Plus, you often get something tangible out of the whole ordeal!
I'm not making any of this up. It's been the subject of scientific research. Not only can being creative reduce stress, but it also lessens symptoms of anxiety and depression. It will increase positive feelings, help you feel more optimistic, and may even give your immune system a boost.
Getting creative can give your mind and body a break from all the stresses of daily life. It can also provide an escape from difficult situations and intrusive thoughts that may be otherwise hard to control. When we focus on a crafty endeavor, we are doing it in place of the stressful things we were thinking about before. Not to mention, sometimes finishing a craft can give us an extra boost of dopamine!
If you're ready to give it a go, finding crafty hobbies to promote stress relief is really only limited by your imagination. The possibilities really are endless. To get you started, I've rounded up some of the most common crafty hobbies. But don't be afraid to start digging into the creative world. You may find something that you can't get enough of!
Visual Arts
Trying your hand at some classic art projects can do a world of good when you're feeling stressed or anxious. You can draw, paint, collage, and more. If you prefer to work digitally, you have technology at your fingertips, too. Apps like Procreate are great for digital illustration.
If you don't feel so artistically inspired to create something from scratch – hey, emotional exhaustion and fatigue from stress are real – even adult coloring books provide the same stress-relieving benefits. Basic colored pencils, markers, or crayons are all you need to chase a little bit of stress away.
If you prefer the challenge of 3D, you can try your hand at putting together scale models, sculpting with clay, wood carving, or even 3D paper crafts. Really, any way that you can use art to express yourself!
The idea here is that you will be focusing on your art project, rather than your worries and the rest of the world. It can also give you an outlet for pent-up feelings while you take time to diffuse.
Writing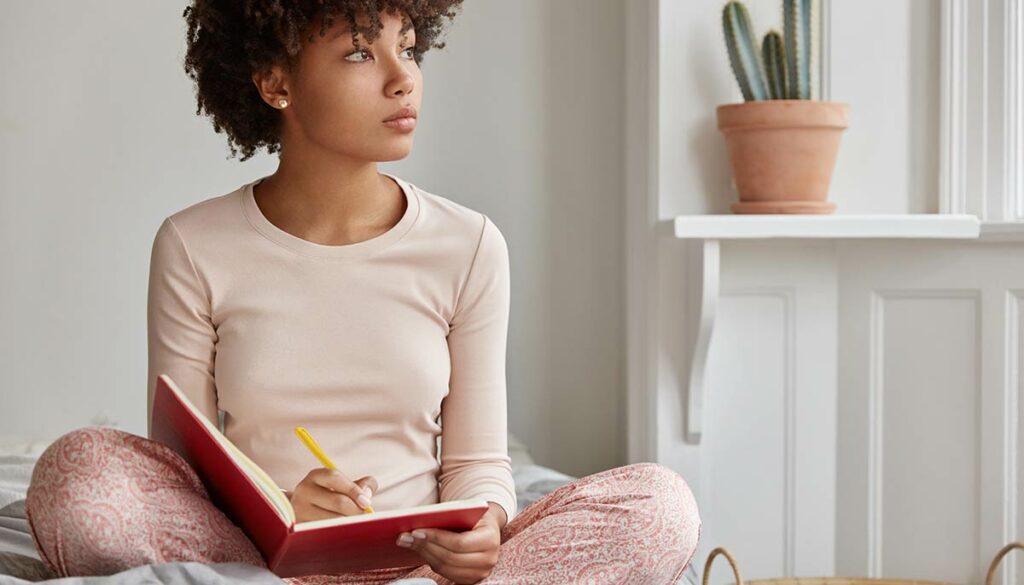 Creative writing, whether you're penning a poem or putting together a short story, provides a constructive escape. This can be great when you need a temporary distraction, just like with the art projects I already mentioned. It'll give you time to diffuse, and improve your mood. You'll be able to come back to the real world later, and hopefully find yourself a little less anxious.
Writing can also help you face intrusive thoughts, emotions, difficult situations, and anything else that is stressing you out. There's something magical about getting it out of your head and onto paper. It will give you a chance to self-reflect, help you to be mindful, and you can see things from a new perspective.
You don't have to write a novel, and it doesn't matter if you write something fictional or not. Write anything that comes to mind, or start a daily journaling practice. Try out writing a song, or look up creative writing prompts.
Scrapbooking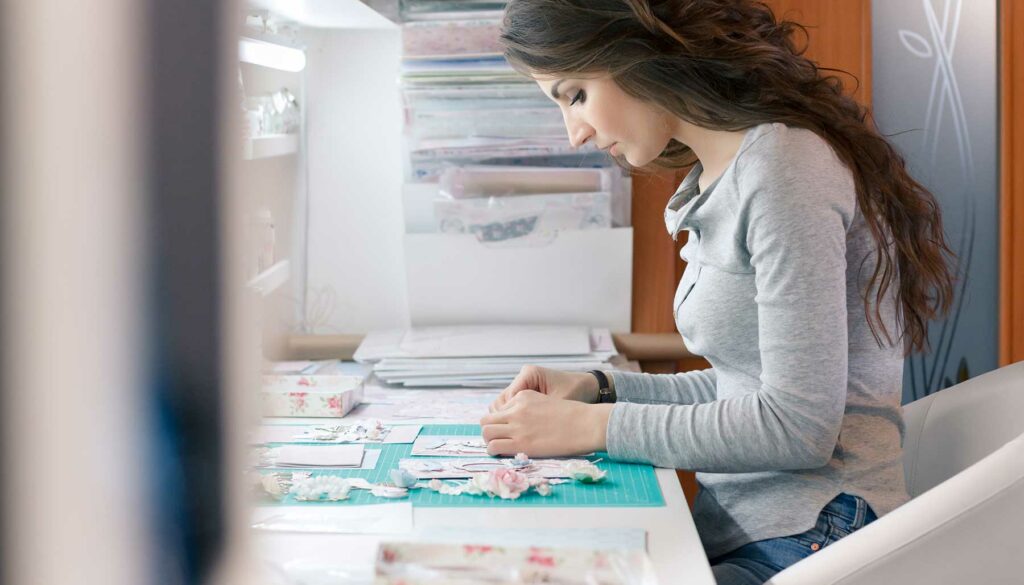 With scrapbooking, you can combine journaling with visual artistry together into one hobby! Scrapbooking creates a unique way of displaying your memories and lets you actually enjoy your photos rather than keeping them tucked away in storage.
As you work on your scrapbook, you can focus on all your good memories! It's a way to celebrate the special people in your life. It will certainly take your mind off of all the everyday demands of life. As an added bonus, regularly scrapbooking could help give your mind a workout. Each time you relive memories and try to remember details, you're working your brain and keeping your memories sharp.
Scrapbooking can even provide social opportunities if that's your thing. While scrapbooking can obviously be done alone, there are also classes, gatherings, and forums out there. Being around other people who share similar interests can definitely boost your mood.
Dance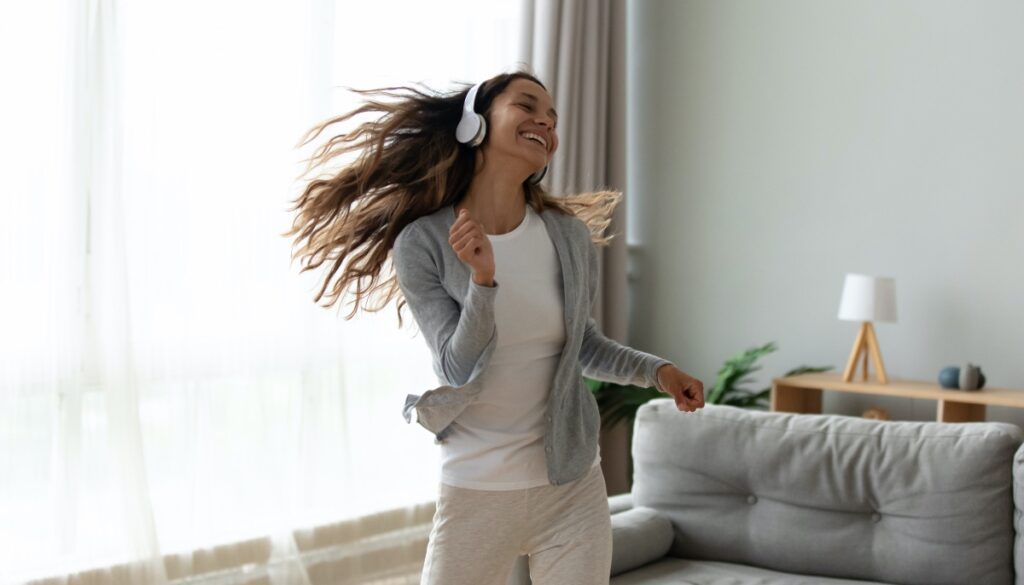 Dancing is one of the best ways to relieve stress and anxiety. Hey, you don't even have to be good at dancing to get the benefits! Just get up and move, because dancing reduces stress and anxiety just like other forms of exercise. That's because physical activities release endorphins, the "feel good" hormones. It will leave your mind and body feeling better quickly.
Dance has a leg up on other kinds of physical activity, though. It connects to emotional centers in your brain and will help you process and release bottled-up emotions.
You don't have to take a ballet class. Turn on some music and dance like no one is watching. YouTube has a plethora of dance workouts, or learn how to do a new dance with an instructional video. Your local gym or community centers may also offer dance classes or workouts.
Playing (or Learning) an Instrument
Music makes people feel better. This is true for listening to music, and for making music. When you create music, not only does it give you something to focus on, but it also allows you to express yourself on an emotional level. That emotional release is a great way to deal with stress.
Of course, if you don't already know how to play an instrument, there's no time like now to learn! Not only will it provide a distraction from the stresses of everyday life and help reduce anxiety, but research also shows that it can even lower your blood pressure and heart rate. It will also teach you patience, and learning a new skill is another great way to boost your mood.
Local music shops are great places to find recommendations on lessons. But these days, you can also find plenty of resources online, including on YouTube and apps.
Knitting or Crocheting
Knitting and crochet are known for being remarkably meditative. That's probably why every knitter I know is calm! The repetitive and rhythmic motions are pretty relaxing. Once you get past the initial learning curve, knitting and crocheting can lower your blood pressure and heart rate, while also reducing the levels of cortisol, the stress hormone.
If you already have friends that know how to knit or crochet, ask them if they would be willing to teach you. More often than not, they are more than happy to teach people how to work with yarn! But even if you don't have a person to teach you, YouTube saves the day again. You'll find plenty of tutorials to follow.
Other Fiber Arts
I felt like knitting and crocheting needed their own shout-out, but other fiber arts can also be just as stress-reducing. There are many different ones to choose from, so there is a little something for everyone. Manual tie-dying techniques, like shibori, can be extremely satisfying. Macrame has increased in popularity in recent years, and you can even find kits on Amazon. Or, try your hand at any other number of fiber arts: embroidery, weaving, basket making, felting, rug hooking, and more. Many of these have traditions that go back hundreds and even thousands of years, and there's really no end to the possibilities.
Related: Trendy Needlework Hobbies Ranked from Easiest to Hardest
Just like with knitting and crocheting, other fiber arts can be cathartic. The repetitive nature of many of these make them a meditative experience. And like with any other creative hobby, they give you a way to express yourself.
Sewing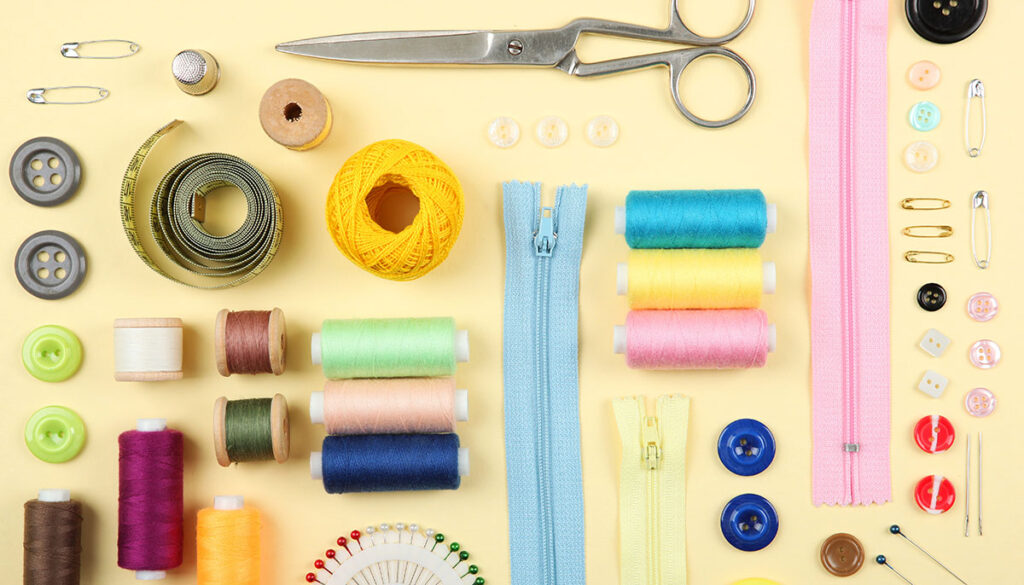 This creative hobby comes with a bit of a disclaimer: sewing is not relaxing for everyone! I know that there are some folks that wind up getting more stressed from sewing. If that's you, don't do this hobby to reduce stress levels.
But for some people, creating something with sewing can be both stress-reducing and rewarding. Being forced to concentrate on a single task – sewing your project, in this context – does enable you to become immersed in the moment, which encourages mindfulness.
If you have never sewn anything before, start small with a hand sewing needle. If you are lucky enough to already have a sewing machine, you can use it to create new things. You can sew something complicated like a quilt, or something as simple as a basic tote bag, depending on your skill level.