Is sunscreen for your eyes and lips really necessary? In short, yes it is. After all, these are the most sensitive parts of our faces. So when you think about it, they actually need to be protected even more than your average sun-exposed area, not less.
When it comes to sun protection, skipping your eyes and lips is not only careless, it could be damaging and dangerous. And obviously, sticking to bad, yet familiar habits are not worth the risk a lack of sunscreen poses to your health.
So it's settled. We should all be applying sunscreen to all parts of our bodies that are exposed to the sun, without a doubt. Most notably, we should not neglect our most sensitive, too-often neglected areas anymore. The question now becomes: do we need special, specific products designed to protect our eyes and lips? Here's what you need to know.
It's Time to Stop Overlooking Your Lips and Eyes
The skin around your eyes is the thinnest and most delicate skin on your entire face. In fact, the skin on our eyelids is actually the thinnest layer of skin of the entire body, followed closely by our oh-so-sensitive lips. And you know what sensitivity means; both are that much more susceptible to becoming irritated by sun exposure and harsh products.
Our eye skin is almost paper-thin and becomes thinner as we age. While that reality is somewhat unavoidable, a lack of sunscreen accelerates that process. As for the skin of our lips, it's incredibly thin as well and lacks sweat glands, meaning our lips are missing the typical protective layer provided by sweat and body oils. This is why the lips are prone to drying out quickly. They become chapped more easily than any other part of the body. Thus, chapped lips are suffering more consistent sun damage than almost anywhere else.
More so, dermatologists have documented finding skin cancer in these areas for years, most commonly due to people not applying SPF to their eyes and lips as often as they should, or at all. Due to widespread neglect and misunderstandings about these damage-prone areas, eyes and lips are often the first places dermatologists check for skin cancer these days. As noted by the Columbia University Department of Ophthalmology, five to 10 percent of all skin cancers are found on the eyelids. But you can prevent it with the right precautions, namely, SPF.
Potential cancer risks aside, you should protect your eyes and lips from the sun to avoid signs of premature aging and to keep your skin all-around healthy. Due to your eyes and lips' delicate nature, fine lines, sagging, dryness, creasing, sun spots, and puffiness often show up in these areas long before any others when people neglect the SPF.
As with all sunscreen locales, you should apply SPF to dry skin 15 to 20 minutes before you go outside. If you wait until you're already at the beach, your perspiration will likely make your sunscreen much less effective. So don't waste your time, money, or effort. Apply it before you go. Also, to be truly protected, you need to reapply all SPF every two hours, especially if you're spending all day in the sun.
If you're not sure where to start with SPF, no sweat. These are the best sunscreens for every skin type.
Sunscreen in The Eyes Stings. Here's How to Avoid it.
Nobody likes sunscreen in their eye, obviously. Still, that's not enough reason to avoid using it. Not anymore, anyway. It can be problematic to use traditional sunscreens around your eyes, especially when typical formulas start running down your face once you start to sweat. Luckily, there are more and more brands coming up with brainy ways to get around this common SPF issue and keep your eyes pain-free and protected.
Currently, the winning solution to avoid eye-stinging for many brands is using mineral actives rather than active chemical ingredients. For instance, Supergoop! continues creating eco-friendly, forward-thinking products designed with the very best sun protection in mind. And they truly work skincare wonders. For eyes, try their Bright-Eyed 100% Mineral Eye Cream with SPF 40. Its non-nano zinc oxide promises your eyes will be stinging-free, irritation-free, and more youthful-looking.
No matter what eye SPF you go with, look for products that nourish your eyes and bring out their best. Supergoop! remains a personal favorite for its all-around effectiveness. The aforementioned Bright-Eyed Eye Cream is formulated with the South African resurrection plant, famed for its next-level moisturizing abilities and deep hydration. And it gets the brightening effect from nutrient and mineral dense ingredients like pomegranate and mica.
SPF on Your Lips = a Game Changer
As mentioned, SPF on your lips is pretty important. Furthermore, your lips will undoubtedly look their best once you've started applying it regularly. The more your lips are exposed to the sun, the more damaged they'll inevitably become. That damage increases exponentially if you're not protecting them.
Some people think that because our lips are darker than the rest of our face skin, we have more melanin there. This common misconception has led many to neglect using sunscreen on their lips, but neglecting this area is a huge mistake.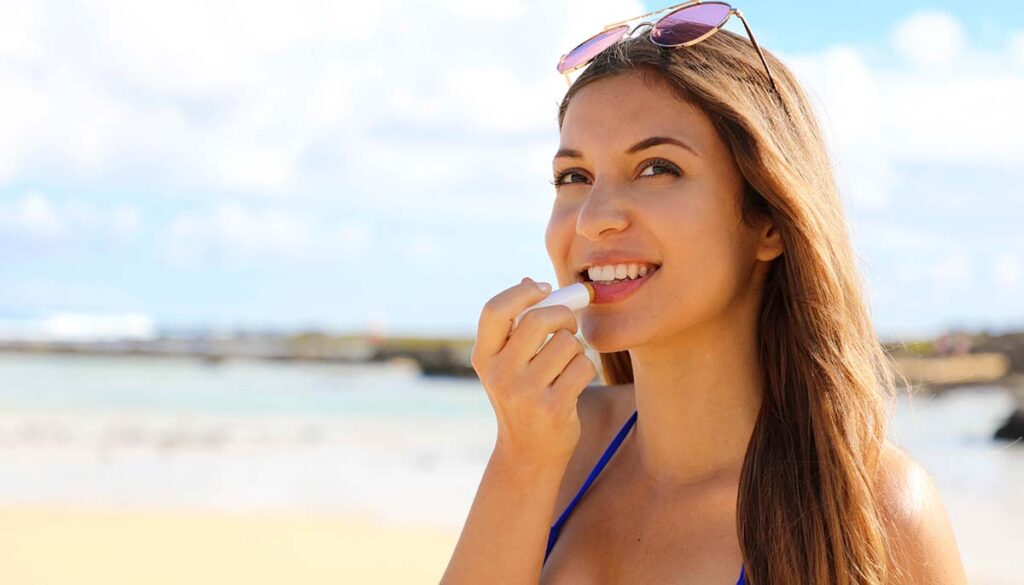 In reality, our lips tend to be a darker color due to tons of blood vessels, not extra melanin. And so, they're even more sensitive to sun exposure than the rest of the body. So in an addition to an increased risk for skin cancer, sun exposure without SPF speeds up a gradual breakdown of collagen in your lips. Without proper collagen production, your lips will start thinning. So to protect against sun damage and unnecessarily intensified premature aging, pucker up and apply your SPF!
The good news is, this one's historically way easier to apply than SPF for your eyes. Trade out your daily non-SPF lip balm for SPF-infused lip balms. There are tons of top-notch options on the market to choose from. Here are the 7 best lip balms with SPF, according to top dermatologists.
Whether you go for an SPF lip balm that's clear or tinted, aim for a protective lip balm boasting at least SPF 30. Also, be sure to read the ingredients and fine prevent to make sure you're getting the best protection possible. Currently, the best balms on the market provide broad-spectrum protection against the sun's UVA and UVB rays. So know what you're paying for and what you're not.
Don't Toss Out Your Favorite Lipstick or Gloss Just Yet
Unfortunately, we haven't arrived at that magical moment where standard lipsticks are consistently being made with sun protection. But we'll get there soon enough. In the meantime, there are alternatives, and they don't include throwing out your perfect shade.
Supergoop! once again leads the protection pack with their award-winning Lipscreen. It's a clear, nourishing lip gloss that includes SPF 50, deeply hydrating kelp extract, and instantly nourishing sunflower oil. On top of that, it seamlessly layers over your favorite shade of lipstick. Coola makes a wonderful tinted balm with SPF 30 that provides the perfect pop of color. Or, if you're looking for a great budget-buy and you like to keep your lips natural, try Sun Bum's SPF 30 Sunscreen Lip Balm.
Also, if you're a fan of shiny lip gloss, you're already on the right track. As it turns out, various studies have shown that shiny lip glosses may actually deflect the sun significantly better than others. That doesn't mean you should skip SPF. Instead, look at it as doubling up on protection whilst perfecting your pout.
So Now That Your Eyes and Lips Are Covered, Let's Talk About The Final Step…
So let's say you're applying SPF around your eyes, lips, and everywhere else you're exposed to the sun on a regular basis. Nice work! So what's next? Well, if you're serious about protecting your most sensitive skin, it's time to reach for those sunnies, sister.
No matter the time of year or the state of the weather, sunglasses will always help block out the sun's damaging rays in various ways. Don't let those clouds fool you. You need to protect your eyes at all costs. Not only will you be putting a much-needed barrier between your eye skin and the sun, but they'll also stop you from squinting as often.
As we now know all too well, consistently squinting is one of the leading culprits behind fine lines and "crow's feet." The takeaway: find your favorite pair of shades and never leave home without them.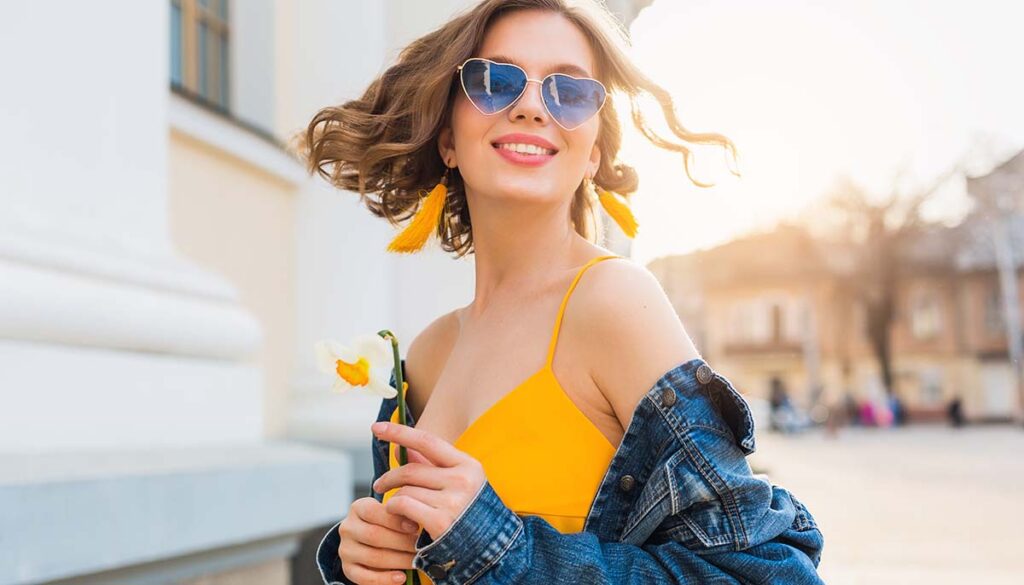 No matter the season or fashion climate, sunglasses never go out of style. If you're out and about on a sunny day, they're always an easy shield worth wearing. If you're worried about tan lines around your eyes, sunscreen comes in handy here as well. Look for eye creams specially formulated with SPF for those sunglass-free moments.
Ready to make more positive changes with your healthiest eye and lip skin in mind? Make this the year you commit yourself to an annual skin check with your dermatologist. Also, make sure to give yourself a healthy skincare checkup from time to time. And no matter what, before you head back out for more fun in the sun, make sure you've got your most sensitive areas fully covered.