When it's cold outside, nothing warms you up quite like a comfort dish.
Comfort food is welcome all year long, but it certainly hits different in the winter. As soon as the temperatures drop, it's time to feed your soul with the kind of solace that can only be brought by hearty and decadent dishes. From soups and stews to pastas and potatoes, these are the cozy recipes packed full of flavor that can cure those winter blues.
So pull up a chair and break out the bowls — it's time to dig into some seriously comforting dishes that will keep you warm this winter.
Read More: Winter Recipes for Every Zodiac Sign
Chicken Enchiladas
Okay, who doesn't love enchiladas? This Mexican dish is peak comfort food. It's the perfect combination of so many delicious ingredients: tortilla, chicken, cheese, and plenty of sauce. There is so much flavor in every bite! The chicken is so moist, the tortillas are soft, and the tangy sauce really compliments the creamy, rich filling. To top it all off, it's so easy to make, so you'll have a comforting dish on the table in no time. You don't even have to cook the chicken yourself if you don't have time – just shred a cooked rotisserie chicken from the grocery store to save even more time!
Check out the recipe here: Easy Chicken Enchiladas
Baked Feta Pasta
Remember when everyone was making that baked feta pasta they saw on TikTok? I admit that I was skeptical of it when I first saw it sweeping the internet, but it's actually really good. I was pleasantly surprised – enough that I've continued to make it again and again. There are plenty of variations in recipes out there. Some have you roast large chunks of garlic, while others use minced. Some have fresh basil on top, while others have you toss in crushed red pepper flakes. Regardless, the basic premise is the same across the board, and they're all delicious.
Check out the recipe here: Baked Feta Pasta
Shepherd's Pie
My mom used to make her own version of this dish all the time, and it is so rich and filling. Traditional Irish Shepherd's Pie calls for lamb, but if you don't have it (or don't like it), you can always substitute it with ground beef instead. And to save time, you can use instant mashed potatoes – but if you've got the extra time, mashing real potatoes will always taste best!
Check out the recipe here: Shepherd's Pie From Alton Brown
Bangers and Mash
Bangers and Mash is a classic British comfort food. If you've never tried it before, now's the perfect time! It consists of sausages served over mashed potatoes and smothered in onion gravy. It can also sometimes include fried onions and peas. If that doesn't sound warm and comforting, I don't know what does.
Check out the recipe here: Bangers and mash (Sausage With Onion Gravy)
Colombian Chicken and Potato Soup
Talk about comforting! A hot bowl of hearty soup is always a delicious way to fill up, and this one is extra flavorful. Ajiaco is a dish found in Colombia, Cuba, and Peru and is made with shredded chicken and potatoes. Although the ingredients are simple enough, this soup boasts plenty of big flavors. Serve it with toppings like cilantro, avocado, capers, lime wedges, or even cooked white rice. This is sure to be a favorite, so make extra!
Check out the recipe here: Colombian Ajiaco (Chicken and Potato Soup)
Chicken and Dumplings
If there was an illustration next to "comfort food" in the dictionary, it would likely be a picture of chicken and dumplings. This is a classic dish that will keep you warm all winter long, and it's probably much easier to make than you thought. While it takes a little over an hour to make, most of that time is actually just letting it simmer on the stove. That extra cook time ensures that the chicken is super tender, and all the flavors meld into an extra flavorful combination.
Check out the recipe here: Old Fashioned Chicken and Dumplings
Shrimp Fettuccine Alfredo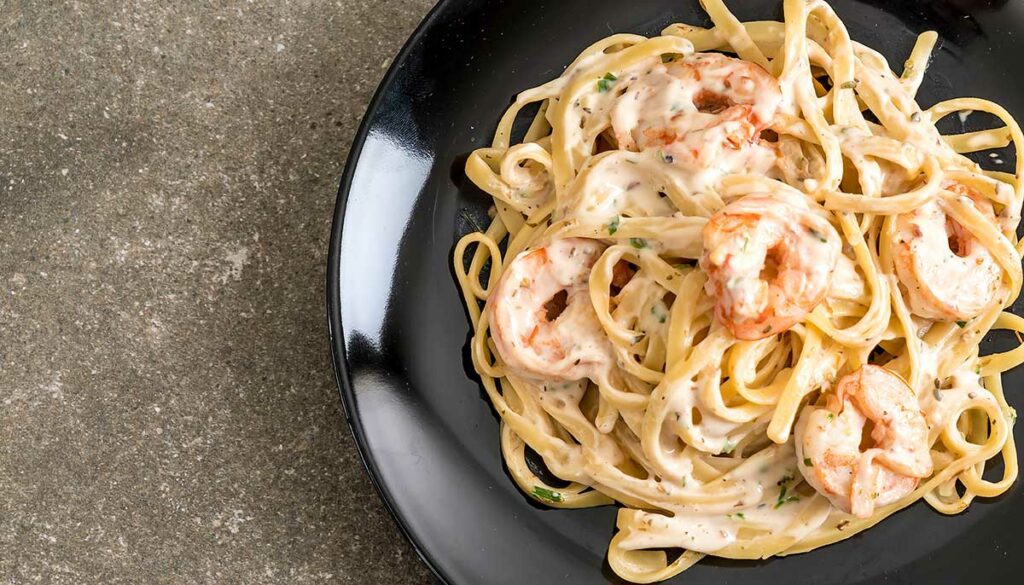 Talk about dreamy and creamy! Shrimp alfredo is always a delicious choice when you're looking for something warm and substantial. And while shrimp is often associated with more spring and summer dishes, this one is definitely a comforting dish for winter months. It's comforting, creamy, and satisfying, thanks to that amazing sauce. Don't skimp on making your own sauce, though. Once you've realized how simple it is to make, you'll never go back to the jarred stuff ever again.
Check out the recipe here: Shrimp Fettuccine Alfredo
Lasagna
Lasagna is synonymous with comfort if you ask me. This super hearty and decadent dish is heaven on a plate. I used to think lasagna had to be complicated to make, but it's so easy! Plus, dare I say, putting together all those layers is kind of fun. I made it once and never looked back. Spinach makes a welcome green addition to boost the nutrition here, and even the pickiest eaters will eat it when it's packed between cheese and pasta. Just don't tell your Italian grandma that you used jarred sauce.
Check out the recipe here: Spinach Lasagna
Quick and Easy Homemade Ramen Bowls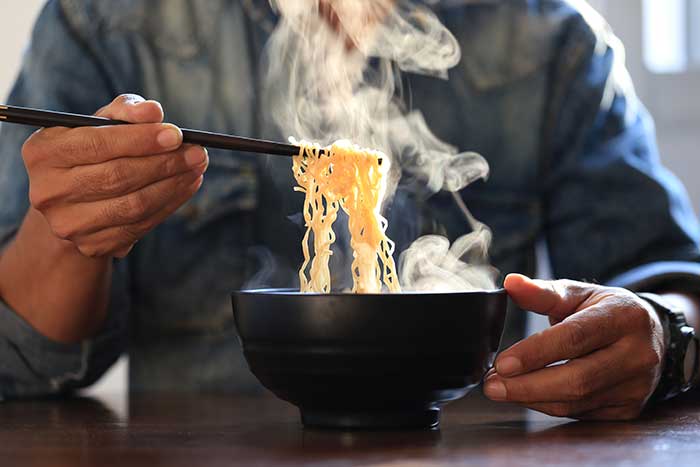 Ramen has gained a ton of hype in the U.S. in the last several years, and for good reason: these big slurp-worthy bowls are delicious and decadent. But making it at home can seem intimidating, to say the least. This easy recipe for homemade ramen bowls uses approachable ingredients that most people already have at home. You can also add ingredients to customize your bowls however you like! It's easy enough that it has become one of my go-to dishes for weeknight dinners. Think of this as an introduction to the world of ramen bowls.
Check out the recipe here: Easy Homemade Ramen Bowls
Minestrone Soup
Minestrone is like the ultimate vegetable soup. Not only is it packed full of vegetables like tomatoes, celery, carrots, and more, but this thick soup also features a hearty serving of beans and pasta or rice. This Italian soup originated as a meal made with whatever is on hand, so you can just throw in whatever veggies you have for the ultimate customizable soup! Serve it with crusty bread for an easy yet delicious meal.
Check out the recipe here: Classic Minestrone Soup
Instant Pot Indian Black Eyed Pea Curry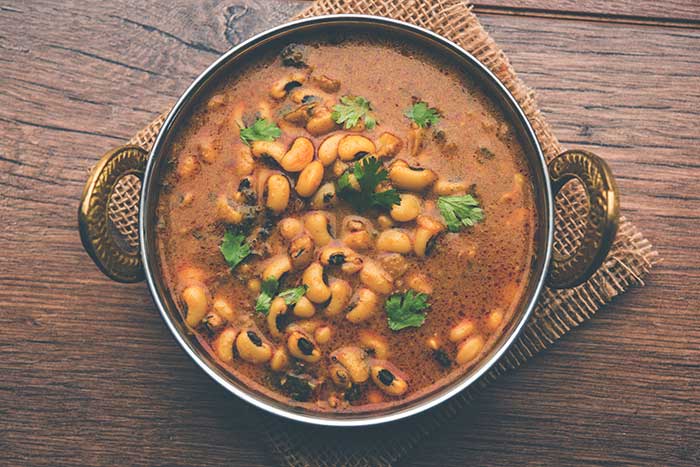 I spent years thinking I just didn't like black-eyed peas, but as it turns out, I just hadn't had them done right yet! This recipe for black-eyed pea curry (aka Punjabi Lobia Masala) has made me a fan for sure. Thanks to the Instant Pot, you can get this buttery, delicious dish on the table in half an hour or less. Instead of having to soak dried peas for an hour or two, skip that step and use canned black-eyed peas instead.
Check out the recipe here: Instant Pot Indian Black-Eyed Pea Curry
30-Minute Chilaquiles
This is a traditional breakfast dish served in Mexico, but you can make it any time of day. You only need 30 minutes to put this hearty, flavorful dish together. The beauty of chilaquiles is that you can customize this dish any way you want. As it is in this recipe, it's a tasty vegetarian option. However, feel free to top it with shredded chicken, a fried egg, or anything else to make it your own unique creation.
Check out the recipe here: How To Make the Absolute Best Chilaquiles in Just 30 Minutes
Cannellini Bean and Sausage Stew
For a hearty, filling dish that will keep you warm all winter, look no further than this sausage and cannellini bean stew. It's a one-pot meal that's super simple to put together, too. The recipe calls for kale, cannellini beans, and Italian turkey sausage, so it's not necessarily heavy and unhealthy. Don't let all the healthy-ish ingredients fool you, though. It boasts plenty of bold Italian flavors, along with a little bit of smokiness from the sausage and a slight kick from the red pepper flakes.
Check out the recipe here: Giada De Laurentiis' Cannellini Bean and Sausage Stew
Classic Slow Cooker Pot Roast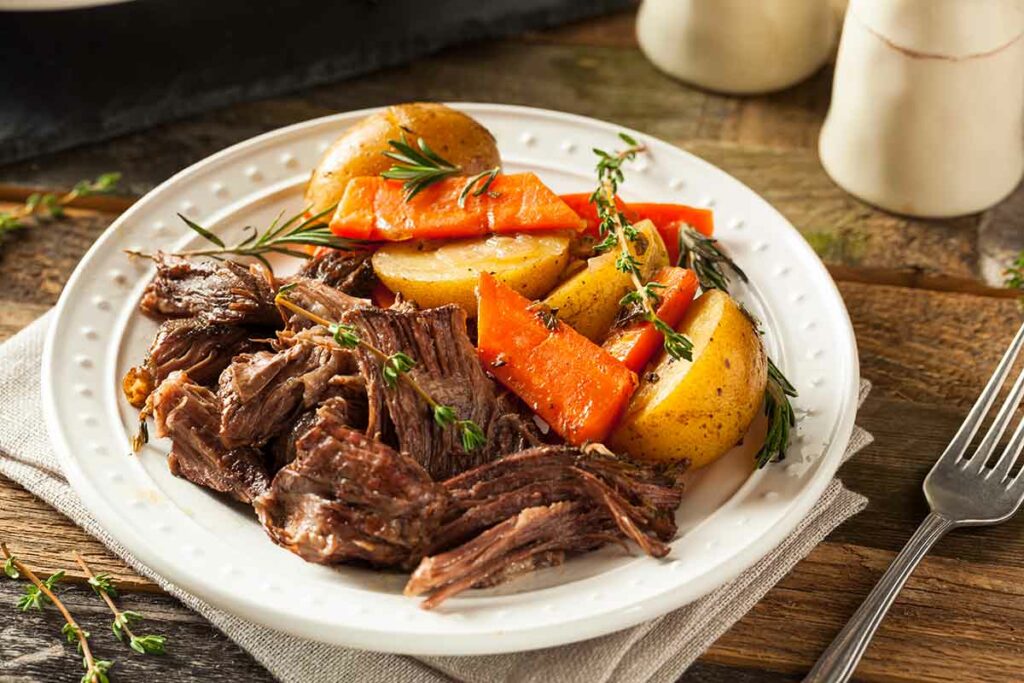 I grew up eating this plenty, so you can imagine why I feel like the slow cooker pot roast is the quintessential comfort food. It was the easiest way to put a delicious, flavorful dinner on the table, and it was always a family favorite. With chuck roast, potatoes, and carrots, you're looking at a hearty, no-fuss dish that comes together beautifully. Simply throw the ingredients into the slow cooker in the morning and let it go on low until dinner time. All those flavors will come together by the end of the day with no extra effort on your part.
Check out the recipe here: Slow Cooker Pot Roast
Shrimp and Grits
I live in the South, so any list of comfort foods I put together would not be complete without the iconic Southern dish shrimp and grits. If you have never had grits, I urge you to try them. This is seriously down-home comfort food at its finest! Creamy grits are paired with plump shrimp, and there's usually plenty of butter and cheese to go around. Add some bacon in there, and it's heaven in a bowl.
Check out the recipe here: Southern Shrimp and Grits