Because we begin and end every day in our bedroom, the colors we surround ourselves with matter, especially when it comes to our walls.
For a soothing space that promotes deep relaxation, clarity, and all-around calm, you might want to consider painting your walls one of the following colors or mixing them in with your decor. Countless interior designers and psychologists agree.
Lavender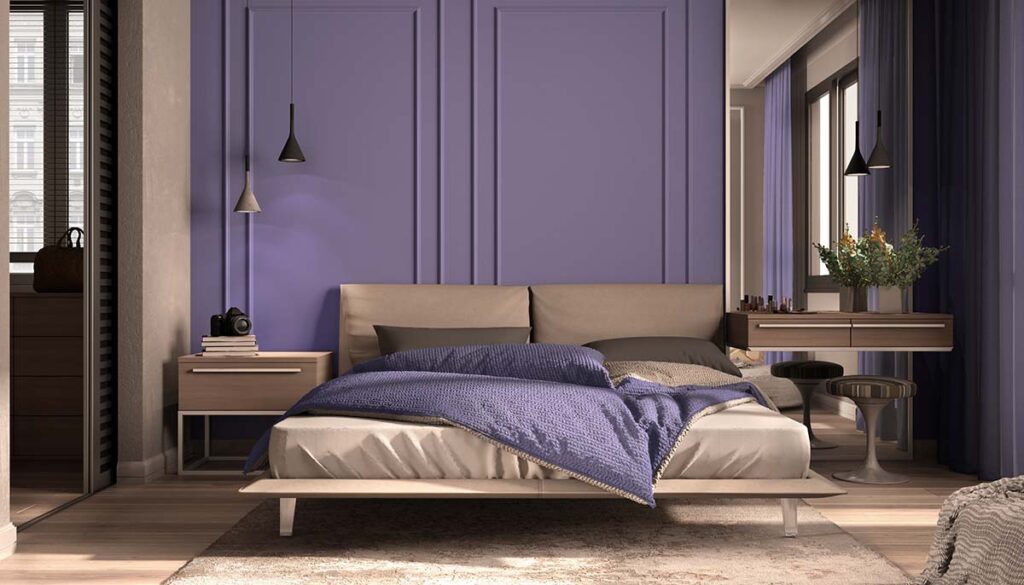 Lavender is a flower renowned for its soothing properties, and the color plays a big part. It has a blue base, and blue is the primary color that most promotes calm.
Striking and delicate, this dreamy color is known for greatly impacting our moods. In any of its forms, lavender can help reduce stress, depression, and improve the overall quality of sleep.
Tranquil White
If you're aiming for a truly serene bedroom, don't underestimate tranquil white walls. This clean and pure color is known for calming even the busiest of minds. Not to mention, it has the visual power to make just about any space look significantly bigger. A tranquil white also allows you the most freedom to play with accent colors as often as you'd like.
Dusty Rose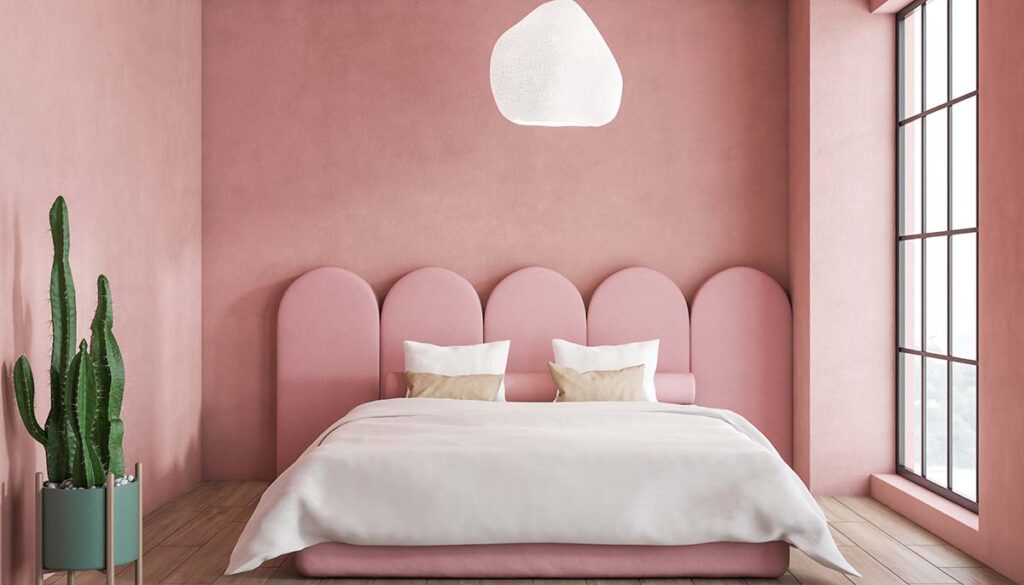 Dusty rose pink is a calming color for any bedroom. If you're worried about it being a touch too feminine, you can incorporate it in a more gender-neutral fashion through accents, especially in mostly neutral bedrooms.
In general, pinks are said to calm and reassure our emotional energies. This specific shade is believed to promote the feeling of security.
Sky or Sea Blue
There is no color said to be more soothing than blue, and soft palettes are often at the top of that list. Psychologically, sea blue and sky blue are said to be the best bedroom choices for creating a peaceful and tranquil environment that also promotes orderliness.
Neutral Beige
The most calming neutral colors are said to be tan or beige. If you find yourself under a lot of stress or have a hard time quieting your mind, opt for neutral walls. It'll help you relax. As for accent colors, try to strike a balance through contrast, incorporating energizing colors that still tie into nature, like mint green or warm orange.
Sage Green
Sage green represents rejuvenation, nature, and tranquility. All over the globe, green is associated with good luck, renewal, and transformation. If you don't want to paint your entire bedroom (or one wall) green, incorporating foliage is also a great way to create a calm and restorative space. And thanks to their oxygen-producing abilities, they'll help you breathe better while you sleep.
Taupe
If you're really ready to Fengshui your sleeping space, don't rule out taupe too quickly. It's said to invoke feelings of comfort, control, and contentment. Due to its in-between vibe, you'll have a lot of flexibility with this one when it comes to accent colors. And there are plenty to choose from. Take a look at the ten best taupes for your home, compliments of The Spruce.
Pale or Burnt Orange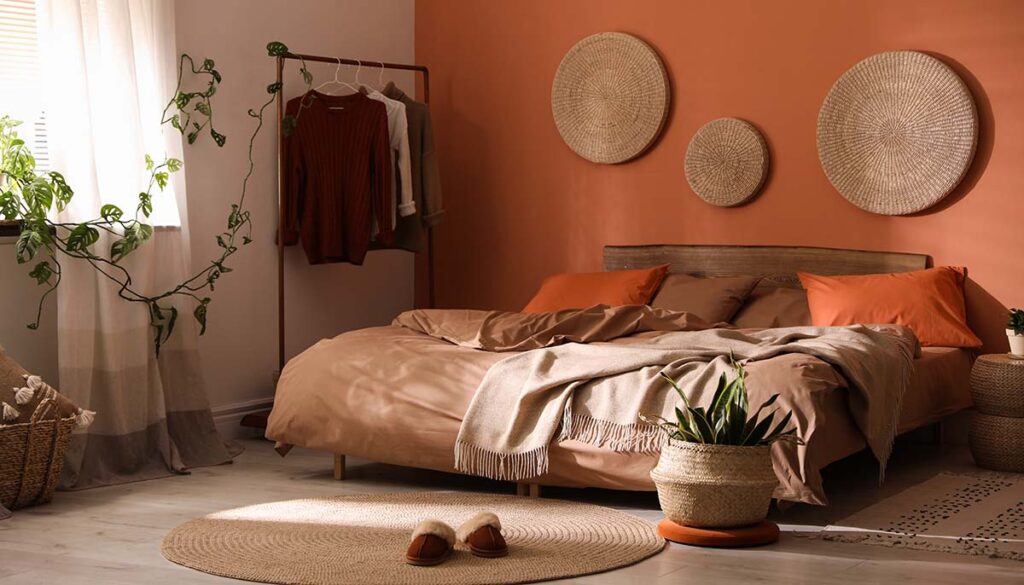 Whether you opt for apricot, peach, red-orange, or a more muted shade, orange is known for promoting physical energy, mental energy, and emotional strength. Frequently dubbed "the happiest color," it'll give your energy levels a significant boost every time you rise and shine.
Muted Gray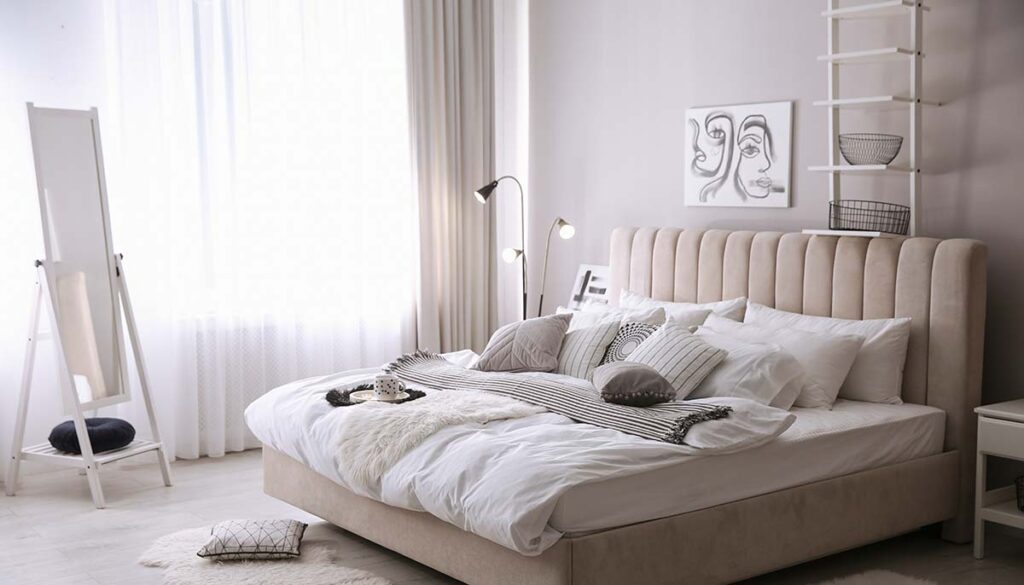 Gray is infamously an "emotionless," color, but that's also why it has such a positive effect on our moods. In a way, a gray room is an emotion-neutralizer, balancing out its surroundings and all who enter it. If you don't want to go all the way gray, try out an accent wall and see how you feel.
Be sure to throw in some surrounding touches of life, like plants or nature-reminiscent accent colors.
Light Yellow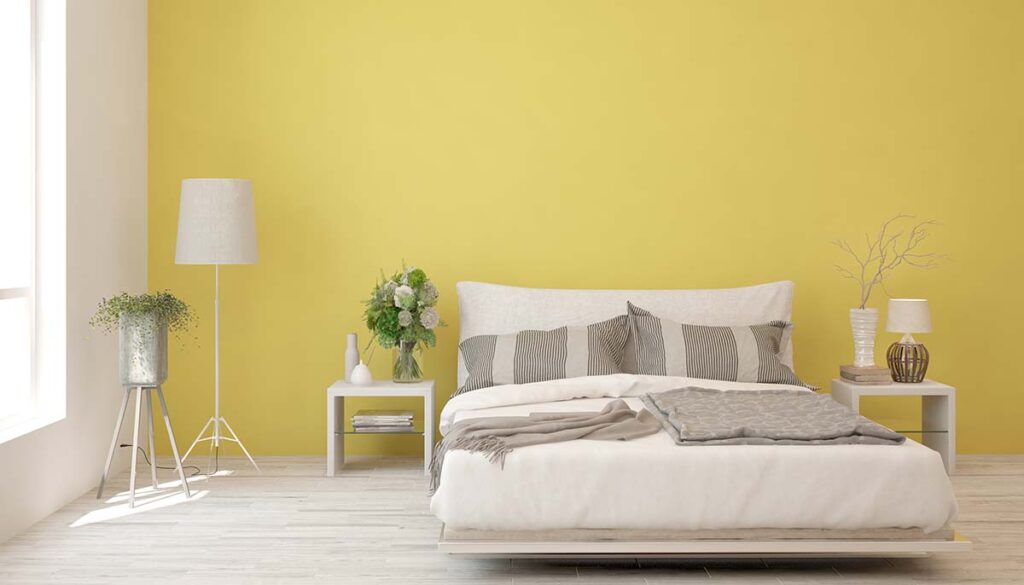 For waking up on the right side of the bed, interior decorators and color experts often say you should throw in some yellow. Yellow is said to help us feel refreshed, revived, and ready to hit the ground running. This sunny shade is also known as the color of spontaneity.
Just make sure that you ground yourself and your surroundings through soothing and more toned-down accent colors. Too much yellow will not be your friend at bedtime, but the right amount can do wonders. Again, it's all about balance.