Thrifting is all the rage these days. Thanks to TikTok and the rise in popularity of vintage clothing, everyone and their mothers are rushing to their nearest thrift store to search for hidden gems.

While finding an amazing jacket for less than $10 or a cute dress for $5 is a great way to save money, the real reason thrifting has become so popular is that it's addictive. You truly never know what you're going to find when you walk into the store, and that's what gets people excited.

Though you're not always going to find a showstopping piece every time you step into a thrift store, there are easy ways to find success when thrifting.
Tip #1: Search Every Section
If you really want to find interesting pieces while thrifting, do not plan on spending less than an hour inside the store. Whether you're looking for clothes, antiques, or a little bit of both, time is your best friend. You can't just glance over a few racks and think you're going to find a gold mine; you're going to need to really take your time.

In fact, it's really important to search every section in the thrift store, even the ones you don't think are for you. Not only do things get misplaced in the wrong section all the time, but you may find something that'd you never think to buy. For example, I once found an incredible vest in the men's shorts section of a thrift store! 
Tip #2: Stop Overpaying For Athletic Clothes
While there's a chance you may find high-quality clothing items throughout a thrift store, they're harder to come by than you may think. However, every time I walk through the athletic clothing section of a thrift store, I always find quality items. 
In fact, I routinely find Lululemon pieces in thrift stores, which usually retail for over $100, as well as Nike, Adidas, and Athleta. Sure, these pieces are more than likely used (which means they won't last quite as long), but they're also very reasonably priced. Stop overspending on athletic clothes and start finding gently used pieces in thrift stores. Throw them in the washing machine and start working out!
Tip #3: Don't Skip the Shoes
I'm going to be real with you, the shoe section in thrift stores is very hit or miss. Sometimes there's not a good pair of shoes in sight. But, other times, you may come across a gold mine.
In fact, one of my good friends found a pair of Nike Air Jordans (which retail for a couple of hundred bucks) in a thrift store for less than $20. Always check the shoe section, just in case.
Tip #4: Make Denim Shorts at Home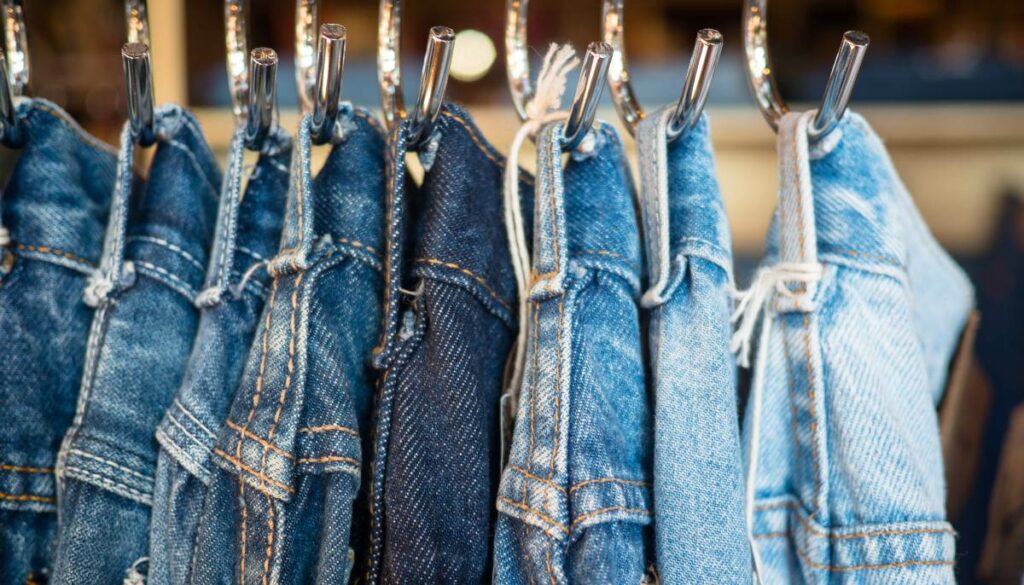 It's summer, which means many of us are trading in our jeans and long pants for shorts and skirts. And, while it may be tempting to want to drop $70 on a pair of high-waisted denim shorts, don't.
Go to your local thrift store, buy a pair of vintage high-waisted jeans, and make the shorts yourself instead! Not only will you save money, but you will be able to make them exactly to your liking. You could make seven pairs of shorts from a thrift store for the amount it would cost to buy one pair retail. 
Tip #5: Check Out the Books
If you're a reader — or you want to become a reader — always check out the book section at any thrift store. Books can be expensive, so why not get a couple of your favorites for just a few bucks? And, if you have kids, you may also find some great children's books for less than a dollar.