I certainly have dreams of going on a beach vacation and leaving all my makeup at home. And yes, I mean all of it. There's something so freeing about the idea of spending every day in just a bathing suit or shorts and a t-shirt (with sunscreen all over your face, of course).
But, in reality, I am not that girl. In fact, it looks like I shoved every hair, makeup, and skincare product I own into my suitcase when I arrive at my hotel. The truth is, I want to look my best 24/7 when I'm on vacation. Who knows who I'll meet on the beach or in the hotel lobby, right? I've seen enough romantic comedies to know vacations are the best place to fall in love (and also get kidnapped, but that's a topic for another day).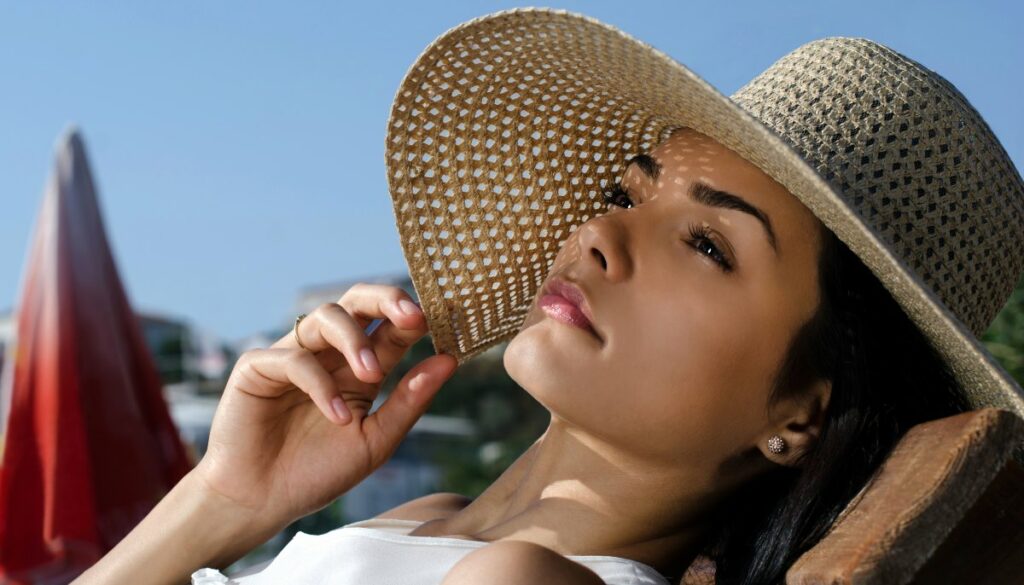 However, there are certain makeup products that are meant for a beach vacation and others that are not. Nobody wants mascara running down their face after they get out of the ocean or foundation melting off following one hour in the sun.
Here are some makeup products you can bring with you on your next vacay that won't melt off your face:
Tinted Sunscreen
A tinted sunscreen or face tint with SPF should be a beach staple. Not only will it protect your face from all the UV rays, but it will also help to even out your skin tone. I know that when I'm on vacation my face starts to look a little red and splotchy, so it's nice to have something on to hide the redness.

This Supergoop CC Screen is a great option because it has SPF 50 and solid coverage. You can even pick the right shade for your skin tone, so you won't have to worry about your face looking three shades lighter than your body. Another solid choice is the Ilia Super Serum Skin Tint, which has SPF 40. While it's not necessarily made for the beach, it's light enough that it won't clog your pores.
Waterproof Mascara Only
Do not — I repeat, do not — attempt to wear your non-waterproof mascara on vacation. Even if you have zero plans of getting into the water, it is not a risk worth taking! You will still end up with raccoon eyes in mere hours. It's waterproof mascara or bust, people.
But the good news is you don't have to spend an arm and a leg to get a good waterproof mascara. In fact, drugstore products like L'Oreal Lash Paradise and Maybelline Lash Sensational have great waterproof options.
Cream Only
If you insist on wearing a little blush, bronzer, or highlighter on vacation, only use cream products. Powder products will end up clogging your pores and will start to look cakey after just a few hours in the heat.
Cream products are great because they look natural, but they're also easy to apply. Glossier Cloud Paint is a solid cream blush option, while Milk Makeup has a wonderful cream bronzer.
Finish It Off With a Setting Spray
If you're set on wearing makeup to the beach, the least you can do is finish off your look with a setting spray. This will help keep your makeup in place and give you a nice natural glow. Plus, you can get setting sprays that have SPF, so your skin will be extra protected. Try Coola's Setting Spray (which has SPF 30) or if you're looking for a drugstore option try NYX's Professional Setting Spray, which is waterproof.