Demolition has become the go-to for most home renovation shows these days. It seems like any number of shows I've watched in the past few years features the hosts wiping out walls, ripping out entire kitchens, adding windows, and even removing brick fireplaces and chimneys. Don't like your bathroom where it is? Let's move it! The budget for all those serious renovations has got to be through the roof (pun intended!).
I know that these big, drastic changes make for good TV, but most of us just don't have the budget for it. And to be honest, I'm not sure I want to change the entire floorplan of my home, either.
I'm not alone. With the rise of DIY, more and more people are looking for ways to make a big impact in their home — but on their own, and within a budget.
HGTV must have gotten the message. They recently dropped a new home renovation series that boasts exactly that right in the title: No Demo Reno. In it, the only thing host Jennifer Todryk is demolishing is the notion that major demolition is always necessary. She's not gutting homes and tearing down all the walls.
Changing a house's floorplan takes time and money," Todryk explained in HGTV's announcement of the show. "It adds up quick and sometimes you don't need it. You can fall in love with your house all over again, but without the sweat and money that goes along with a full demolition."
In honor of what I'm hoping will be a rise in no demo home renovations, let's talk about some ways to make a big impact without changing the floorplan of your home.
Refreshing Kitchen Cabinets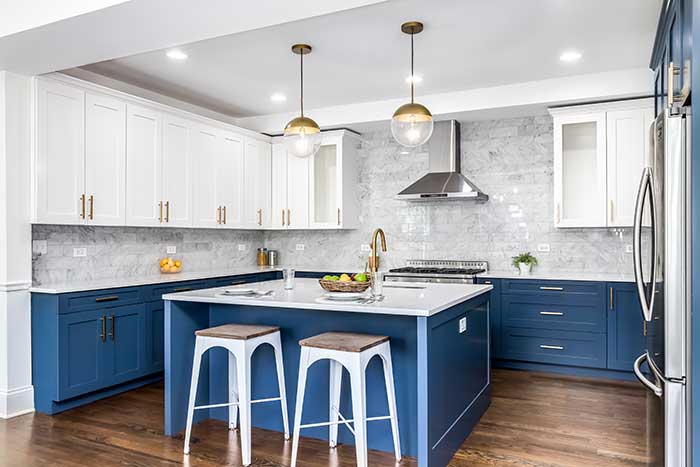 If you're not in love with your kitchen cabinets, having to look at them every day can be a drag. Fortunately, you don't have to rip them all out to refresh your kitchen on a budget.
The easiest way to dress them up is with a fresh coat of paint and new hardware. Painting correctly — sanding, priming, and the whole shebang — might be labor-intensive, but it's worth it to have it done right.
If it's the style that bothers you and you have a little more budget to work with, you can actually install new drawer fronts and cabinet doors. By leaving the base cabinets as is, you're saving plenty of money and avoiding a lot of demolition.
Tap Into Unused Space
Lots of homes — especially new/newer homes — have unused square footage under the stairs. In order to tap into that unused space, you will need to remove part of that wall, but we're not doing any serious demo here or changing the floorplan.
By adding a small door and opening up that unused space, you've just accessed some very useful storage for kids' toys, a pantry, or even just a coat closet. Or, leave it as open storage if you're hoping for decorative storage with maximum impact.
New Lighting Throughout
The light fixtures in your home have a huge impact on the look and feel. Old, dated fixtures can absolutely drag a room down. Just swapping out lighting can make a room feel like a brand new space.
Make a huge impact with no demo necessary, by upgrading all those light fixtures. The possibilities are endless, with plenty of options across just about any style. If you're working with a pretty tight budget, some light fixtures can even be painted to give them a new look without replacing them.
Fancy Fixtures
Much like lighting, other fixtures, like faucets and sinks, can make a huge difference in your home. We look at them more than we realize, and they can definitely change the look of a room.
Swapping faucets in the kitchen or bathroom is an easy project that most homeowners can do themselves. In the bathroom, ditch the old showerhead for a new, modern one. Or, for even more impact, you can replace sinks, bathtubs, and toilets — but you might want to call in a professional to help out with those projects.
Change Coats
I've said it before and I'll say it again: a fresh coat of paint is the easiest and most affordable way to change a space. A weekend and a can of paint are all you need to refresh a room. It's the ultimate low-cost, high-impact solution.If you really want maximum impact, focus your efforts on high-traffic areas like the living room or bathroom. But hey, if you've got the time, why not change coats in every room?