Spring is so close I can almost smell it!
With warmer weather right around the corner, it can mean only one thing: vegetables and herbs fresh from the garden.
I've been honing my green thumb ever since I was a kid. My mom used to plant tomatoes and a few other things in the backyard, and I was always there to help (aka eat all the tomatoes straight off the plants!).
However, not all of us are blessed with big yards full of good dirt and lots of sun. So, what do you do if you live in an apartment, townhome, or other place with little to no gardening space? Is it still possible to grow your own food?
Absolutely! Of course, you shouldn't expect to produce a season's worth of corn or anything, but you can still enjoy a few garden-fresh foods. You'll just need to get a little creative with containers! Between porches, decks, balconies, and even sunny windows, you'll be surprised at how much you can grow in a pot.
So, let's look at some of the easiest edible plants to grow in containers. You'll have your own urban garden in no time!
Herbs
Herbs like rosemary, chives, mint, parsley, cilantro, basil and more are staples in any kitchen — so why not grow your own? Many herbs are pretty easy to care for, and they do really well in containers.
Plus, you'll really be able to taste the difference between your fresh, homegrown herbs and those dried herbs you picked up from the grocery store (who knows how long they've been on that shelf!).
Lemons
Lemons might grow on trees, but did you know you can grow them indoors? They're actually one of the most popular fruits to grow in containers. They're self-pollinating, but they will need around 6 hours of full sun each day.
Just make sure you purchase a dwarf variety, like the ever-popular and compact Meyer lemon.
Lettuce
Forget about those fancy spring salad mixes at the grocery store. Lettuce matures quickly, so you'll be crunching on ultra-fresh leaves before you know it. And if you only snip the outer leaves instead of harvesting the entire plant, it will continue to produce!
Plant a few different varieties, and you'll be making your own fancy spring mixes in no time.
Other Leafy Greens
Other leafy greens do great in containers, too. I'm talking about kale, Swiss chard, mustard greens, spinach, and the like. Just like with lettuce, you can snip the outside leaves instead of harvesting the entire plant, and these leafy greens will continue to produce.
Aside from being easy to grow, they're also attractive. The stems of Swiss chard will add a pop of red, or opt for the unique look of purple kale.
Root Vegetables
Depending on where you live, root vegetables might be even happier in containers versus in the ground — where I'm at, they hate the hard clay soil. Carrots, beets, radishes, and other root vegetables will much prefer the perfect potting soil in a container.
Of course, since they grow underground, you'll just have to be sure the pots are deep enough. While some, like radishes, don't need a ton of depth, others might need at least 6 inches of depth, or maybe more depending on the variety.
Tomatoes
Many people might be surprised to find out that you can grow tomatoes without a big garden! But it's true — there are plenty of tomato varieties that do really well in pots, and will still produce plenty. Cherry tomatoes are especially great for container gardens, or look for dwarf varieties specifically labeled as "patio tomatoes."
It's also entirely possible to grow tomatoes indoors, though you'll likely need to pick up some good grow lights. Tomatoes need a full 8 hours of sun each day.
Beans and Peas
I bet you've never thought about growing beans or peas in containers, but it's entirely possible.
The key here is choosing bush beans and bush peas, versus the more traditional pole varieties. This means that they don't need a trellis support!
Cucumbers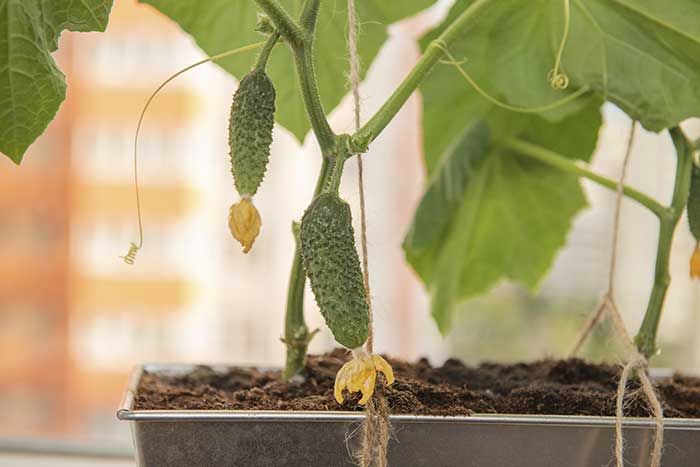 One more surprising container garden idea! Although cucumber plants vine and do well in large gardens where they can spread out along the ground, they can also be grown in containers.
It's pretty easy to train a cucumber plant to grow up a small trellis — trust me, I grew cucumbers on a trellis last summer! Just make sure to choose smaller cucumber varieties, so that they don't get too heavy for the plant support.