We all know at least one serious book lover, right? Personally, I have quite a few. In fact, we have a small book club, and we get together every so often.
Book-loving friends seem pretty easy to shop for. I mean, the obvious gift for a bookworm is a book. However, this can be tricky. If they really love reading, there's no telling what they've already read. Do you have any idea what their favorite genres are? Or, what about the authors they love, or maybe authors they hate?
Luckily, there are plenty of other items that your book-loving friend would also like to receive. These book-adjacent gift ideas are the perfect choice for the avid readers in your life.
Related: By Women, for Women: Must-Read Books to Add to Your List
Shakespearean Insults Chart
William Shakespeare was the master of quite a few talents, but one of them was undoubtedly the ability to craft an insult. Now, your friend can craft their own poetic put-down, thanks to this endlessly entertaining word map. This word map was created by a drawing from the Oxford Complete Shakespeare and grouped by subject. Before you know it, your friend will start greeting you with, "Thou art a boil, a plague sore, an embossed carbuncle."
Check it out here: Shakespearean Insults Chart
A Book of Cocktail Recipes That Have a Literary Twist
Cocktail hour is now literary-themed! This clever guidebook pairs beloved novels with classic and innovative cocktails to please any book lover ready to pour a drink. There are 65 different drink recipes, with themed names and witty commentary on classic novels. You'll find drinks such as Romeo and Julep, Vermouth the Bell Tolls, and Bridget Jones' Daiquiri. There is even a section for non-alcoholic cocktail recipes! The book also includes a few drinking games, book-themed bar bites, and a rundown of techniques and tools.
Check it out here: Tequila Mockingbird: Cocktails With a Literary Twist
Old-School Library Card Coasters
Your friend also needs a coaster to set that tea on top of, so check out these library card coasters. They are based on those old-school due date slips, the papers we used to have to write our names on to check out a book! The coasters are made from wood and are sealed with a waterproof, heat-resistant resin to ensure they are durable and long-lasting. They are also backed with cork to protect your furniture. This set features the titles of four iconic books: Black Beauty, The Wizard of Oz, Anne of Green Gables, and The Secret Garden.
Check it out here: Library Due Date Card Wooden Coaster Set
A Puzzle Featuring the World of Jane Austen
Any fan of Jane Austen novels will love this puzzle. This 1,000-piece puzzle is enough to keep anyone busy, but it's also loaded with Jane Austen herself, and 60 of her memorable characters within the settings of their own stories. As your friend puts the vividly illustrated puzzle, they will discover all the unforgettable places and people in Austen's vast literary landscape. The dashing John Willoughby from Sense and Sensibility is here, and so is Pride and Prejudice's Elizabeth Bennet.
Check it out here: The World of Jane Austen Puzzle
Open Book Necktie
Apparently, you're not supposed to read on the job. They want you to actually do work or something. But your friend can still proudly show off their love of books while getting things done, thanks to this stylish woven skinny tie. It has an all-over print of open books! The print isn't overwhelming, so it feels less "novelty tie" and more like the classic, polished accessory that can be worn to work, weddings, or dinner. It's the perfect way for your friend to show that they'd rather be reading a book!
Check it out here: Woven Skinny Necktie With Book Print
Related: 13 Young Authors To Keep an Eye On
Tea Bags with Literary Quotes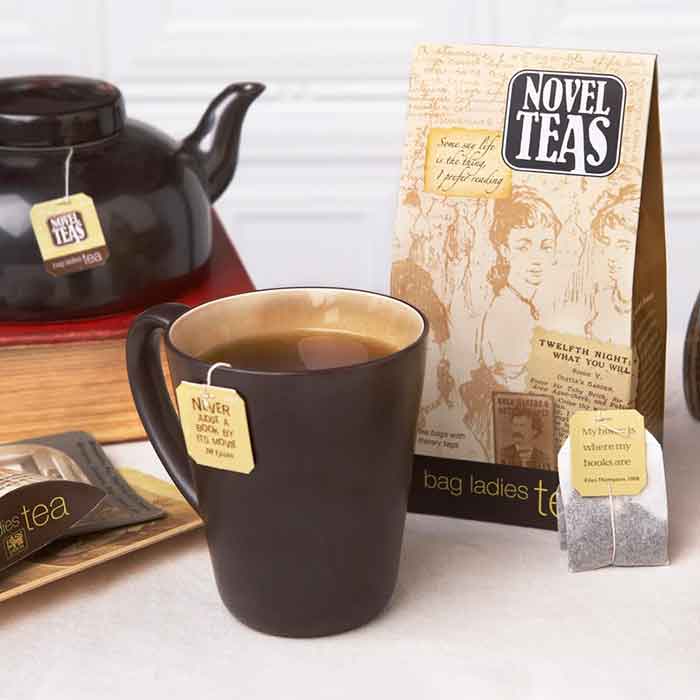 For the bookworm who enjoys a good cup of tea with their reading, these Novel Tea tea bags will make a great gift. Each tea bag is tagged with literary quotes from famous authors, concerning their thoughts on reading and tea. You will find words from CS Lewis, Alice Hoffman, William Faulkner, and more. Of course, the tea inside is tasty, too. Each box contains 25 individually tagged tea bags filled with English Breakfast tea. If your friend really loves tea, pick up some extra Novel Teas, with their collection featuring modern American book quotes.
Check it out here: Novel Teas Tea Bags
Gorgeous Wooden Houseplant Bookends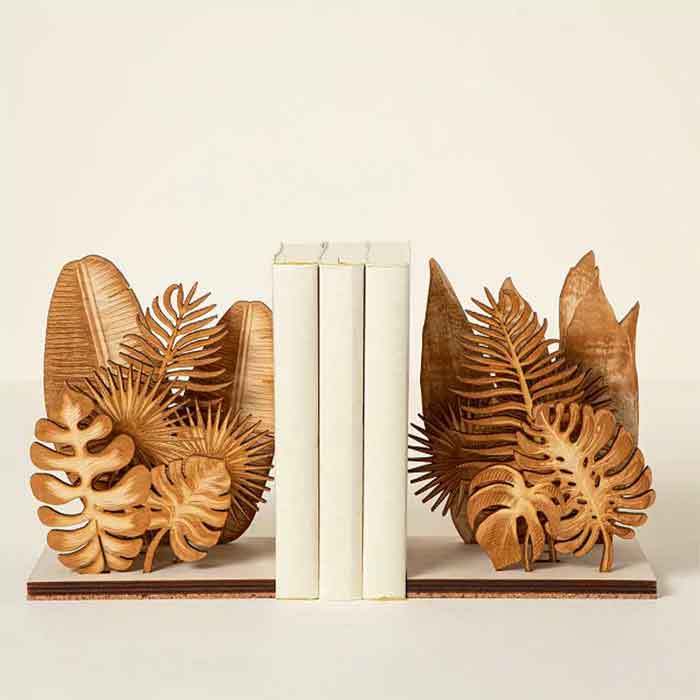 Help your friend keep their books together in style, with these beautiful botanically-themed bookends. They are crafted from Baltic birch plywood that has been laser-cut into interesting leaf shapes. It's a wonderful way to introduce a bit of soothing nature, even if your friend doesn't have a green thumb – or their shelf doesn't get any light.
Check it out here: Wooden Houseplant Bookends
A Custom Book Stamp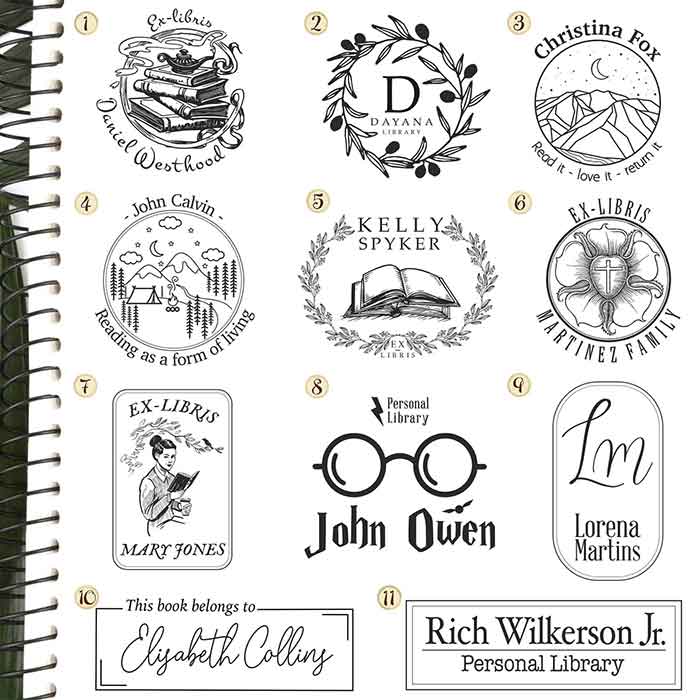 If your friend has a habit of lending books, they might get a kick out of this custom stamp! It's a clever way to mark books from their personal library, so they never have to worry about tracking down their books later. From the simple "This Book Belongs to," to the illustrated designs and even a Harry Potter-themed one, there are plenty of customizable stamp designs to choose from. You can also pick between the easy-peasy self-inking stamp or the old-school wooden-handled stamp in a few different sizes.
Check it out here: Custom Library Stamp
A Custom Embosser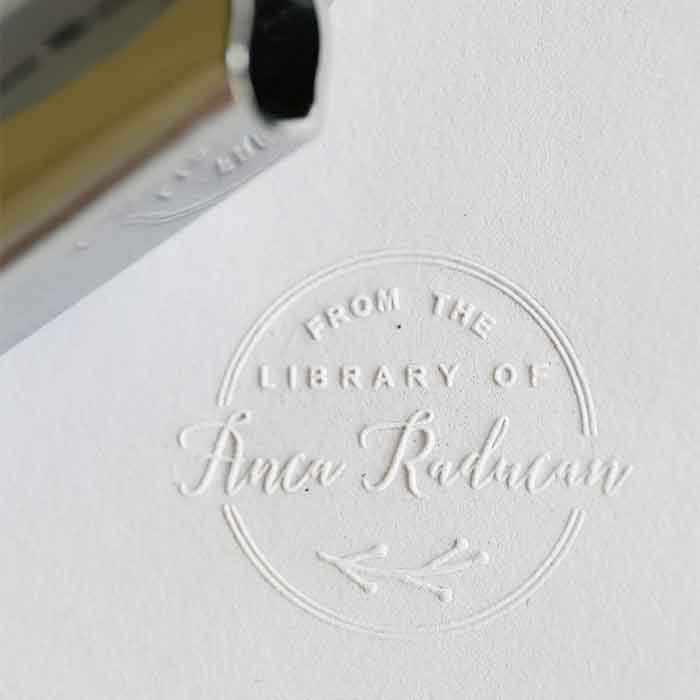 Okay, let's take it one step further! You can even purchase a personalized "From the Library of" embosser for your friend to mark their favorite books. There are actually tons of different designs to choose from and customize, from simple initials to Harry Potter to a unicorn! The handle comes in four different colors, and there are options to purchase it in its own box, too. Your book-loving friend will probably find it extremely satisfying to emboss their book pages. In fact, they might buy more books just to emboss!
Check it out here: Custom Embosser
Their Favorite Book to Hang on the Wall
These prints are made from high-quality scans of the original, retaining the original marks and wear. From there, they were remastered and turned into these exceptional prints that highlight every detail of the cover design. There are 29 different classics to choose from, including the likes of Alice's Adventures in Wonderland and The Adventures of Sherlock Holmes. Framed and ready to hang, it's sure to look great in your friend's reading nook, or anywhere else in their home.
Check it out here: First Edition Book Cover Art Print
Snuggly Pillow Books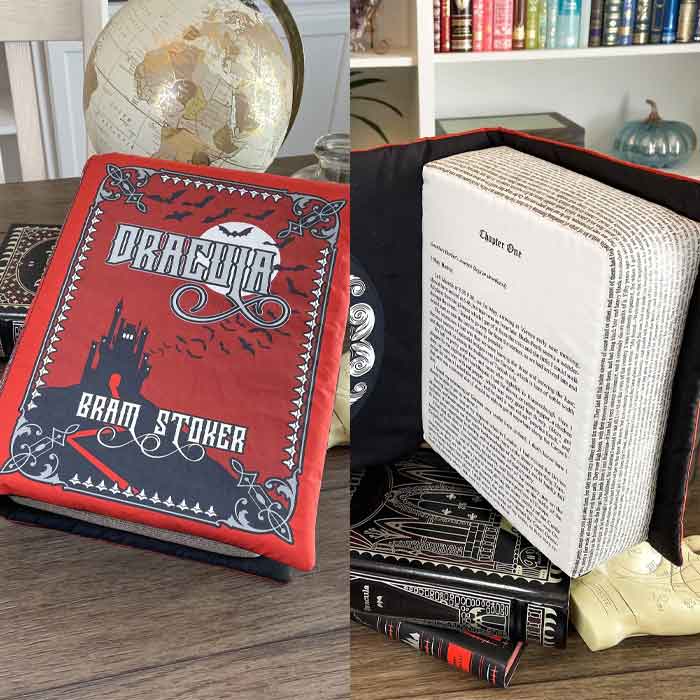 These pillows give new meaning to the phrase "cuddling up with a good book." That's because they are actually soft pillows! This particular pillow book is Bram Stoker's Dracula, but this seller has an entire collection of books to choose from. Open the pillow's fabric cover to find the first page of the book printed and readable. Along the sides of the "pages" are more words from inside the novel, which make it look like closed pages from a distance. All in all, it's a pretty cool addition to any book lover's reading nook, or even the living room couch.
Check it out here: Dracula Pillow Book
A Scratch-Off Chart of Essential Novels to Read
This hanging cart features a collection of 100 iconic novels written by a diverse group of authors. From old favorites to new ones, it will give your friend plenty to read! These are all the essentials. With each finished book, they can scratch off the corresponding spot to reveal the illustrated cover art. It's a neat, tangible way to make their way through the classics that they haven't read in a long time, or maybe haven't gotten around to yet.
Check it out here: 100 Essential Novels Scratch Off Chart
Related: 15 Books From High School You Should Read Again Now
A Wooden Book Page Holder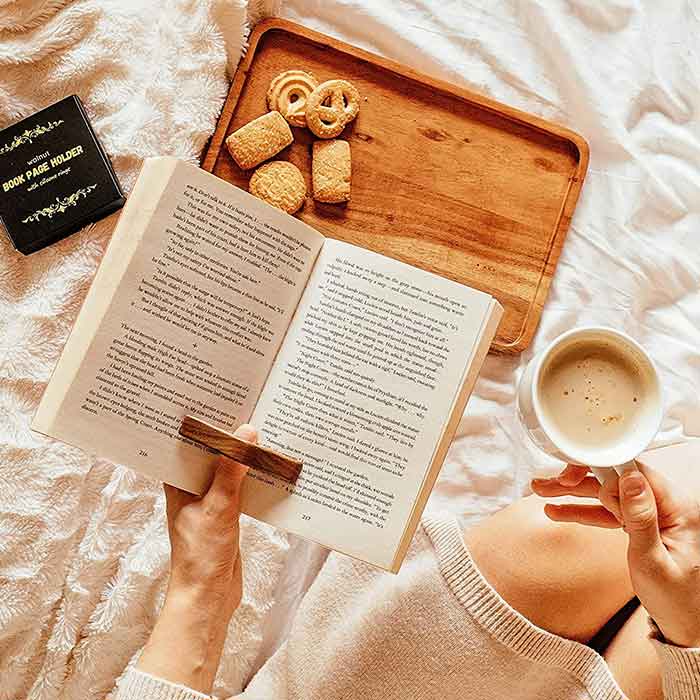 Book lovers like to read just about anywhere, but sometimes that means trying to hold a book open with only one hand. This neat little tool slips onto the thumb and keeps the book wide open with ease. This frees up your other hand to hold a cup of coffee! This particular book page holder is made from wood but comes with five different sizes of silicone rings to ensure it fits your friend's thumb.
Check it out here: Natural Walnut Book Page Holder With 5 Adjustable Rings
Their Favorite Book as Earrings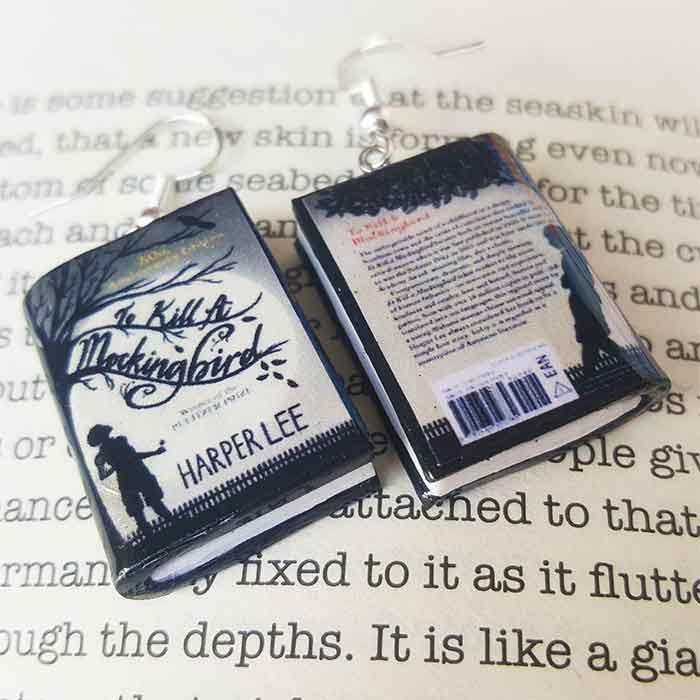 If your book-loving friend has a favorite title, they can now take it everywhere and show it off to the world. These handmade polymer clay earrings can be customized with any book cover! These little novels are about 1 inch and dangle from sterling silver hooks. If your friend doesn't have pierced ears, this same Etsy shop will turn these little books into custom necklaces and custom keychains, too.
Check it out here: Custom Book Earrings
Socks That Promote Children's Literacy
Book lovers obviously know the importance of literacy programs, so give them a gift that gives back. Each sale of these comfy socks donates $1 to Room to Read, a non-profit that provides books and literacy programs to children in low-income communities across Asia and Africa. The socks themselves are cushy and comfortable and made from organic cotton. And on top of being comfortable, they are cute with glasses patterned all over, and an embroidered novel at the ankle.
Check it out here: Socks That Give Books