In my house, a good multi-purpose cleaner is a must. I don't know about you, but I don't want to have a thousand different cleaners cluttering up the cabinet. When you have a specific product for every single thing in the house, it can turn into an avalanche real quick. The last thing I need is a pile of spray bottles on the floor that needs to get cleaned up before I go clean up other things.
However, if I'm going to ditch the plethora of specific products for an all-purpose all-star, it really needs to get the job (or jobs, rather) done. There is no point in having a cleaner that doesn't pull its weight. Pick the wrong product, and you'll end up right back where you started: with all those specialized cleaning supplies cluttering up storage.
While there are a few surfaces in your home that require special attention, like granite and quartz countertops, many other areas can handle an all-purpose solution. Most of these cleaners are safe to use on plastic, steel, wood, enamel, glass, and plenty of other materials in your home. Some of the cleaners on my list are even great picks for upholstery.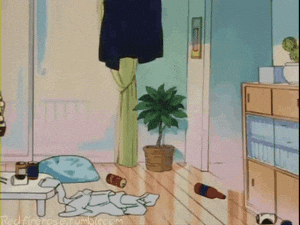 This means that these products can go from the kitchen, to the living room, to the bathroom, and everywhere else you need to keep clean. It makes it much easier on me when I don't have to drag out a bunch of different products. Just grab a single spray bottle and go!
It's worth noting that not all cleaners disinfect. If you need something that kills bacteria and viruses, read the label to ensure the product you choose does indeed disinfect. And if you end up purchasing a disinfecting cleaner that contains bleach, never mix it with an ammonia-based product, vinegar, or hydrogen peroxide. In general, you shouldn't mix household cleaners at all. The results can be deadly!
Are you ready for the fun stuff? These are the best multi-use cleaning products out there! These cleaners will go above and beyond to keep your home squeaky clean and sparkling.
Mr. Clean Clean Freak Deep Cleaning Mist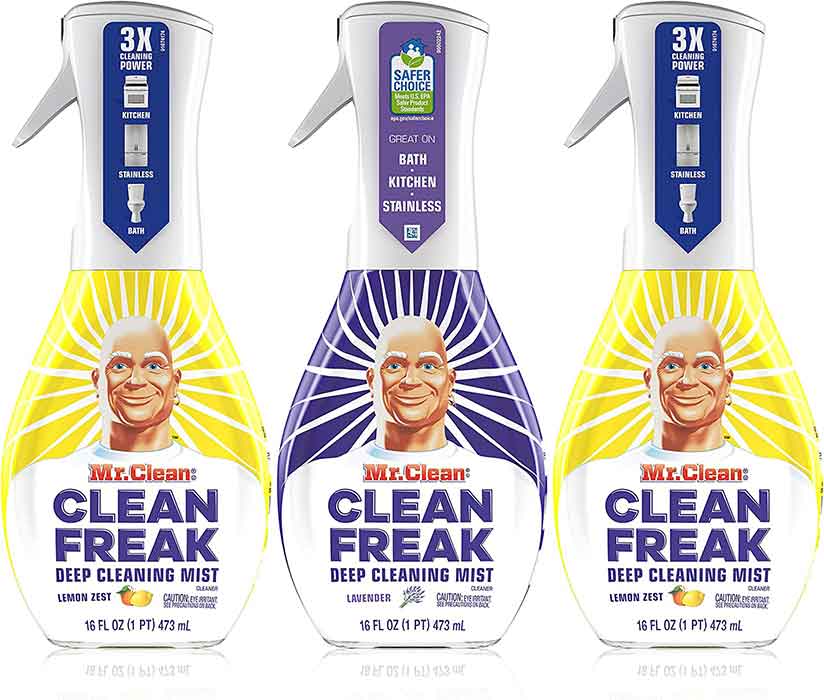 I keep finding Mr. Clean's Clean Freak Deep Cleaning Mist on "best of" lists. It is also a best-selling item that has racked up more than 13,000 ratings on Amazon. This cleaner can be used in the kitchen, the bathroom, and anywhere else you need to sparkle. It has a special spray nozzle that allows the product to spray in an even mist from any angle, coating any and all surfaces you need to reach. The spray nozzle also works three ways: a short pull will give you a small burst of product, a long pull will give you a medium burst, or pump the handle for a continuous mist.
Dawn Platinum Powerwash Dish Spray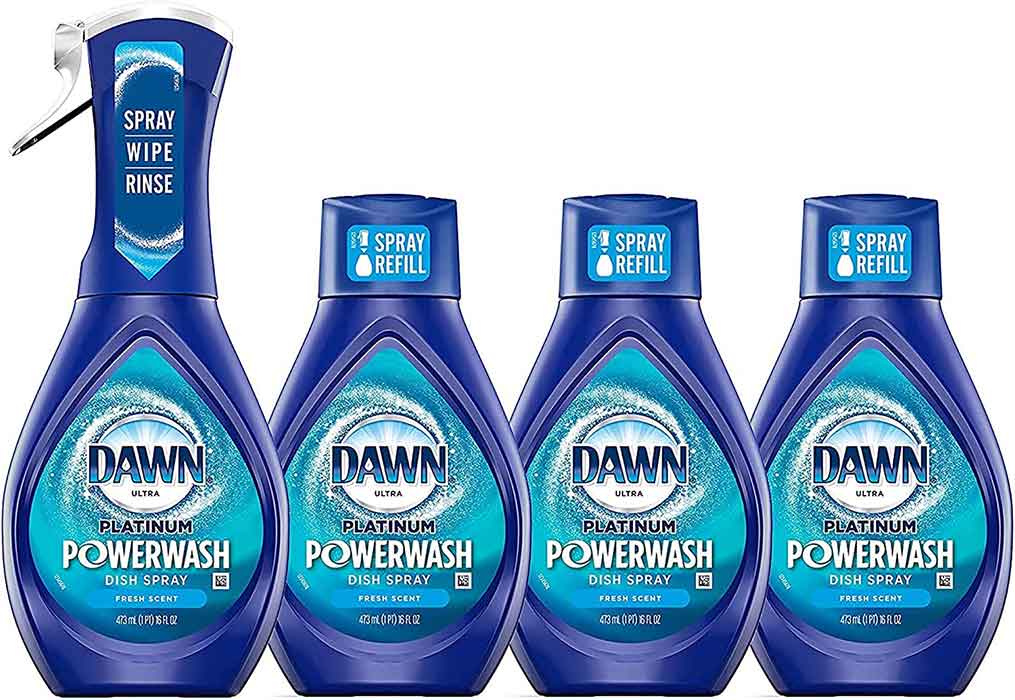 Just like with Clean Freak Deep Cleaning Mist, Dawn's Platinum Powerwash Dish Spray has a special spray nozzle that comes out evenly at any angle. This stuff comes out as a foam instead of a mist, though, so it can really cut through grease and grime. For regular messes, just spray, wipe, and rinse. You barely have to scrub because the stuff is so strong. In fact, Dawn claims it cuts through grease 5X faster. For really dried, stuck-on gunk, spray it on and let it sit for a minute before wiping and rinsing.
The real kicker, though, is that it's not just for dishes. I've seen people use it on outdoor furniture, showers and countertops, and even grease stains in clothing. Personally, I love the stuff!
Seventh Generation All Purpose Cleaner
Ditch the grease, grime, gunk, and dirt in every room of your home with Seventh Generation All Purpose Cleaner. This cleaner is a great choice for anyone looking to cut down on chemicals used inside the home and looking to be a little more environmentally responsible.
There are zero artificial fragrances or dyes, it is made from biodegradable ingredients, and the bottles and spray heads are 100% recyclable. It's also Leaping Bunny certified, meaning that it is free from animal testing and is cruelty-free.
Mrs. Meyer's Multi-Surface Cleaner Spray
Mrs. Myer's is another great brand that is leading the way when it comes to cutting down on chemicals in cleaning products. This multi-surface cleaner is made without parabens, phthalates, glycol solvents, or artificial colors. Instead, it cleans and deodorizes with essential oils and other plant-derived ingredients.
Mrs. Meyer's Multi-Surface Cleaner Spray will leave your space smelling heavenly,  thanks to the aromatherapeutic scents including Lemon Verbena, Lavender, Basil, and more. There are even limited edition and seasonal scents like Acorn Spice and Snowdrop. As an added bonus, you will find that all of their products come in the same scents, so you can have a special, singular scent for the entire home.
Lysol Clean and Fresh Multi-Surface Cleaner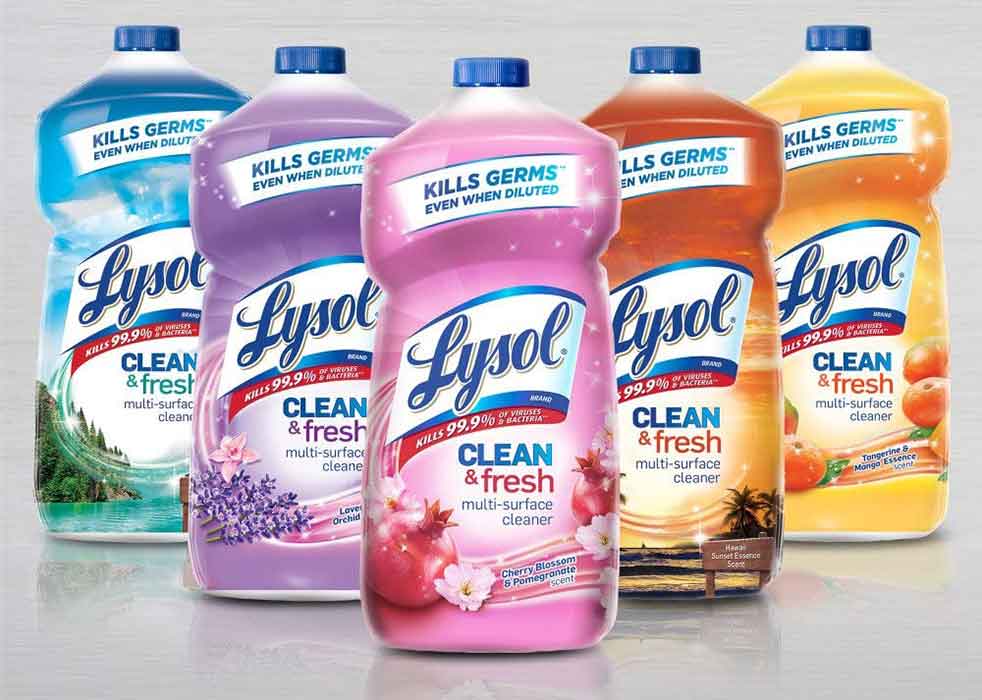 We ran out of our usual cleaner once and wound up with this cleaner instead when ours was out of stock. It was a blessing in disguise because this stuff is wonderful. You can use it on basically any hard, non-porous surface in your home, including the kitchen, the bathroom, or anywhere else. Yep, it is even safe for use on food contact surfaces, as long as you rinse with water afterward.
Lysol Clean and Fresh Multi-Surface Cleaner even disinfects and sanitizes when diluted. It comes in a variety of scents, including cherry blossom and pomegranate; lavender and orchid essence; cool Adirondack air; and my favorite, lemon and sunflower.
Clorox Multi-Surface Disinfecting Mist
I'll take any cleaning products that reduce the number of steps I need to do, so I really love Clorox Multi-Surface Disinfecting Mist. The bottle features an aerosol-free continuous spray, so you can get even coverage with the mist. And then, you don't even have to wipe anything! You just spray and walk away, while the mist kills 99.9% of bacteria and viruses.
You can use it to disinfect hard surfaces, but you can also sanitize soft surfaces and deodorize the air, too. If that's not multi-purpose, I don't know what is! I prefer the eucalyptus peppermint spray myself, but it also comes in lemongrass mandarin.
Microban 24 Hour Bathroom Cleaner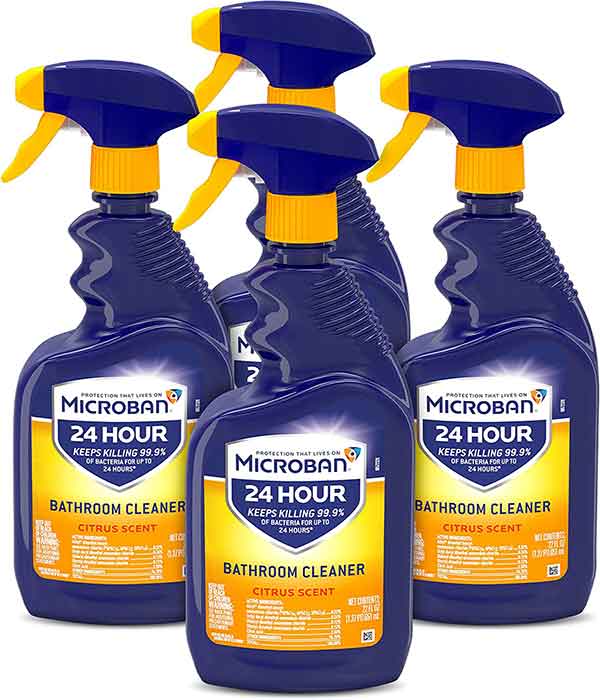 Cleaning the bathroom is usually (and understandably) everyone's least favorite room to clean. That's why having a clutch bathroom cleaner is a must. Microban 24 Hour Bathroom Cleaner kills 99.9% of bacteria like many other bathroom cleaners.
But unlike those other cleaners, Microban's bathroom cleaner keeps killing that bacteria for up to 24 hours – which is pretty important when we're talking about bathroom germs. It also destroys soap scum and prevents the growth of mold and mildew for up to a week. In other words, it does a lot more work so you can do a little less.
Mr. Clean Magic Eraser
For really difficult, stubborn dirt and grime, Mr. Clean Magic Eraser is the go-to choice. These little white squares look like sponges, but they clean like magic. All you have to do is add water! Essentially, they are just made of melamine foam, the same stuff used in dry-erase boards, shatter-resistant plates, and laminate countertops. It is essentially a porous, abrasive material that is ready to conquer the crud.
Use magic erasers to clean up the baked-on food inside a microwave or on the stovetop, remove soap scum in the shower, remove tarnish and polish up silver and gold, and even clean up dried paint from door hinges. Parents will be happy to know it can also remove scuff marks, permanent marker, and crayon stains – just be careful, because it can also start removing the paint off the walls.
The Pink Stuff Miracle Bathroom Foam Cleaner
Have you heard the buzz about the Pink Stuff yet? There's an entire line of these products that have been picking up some serious attention from people all over the place. Although I'd willingly put all of the Pink Stuff cleaners on this list, I decided to choose the Pink Stuff Miracle Bathroom Foam Cleaner as the best of the best. That's because it is foamy and clings to surfaces to better penetrate and remove gunk. While other cleaners might run, you can spray this bathroom cleaner down the shower walls, all over tile, and anywhere else without worrying about drips.
White Distilled Vinegar
Hey, nothing beats a classic, and vinegar is the original all-natural, multi-purpose cleaner that you can pick up for next to nothing. This stuff is a real workhorse, efficiently cleaning more things than I can count. Plus, it's safe to use around cats, dogs, kids, and babies. Use it to dissolve mineral buildup, wipe away dirt and grime, get a streak-free shine on windows, or clean fresh produce. Vinegar is so useful that it's easier to make a list of the things you can't clean with it, rather than trying to list out all the uses. I have found some people claiming that vinegar isn't a disinfectant, but scientific studies say otherwise. I will gladly admit that I buy white distilled vinegar by the gallon.