Are you the type to hit the trails? How about the track? Or are you more of a treadmill runner? Maybe you haven't been on a run since high school, and even then, you weren't exactly running.
It doesn't matter if you can't remember the last time you went on a run or if you run every day and now you're looking to upgrade to a better pair of shoes. It's important to have updated information on the best women's running shoes out there.
So why should you start (or continue) running, and which shoes will work the best? Take a look at what we've found.
Reasons To Run Into the New Year
Running is fantastic for your heart. When your legs hit their stride, they squeeze blood in the direction of your heart — which then has to pump the blood right back. Your heart gets a workout when you run hard — and just like with the muscles in the body, working out your heart makes it stronger!
Many people who go on walks say that the exercise helps them find clarity and reduce their stress. Runners say the same, and there's evidence to back up that claim.
The University of Georgia's Department of Exercise conducted a study where they increased their subjects' anxiety by administering caffeine pills and then required some subjects to rest and some to exercise. The subjects who exercised had better physiological and mood symptoms than those who rested — in fact, the exercise was three times more effective at reducing their anxiety.
So running can help your heart health and your mental state. It can also help prevent many diseases and even increase your life expectancy. Serious knee issues may be the only reason not to start running.
Take a look at the best women's running shoes (yes — all of these are specifically the women's version) we've found. See if you can find one that fits your style, your budget, and your foot!
Best Shoe for Beginners
Pronation is when the foot rolls inward when it lands on the ground, and overpronation means the foot is rolling inward too much. The Saucony Guide 14 is a fantastic shoe for beginners with overpronation. The shoe was recently improved which has landed it close to the top of experts' lists. 
With its new revamped outsole grooves, you'll experience a smoother roll-through from the heel of your foot to the toe. This shoe is recommended for both heavier runners and overpronators. If you're a beginner and either of those descriptions sounds like you, see if you can find a pair to try on at a local store!
Best Overall Saucony Shoe For Fast Runners
Experts have rated the Kinvara 12 one of the best overall and the most versatile running shoes from Saucony. Although the exposed outsole foam can wear show wear quickly, there are plenty of reasons to choose it if you're just looking for a good shoe in general. 
The Kinvara 12 has a lighter upper section than the Kinvara 11 and also sports a thinner tongue. While it is light and flexible, it also has a close-fitting midfoot. It's adaptable for either speed workouts or daily runs. If you enjoy running fast, this lightweight shoe could be the best fit for you.
Best Shoe for Comfort and Reducing Injuries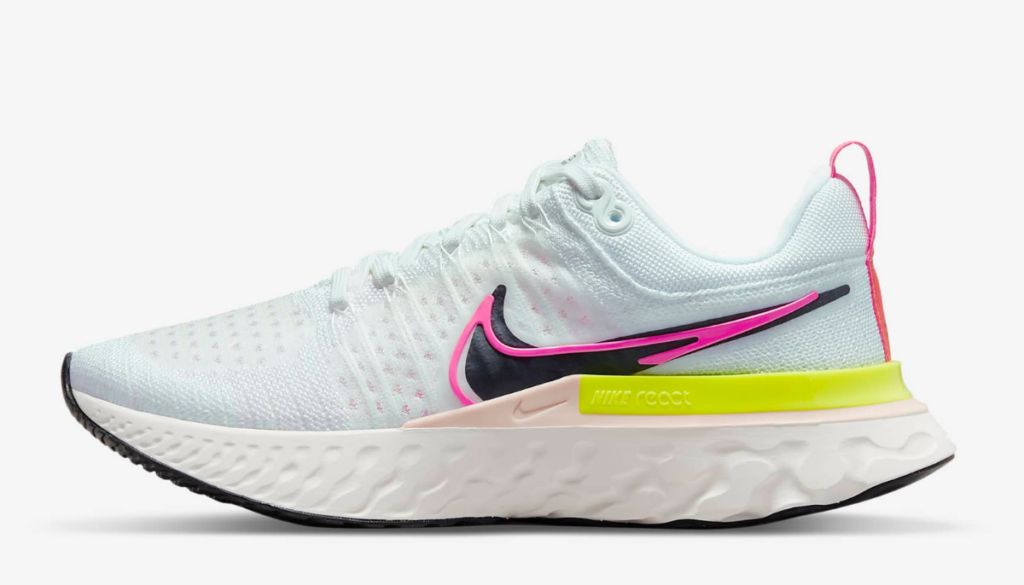 Shoe legend Nike knows their way around comfort, and the Nike React Infinity Run Flyknit 2 excels. It's a foam shoe with a cushiony sole. The foam is Nike's proprietary Nike React foam, which puts an extra bounce in your step.
What's incredible about the React Infinity Run Flyknit 2 is how fantastic this pair of shoes is at reducing injuries. In a study of 226 runners, the runners who wore the React Infinity Run Flyknit 2 experienced 52% fewer cases of common aches and pain compared to those who wore Nike's last pair of problem-reducing sneakers.
Best Shoe for Gait Correction
If your walking alignment is off, you may want to look into purchasing a pair of shoes that's will help you correct your gait. Brooks has a solid reputation as a shoe brand that puts your foot health first.
Brooks' Levitate GTS 5 uses a mix of EVA foam, rubber, and air for a softer and more protective sneaker. The GuideRails technology is the key, however. They add support by keeping excessive movement in check, which helps you stay in your natural stride, no matter how tired you or your feet are! These shoes guide your feet, knees, and hips into proper alignment, which is helpful for anyone whose feet tend to pronate or anyone whose gait may not be in proper alignment!
Brooks states that this shoe is best for added support, training, road running, and a springy ride.
Best Shoe for Long Runs
Experts have rated the Ultraboost 22 from Adidas as one of the best shoes out there for long runs. Because women have a narrower heel in general, women's shoes are designed with a narrower heel. The Ultraboost 22 does just that and helps prevent overpronation, which is related to the width of a person's hips. 
What's also fantastic about the Ultraboost 22 is not only how the design is optimized for performance and comfort, but also the materials the shoe is made out of. They are partially made with plastic that's been taken out of the ocean. Adidas is committed to helping end plastic waste, and by repurposing ocean plastic in their shoes the company is living up to its commitment!
Best for Marathons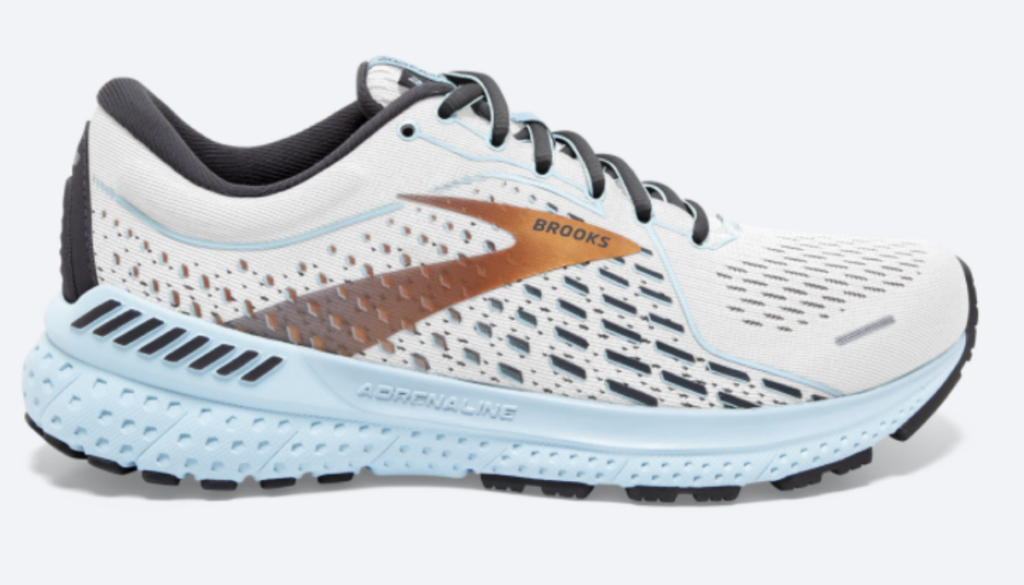 If you're a more experienced runner who's thinking about signing up for a marathon, you'll want to have the best pair of shoes for those 26 consecutive miles. The Adrenaline from Brooks has been recommended by experts as a fantastic shoe for long runs. The DNA loft midsole foam extends from the heel to the toe, and GuideRails technology wraps around the outside of the shoe.
Brooks states that this shoe is best for added support, soft landings, and everyday runs. It features soft, smooth cushioning, smart support, and a soft, secure fit.
Best Long Run Shoes
We haven't included any HOKA shoes yet, but the Women's Bondi 7 offers such superior distance support that we're including it in this list. It's the most cushioned shoe in the HOKA road-shoe line. Delivering a smooth and balanced ride, the Bondi is engineered with a full EVA midsole and a plush memory-foam collar. The internal heel counter provides a supportive locked-in fit midsole.
Another reason that this HOKA shoe makes our list? It's received a seal of acceptance from the American Podiatric Medical Association because it's proven to be beneficial to foot health. So you don't just have to take our word for it!
Run Into 2022 With Confidence
Saucony, Nike, Adidas, Brooks, and HOKA all offer fantastic running shoe options for different types of runners. Whether you're looking for something that will keep you supported as you try out running for the first time, or you're ready to start training for a marathon, there's a shoe out there that's been engineered for your situation. Now it's just a matter of finding it! Once you have the shoes, there's not much more you need to do – except run!