Early summer means a delicious fruit-heavy harvest. And at the front of the pack, at least for me, are strawberries. They're one of the best things about spring and summer!
Eating strawberries out of season is… disappointing at best. Nothing compares to seasonal fruit. They're harvested closer to the peak of freshness, and they don't have to spend a lot of time in shipping covering thousands of miles. In other words, they taste better. They are plump, sweet, and juicy.
In-season produce doesn't just pack more flavor, though — studies show that seasonal food can even be more nutritious. Strawberries are an excellent source of vitamin C and manganese, are rich in antioxidants, plus they contain folate (vitamin B9) and potassium.
So, let's eat as many of those sweet strawberries as we can while they're still in season! While it's just as easy to eat them as-is, there are tons of other ways to incorporate them into your meals. In fact, some of these unique recipes might be brand new to you! Have you ever whipped up your own strawberry butter for biscuits, or had strawberries on a pizza before?
I've decided not to include the obvious — but still delicious — recipes, like pies and jams. Instead, I'd like to feature 5 recipes that feature strawberries in an unexpected way.
Grilled Chicken and Strawberry Cobb Salad
Strawberries aren't just for desserts. Fresh strawberries can also add a bright, sweet note to a grilled chicken salad. This recipe also includes peas, avocado, and sliced red onion. Dishes like these make a great appetizer before dinner, or a lighter lunch option — which is always welcome when it's hot outside.
Strawberry Butter
Yes, you read that correctly. You can whip up this creamy, sweet strawberry butter to dress up biscuits, bagels, scones, toast, or anything else you want to dress up. It sounds (and tastes) super fancy, but it's really simple to make. All you need is extra ripe strawberries and softened butter — maybe a little bit of sugar if you want added sweetness.
Spicy Strawberry Kiwi Peach Salsa
Kick things up a notch with this spicy summertime salsa. The in-season fruits will bring the sweetness, while the heat from a jalapeno pepper balances it out. The recipe calls for all fresh fruit for best results, but it's also possible to substitute with canned peaches or frozen strawberries.
Strawberry Oatmeal Bars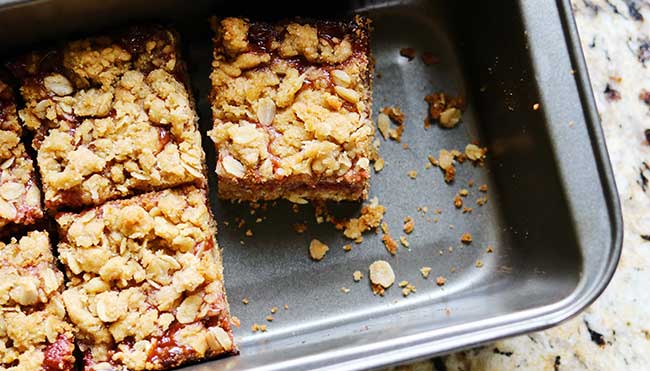 For something extremely easy and delicious, try whipping up these buttery and sweet strawberry oatmeal bars. The recipe doesn't need a mixer, and calls for melted butter instead of softened, so you don't even have to wait for the butter to reach room temp. It's also easily made vegan by swapping the butter for coconut oil.
Balsamic Strawberry Pizza With Chicken, Sweet Onion, and Applewood Smoked Bacon
Have you ever had strawberries on a pizza before? If not, definitely try this one out! The sweetness of these juicy fruits balance out the savory flavors really well, and we all know that everything is better with bacon, right? This might be the ultimate summer pizza recipe.