Now that we are moving through December, you know what that means: it's officially holiday party season.
Between all the major holidays in this month, and New Year's Eve to ring in the new year, most of us end up invited to at least one dinner, party, or get-together. In fact, I have already attended a couple of holiday parties already! And there are still a few more on the horizon through next month.
My family's holiday gatherings are usually pretty low-key. We're not really "fancy" people, per se. Most everyone is more than happy to dress comfortably as we spend time together. We mostly keep things casual. Clearly, I don't have to worry about dressing to impress for these holiday get-togethers.
I do have other functions that I need to be a little more fashionable for. I have a holiday party or two that require something a little more fanciful. I'm not talking about a ball gown or anything, but I should probably wear something beyond a pair of jeans and a basic shirt.
The biggest one, though, is New Year's Eve. I know it's not the same for everyone, but that's the holiday event that I really get dressed up for! As someone who mostly lives in hoodies 24/7, it's a nice change of pace to get dressed up in something special. It makes ringing in the new year even more fun.
Related: New Year's Resolutions Every Woman Should Make
Okay, but what to wear? I need something fancy, but perhaps not too formal, and definitely not stuffy. Luckily, this season's hottest trends are pretty fabulous and I am here for it. I am talking about some serious glam, with sequins, feathers, velvet, and faux furs. We're making statements!
Amping up for your New Year's Eve party, too? If so, let's take a look at some of the best holiday fashion trends to have you looking your best in full-on glamor.
Serious Sparkles
If you really want to light up a room, sparkle! Ultra-glam sequins, beading, rhinestones, metallics, and more are everywhere right now. You'll feel like the disco ball at the center of the party with all this shine. All these sparkly materials aren't just limited to dresses, either. Take a peek at any store right now and you're likely to find high-shine looks across a multitude of options. Mini skirts, tops, pants, jackets, shoes, tights, purses, and hair accessories are all getting the sequin and rhinestone treatment.
Chic Sequin Sheath Dress
This dress commands attention! Not only does this sheath dress hug your curves, but it's also covered from top to bottom in sequins! It is bold, sexy, and super glamorous. You will shine as you ring in the new year!
Check it out here: Sequin Sheath Dress
Luxurious Fabrics
If it isn't covered in sequins, it's still got to be luxurious! I'm seeing tons of lush fabrics, like rich velvets, sleek silks, smooth satins, embroidered mesh or tulle, and flowing chiffons. All of these fabric choices scream glitz and glam. They can dress up even the most basic pieces.
Velvet in particular is a hot fabric. It was already trending ahead of the holiday season, but something about it really invokes that wintery feel.
For satin, it is usually best to stick with a more matte finish. Satin was introduced as a less-expensive alternative to silk, and shiny satin can sometimes look too shiny. But really, it depends on the look you're going for.
Long-Sleeve Velvet Dress With Split
A purple velvet dress will have you feeling like straight royalty! This dress features a deep-V neckline and a side split slit for an ultra-flattering fit. Plus, there's glitter in the velvet, too, so you get a little extra sparkle.
Check it out here: LYANER Women's Velvet Deep V Neck Wrap Split Hem Long Sleeve Midi Dress
Sumptuous Feathers
Birds of a feather are flocking to plumage this season. I have actually heard that the demand for feather trims has increased so much that distributors are running out of supply. Some feather retailers even have certain items on backorder for the time being. Hey, at least this doesn't have an immediate effect on items that have already been created! Feathers definitely have that old Hollywood glam vibe to them. The addition of fluffy marabou or ostrich feather trim to the hem of a dress or around the sleeves is an instant luxe upgrade.
Pink Cami Feather-Hem Minidress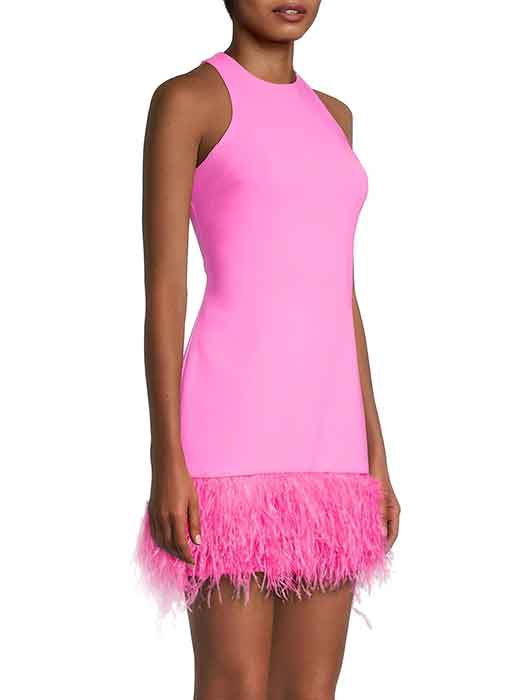 This bubblegum pink dress somehow feels both retro and modern at the same time. The soft pink feather trim along the bottom adds just the right amount of glamorous oomph.
Check it out here: Likely Cami Feather-Hem Minidress
Fancy Pants
When you think about glamorous party outfits, you likely imagine some kind of dress first. But this season, I've seen a lot of extra fabulous pants. I'm not talking about simple black slacks. Just the other day, Target had fully sequined trousers out on the floor. Talk about fancy pants! It's certainly a unique upgrade to the expected New Year's outfit. You can also try embellished denim, metallic, or velvet pants. Personally, I'm on the hunt for the perfect pair of burgundy velvet pants, myself. Pair your fancy pants with a more minimalistic top to help balance it out – and not look like you're trying to pull off an Elton John cosplay.
Champagne Sequins Wide Leg Pants
How do you make high waisted, wide legged pants even more fashionable? Make them NYE ready with sparkling sequins in a cool champagne color. If black is more your speed, they have them in that color, too!
Check them out here: SHEIN SXY High Waist Sequins Wide Leg Pants
Cutouts
Cutouts are having quite the moment. They actually started taking hold in the last couple of years and show no sign of fading any time soon. Strategically placed cutouts in clothing designs are popping up everywhere. It's a way to show just a peek of skin without being overly risque. Cutouts can often create unique shapes in articles of clothing. And somehow, they feel both modern and like a throwback to Y2K fashion. To wear this trend, look for cutout details that are placed in a flattering spot on your body. Not everything fits everyone the same because we're all different. No one wants to be on edge all night because they're one inch away from a wardrobe malfunction!
Asymmetrical Green Cutout Midi Dress
The neckline and cutout is unique on this dress, so you know you'll stand out at your NYE party. The crisp lines and solid color also make this dress easy to dress up or down, depending on the accessories you choose.
Check it out here: Asymmetrical Cutout Mock Neck Midi Dress
Bold Hues
Jewel tones have been the go-to for the holidays for some time now, but this season we're seeing those tones being swapped for bold and bright hues. These fun, electric colors are sure to light up any room you walk into. Think of colors like hot pink, blazing orange, luminously electric blue, or vivid lime. To feel more high fashion than a highlighter package, stick to a single hue. Style it with shiny, metallic accessories for the ultimate glam finish.
Bright Green Satin Cutout Dress
Get bold! This dress takes advantage of cutouts, a satin-style fabric, and a bold hue – three trends all at one time.
Check it out here: ASYOU Satin Cut Out Dress in Green
Statement Handbags
All this talk about fabrics and adornments has been mainly centered on clothing items so far, but we can also apply a lot of these trends to handbags, too. All those feathers, sequins, beading, velvets, and satins can also be used to make a statement with your bag. Even those bright, electric colors can add a fresh pop to your New Year's Eve ensemble. I think the most successful way to add a statement handbag, though, is to make sure it's the only piece making the statement. If you pair it with a statement dress, they're just going to end up competing with each other.
Rhinestone Floral Evening Clutch
This evening clutch is downright adorable. Not only is it unique, but it's also made with sequins and beading for a little extra sparkle.
Check it out here: Women's Floral Evening Clutch Bag
Glamorous Hair Accessories
Adding a hair accessory (or a few!) is an easy, effortless way to add glamor to your look. It can help dress up even the most simple hairstyle. Plus, it's an extra spot just waiting to be adorned with fabulous rhinestones or luxurious fabrics. More is more, right? Scrunchies are still holding strong, and you can find these in just about any fabric and color, with sequins and without. Scarves have an equal range in colors and fabrics. Barrettes, headbands, and hair combs will immediately upgrade your look. Even bobby pins have gotten a makeover, with showstopping rhinestones.
Crystal Embellished Star Hair Pin
This pretty hair pin might be from a bridal collection, but that doesn't mean you can't use it for extra sparkle on New Year's! It can turn even the most simple twist into a dazzling updo. It'll also help keep your hair up and out of the way as you dance all night.
Check it out here: Gaios BridalOrion Crystal Embellished Barrette