Drake's dropping a new collection with Nike this month — here's everything we know so far.
Drake Teases New Nike Collection
Okay, here's the thing: Drake posted a video on November 22 with a mysterious pan of Toronto at night, ending with a Nike logo. The caption was simply, "@12.18.2020."
The Champagne Papi was actually teasing his upcoming collection with Nike, which is set to release on December 18.
It was December 2 that the collection in question was revealed as NOCTA. This Nike sub-label is intended to serve as "a nod to the artist's nocturnal creative process," according to a press release dropped by Nike.
In the release, Drake chats about the spirit of the project, and what it means to him.
According to the rapper, "This moment is full circle for me."
He goes on to talk about how he grew up with Nike. Young Drake was clearly a big fan of the brand.
"I mean, growing up Nike was everything. It felt like every shoe I wanted, every athlete I liked, everything I owned was Nike. It didn't mean anything unless it had a Swoosh," Drake wrote.
And while he recognized that athletes were repping the brand, he knew there was space for entertainers, as well. He calls the new sub-label, NOCTA, a realization of "everything I had hoped for — from the culture it's rooted in to the product and, most important, to the partnership and scale that allows me to share it with the world."
What Can We Expect From Drake's New Collection?
So, what can we expect from NOCTA? Well, it's a little hard to say at this point. So far, all we have to go on is that mysterious Toronto video on Instagram, and a couple photos featuring puffer jackets.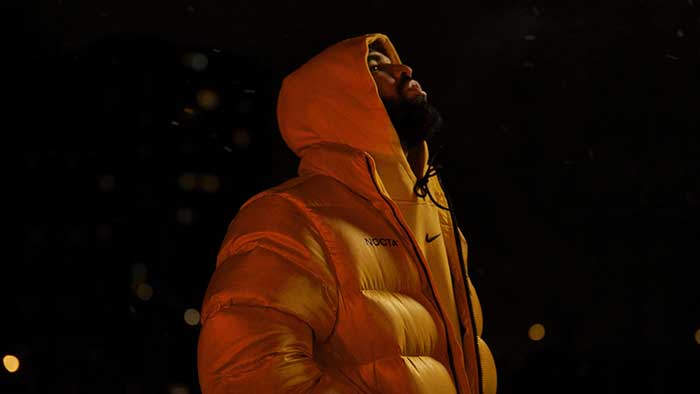 The jackets appear to feature a black NOCTA spell-out on the right chest, and a black "CL" hit on the back — perhaps a nod to Certified Lover Boy.
So far, the only other insight comes from Drake in the press release.
"NOCTA is about creating something for people on the move. People who want functional, comfortable fits that are adaptable from one environment to the next," the rapper said.
"But as much as it's about what we make, it's also about a mindset: an unforgiving drive, a relentlessness," he continued. "Characterized by the type who are on the road all day, all night — the grinders, the hard workers — trying to accomplish their goals and taking no short cuts."
The Nike release links to nocta.com and @officialnocta on Insta, but neither provide more information about the new collection. Well, at least not yet anyway.
The NOCTA Insta account — which is oddly private — only lists the drop date (12.18.2020) and "coming…"
Meanwhile, the official website only shows blurry black and white video looped in the background. There's also the option to sign up for email updates.
It looks like we'll have to wait and see if Nike or Drake drop any more deets on the collection between now and the release.
The NOCTA collection is set to launch globally on December 18.