Perhaps it was luck, or maybe Shonda Rhimes knew we needed something deliciously distracting to binge during the holidays. However it happened, she dropped Bridgerton on us just in time. And I, for one, ate it up.
It looks like I'm not alone, either. Netflix recorded its biggest Christmas week in the streaming service's history, in large part thanks to Bridgerton — a series that was based on Julia Quinn's romance novels of the same name. The new Regency-era romance-drama has reached over 63 million households. It even reached the No. 1 spot overall in 76 countries, and reached the top 10 in every country except Japan.
However, this salacious series didn't just cause a spike in views. It also caused a huge spike in popularity for fashion from the era it takes place in, and the way that fashion was translated for the show.
The Fashion From Bridgerton
Of course, the show's costuming isn't entirely historically accurate. Though costume designer Ellen Mirojnick did a deep dive on Regency-era fashion, she also looked at other eras — including modern times — to finish the looks for Bridgerton. Don't go looking for all the Featheringtons' bold "new money" colors in your history books, y'all.
"We were breaking all barriers," she told WWD in mid-December. "There was nothing that we had to include, but we respected what it was and then broke with tradition and made it our own."
The period series features elaborate, over-the-top costuming. And while it's not historically accurate, the gratuitous use of pattern, texture, and color makes for a feast for the eyes. Between the lace, brocade, jewel tones, blinged-out headbands, and pastel hues… more is clearly more.
Global fashion search engine Lyst knows what's up, and they've dubbed it "Regencycore."
According to data from Lyst, in the weeks following Bridgerton's release, searches for Regency-esque fashion related to the show's costuming soared. I'm talking about fabulous period pieces like corsets, pearl and feather headbands, long gloves, and empire line dresses. (Peep those numbers in Lyst's data drop here.)
Corsets and Corset-Style Tops
It's worth noting that searches for corsets are up a whopping 123 percent, according to Lyst's data. It also shows that users are particularly attracted to corset tops from the likes of Russian luxury brand Rasario, and Australian designer Dion Lee.
These days, you don't have to tight-lace until you can't breathe — I mean, unless you want to. Modern times have what we call "fashion corsets," and I'd highly suggest that route if you're so inclined. You'll be much more comfortable while you're having tea and crumpets, or, well, heading to the grocery store.
ASOS Long-Sleeve Corset in White
The Empire Waist
Empire waist dresses are also seeing a big spike in interest. Although this style was arguably in its peak during the 19th century, it's luckily remained a constant since.
I'm willing to bet that any major retailer right now will have at least a handful of empire line dresses in varying lengths and styles. To modernize it, choose higher hemlines paired with white sneakers. Or, try a maxi length paired with a fitted blazer.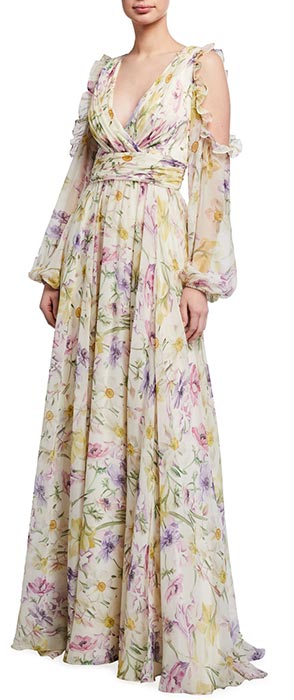 Theia Cold-Shoulder Floral Printed Chiffon Gown
Brocade and Lace Textures
For that ultimate "Regencycore" look, though, it's time to reach for the brocade and lace.
No other material evokes romance quite like lace. Back in the Regency days, it would have been much more typical to see lace head-to-toe. But these days, that's entirely too much. Give it a modern update by balancing lace with other fabrics, such as a lace top paired with sleek pants or a lace maxi dress topped with a denim jacket.
Brocade was commonly used in high society because of its gorgeous, ornate detailing. These days, moderation is important to keep it feeling modern. Accessorize your LBD with a brocade handbag, or conversely, accessorize a brocade dress with black accessories.