While Billie Eilish has certainly made a seriously memorable statement with her music, there's something to be said for her fashion statements, too. And I can't get enough of her wardrobe.
With highlighter colors and boxy styles pulled straight from the '90s, the star has her own unique, bold sense of style. She's not afraid to wear whatever she wants.
Billie describes her style as "weird." And sure, that might be true — but there's more to it than that. She's daring, and her style is maybe even a little bit intimidating. It's almost bizarre, the way she adds peculiar flair with bright colors and ill-fitting designs.
Ignoring Conventional Fashion Rules
I think my favorite part of Billie's wardrobe is how much she ignores conventional fashion standards. Similar to how her music sits in stark contrast to other pop music, so is her style. Billie isn't wearing anything tight and sexy. She doesn't wear stilettos, or even platforms.
Instead, she opts for loose, baggy, and androgynous ensembles. This 18-year-old is usually swimming in shapeless, body-obscuring silhouettes featuring a clash of mixed prints and bootleg designer logos. In Billie's wardrobe, more is more. There's no print too bold, no neon too bright.
The boldness doesn't stop with her clothing. She often boosts her shapeless outfits with over-the-top accessories. With bucket hats, visors, beanies, and more, she's a girl of many hats. Billie often brings in playful energy with a range of different sunglasses, from oversized color frames to skinny black styles. Plus, she's always adding a touch of femininity with stackable necklaces, large hoops, and rings.
Classic Sneakers in Bright Colors
Billie is also particular about her footwear. If you've ever noticed, classic sneakers are a style staple for her. She tends to reach for those that have a chunky appearance to them, and she likes 'em colorful. However, she often reaches for men's styles to get that look. Apparently, she really hates women's sneakers.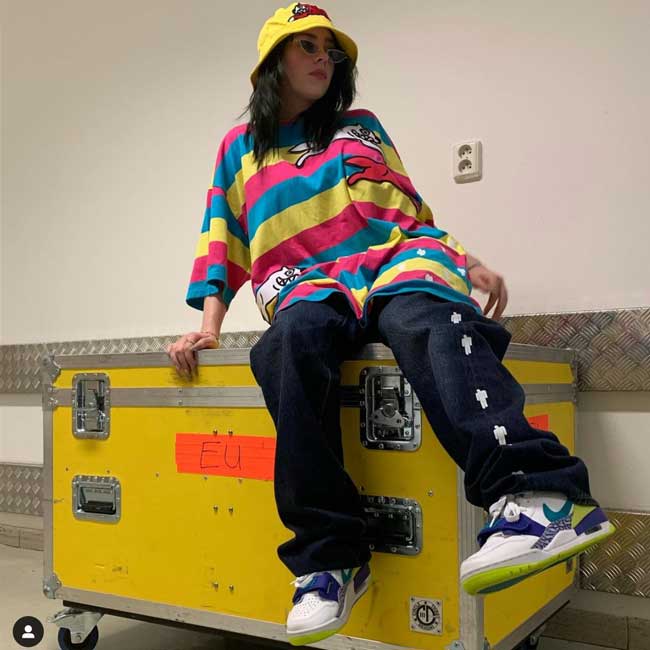 "Man, girl's sneakers are f*cking stupid," she told Complex's Joe La Puma during a Sneaker Shopping episode.
Of course, that doesn't mean that she never wears women's sneakers. But the ones she does wear tend to have that same style as men's.
Air Force 1s and Jordans are in heavy rotation, but you'll also catch her in luxury brands like Gucci, Prada, and Balenciaga.
Using Fashion As a Statement
But there's definitely more to her style than just, well, style. She's making a big statement.
"I never want the world to know everything about me. I mean, that's why I wear big baggy clothes. Nobody can have an opinion because they haven't seen what's underneath, you know?" she once said in a video for Calvin Klein's #MyTruth campaign. "Nobody can be like 'oh she's slim thick, she's not slim thick, she's got a flat a**, she got a fat a**.' Nobody can say any of that because they don't know."
Of course, that doesn't stop people from commenting on her body-obscuring styles. She's no stranger to criticism — mostly from people that clearly don't get the statement she is making.
"If only i dressed normal id be so much hotter yeah yeah come up with a better comment im tired of that one," she once captioned a photo of herself on Instagram.
I, for one, am here for it. It's odd, but it's also refreshing. In a sea of red-carpet looks with plunging necklines and uncomfortably tight gowns, there's something amazing about what Billie is doing with fashion. And it's definitely unique to Billie.