Tired of dinner and a movie? Look, there's nothing wrong with a traditional date. But if you and your significant other have been together for a while, it can start to feel sort of… blasé. Of course, prioritizing time with your partner is important. It's a big part of keeping a healthy, happy relationship together. But instead of opting for the old dinner or movie routine, I've got some better ideas.
It is time to think outside the box.
For instance, why not skip dinner at a crowded eatery or an over-priced restaurant and instead take a cooking class together? Or what about forgoing the expensive movie theater tickets for an at-home movie experience? When was the last time you played a round of mini-golf or had a blast at the arcade? The next time you're planning a special date for you and your partner, try out one of these unique options.
Take a Cooking Class Together
If you both like spending time in the kitchen and learning new recipes, taking a cooking class could be a great way to spend extra time together. Learn new skills and learn a new recipe that neither of you have made before. You're sure to cook up some delicious memories – and hopefully, you can learn how to make a special dish for future date nights!
Play Tourist in Your Own Town
Locals don't usually do the touristy things in their city or town. For a unique date, find something touristy in your area that neither of you have ever done. You can check on sites like TripAdvisor to see what is popular, and the two of you can pretend to be tourists in your own town! Who knows, maybe you'll discover something new.
Explore Your State
Speaking of discovering something new about the place you live, how much have you explored in your home state? Much like with our cities or towns, we rarely get out and explore the rest of the state, either. There are sure to be plenty of day trips close to you, giving you plenty of adventures to experience together. From historical sites to modern art museums, natural wonders to performing arts centers, you'll likely find more than enough to keep you busy – without going too far from home.
Volunteer Together
Spend time together and do something awesome for others. Making an impact in your community is certainly a unique date idea, and it could blossom into a regular activity. There are plenty of organizations to choose from, so pick something that both you and your partner have an interest in. Volunteer with a local food pantry, help out at the animal shelter, or make some new friends at the senior living community.
Get Competitive at the Arcade
Arcades aren't just for kids. These days, there are plenty of arcades popping up that are more geared toward adults. Gather all your quarters, get ready for a wave of nostalgia, and get competitive with each other! You'll have plenty of fun trying to beat each other at Mortal Kombat or seeing who can get a higher score playing pinball. You'll wonder why you haven't been hanging around the arcade together more often!
Catch the Sunrise or Sunset
We get so busy with our daily lives that we often forget to take in the beauty of the world around us. Scout out the perfect spot ahead of time, and then take your partner out to see the breathtaking beauty of a sunset. To make it extra special, pack a picnic to enjoy, too. The sunrise can be extra magical, too, and it's something that most of us haven't been up to see in years. If you're going to watch the sunrise together, pack a special picnic filled with breakfast foods!
Learn a New Dance Together
I know it's old-school, but what about taking a dance class together? Bonus points if it is for a type of dance that neither of you have tried before. Don't think it has to be ballroom dancing, either. From swing to salsa, tap to hip hop, there's all kinds of styles out there. Try not to step on too many toes and just have fun with it. And hey, if you can't find anywhere local, you might be able to learn a move or two for free on YouTube!
At-Home Movie Night
I already mentioned this at-home movie night idea on a list of fun and romantic late night date ideas, but I think it deserves a spot here, too. It isn't just for the midnight hour. This date idea is fun at any time of day or night. In fact, you can even do it for an entire weekend! Move any furniture out of the way, and spread out tons of comfy blankets and pillows all over the living room floor. Pop plenty of popcorn, and stock up on your favorite theater candies. The best part? You can watch literally any movie (or movies) you want, which is something you can't get in a regular movie theater.
Hunt for Treasures
Whether you love finding unusual items, or you just like hunting for a good deal, take your date on a trip to the thrift store. In fact, you can make a whole day out of it, and hit all the local thrift stores in one day. Have a contest to see who discovers the most unique find, or who lands the best deal. You can even spend the day picking out thrift store outfits for each other, and then wear them to dinner later in the evening.
A Weekend Staycation at Home
If you and your significant other are always so busy that you never have any down time, it's time to do nothing together. Slow down with an entire weekend-long staycation. Don't make any plans outside of the house, and make sure you're already stocked up on groceries. If you can, put your phone on silent, too! With no work, no plans, and no distractions, you'll have all weekend to relax together and take it easy. Watch movies, play video games, take a romantic bath together, and anything else you feel like doing.
Play a Round of Putt-Putt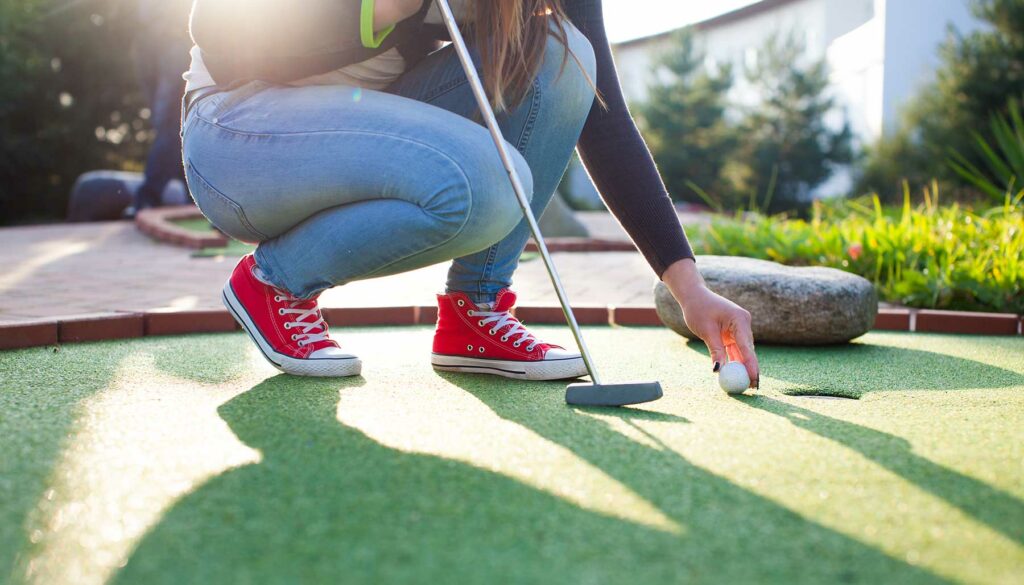 I don't care if you call it putt-putt or mini-golf, it's a ton of fun for a unique date! Chances are, you haven't played a round of putt-putt in a long time. Courses used to be all over the place when I was a kid. However, it's coming back! It has even been turned into a wild reality show: Holey Moley. Most courses are good ol' outdoor fun, but I've even seen indoor mini-golf courses, which would be a great option for any time of day or night, rain or shine. Playing putt-putt with your partner is a silly, fun way to enjoy each other's company.
Visit the Zoo or Animal Sanctuary
When was the last time you took a trip to the zoo? Seeing animals isn't just for grade-school field trips. I live near a huge zoo – it is both the world's largest natural habitat zoo and the world's largest walk-through zoo, in fact – so my partner and I like to make a day trip out of it from time to time. We get to spend time walking and talking outside as we learn about animals and even native plants. It's worth noting that this is only a good idea if you are near an ethically-conscious zoo or sanctuary that is helping wildlife and doing conservation work.
The Perfect Escape
Escape rooms are popping up all over the place, so why not take your significant other to one? This one is perfect for anyone who loves mystery or a good challenge. It's one part puzzle, one part teamwork. You will solve challenges, crack ciphers, and try to find the final clue together as you try to escape the room. While this might not be the perfect option for, say, someone claustrophobic, it is certainly an unusual and fun way to spend time with your partner.
Create Your Own Holiday
This one is definitely unique! For a special evening with your significant other, why not create your very own holiday together? Plan everything that would be important for a holiday, such as traditional foods, decorations, activities, and even a color scheme. Anything and everything that is important to you as a couple should be part of the holiday! After you're done planning, it's time to celebrate. If you have enough fun, it can turn into a real yearly tradition.
Take a Hike
Get outside and get some fresh air together! You don't necessarily have to be an avid outdoorsman to have some fun on the trails. Find some beginner trails nearby and take your significant other out to enjoy nature. With no one else around, you'll be able to spend quality time together chatting. No matter where you live, there are likely a few hiking trails or other walking paths nearby to check out.