Single-use coffee cups are so uncool — sometimes literally. When you order an iced latte, those flimsy plastic cups start sweating immediately. It leaves you with wet hands, drops of water all over your amazing fit, and water rings on your desk or table. And to top it all off, your drink doesn't even stay cold!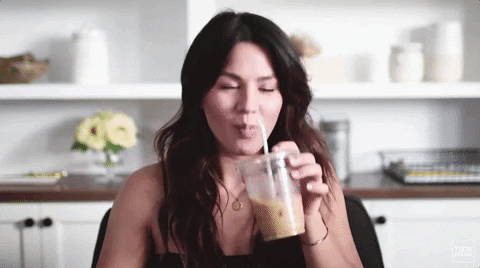 The opposite is clearly just as bad. You order a hot cup of coffee (two sugars and some cream, please!), and it's lukewarm before you even get to your office.
It doesn't help that all those single-use cups are incredibly wasteful. As these items pile up in landfills and oceans, it's clear that these cups are something we should eliminate from our daily lives. Did you know that paper single-use cups aren't even biodegradable, because they're coated with a plastic lining?
That's where reusable tumblers and mugs come in! Made from sustainable materials and extra insulated, they solve all of the above problems. But with so many options available, where do you begin? After all, the least thing you want is to drop a pretty penny on a travel mug, only to find it leaking coffee all over your new sweater.
Hey, don't worry about it. I have all of the top picks for tumblers that are both eco-friendly and able to keep your beverages at the perfect temp. A few of these do such a good job that you might even still find ice in your cup the next day.
YETI Rambler Tumbler
YETI coolers are already the standard for keeping drinks insulated for what seems like forever, even in the great outdoors. They're "built for the serious outdoor enthusiast rather than for the mass-discount retailers," as the company says.
Luckily for all of us, they've taken that extreme insulation power and durability that stands up to the elements and applied it to tumblers. This stainless steel travel mug features a double-wall vacuum insulated design that will keep your drink hot or cold for hours, and the "No Sweat Design" will keep your hands dry. The exterior coat won't fade, peel, or crack, and comes in a rainbow of colors to choose from. As an added bonus, you can even purchase accessories, like a tumbler handle, or a straw lid (for all you iced coffee drinkers).
They certainly aren't the cheapest option out there, but trust me when I say it's worth it. I won't lie, I wasn't a believer until I had a YETI Rambler myself. It keeps my coffee so well-insulated that it stays the same temperature for hours, and I have never found a cup holder it doesn't fit into.
Related: Reasons Why Coffee Is Actually Good for Your Health
Stojo Collapsible Travel Cup With Straw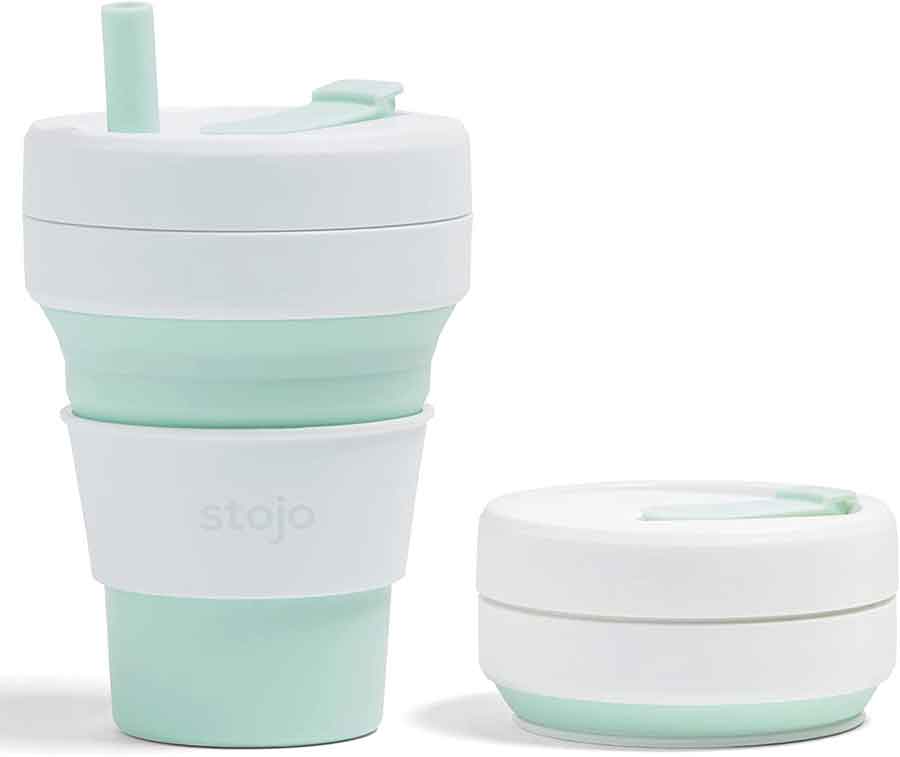 Talk about travel-friendly! This reusable cup is made from food-grade silicone, so it collapses down to a mere 2 inches. You can simply pop it into your bag or pocket when you're done with your drink. It also takes up a lot less space in your kitchen cabinets when not in use! When collapsed, the cups are stackable and nestable, making for clean, clutter-free storage.
The Stojo cup comes with its own reusable straw, perfect for iced coffee, smoothies, or even just water. Or, slip on the temperature-resistant heat sleeve for hot coffee or tea. The lid is plastic, but it's #5 recyclable plastic with no BPAs, BPSs, or phthalates. You'll still be doing your part to end the overuse of single-use plastics that wind up in landfills and oceans. And all those parts are designed to come apart for a super deep dishwasher-safe clean.
Hydro Flask Wide Mouth Bottle With Flex Sip Lid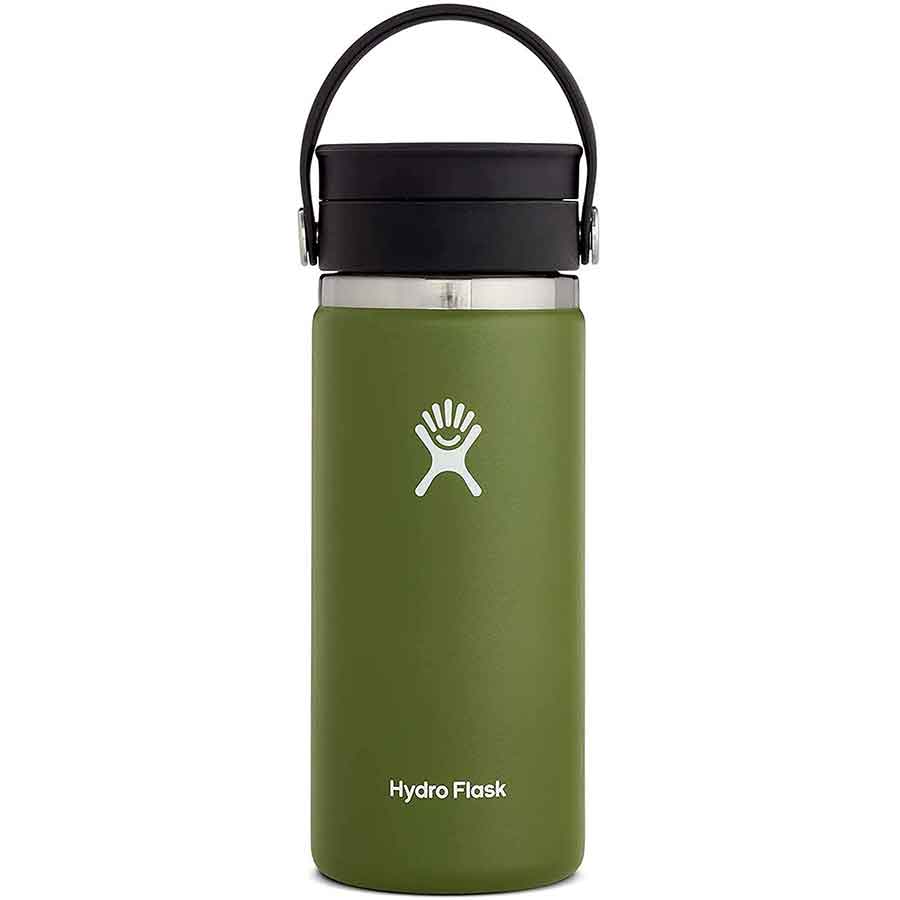 Hydro Flask gets a lot of hype, and I can tell you from personal experience that it deserves it! Like the YETI Rambler, this insulated bottle from Hydro Flask also features a no-sweat design that will keep the condensation away. The Hydro Flask also boasts their TempShield Technology, which means the double-wall vacuum insulation will keep your drink at the right temperature for hours.
You'll find that this reusable bottle is extremely durable, and I like that the lid screws on as part of its maximum leak-proof design. It can tumble around when you're on the go, without getting your gear wet. Plus, the lid has a flex strap for extra-easy carrying. It's cup holder friendly, too, for when you're commuting rather than hiking.
My favorite part of the Hydro Flask, though, is its versatility. Although this one comes with the Flex Sip lid, it's compatible with any other Hydro Flask Wide Mouth accessories. You can swap out the lid for a different kind depending on what you're filling it with. There is even an insulated sports water bottle lid with a flip-up straw.
BrüMate Toddy XL Travel Mug With Handle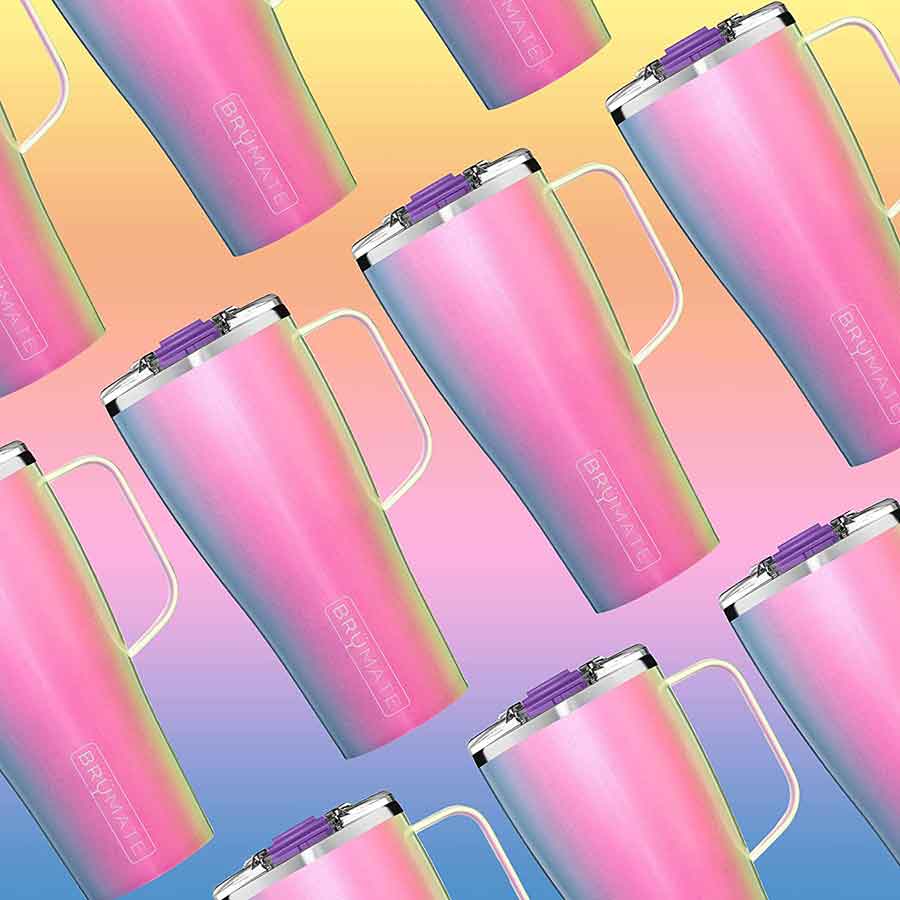 BrüMate's 32 oz Toddy XL is a stylish option for anyone looking to drink coffee with a little sophistication. Like the other travel mugs on my list, this one will definitely keep your beverages at the perfect temperature, thanks to its double-walled stainless steel construction. It also promises to stay dry on the outside, with no condensation. The lid is fully leakproof, so go ahead and toss it in your bag if you like.
This insulated mug does stand out for its flair, though. It comes in a variety of colors and prints to match any fit – including a rainbow glitter finish!
It comes in smaller sizes, but the XL fits 32 glorious ounces for true coffee lovers. Despite the hefty size, it will still fit in cup holders. And as a lefty, I really appreciate that the mug can be used right- or left-handed. The double-threaded design means you can put the lid with the opening facing whichever side you prefer.
Ello Odgen Ceramic Travel Mug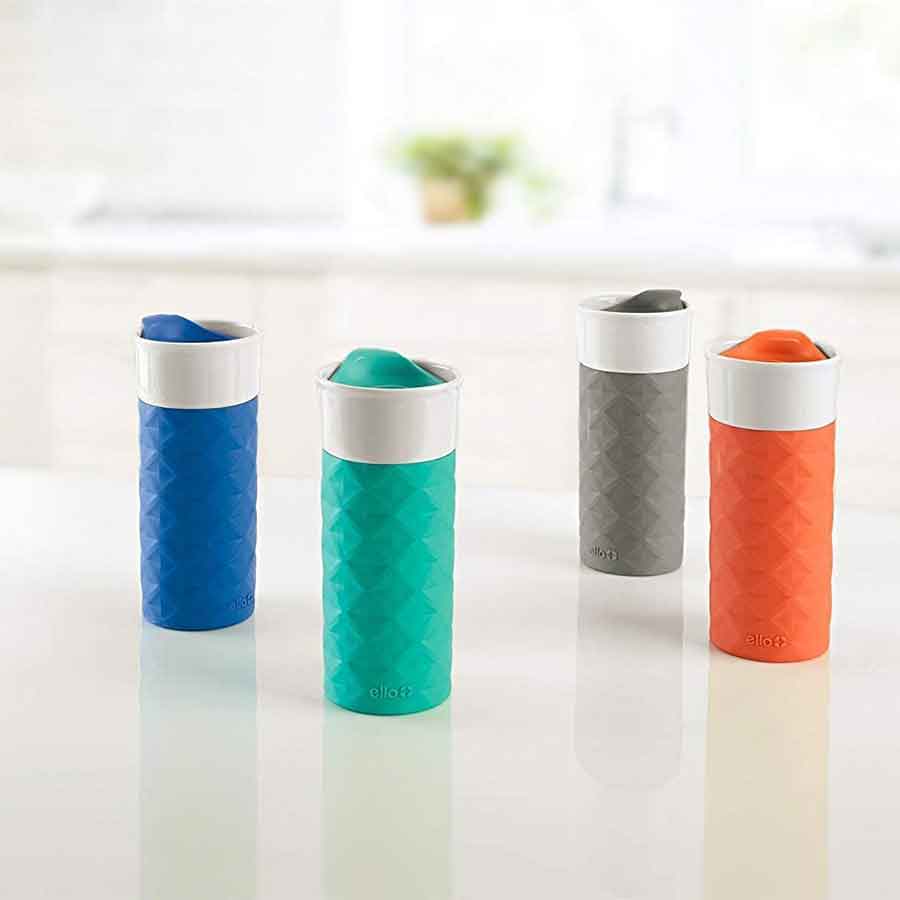 Okay, everything up until now has been made of stainless steel. I know that some people are sensitive to the material and might detect a slightly metallic taste from stainless steel mugs, so this ceramic travel mug is for y'all.
There's no stainless steel to be found here, only high-quality ceramic and silicone, with a BPA-free "friction-fit" lid. It's worth noting that the lid is not leak-proof, but the mug is perfect for anyone sitting at a desk, carpooling, or just going for a walk. It still features a double-wall construction like the other mugs on this list, and the silicone sleeve helps to keep the heat in, as well.
The Ello Odgen is extremely easy to clean and is dishwasher safe, including the textured silicone sleeve. Even the slider on the lid is easy to remove for cleaning.
KeepCup Reusable Coffee Cup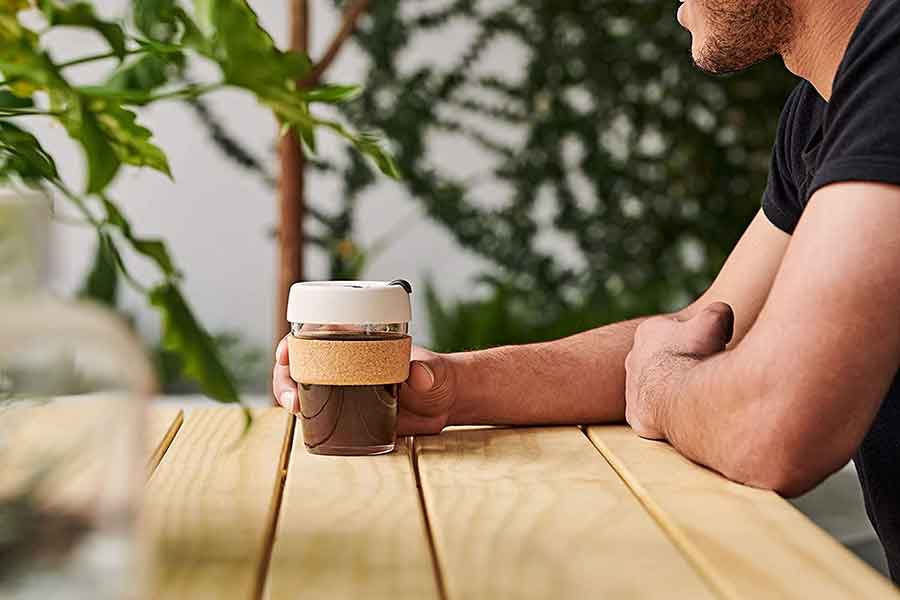 The KeepCup Reusable Coffee Cup is another great option that is not made of stainless steel. This one is made of glass, which also makes it easy to recycle in the future. And if you're worried about dropping a glass cup, it's worth noting that it is tempered.
Glass does mean that it doesn't retain heat as well as some of the other options listed here, but this mug has plenty of perks to make up for that. The KeepCup was designed by two former baristas, so it actually has the coffee maker in mind. This is the cup you take to the local coffee shop for espresso drinks. Its shorter size serves two purposes. First, it actually sits under machines, unlike many tall travel mugs. And secondly, it is the industry standard single-use cup size, making it much easier to achieve the correct coffee to milk ratio.
Mira Stainless Steel Insulated Tea Infuser Bottle
If you're more of a tea fan, the Mira Stainless Steel Travel Mug features a removable tea infuser. Just fill the bottle with hot water, add loose leaf tea to the filter basket, and let it steep. The mesh filter is two pieces, keeping your tea enclosed, allowing you to drink from the mug without removing the basket, too. And when you're done drinking tea, rinse the whole thing out and fill the basket with fresh fruit to infuse your water.
The Mira Tea Infuser Bottle will keep cold drinks cold for up to 24 hours, or hot beverages hot for up to 12 hours. It has a condensation-free exterior to keep your hands or bag dry, and the durable powder coat finish on the outside gives you a slip-free grip.
Simple Modern Insulated Tumbler Cup With Two Lids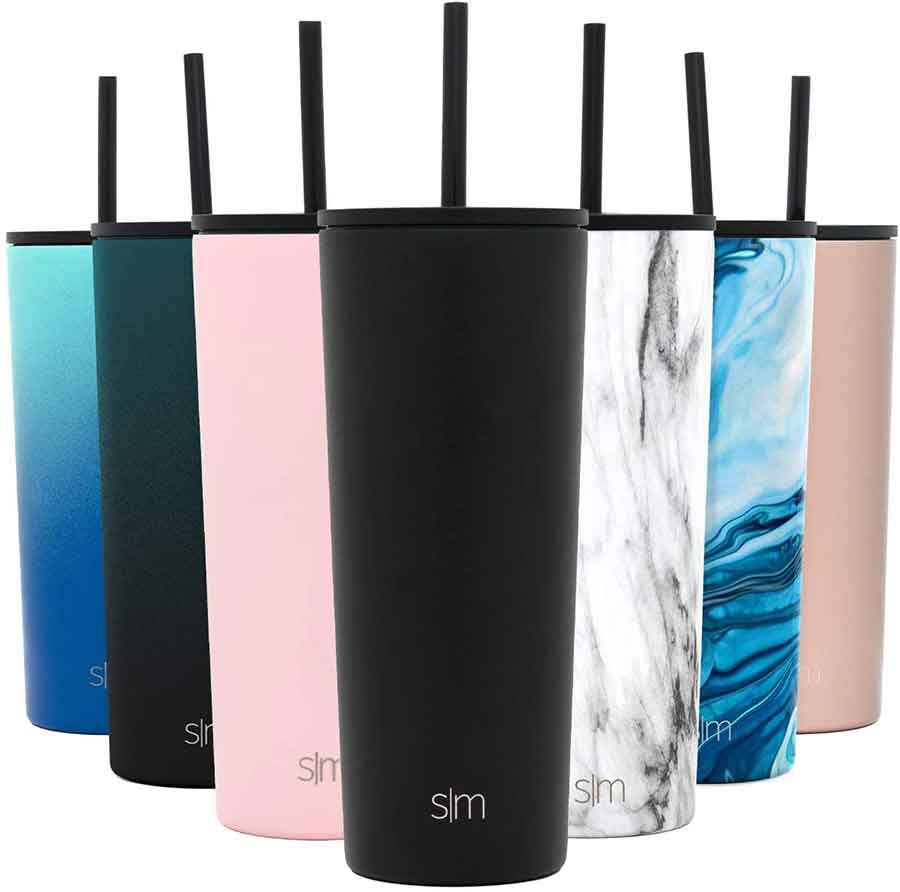 If you like the versatility of the Hydro Flask but you aren't really a fan of the price, Simple Modern has a stylish travel cup with a lower price tag. This tumbler is also made from high-quality food-grade stainless steel and comes with two different lids: a splash-proof straw lid, and a leak-proof flip lid. That means you don't have to purchase the extra lids separately to take advantage of the cup's adaptability.
Like the other cups on this list, the tumbler is double walled and vacuum insulated – something that is clearly important when we talk about keeping drinks at the right temperature. Your cold drinks will stay cold (some reviewers even mention ice still being in the cup after several hours), and your hot beverages will stay hot.
For anyone who wants a cup that looks cool, the Simple Modern Tumbler comes in over thirty different colors and patterns, too. From a sleek all-black to a summer-ready Hawaiian print, there's something for everyone here. Do I want a whole slew of options to match every fit? You know I do!