Let's be real for a second. There's simply no realistic way to get the immediate and dramatic results of a facelift without undergoing an actual, surgical facelift. With all of that said, unless you suffer from severe skin laxity and have exhausted all options, you may not really need one as badly as you might believe right now. Instead, it might just be time to add in some no-cut, cutting-edge treatments into your skincare routine.
No matter how you slice it, shelling out thousands for a facelift might be a little premature. Just think about it. For starters, there's no time like the present to explore the ever-growing alternative options. They're becoming more popular than traditional facelifts by the minute and for good reason. Whether you "need" one or not, a facelift will cost you way more than a pretty penny, over $8,000 on average to be exact. In contrast, minimally and/or non-invasive treatments cost significantly less.
Most notably, certain facelift alternatives may very well provide all the smoothing, lifting, toning, and tightening you need and want. Countless testimonials and top skin specialists tend to agree. So don't act in haste when it comes to that gorgeous face.
Before you go under the knife, give these rightfully buzzed about (and significantly cheaper) facelift alternatives a closer look. Currently, beauty experts have deemed these 10 the absolute best.
LED
Don't knock light therapy until you've tried it, my friend. According to leading dermatologists, light therapy doesn't just improve the condition of your skin; LED treatments can actually transform it. It's also the only one on the list I've given a whirl, and in my opinion, it's definitely worth the hype. Light-emitting diode (LED) therapy is a pain-free, non invasive procedure that uses a variety of different colored lights to target a variety of skin issues ranging from stubborn acne to fine lines, wrinkles, pigmentation, scarring, redness, inflammation, and rosacea.
During a light therapy session, LED devices send light waves directly into the skin, triggering natural intracellular reactions. As for the futuristic and mildly creepy mask, there's a scientific method to the madness. Every color has a different function; amber light stimulates collagen and elastin, red light is promotes circulation, white light deeply penetrates to tighten facial skin and reduce inflammation, and blue light eradicates bacteria. Typically, one session comes to about $100. But these sessions must be repeated 20-25 times before you'll be able to see significant results.
If you're looking for something that takes a little less time and money, there's another popular form of light therapy that garners faster results.
IPL
These days, light therapy is rapidly becoming the norm for treating skin concerns. So it's no surprise that Intense Pulsed Light (IPL) therapy is steadily growing in popularity. This pain-free facial treatment works similarly to LED, but emits a more focused, pixelated beam of energy. It primarily targets brown pigmentation, red vessels, and sun damage.
This "photofacial" uses a broadband light device that emits a spectrum of wavelengths and improves the overall condition of your skin gradually. You'll be able to see results in about 6 sessions.
Fillers
As we age, we tend to lose fat, collagen, and even bone density from our faces. Fillers are famed for adding back lost volume, providing immediate lifting, and contributing to volumetric support to the face. Whether you opt for hyaluronic acid fillers or biostimulatory varieties, filler needles are small and the procedure is minimally invasive.
Following the procedure, you might notice slight swelling or bruising, but there's no real downtime. However, they can get pretty pricey in the blink of an eye, ranging anywhere from $800 to $2,000 per syringe. Results can last for up to a year. In turn, fillers continue to rise in popularity. Unfortunately, the number of reported complications continues to rise as well.
So if you're going this route, make sure you find a credible doctor deserving of your time, money, and trust.
Morpheus8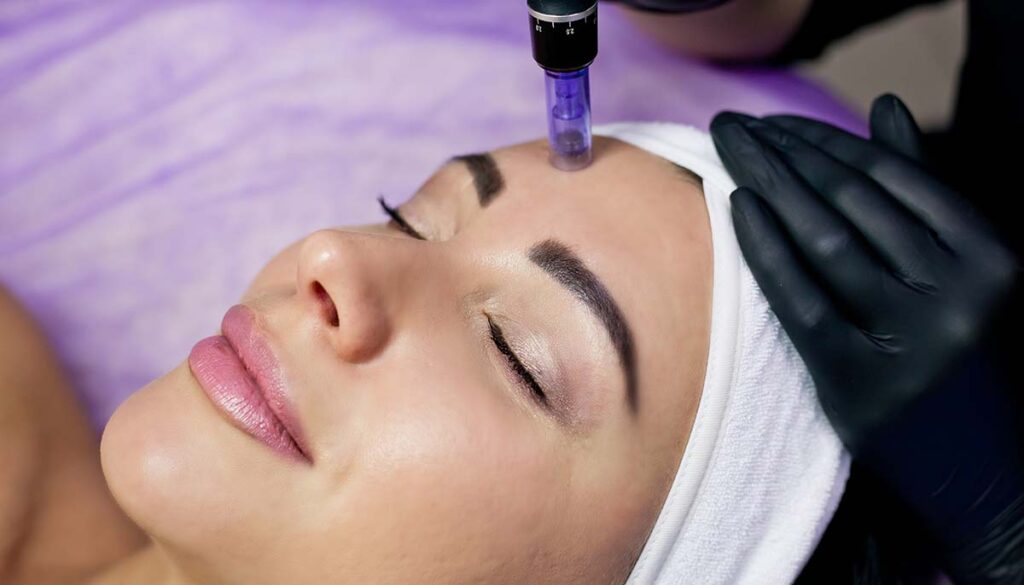 Have you heard of Morpheus8? Using a next-level combination of microneedling and radiofrequency, tiny needles penetrate the dermis as deep as four millimeters and deliver radiofrequency energy that heats up the skin. The result? The production of collagen is stimulated and the face is beautifully lifted. This treatment is most sought after by those with laxity in the neck or jawline. However, it has the power to improve the overall texture and tone of the skin too. And it's frequently used to fade stretch marks.
If you're interested in a full-face treatment, you might want to start saving up. On average, a Morpheus8 session costs between $900 and $1,900. If you're seeking big results, skin experts suggest combining this hybridized treatment with another treatment, such as FaceTite or Thermage.
Thermage
Thermage is another form of radiofrequency facial therapy making big waves right now. This unique cosmetic procedure improves the skin by smoothing, contouring, and tightening the collagen that's already there and stimulating new collagen production. Generally, it's used to treat fine lines and wrinkles, but it's also great for those looking to diminish the appearance of dimpled skin, smooth out cellulite, and lift any drooping around the brows, cheeks, and jawline area.
A Thermage treatment will set you back a whopping $2,500. On the bright side, it only needs to be done every 2 to 3 years for those looking to maintain the results, so you won't be spending the big bucks too often.
FaceTite
Do you want to tighten sagging skin and wrinkles on the lower half of your face without surgery? You might want to look into FaceTite. It too uses radiofrequency energy, but the procedure is a bit more extreme than others. In fact, it's the most invasive facelift alternative on the list. The technology is paired with liposuction and requires local anesthesia, but the incisions are so minimal that you'll likely walk away without any scarring whatsoever.
Major side effects are rare and it's deemed generally safe. It's also considered safe and effective for all skin types. Prices can widely vary based on whether you're having your entire face treated or just targeting problem areas. For a full face treatment, expect to spend about $5,000. Results usually last around 5 years.
Laser Skin Resurfacing
Say goodbye to blotches, brown spots, scars, wrinkles, or acne marks. When it comes to forward-thinking skincare, lasers can officially treat just about anything in this day and age. By strategically removing layers and layers of older skin, laser skin resurfacing reveals what's hiding underneath: clearer, more vibrant-looking facial skin. It can also do wonders for sagging skin, giving many as close to a true facelift as they need.
A full-face treatment lasts about 2 hours, but your skin transformation won't end there. Five to seven days later, you'll notice your skin starting to dry and peel. Five to eleven days after that, your skin should be fully healed. There's a small risk of developing burns, scarring, altered pigmentation, and bacterial infection with this one. However, results tend to be favorable for those who swear by it. A laser skin resurfacing treatment tends to cost upward of $2,000.
Botox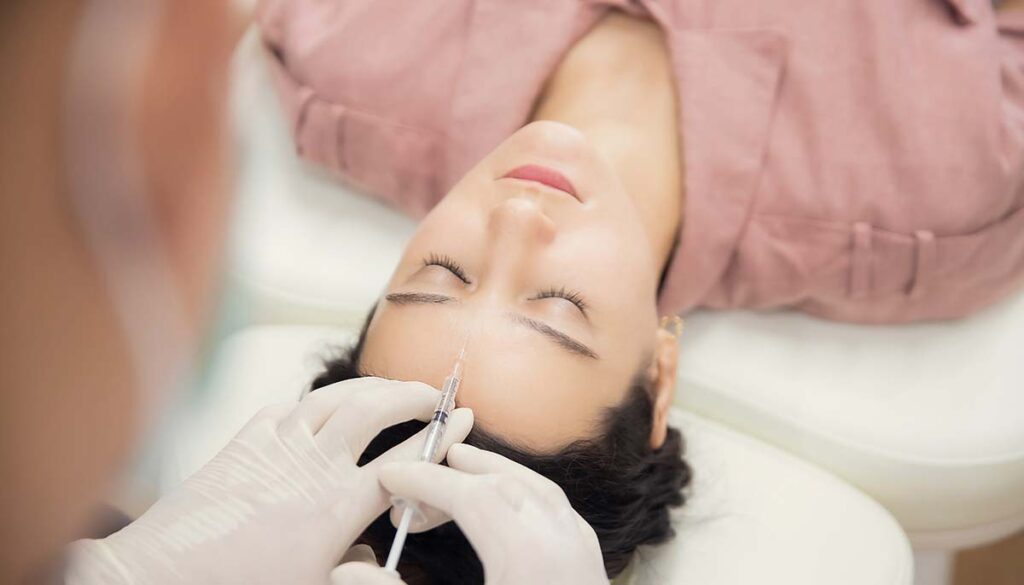 These days, everybody knows about Botox. It's such a celebrity norm that you'd be hard-pressed to find a star who hasn't at least tried it once. For a while, Botox parties became the next big thing and soon, it seemed everyone was doing it both regularly and casually. But it's certainly not for everyone.
Botox injections use various forms of the botulinum toxin to temporarily paralyze facial muscles. Botulinum is actually produced by the same microbe that leads to botulism. With that said, botox is considered relatively safe when administered by a doctor and dramatically reduces the appearance of wrinkles after 24-72 hours. It also has more flexible payment options, priced $12-$15 per vial or $450-$800 per facial zone.
Thread Lifts
Sometimes called the "lunchtime facelift," thread lifts are meant for those who just want to do a little "freshening up." Revered for its swiftness, subtle results, and range, this quick fix is not just being used on the face, but many other parts of the body. And yes, it's exactly what it sounds like.
During this treatment, temporary suture-like threads are sent through cannulas under the skin to provide a subtle lift. They also stimulate collagen, improve texture, and add facial volume. Ultimately, thread lifts are designed to dissolve, which means the results don't last nearly as long as the other options. Even still, treatments range from about $1,500 to $4,500. If you like what you see, prepare to get a touch-up every 6 months to a year.
Ultherapy
Non-surgical and incredibly effective, Ultherapy uses ultrasound to heat targeted tissue under the surface of the facial skin. In turn, it triggers the natural production of collagen. Overall, ultherapy is beloved by those who wish to counteract the effects of time and gravity on the face.
Prepare to repeat this $3,000 – $5,000 treatment every 6 to 12 months. It takes most people about three sessions to get the desired results. Curious about the biggest pros and cons of this one? These are the top 10 things you need to know about Ultherapy.