Money is the second biggest reason why coupes split, according to this survey by Ramsey Solutions. It's also the main reason why couples fight. Talking about finances can be uncomfortable, but the consequences of avoiding the topic are even worse.
How can you and your partner balance the budget without all that drama? According to creditcards.com, 32% of coupled U.S. adults have cheated on their partners financially. The first step is being open about finances, but the work doesn't stop there.
Having the Talk
When is the right time to talk about money in a relationship? The earlier, the better. Once you think things are headed toward long-term territory, have a chat about your financial philosophies. You might be surprised that your prospective partner was raised to think about money much differently than you were.
Financial intimacy makes many people uncomfortable, but it's the bedrock of a solid relationship. Financial therapist Amanda Clayman advises couples to get used to the idea of talking about money from the very first date.
"Money shows up in our lives every step of the way as something that appears, on the surface, like a problem to be solved," she says. "But usually it reveals something deeper about something in our life that needs to change, grow or shift."
Shared Finances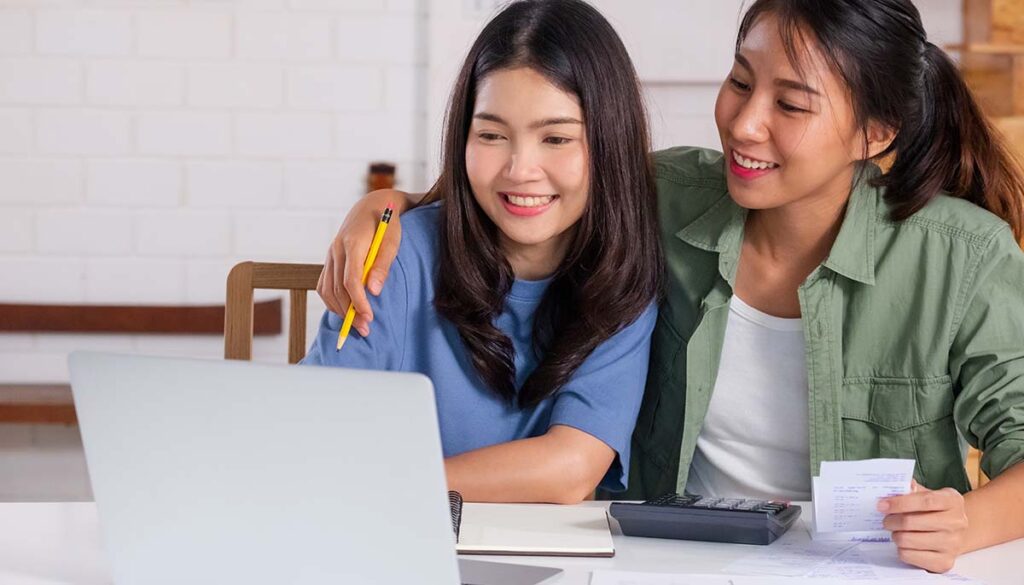 Sharing finances with another person can be a struggle. When you are used to managing your own money, combining some or all of your money with your partner requires lots of planning and discussion. While you don't need to pool all of your resources, most couples pay at least some household expenses out of a shared fund.
As you start this ongoing conversation, look past your current salary toward a future where one partner gets a promotion, loses a job, or changes careers. Having a plan for your shared finances beyond simply splitting the rent will help you be more prepared–and therefore less likely to have a blowout–when life throws a curveball at you.
Debts and Assets
Every person enters a relationship with debts and assets. However, the extent of those debts and assets can be a shock. Too many couples have split up over undisclosed consumer or student debt. Often, these debts only come to light when the couple is trying to buy a home.
While one partner's debts won't destroy the shared dream of owning a home, since debts before marriage are not shared between spouses, they might indicate a level of trustworthiness and financial irresponsibility. And if your spouse is still racking up credit card debt in secret after you marry, that debt could be your responsibility depending on the law of the state where you reside.
Assets can be equally tricky to navigate if one person has more than the other. This financial imbalance can easily lead to resentment or worse. Negotiating a prenup might not seem very romantic, but many experts agree that it's a smart move no matter how much you have in the bank.
Savings Goals
Are you and your partner on the same page about your savings goals? Do you have a plan for both short-term and long-term savings? Couples who save together stay together, so figuring out how you'll approach shared savings goals can strengthen your relationship.
Ideally, both partners will be saving for retirement through their employers. If not, don't delay that conversation. In the more immediate future, talk about your shared goals and prioritize them together. If one partner thinks that buying a second car is the most important use of your shared savings while the other believes that taking a vacation together is essential, you'll need to figure out how to proceed.
If the conversation starts to get heated, you can always press pause. However, you can't avoid discussing money forever. Bringing in a neutral third party, such as a financial advisor or even a couples counselor, can help.