We've all got at least a few dog moms to shop for, right? Friends, family, co-workers… there are plenty of dog lovers out there that treat their pups like the family members they are!
All that love for fur babies makes it a little easier to buy them gifts, if you ask me. Maybe it's because I have furry companions of my own, so I enjoy picking out special pet parent gifts. This came in handy recently, when I had to track down the perfect gift for one of my besties, who also happens to be a dog mom.
Whether you're shopping for Christmas gifts for dog moms, or perhaps Mother's Day gifts for dog moms, we've got you covered. You might even want to celebrate National Dog Mom's Day! This special day for all pup-loving women happens on the second Saturday in May each year – the day before the other Mother's Day. Happy Mother's Day, dog mom!
Check out this list of gift ideas for dog moms! We've picked a few top-tier gifts that are sure to please the dog mom in your life.
Related: Common Household Items To Keep Away From Your Pets
If She Enjoys Lounging, a Dog Mom Sweatshirt Is the Comfy Answer
When I am not in the office or out to dinner, I absolutely live in sweats. Comfort is the name of the game these days. But you don't have to sacrifice style for comfort, which is great for running errands and hitting the dog bar.
Dog moms love their pups so much that they're more than happy to wear that title on their sleeve… or straight across the front of a sweatshirt. This particular dog mom sweatshirt has an added bonus: the purchase helps pups in need. PAWZ works to raise money and awareness to help shelter dogs. They donate to no-kill shelters and animal welfare organizations nationwide.
If sunflowers aren't your thing, they have a ton of different options!
Get it here: Pawz Sunflower Dog Mom Olive Hoodie
A Dog Mom Fanny Pack That Is Useful and Stylish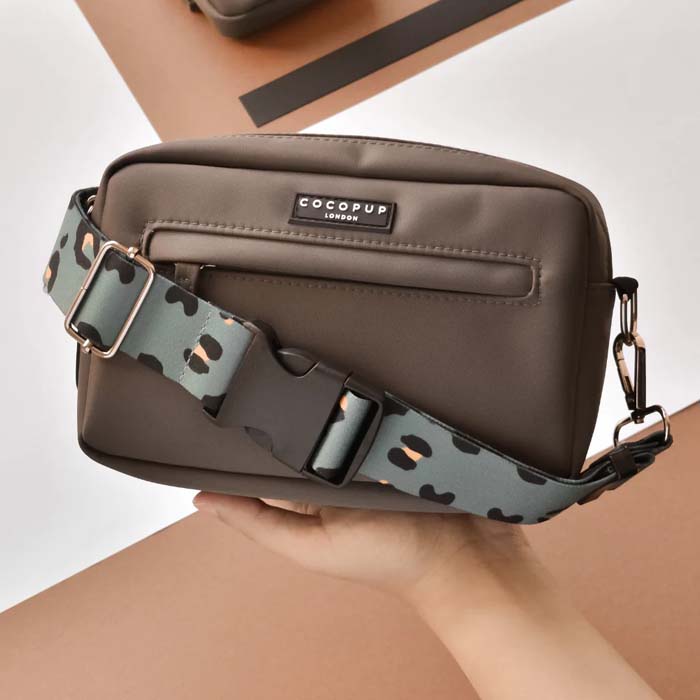 Dog moms spend a lot of time outside of the home with their pups. Whether it's adventuring in the great outdoors, hanging at the local dog park, or just going for walks around the neighborhood – chances are, the dog-lover in your life is all too familiar with being on the go.
Of course, that means packing treats, collapsible water dishes, poo bags, and more. Kid moms carry diaper bags, and it's about time dog moms employ this same strategy! Having everything neatly organized and easily accessible means more quality time to enjoy with the pup.
There are a lot of fanny packs and bags geared at dog parents, but I especially like this one. It's super stylish, and the company offers tons of add-ons to customize a bag that meets specific needs. There are clip-on poop bag holders, tennis ball holders, foldable bowls, and even collapsible coffee cups. They also offer matching collars, bow ties, harnesses, and more.
Get it here: Bum Bag Bundle – Mocha + Khaki Leopard
Dog Moms Can Bake Treats for Their Canine Companions
Sure, the number one priority of any dog mom is their furry friend. However, they probably have a few other interests, too! So, why not combine those hobbies with their love of dogs to create the perfect gift?
If the dog mom in your life loves spending time in the kitchen, perhaps its time to try out homemade dog biscuits! Creating healthy and tasty treats doesn't have to be intimidating, though. It's a lot like baking for non-furry kids (aka humans). This non-stick treat press works like other similar kitchen gadgets, like a waffle iron or panini press, and it comes with some easy recipes to get you started.
This is also a brilliant idea for anyone who has a dog with a sensitive stomach, allergies, or specific needs. Baking homemade treats means being able to control the ingredients!
Get it here: Dash Mini Dog Treat Maker
A Dog Mom Candle Sure to Brighten Her Day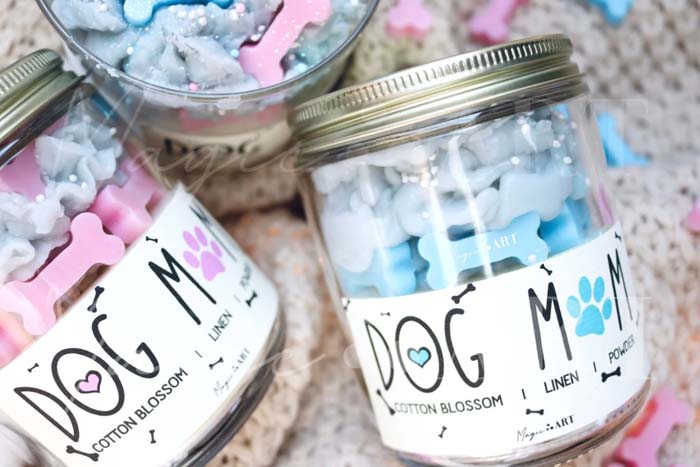 Dog moms spend a lot of time taking care of their fur babies, so why not give her something for herself? A soothing candle filled with relaxing scents is the perfect way to help anyone unwind after a long day of walks, baths, and playtime with the pup.
This dog mom candle is absolutely adorable! It uniquely features little bone shapes throughout, which you don't see very often. The candle isn't just pretty, either. It has a clean and calming scent of cotton blossom, linen, and powder. Choose from three different sizes. Each soy-based candle features a cotton wick and is hand-poured.
Get it here: Dog Mom Candle by Magic Art Co.
Working Dog Moms Can Miss Pups Less With This Smart Device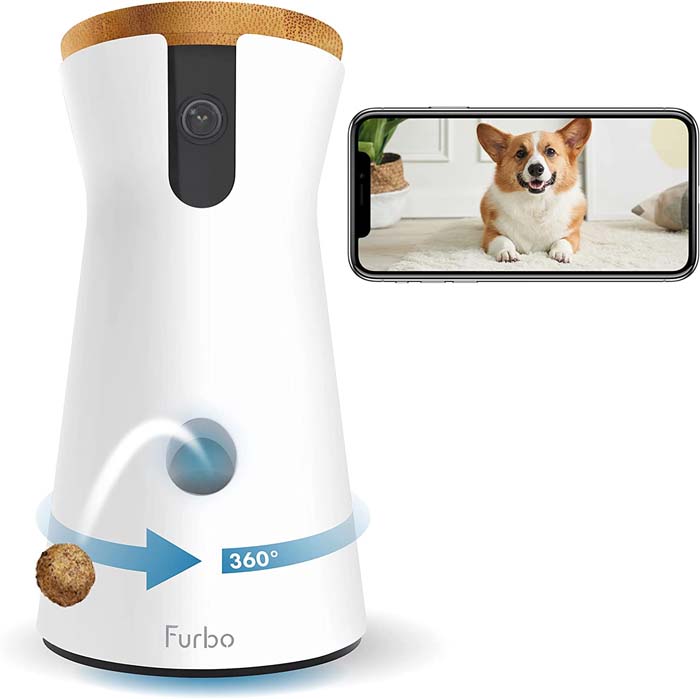 Dogs are part of the family, so it's understandable that dog moms miss their canine companions while away from home. Unfortunately, not all workplaces are dog friendly, so we've got to leave them behind – so we earn more money for dog toys, of course!
Furbo can help with separation anxiety for both dogs and their owners. It is an Alexa-compatible pet camera with a built-in treat dispenser. That means dog moms can check in on their pets at any time of day, no matter how far away they are. Through the smartphone app, dog moms can stream what their pups are getting into, and reward them with the treat tosser. Plus, it's been upgraded with a rotating 360-degree view.
Get it here: Furbo 360-Degree Dog Camera With Treat Tossing
Celebrate the Holidays With a Dog Mom Christmas Sweater
It's never too early to start thinking of the holiday season! Ugly Christmas sweaters featuring wreaths and deer are so last year. Instead, give the dog mom in your life a much better option: a Christmas sweater featuring their fur babies!
Okay, so it's really a printed sweatshirt designed to look like the busy Christmas sweaters of days gone by. But that just means it's way more comfortable and endlessly customizable. Choose from three different background colors, add up to three different dogs, and then choose from hundreds of options to match the pups. You can even add the dogs' names! Does it get more personal than a dog mom shirt with names?
Get it here: Personalized Custom All-Over Print Christmas Sweatshirt
Give the Gift of DNA Knowledge
DNA tests allow pet parents to better understand their dog's genetics. Knowing a dog's breed can give a lot of helpful information, like if a dog is likely to be affected by specific conditions associated with certain breeds. Understanding a pet's behavior and identifying potential health problems is as easy as swabbing your pup's mouth.
It's also really cool to get to know your pup a little bit better! Especially for those special "Heinz 57" shelter cuties, it's really anyone's guess what they've got going on. If the dog mom on your list has ever been curious about their dog's unique look, this dog DNA test from Embark runs DNA against more than 350 known breeds and delivers detailed results.
Get it here: Embark Breed Identification Dog DNA Kit With Ancestry & Family Tree