There are very few things more anxiety-inducing than a messy bedroom. Whether you have clothes strewn across the floor, dishes covering your desk, or junk mail piling up on your dresser, living in an unorganized room is never fun. But don't worry, I'm not judging. It's hard to keep a bedroom looking spic and span, especially if your schedule is jam-packed and you're running from one thing to the next.

And, even if you want to clean your bedroom, it's hard to know where to start. However, I'm here to tell you it's possible to clean your room in under 10 minutes. Yes, 10 minutes. All you have to do is read through this list of tips, start your timer, work fast, and voila, your room will look as good as new in no time.
Recognize the Problem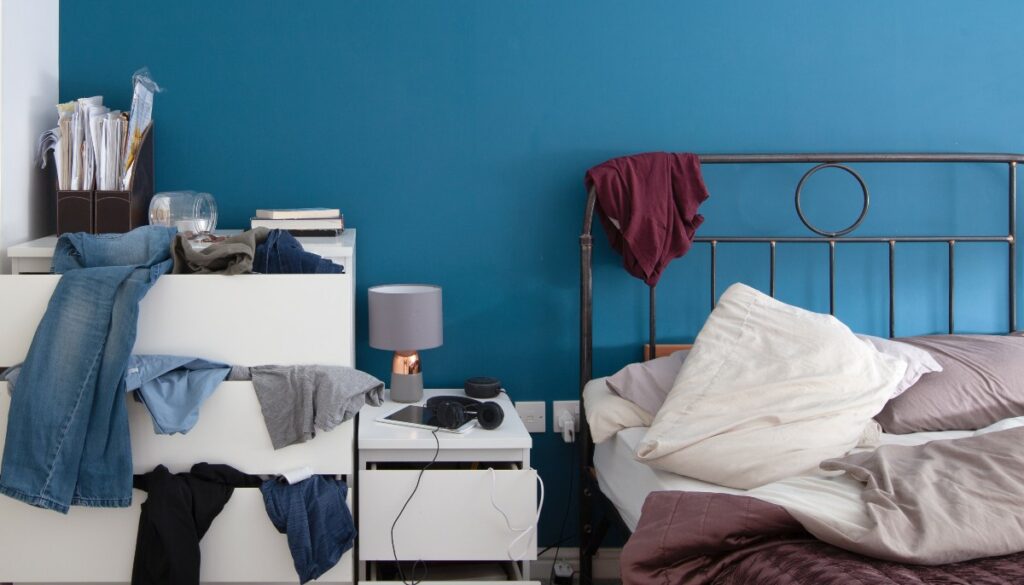 Before you begin, take inventory of your space. What is your most pressing problem? Do you have too many dishes scattered across various surfaces? Is your entire closet on the ground? Take a minute or two to see what is really causing the space to look messy and go from there. Once you know what you have to tackle it'll make your life much easier.
Pick Up Trash First
First thing's first, grab a trash bag and start throwing all of your garbage into it. Whether it's wrappers, stray papers, or empty beauty products, get rid of it. Once you've collected all your trash, put the bag outside of the room so it's out of your way.
Pick Everything Up Off the Floor
Now that you've taken care of the trash, it's time to tackle everything else. Start by picking up everything that is on your floor. If you have dirty laundry on the floor, put it in your laundry basket. If you have clean clothes on the floor, put them back on hangers in your closet or place them in your dresser. Any other random items, such as makeup, bags, or hats, should be put in their appropriate area.
Organize Anything on Surfaces
If you're anything like me there's a good chance you have a bunch of random stuff strewn across your dresser and desk. Do your best to put any beauty products back where they belong, put your jewelry in one spot, and put any important papers in a secure folder.
Make Your Bed
If your bed isn't already made, go ahead and make it. It'll not only force you to get anything that doesn't belong in or on your bed off your bed, but it'll help the room look more put together. Fluff your pillows and make sure your blankets are all folded. Oh, and don't forget to tuck in your sheets!
Time to Clean
Grab your vacuum, duster, and a few Clorox wipes, and go to town! If you're pressed for time, just run your vacuum around your bed, wipe down your desk or dresser, and dust anything that looks like it needs a little bit of love.
Have an Extra Minute?
If you still have extra time on the clock, go ahead and light a beautiful candle or throw fresh flowers in a vase! Creating a beautiful environment will not only feel good, but will encourage you to keep your room clean going forward.