Tan, white, black, gray – neutral color is so easy to decorate with, and it's trendy. But too many neutrals can make your space feel like a sterile waiting room rather than the place you call home. 
Even if your home features a few colors right now, you might be feeling like it's time to add more to your space. Brilliant blues, warm reds, soothing greens… what feels the most like you? After all, if you can't be yourself at home, then where can you?
Whether you want to deck out every room of your home in a different shade of the rainbow, or you're ready to start small in your journey to bring more color into your space, we've got you covered. Take a look at these 10 ways to freshen up your home and bring more color into your space.
Bring in Bright Coasters
If you're a diehard minimalist who has worked hard to decorate your home in neutrals, the idea of intentionally bringing in color may seem a little frightening at first. Does that sound like you? Don't worry – there's no problem with taking tiny steps towards color!
Start small and bring in just a little bit of color by adding bright coasters to your coffee tables or end tables. Are you working with a totally neutral palette and you're not sure which color to choose? Choose coasters in a color that you've always loved. Or, look for inspiration in stores and online for coasters in a color that feels like the right fit.
While you're shopping, keep an eye out for coasters that are made out of interesting materials or textures. Beautiful quartz, ceramic, or woven coasters can add character to your home without overwhelming the space with color.
Light up Your Space With Colorful Lamps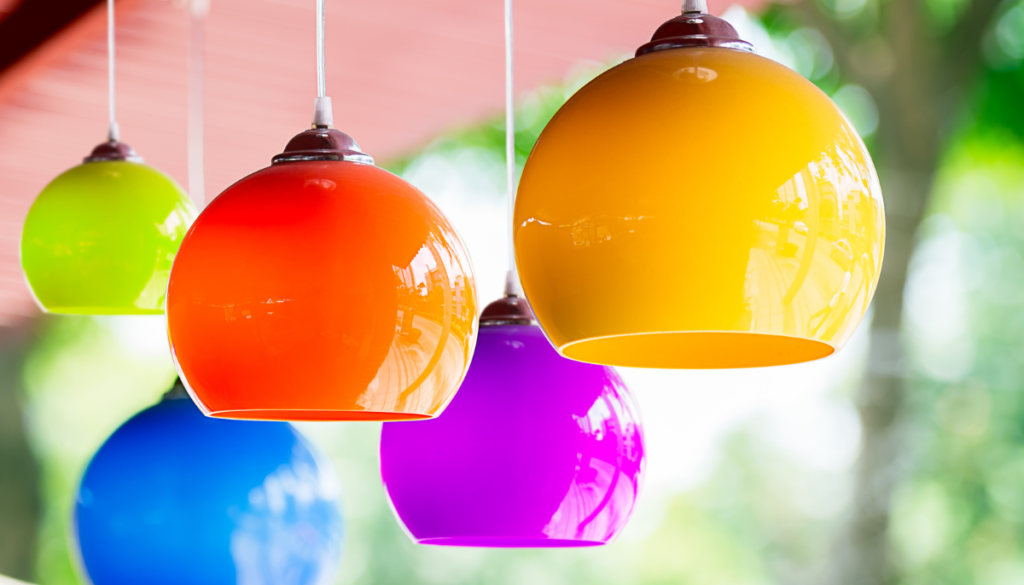 Most lamps come in neutral colors, but just because that's what you'll typically find on the shelf, that doesn't mean that's what you have to buy! White, black, brown, and gray lamps are just fine – but they're not a necessity.
Instead, light up your home with colorful lamps. Pick a base that's a color that you love and that will coordinate with the table where it will live.
While LED lighting is all the rage these days, if you prefer soothing neutral light instead of neon colors, you definitely don't have to jump on that trend. Instead, stick to incorporating lamps with a beautiful base in a color that complements the room.
Decorate with Vases and Flowers
Vases are a fantastic way to bring some color into your home without turning a room into an explosion of color (although there's nothing wrong with that if that's your jam!). Ceramic vases come in an incredible variety of beautiful shapes, sizes, and colors. Choose a ceramic vase with a design that you love, or find one that's patterned in a way that catches your eye. If designs and patterns aren't your style, don't worry – a ceramic vase that's a solid color can also make a statement!
Glass vases also come in a variety of beautiful shades and colors. Keep your eye out for blue, green, or even purple or pink glass vases. Just stay away from milk glass because the chances are good that you already have enough white in your home!
Choosing your vases is half the job. Once you've found vases that you love, fill them with fresh florals to add even more color and beauty to your home. If you have a flower garden, start there. Bring the beauty that you're cultivating outside into your home. Otherwise, look to your local florist for gorgeous, fresh stems that will bring pops of color and life inside.
Read More: The Best Interior Paint Colors for Every Zodiac Sign
Add an Accent Wall
Accent walls have been popular for a while now, and there's a good reason: they're a fantastic way to bring color into your home in a way that feels balanced and intentional. You don't have to be a maximalist to have an accent wall. All you need is to be smart about your design.
Decide if you'd rather paint or use wallpaper first. Then, think about what's going to stay in the room and what you might replace or change later. Choose a paint color or wallpaper pattern that will coordinate with the most permanent items in the room.
A wallpaper pattern that uses neutrals in addition to the accent color is a great option for adding some color to the room. Bright stripes or a checkered pattern are fun designs for your accent wall. For truly adventurous spirits, think about a colorful mural.
Colorful Candles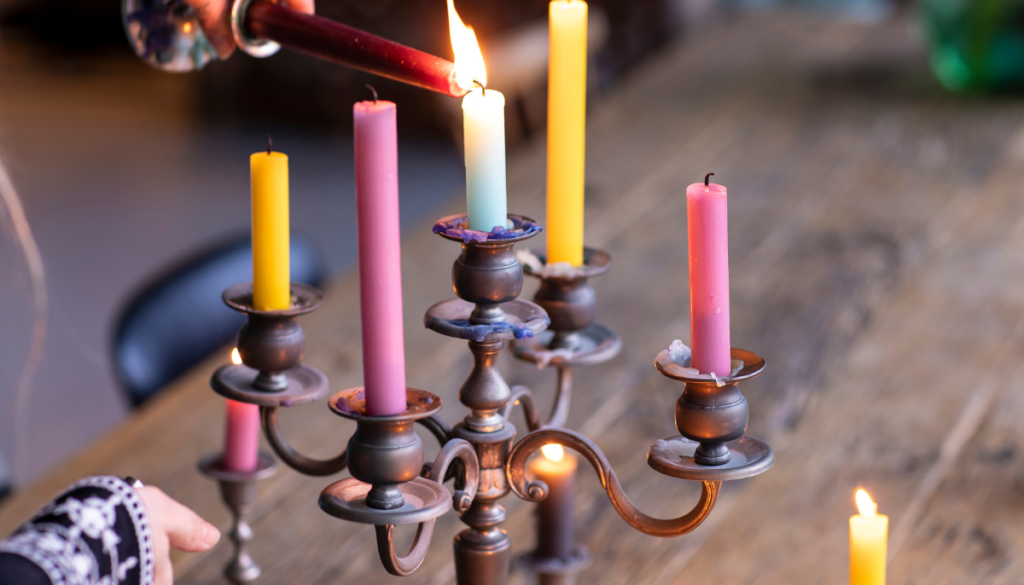 Candles bring warmth to any room, both literally and figuratively. However, while plain white pillar candles can be calm and relaxing, they don't do much for the style of your home.
Choose brightly-colored candles and candleholders instead. They're a great way to add a pop of color without making a permanent change to your home's design. You can change out your candles to fit your mood or the season.
No matter what your budget is, a candle is a great way to make your home smell good and to reflect your personality. Choose candles that come in a gentle pastel if you're easing into color, or bright jewel tones if you're going all-out.
Bright and Useful Storage
Storage doesn't have to mean ugly plastic bins. It also doesn't have to mean plain wicker or gray fabric baskets. You can add color and beauty to your home by intentionally incorporating elegant storage pieces into your design.
While large items that need to be stored may require more functional containers, small items can be stored in beautiful, bright containers. Whether you have earrings, paperclips, change, bobby pins, or any other small items that you need to access regularly, there are gorgeous, colorful small containers out there that will add a tiny pop of color to your home.
Highlight Existing Features
Wondering how you can paint more color into your home? There's a simple solution.
According to Will Taylor at Martha Stewart, "You can use color to highlight an everyday aspect of your home and have it make a statement in the process.
Why not paint the individual spindles on your staircase in graduating shades? This is a weekend project that will give your entryway the color wow factor!" If you don't have a staircase with spindles, consider painting the drawers on a desk in bright colors, or adding colorful handles or knobs to a favorite piece of furniture.
Read More: Embrace Your Inner Interior Designer and Decorate Your Home for Spring
Color Coordinate Your Ceramics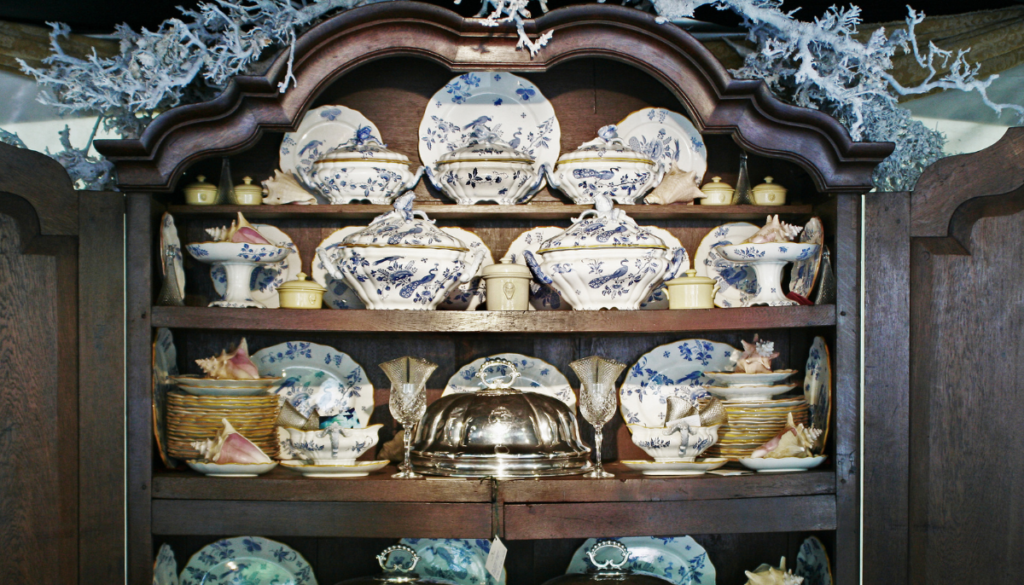 Do you have a collection just waiting to be displayed? Start by organizing the items – whether they're beautiful plates, casserole dishes, figurines, or any other object, by color. Then, decide on the best place for displaying them.
Style a dresser or china cabinet with your collection paying close attention to color coordination. Keep your warm-colored objects together and your cool-colored objects together. If you don't have a collection but you do have the space, this is the sign you're looking for to start one!
Throw in Bright Textiles
Textiles bring so much richness and warmth to our home. Blankets, pillows, rugs, tablecloths, placemats, curtains, tapestries… there's a wide range of items that are perfect for adding color to your home.
Don't choose too many different colors; instead, narrow your palette down to two to start with and consider buying textiles in different patterns that incorporate those colors. Use varying shades of the same color throughout your space. As you get more comfortable with color, layer in more shades.
Learn About Color Theory
These nine suggestions are fantastic ways to add more color to your home. However, you might be feeling like you're still not sure which colors you want to bring in, or you might feel overwhelmed by all the options.
Take some time to learn about color theory. Color theory is, simply put, "the art and science of using color. It explains how humans perceive color (both physically and psychologically) and how colors mix, match, and contrast with one another."
Color theory can help you create a palette for your home that's recognizably you. You can start by considering the color wheel, which organizes colors by the three primary colors (red, yellow, and blue), the three secondary colors (green, purple, and orange), and the tertiary colors. Or, you can think about whether you want your room to have a warm or cool feel, and then choose your colors accordingly.
If you're not concerned about primary or secondary colors, or warm or cool, then you may be a maximalist who just wants to bring as much color as possible into her home. That's wonderful! Do what makes you feel best with your space, and don't let any set of rules limit you. But if you're not sure where to start when it comes to color, learning about color theory and the color wheel can help!