Spring is in the air!
I can hear birds chirping away. Daffodils are popping up, and sometimes I can even let my houseplants hang out on the porch during the day.
We've finally made it through the cold winter months. And as winter gives way to spring, it's time to lean into the much-needed cheer that this fresh season has to offer! After all, spring is full of vibrant greenery, bright and cheery colors, and budding blooms.
Spring into the season (see what I did there?) by adding a little extra cheer to your front door with a hand-crafted wreath. It'll add a bright pop to the outside of your home. Plus, it'll bring you a breath of fresh air every time you come home.
If you're hesitant to craft your own wreath — don't be! You don't have to be a master crafter with a degree in art to create the perfect DIY wreath. Wreaths can be as easy or as involved as you make them.
Crafting the perfect wreath for your front door doesn't have to cost a fortune, either. From big box stores to craft stores to even dollar stores, you can find affordable budget-friendly supplies to make the perfect wreath that matches your home's overall spring decor.
Ready to get inspired? You'll find a little bit of everything here. There are the traditional round wreaths, plus some that are a little more out-of-the-box with square frames and watering cans. Some of these wreath ideas incorporate simple artificial flower arrangements, but there are also wreaths featuring moss, butterflies, fabric flowers, and galvanized metal. There is even an adorable little birdhouse!
Pretty Spring Butterfly Wreath
This adorable wreath is covered in butterflies–and it's not nearly as complicated as it looks. You can order these little butterflies in bulk from sites like Oriental Trading, or you can even find them in the floral section at the dollar store.
Check out the tutorial for this wreath here.
Spring Picture Frame Wreath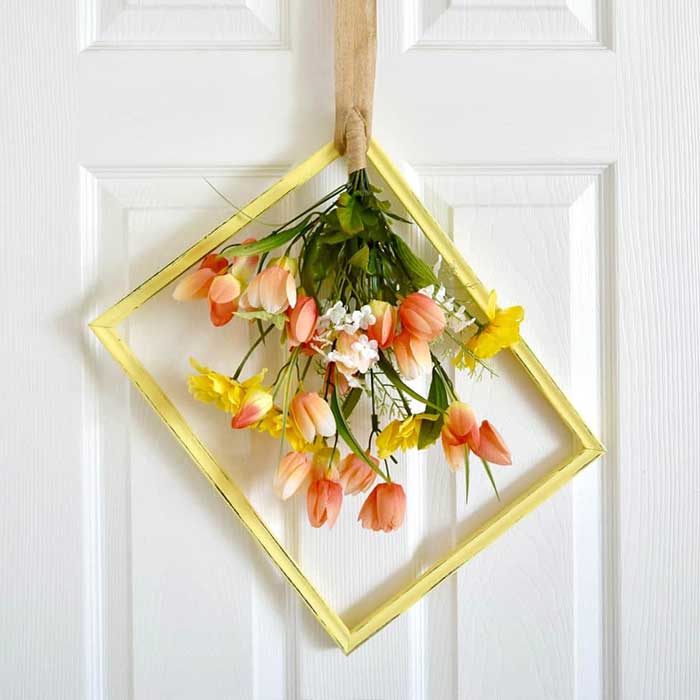 Picture this: a pretty spring wreath made from a picture frame! It's definitely unique — you'll be the only house in the neighborhood with a wreath like this one. You could repurpose a frame you already have or pick one up for next to nothing at the thrift store.
Check out the tutorial for this wreath here.
Burlap Daisy Wreath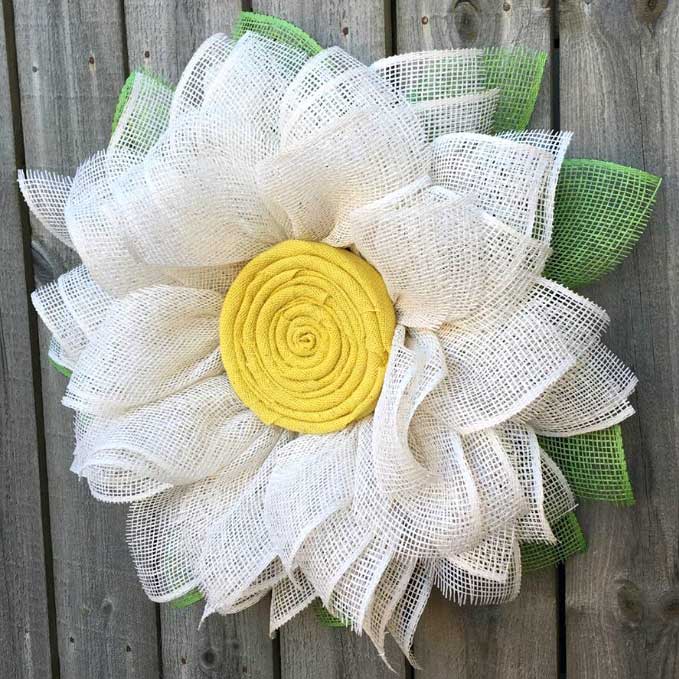 Brighten up your door with an oversized daisy. This fun wreath is easy to DIY with burlap and a wire wreath frame. Your neighbors will be so impressed with the results!
Check out the tutorial for this wreath here.
Watering Can Bouquet Wreath
This DIY watering can wreath is cheery and unique — but it's also incredibly easy. We love projects like this that look great and don't break the bank.
Check out the tutorial for this wreath here.
Moss And Twine Birdhouse Wreath
Birds are one of my favorite parts of spring! I love the addition of this bright yellow birdhouse in the middle of the wreath. The clean, modern look of this wreath is a great alternative to your grandma's fussy florals.
Check out the tutorial for this wreath here.
Farmhouse Style Galvanized Metal Wreath
This unique wreath features a galvanized metal piece with that cool vintage patina. The metal and thick rope add plenty of contrast to the beautiful artificial blooms. If you want to save a little extra cash on the flowers, try buying artificial bouquets instead of individual stems.
Check out the tutorial for this wreath here.
Fantastic Fairy Garden Wreath
Here's another take on that same galvanized metal wreath! This fairy garden scene makes for an extremely charming take on a spring wreath. You can create your own custom fairy garden from supplies at your local craft store, but I've also seen these inexpensive statues at Dollar Tree, or in bulk online.