I love a good taco, so you can probably guess what I keep stocked in my pantry: the humble tortilla.
Homemade tortillas will always be the best, but I don't really have that kind of time as of late. That's why I buy 'em. Each time I'm ordering groceries, I always peek in the cabinet to see if I'm low on tortillas. (We usually are.)
The other week, I did all that just like I usually do. Looked in the cabinet, saw we needed more tortillas, and added them to my order. Business as usual.
But then, things got complicated when they subbed the tortillas I ordered because the bag I added was out of stock. Instead of a stack of 30 tortillas, a bag of 80 showed up at my door. A lot of tacos get made here, but that's 50 more tortillas than I was planning on! It's like the grocery store was challenging me.
I could just make more tacos to use all the extra tortillas, but where's the fun in that? Okay, eating tacos is the fun in it, but you know what I mean. I wanted to find some creative ways to use up all those extra tortillas. And that's where all these fun recipes come in!
Personally, I always buy corn tortillas for tacos, but there isn't anything wrong with flour tortillas. I hear people argue about corn vs. flour all the time. Corn tortillas are ancient, and have likely been around as early as 10,000 BCE. Their flour cousins aren't quite as old, only showing up around the 1500s or so.
For more about flour tortillas and their history in Mexican food, check out this article.
Either way, both are valid and I'll eat 'em both happily. While I do prefer corn tortillas for their flavor, I won't deny that flour tortillas have their own place in dishes, too.
That being said, I'm going to mark each of these tortilla-using recipes by whether they are best with corn or flour tortillas. This way, you can find the recipes that will work best for your tortilla stash! In some applications, you can swap corn tortillas for flour ones – but there are definitely certain recipes that would be best with one versus the other.
Now, let's use up all those tortillas!
Mexican Lasagna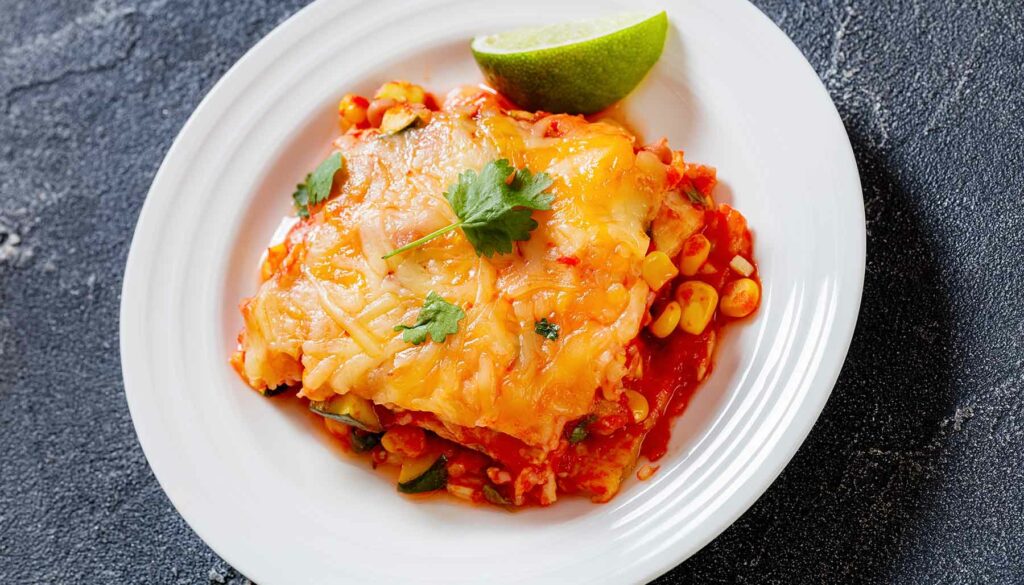 Best with: flour tortillas
I used to think that there was no way to make lasagna any better than it already was. Well, that was until I found a recipe for Mexican lasagna. You'll use up leftover tortillas as layers in the lasagna, taking the place of the noodles. Instead of tomato sauce, it utilizes enchilada sauce. The recipe spells out how to make your own enchilada sauce from scratch, but you can always use store-bought if you need to save time. You'll also find black beans, corn, bell peppers, zucchini, and (of course) plenty of cheese. Don't have those exact ingredients? That's okay! It's pretty easy to adapt this recipe to include veggies you have on hand. I'd also imagine it would be pretty easy to brown some ground beef and throw it in there, too, if that's your style.
Get the recipe here: Vegetarian Mexican Lasagna
Fruit Filled French Toast Wraps
Best with: flour tortillas
It's easy to jump straight to savory recipe ideas for tortillas, but they also work great in sweet applications, too. This recipe for French toast-inspired tortilla wraps is a perfect example. These tortillas are dipped into an egg mixture and cooked in a skillet, just like with bread for French toast. But then, you're going to stuff it full of yogurt, fruit, and granola to make a sweet treat that's perfect for breakfast or brunch.
Get the recipe here: Fruit Filled French Toast Wraps
Homemade Tortilla Chips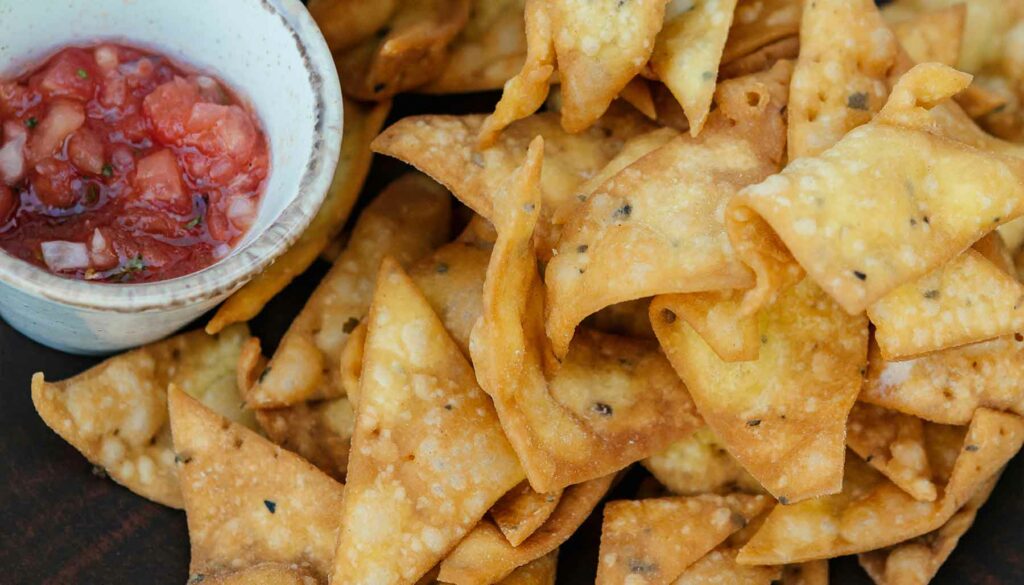 Best with: depends on your preference!
I've made my own chips from leftover tortillas more than a few times now. I usually use corn tortillas, so that's what I use – but it's worth mentioning that flour tortillas work just as well! This is definitely the simplest way to use up leftover tortillas, and it works just as well for a few tortillas versus a whole stack. All you have to do is cut them up! I think they come out best when you fry them, but you can also bake them in the oven. The best part about making your own tortilla chips? You can dust them with whatever flavor your heart desires.
Get the recipe here: Easy Tortilla Chips (Fried or Baked)
Cinnamon Sugar Tortilla Chips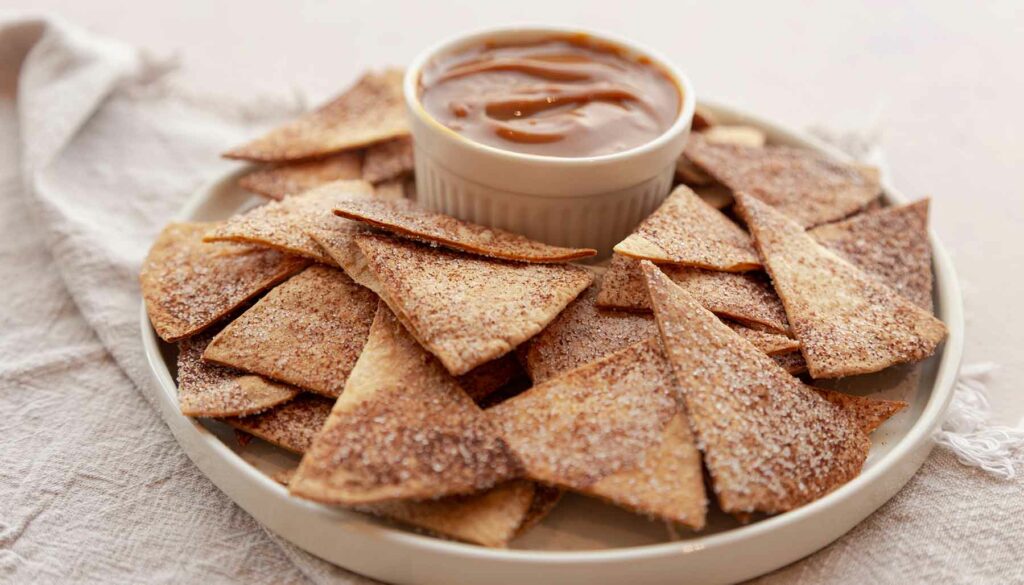 Best with: flour tortillas
For a sweeter take on those homemade tortilla chips, you can channel the flavors of churros to make cinnamon sugar tortilla chips. They are still super simple to make, but the flavors are just too good to resist. If you want to play off the tortillas, you can serve them with fruit salsa to make dessert chips and salsa. They also work wonderfully with caramel sauce for dipping into vanilla ice cream, and they are even tasty all on their own. Allow them to cool a little, especially if serving them with ice cream. But I really do enjoy them when they are still warm!
Get the recipe here: Cinnamon Sugar Tortilla Chips
Chicken Tortilla Soup
Best with: corn tortillas
As the days start getting a little colder, nothing will warm you up like a good soup. And you can't go wrong with this delicious chicken tortilla soup. With canned green chiles, a can of crushed tomatoes, and a pre-cooked chicken breast (rotisserie chicken would also work wonderfully), you'll pack in flavor while also saving a lot of time. The recipe doesn't say anything about making the tortilla strips, just to use them. So I've included both the recipe for the hearty soup and a recipe to make your tortilla strips. And hey, if you end up with too many tortilla strips, they also make a great topping for salads!
Get the soup recipe here: Chicken Tortilla Soup
Get the tortilla strips recipe here: Crispy Fried Tortilla Strips, or Baked Tortilla Strips
Tortilla Pizza
Best with: flour tortillas
Hey, not everything you make with tortillas needs to feature Mexican flavors. Sometimes, you can step all the way outside the box and make something like pizza! These pizzas are extremely fast to make, extra crispy, endlessly customizable, and definitely tasty. All you need are a few key ingredients: flour tortilla, olive oil, pizza sauce, and cheese. From here, you can add other toppings if you'd like, but some might need to be pre-cooked since this pizza won't need to be baked for a long time in the oven. Everything comes together in less than 15 minutes using a cast iron pan on the stovetop.
Get the recipe here: Extra-Crispy Bar-Style Tortilla Pizza Recipe
Migas
Best with: corn tortillas
Migas are a simple Mexican egg dish that makes use of leftover corn tortillas cut into strips. The name literally translates to "crumbs." Essentially, it's a way to make something delicious by using up all the leftover scraps. I'm talking about the leftover tortillas that might be a little stale, a few eggs left in the carton, a bit of cheese, and some salsa. Migas are similar to chilaquiles, but there are some notable differences. Tex-Mex style migas are usually a little more involved, but let's just stick with the simple Mexican migas for now so we can use up those ingredients.
Get the recipe here: Migas Norteñas
Taco Salad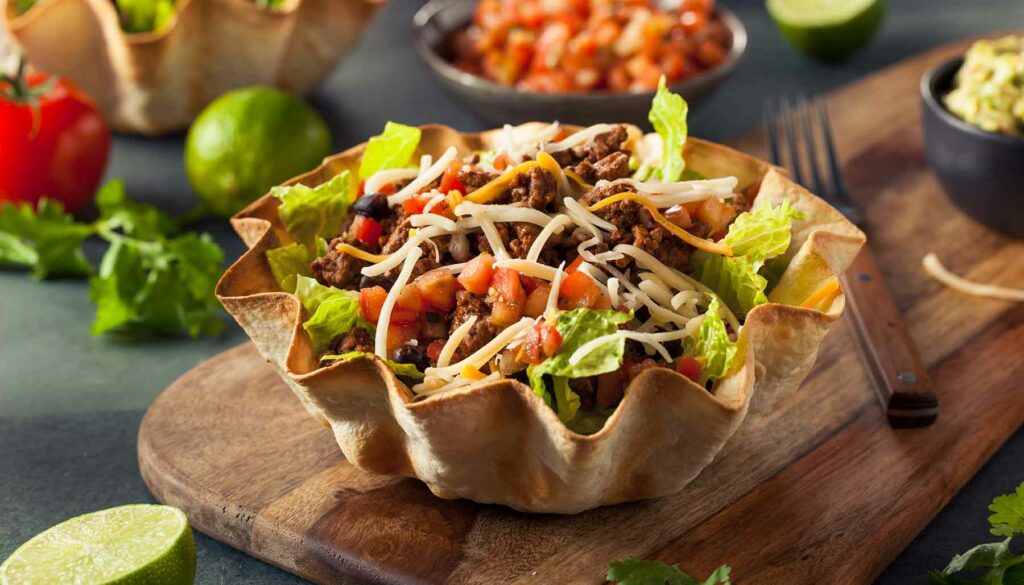 Best with: burrito-size flour tortillas
I enjoy a good salad, but I really enjoy a taco salad inside a crispy tortilla shell. I used to think it was something I had to get at restaurants until I learned just how easy it is to make a tortilla bowl at home. All you need is an oven-safe bowl, some cooking spray, and your oven. This is one of those recipes where you can't really substitute a corn tortilla for the flour tortilla it calls for because you need the large size meant for burritos.
Press a large burrito-size flour tortilla inside the oven-safe bowl and bake it until evenly browned. Really, that's it! You can even sprinkle it with cheese for some extra flavor. Let your homemade tortilla bowl cool before you start building your salad inside, though. If you don't, it could make your lettuce wilt and lose its crunch.
Get the recipe here: Taco Salad With Homemade Tortilla Bowls
Tortilla Cups
Best with: corn tortillas
If salads (or flour tortillas) aren't your thing, you can still munch on tortilla cups filled with deliciousness! Similar to how you make the shell for a taco salad, you can make smaller ones with corn tortillas, too. These are perfect vessels for all kinds of fillings, so customize them any way you like. Fill them with veggies, beans, ground beef, guac or salsa, plenty of cheese, and more. You can even fill them with eggs, beans, and pico de gallo – like a handheld riff on huevos rancheros. Sounds like a tasty way to start the day, doesn't it?
Get the recipe here: Crispy Basket Burritos (Baked Tortilla Bowls)