We have talked at length about zodiac compatibility. We have talked about the best love matches and the worst love matches. I have mentioned that when finding a compatible romantic partner, one should try to find someone with the same zodiac element or a complementary zodiac element. For example, fire signs will get along with both fire and air signs, and earth signs will get along with both earth and water signs. One should also try to find someone who has a different modality than them. Meaning that cardinal signs are most compatible with fixed and mutable signs.
But what about the signs that are complementary elements but the same modality? These signs are usually the exact opposite on the zodiac wheel. These signs aren't exactly compatible because they are opposites in many ways. Our opposites may never be our ideal romantic partner, but we can learn a lot from them. They can also become our closest confidants.
Normally this is the point in the article where I remind the reader to check their moon and rising as well as their sun. But for this article we are mainly talking about our solar opposites, meaning we are looking at the sign whose energy does not match our own. You can also check your lunar opposite to see which moon sign doesn't match your emotional self.
But we are going to go more in depth about what these zodiac opposites mean for our ascendant signs tomorrow.
If you want to check your sun, moon, and rising signs, you can here.
Aries, the Warrior and Libra, the Peacekeeper
Aries, your impulsivity often causes you to react without thinking. You tend to confront first and ask questions later. This tendency stems from your desire to find quick and simple solutions. On the other side of the zodiac wheel, Libra prefers to handle things with a bit more deliberation. They like to hear all the facts and every side of a situation before acting. Conflict makes Libras uneasy, and they try to avoid it at all costs.
Libras are put off by Aries' recklessness and their temper. And Aries often view Libra's "peaceful nature" as thinly veiled equivocation.
But can these two signs get along? Though their methods are different, their goal is often the same. Aries and Libras are both dedicated to justice. Libra can teach Aries to think and consider the facts before jumping into action. And Aries can inspire Libra to approach conflict constructively rather than avoid it.
Taurus, the Homemaker and Scorpio, the Paramour
Taurus, you love your creature comforts, and you like to create safe spaces for yourself and your loved ones. This desire creates in you the need to control your surroundings and the people you surround yourself with. But your opposite, Scorpio, does NOT like to feel confined, and they really don't like being controlled. Scorpios love adventure, and they thrive on feeling free.
Taureans are too stuffy and restrictive for the fixed water sign. And Scorpios make the earth sign feel unsafe and anxious.
But can these two signs get along? Taurus and Scorpio can find common ground in their shared love of epicurean delights. Taureans are wholesome hedonists, and Scorpios are also hedonists — they are just less wholesome. Scorpio can inspire Taurus to step out of their comfort zone. And Taurus can give the adventurous Scorpio a place to recharge and feel safe.
Gemini, the Wordsmith and Sagittarius, the Dark Horse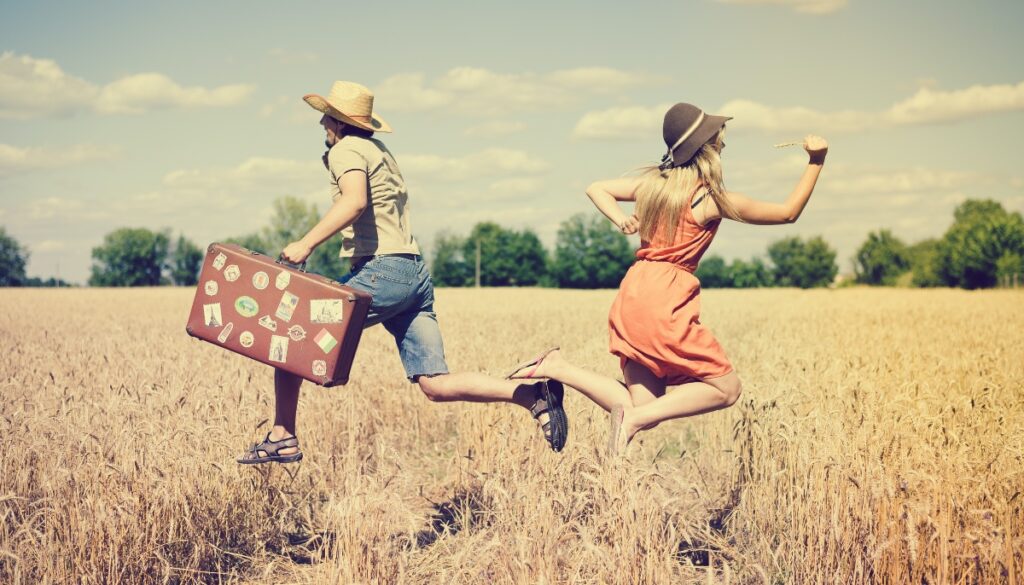 Gemini, you are one of the most communicative signs in the zodiac. Because of this, you tend to gossip and pry into other people's personal lives. This can be a problem for your zodiac opposite, Sagittarius. Sagittarians like to talk, but they prefer to talk about philosophical ideas or abstract topics rather than personal matters. 
Sagittarians often view Geminis as vapid and a bit too airy-fairy. Where Geminis think Sagittarians are know-it-alls who think too highly of themselves.
But can these two signs get along? There is, in fact, hope for these signs. As mutable signs, they crave a change of scenery from time to time. If Gemini can temper their nosiness and Sagittarius can be a bit more open and a little less pedantic, these two signs could make excellent road trip buddies.
Cancer, the Moon-Child and Capricorn, the Executive
Cancer, you are one of the most emotional signs in the zodiac. Because of this, you tend to make decisions based on emotion rather than facts. You also tend to get trapped in your own emotions easily. Capricorns, on the other hand, rarely get caught up in their own emotions. And because of this, they have a hard time relating to the emotions of others.
Capricorns tend to think that Cancerians are hypersensitive and overreact too much. And Cancerians view Capricorns as cold and unemotional.
But can these two signs get along? They do have one very important thing in common. They will go above and beyond to protect their loved ones. Cancerians provide emotional security, and Capricorns provide physical security. If these two can put their differences aside and join forces, they could be the heroes that their loved ones need.
Leo, the Sovereign and Aquarius, the Revolutionary
Leo, you like to take up all the air in the room, and you also like to have the final word in any discussion. These tendencies stem from your need to be recognized for your contributions. But on the other side of the wheel, Aquarians don't care if people acknowledge them or not due to their aloof nature. Their standoffish ways make it hard for them to relate to the sociable Leo.
Both of these signs tend to think the other one has an overinflated sense of self. Leos think Aquarians believe they are smarter than everyone else. And Aquarians think that Leos believe that they are better just because they are Leos.
But can these two signs get along? Both of these signs have incredibly compassionate natures. Leos are warm-hearted and generous. And Aquarians are considerate and very easy to talk to. Leo may be extroverted and Aquarius may be introverted, but they are still people persons. These two can get along fine if they redirect their compassion towards one another.
Virgo, the Powerhouse and Pisces, the Empath
Virgo, you have a very practical and no-nonsense nature. You tend to be a bit overly critical when met with things that you consider frivolous. But your opposite, Pisces, lives, eats, and breathes frivolities. They are free-spirits who dislike taking themselves or others very seriously.
Virgo can get easily annoyed by the water sign. And Pisces can be hypersensitive to Virgo's criticism. 
But can these two signs get along? These are two of the kindest and most innovative signs in the zodiac. So if Virgo can learn to lighten up and Pisces can learn to take things more seriously, they can create some beautiful things together. They can really nurture one another's creativity.