Ah, Thanksgiving. It's one of the most anticipated meals of the whole year.
With good reason, if you ask me. Who doesn't love a good feast full of delicious comfort classics, like mashed potatoes, sweet potato pie, and a big ol' turkey in the center of the table? And I'll fight somebody for the last bit of baked macaroni and cheese!
After you spend all that time putting together a massive feast for family and friends, it's inevitable that you wind up with leftovers. I definitely have a habit of cooking more than I needed to, so I find myself with a fridge packed full of Thanksgiving dishes after it's all said and done.
Food waste is one of my biggest pet peeves. I also really can't stand the thought of all my hard work going into the trash can! Hey, I spent a lot of time perfecting that revamped green bean casserole using fresh green beans and no canned soup. It deserves to get eaten!
Related: How to Cook Veggies That You'll Actually Eat
At the same time, though, I can't really eat the same thing for a week until all the leftovers are gone. It's not that I don't like all the dishes we had for Thanksgiving, it's just that it's a little bit of overkill to eat the same dishes for the week following the holiday feast. My taste buds start getting tired of it after a while.
That's why it's good to reimagine those leftover foods into new dishes. You're still using up what you've got leftover in the fridge, without having to eat the same exact food everyday. It definitely keeps things interesting while still not wasting all that food.
Okay, Turkey is an easy one to reuse. But what can you do with cranberry sauce and mashed potatoes? Even these dishes can get a makeover. And I'm about to show you how.
You might be thinking to yourself, "I just make turkey sandwiches with my leftovers." Sure, the leftover turkey sandwich is a classic, but let's take it further this year! After all, there are only so many of those sandwiches you can eat before you get tired of seeing them.
Don't worry, sandwich lovers. I'll still include a sandwich or two on this list! I just like a little variety. Besides, I just spent all those hours in the kitchen preparing this delicious feast, why let any of it go to waste?
From Cranberry Sauce Oat Bars to a Leftover Thanksgiving Pizza, we're thinking outside the box this year! So, if you're ready to dive in and make use of all those leftovers, check out these delicious recipes that will make use of every bit of Thanksgiving leftovers in your fridge.
Thanksgiving Leftovers Pizza
Pizza is probably not the first thing that comes to mind when you're staring down a fridge full of Thanksgiving leftovers! Let me go ahead and change your mind. This leftovers pizza features a crust made from puff pastry, which goes really well with all those Thanksgiving ingredients. You're going to top it with all the classics: mashed potatoes, gravy, corn, green bean casserole, turkey, and stuffing! There are even French fried onions on top.
Check out the recipe here: Thanksgiving Leftovers Pizza
Leftover Mashed Potato Soup
Soup is one of the easiest options when it comes to using up leftover mashed potatoes. You're essentially just adding more liquid to them, and the potatoes just melt right in. Add a few more vegetables to it – like the poblano peppers, celery, onion, and corn in this recipe – and you have a hearty soup that no one would even guess came from leftovers. Although this one calls for chicken stock, you can easily swap that for vegetable broth and make it vegetarian. I'm feeling warm already just thinking about it!
Check out the recipe here: Valerie Bertinelli's Leftover Mashed Potato Soup
Leftover Green Bean Casserole and Turkey Pot Pie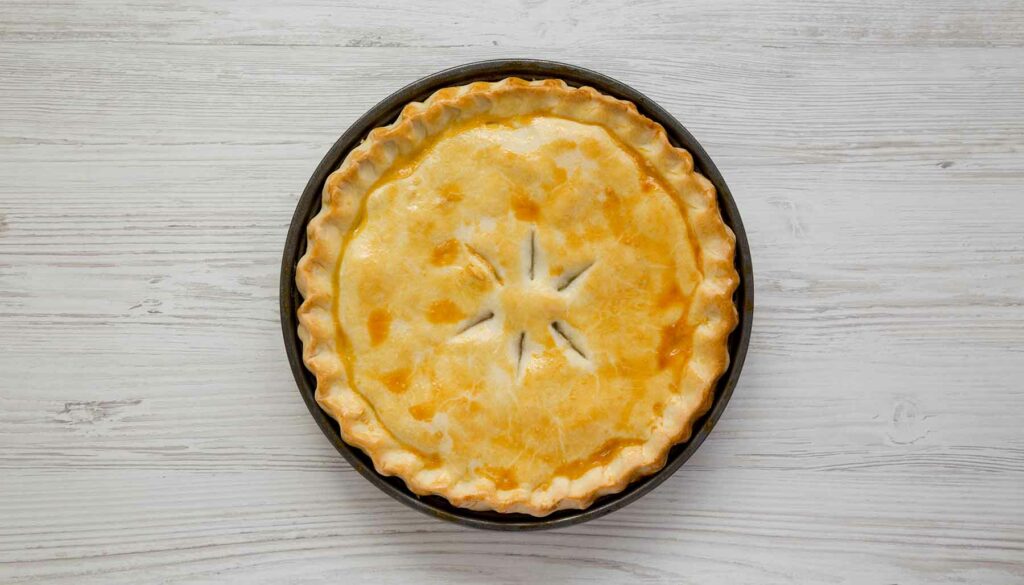 This is another really easy way to use up leftovers, and I feel like pot pies are a no-brainer when it comes to Thanksgiving foods. A green bean casserole is already a great starting point for a pot pie filling. Add in leftover turkey and gravy, and now you have a filling, comforting pot pie that took no time at all. It takes a side dish into main dish territory in just 40 minutes of cook time.
Check out the recipe here: Leftover Green Bean Casserole Pot Pie
Breakfast Cranberry Oatmeal Bars
Not all leftover remake recipes have to be dinner dishes. To use leftover cranberry sauce, why not make something special for breakfast? This is especially useful for anyone that has guests staying with them for the holidays. Thanksgiving's cranberry sauce becomes a sweet and tart filling between layers of old fashioned oats. These breakfast bars come out so soft and chewy, you might find yourself making more cranberry sauce just so you have an excuse to make more of these oatmeal bars.
Check out the recipe here: Breakfast Oatmeal Cranberry Bars
Turkey and Stuffing Quiche
Quiche is another great breakfast option, but also works well for brunch, lunch, and even dinner, too. After par-baking the frozen pie shell, you're going to fill it up with leftover turkey and stuffing, so you're knocking out two leftover dishes at once. The recipe calls for a cup of shredded cheddar, but if you also happen to have some cheese leftover from a cheese plate or charcuterie board, this is a good place to make use of that, too.
Check out the recipe here: Turkey and Stuffing Quiche
Chili Mac and Cheese
Although this recipe for easy chili mac calls for boxed Velveeta macaroni and cheese, it's easily adaptable to use up leftover macaroni and cheese from the big feast. Go ahead and follow the beginning of the recipe, like browning the ground meat and adding the traditional chili ingredients. From there, you just need to dump in your already-cooked macaroni and cheese! It's best to add a little extra cheese in there too, if you've got it on hand. Again, go ahead and use up that cheese from that Thanksgiving charcuterie board.
Check out the recipe here: Chili Mac
Ultimate Leftover Turkey Sandwich
I promised I wouldn't leave out the turkey sandwich, and here it is! But instead of that regular old sandwich of leftover turkey and maybe a slice of cheese, we're getting fancy with it. This is the ultimate sandwich, because it is banh mi inspired. Quick pickled carrots, cucumber, and cabbage will add a pop of brightness to complement the richness of turkey cooked in sweet chili sauce.
Check out the recipe here: Leftover Turkey Banh Mi
Loaded Cheese Stuffed Mashed Potato Balls
I didn't know mashed potatoes could get any better, but apparently they can: when they're loaded with cheese and bacon, and then deep-fried into handheld perfection. Yep, you can now eat mashed potatoes on the go! It's a fun take on a classic food. These would make a perfect appetizer or snack while still entertaining family members that are staying at your house.
Check out the recipe here: Loaded Cheese Stuffed Mashed Potato Balls
Fried Stuffing Balls
If we're going to bread and fry mashed potatoes, we might as well do it with stuffing, too. It turns this traditional Thanksgiving side into a delicious appetizer. If you are having a hard time getting the stuffing to hold its shape, pop the stuffing into the fridge for a while. Chilled stuffing will hold the shape better when formed into a ball. If you find the stuffing is too dry to stay together at all, try adding a little broth or melted butter to moisten it up a bit.
Check out the recipe here: Fried Stuffing Balls
Leftover Turkey Tetrazzini
In the last couple of years, I've started hearing a lot of people talking about using leftover turkey to make turkey tetrazzini. And then I saw Ree Drummond make it on Food Network, and realized why it's so popular! Talk about a hearty, filling dish that turns leftovers into something entirely new. You would never guess this came from Thanksgiving leftovers just by tasting it. Tender turkey, mushrooms, and pasta are smothered in a creamy, rich sauce – and then baked until hot and bubbly.
Check out the recipe here: Turkey Tetrazzini
Stuffing Stuffed Mushrooms
Stuffed mushroom caps have always reminded me of the holidays. It's a classic appetizer that pops up at get-togethers a lot. By utilizing already-made stuffing, you're cutting out a lot of extra work that you would otherwise be doing to make stuffed mushrooms from scratch. You literally don't have to do anything to the stuffing, besides adding a little extra cheese if you want to. Talk about an easy-peasy way to use up all that leftover stuffing. After you pack all of your stuffing into your mushroom caps, you're only twenty minutes away from a flavor-packed appetizer that will be sure to please.
Check out the recipe here: Stuffing Stuffed Mushrooms