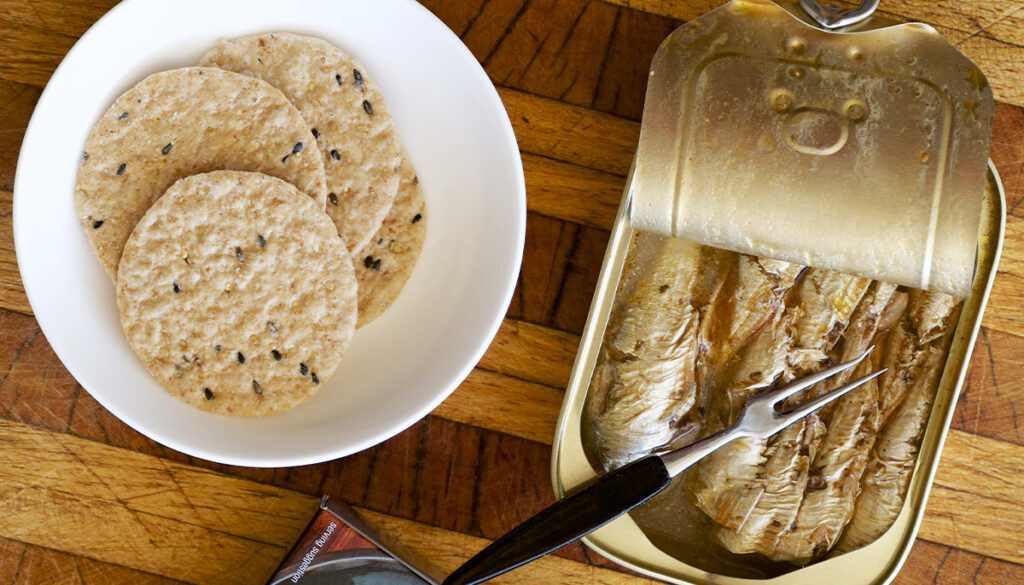 We're always looking for more healthy snack recipes to make, and foodies across the world are constantly sharing new, on-the-go bites to try. On this list, you'll find some of the healthiest, easiest snacks to whip up when you're craving something between meals.
Some of these snacks are classics, while others are fresh, innovative dishes inspired by some of the most popular diets of late, like Keto. With these ideas, you'll never run out of delicious treats to keep you energized and satisfied throughout the day.
Chickpea Salad Sandwich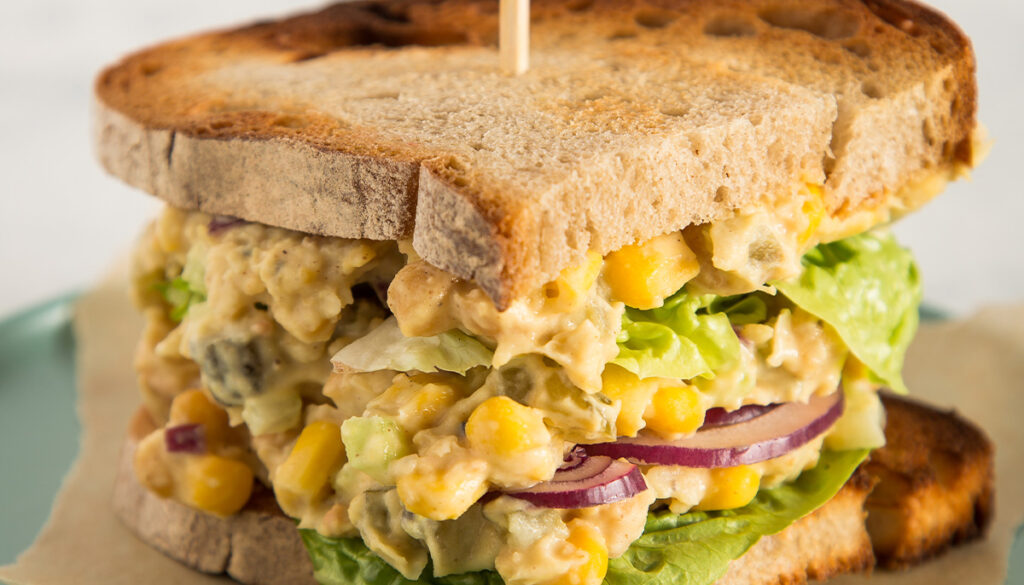 Spice up the old-school tuna salad sandwich meal with this modern twist. First, purchase either canned or cooked chickpeas to make your salad. Add any ingredients you like; pickled onions, shredded carrots, sprouts, tomatoes, mayo, pickles, and microgreens are a good place to start.
One you've smashed your chickpeas, mixed in your ingredients, and seasoned the blend to your liking, slab the spread between two slices of your favorite bread. This is a great dish to make for meal-prep, as it's quick and easy to construct a delicious sandwich in almost any setting.
Avocado Toast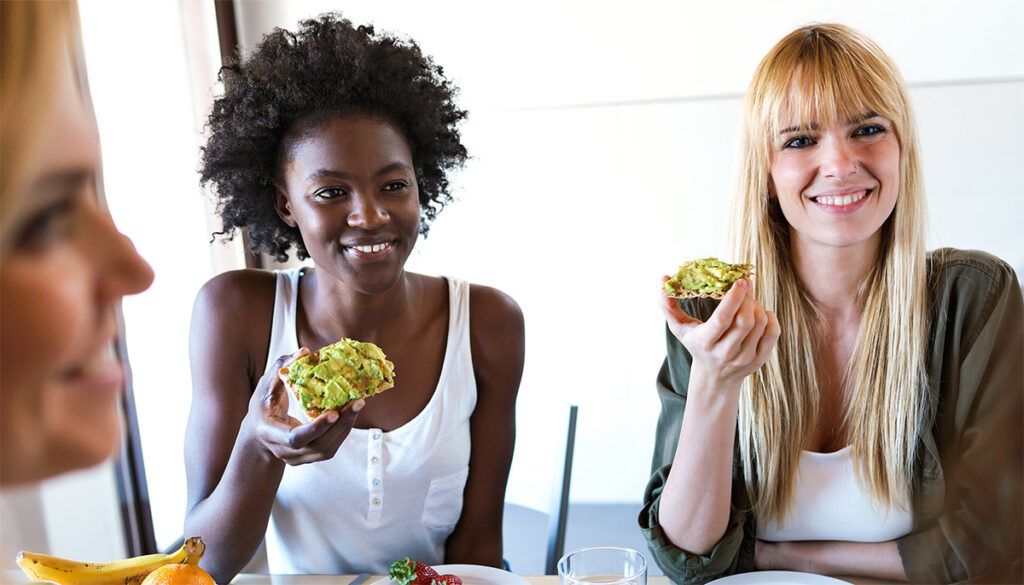 Avocado toast gets a bad rap for being absurdly expensive at most stores and cafés that offer the dish. Considering how simple it is to make on one's own, it's pretty silly to spend more than a few bucks on this snack. However, avocado toast is so yummy and versatile, we can't blame anyone for spending a little dough to have one made fresh.
Play around with avocado toast as a homemade snack using your favorite bread. After you've toasted the slices, soak them in a bit of garlic and oil in a small pan. Then, spread as much mashed avocado as you can handle on the toast. Add ground meat for a savory, filling dish, or place a fried egg with salt and pepper on top for a healthy and nutrient-dense breakfast.
Yogurt
It doesn't get much easier than a homemade parfait. We recommend choosing your favorite flavor of yogurt from a brand like Fage, Stonyfield Organic, Chobani, or Oikos.
Buy fresh berries from the store, and mix them into a bowl with your yogurt. Some of the healthiest berries you can eat are blueberries, Goji berries, blackberries, raspberries, strawberries, acaí berries, cranberries, and grapes. Add granola, nuts, seeds, and scoops of nut butter and honey to the mixture for added flavor and nutrients.
Ants on a Log
This iconic snack has stood the test of time. The term "Ants on a Log" takes many of us back to childhood, when the raisins that adorned the slab of peanut butter in the celery reminded us of little bugs.
As adults, we know that those raisins are chock-full of iron, antioxidants, calcium, and fiber. The protein they contain will also give you a bit of energy without making you too full. Make this classic recipe your own by trying a different kind of nut butter, like almond, and your favorite dried fruit.
Canned Fish and Crackers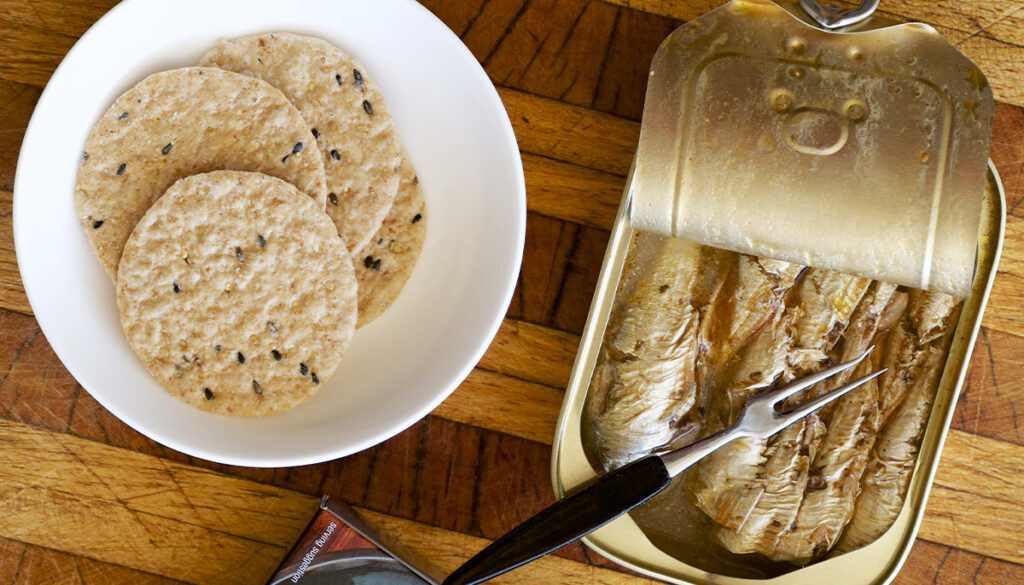 Canned fish is affordable, easy to store (no refrigeration required!), and amazingly good for you. Fish like salmon, sardines, Atlantic mackerel, herring, lake trout, cod, and tuna are high in omega-3 fatty acids, which are essential to the health of each cell in your body. Omega-3s help keep your immune system, heart, lungs, and blood vessels in tip-top shape.
Top crackers or a piece of toast with the canned fish of your choice, and you'll be amazed at how quickly this snack will satisfy your hunger.
Berry-Kefir Smoothie
If you have a blender, smoothies are your best friend. There are so many amazing and nutritious smoothie recipes you can find, but one of our favorites is a berry-kefir smoothie. All you need to make it are your favorite berries, a banana, nut butter, and vanilla extract.
The key ingredient here is kefir, which is a fermented milk drink made from kefir grains. Natural health enthusiasts love kefir for its high probiotic content, making it perfect for a breakfast smoothie. It's also high in protein, calcium, vitamin b12, phosphorous, and magnesium.
Cottage Cheese and Pear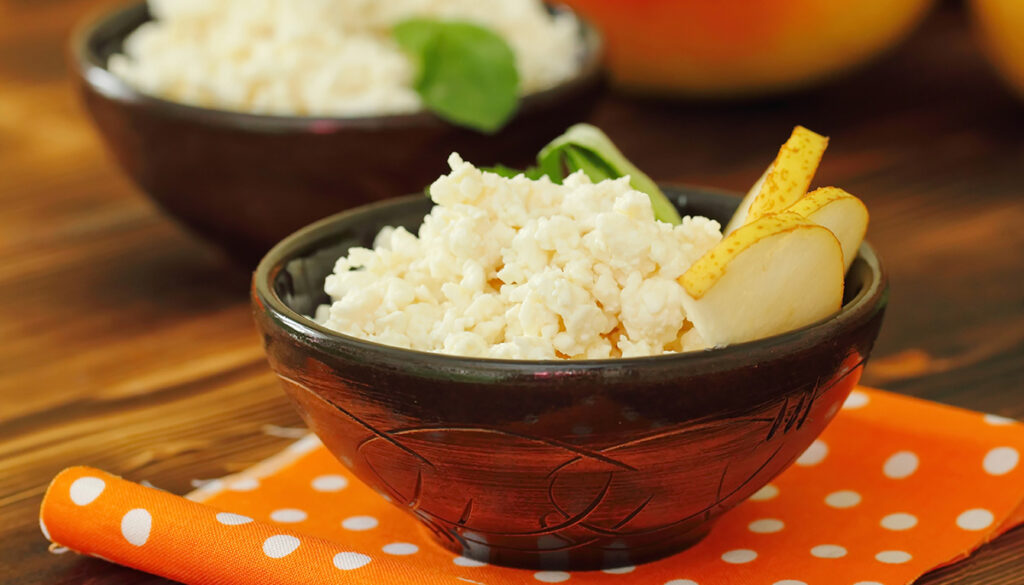 If you've never tried this snack, you absolutely have to add it to your list! Pears are a highly nutritious fruit, rich in fiber, vitamin C, vitamin K, potassium, and copper. They're also a fantastic source of polyphenol antioxidants, which help reverse damage in your cells caused by the environment, your lifestyle, and aging.
Meanwhile, cottage cheese is equally great as a healthy snack option. This low-calorie cheese is high in protein, carbs, healthy fats, phosphorous, vitamin B12, riboflavin, and calcium. It's also high in vitamin B6, zinc, copper, and choline. Slice a pear or two into a bowl of cottage cheese for a light, refreshing morning or mid-day bite.
Peanut Butter and Banana Bites (Vegan)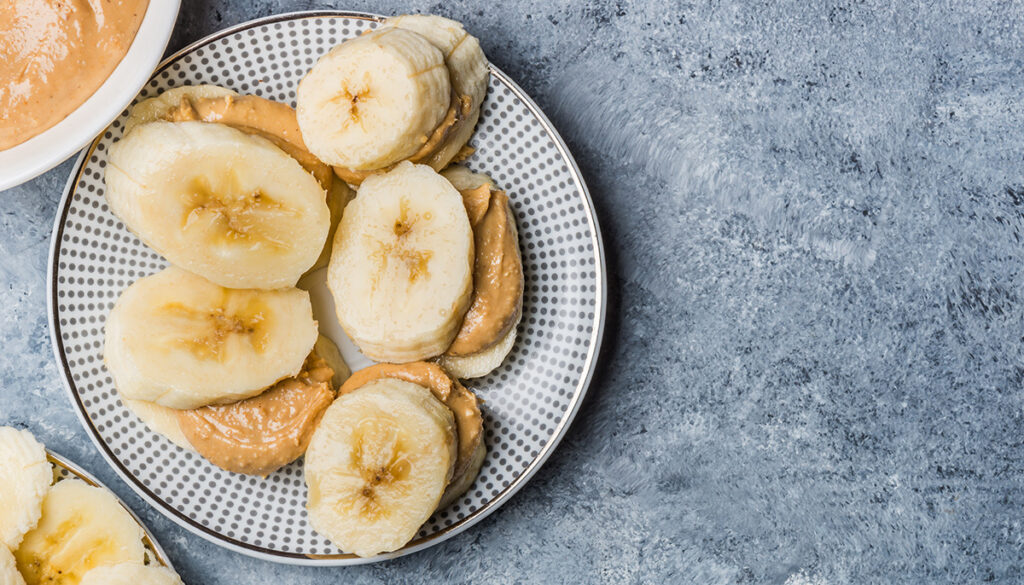 This one takes me back to my favorite mornings before school, when a plate of peanut-butter covered banana slices was waiting for me at the breakfast table. At the time, I had no idea how healthy this snack was. I just knew it was one of the tastiest treats I'd ever had. There's truly nothing like bananas and peanut butter together!
The peanut butter (or any butter you like) provides protein and nutritious fat, while the potassium and fiber in the bananas will keep your body running smoothly. Simply slice up a banana into thin pieces, and spread your favorite nut butter atop one slice, or between two slices. It's like a tiny banana sandwich!
Chips and Guacamole (Vegan)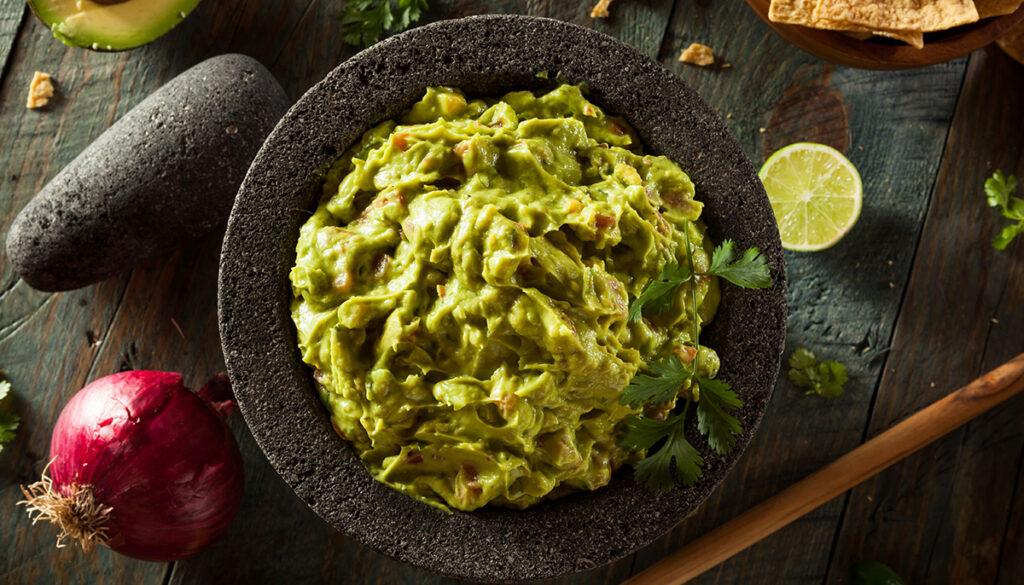 What's better than chips and guac? You won't want to fill up on just this snack, but the avocado in the guacamole will keep your hunger satisfied before you can enjoy a more satisfying meal. Don't forget the salsa for an added kick!
Black-bean guacamole is also becoming increasingly popular in vegan food circles. It requires all the typical ingredients of guacamole, but the addition of mashed black beans will make the dish even more filling. These legumes contain plenty of fiber, protein, antioxidants, and carbohydrates that will keep you full without feeling weighed down.
Trail Mix (Keto)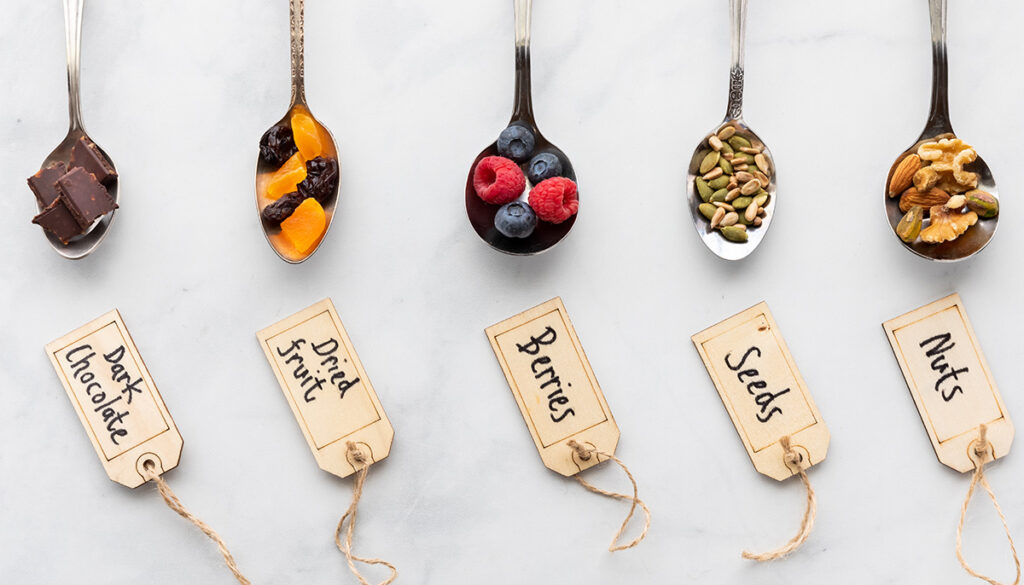 Trail mix is one of the easiest and most efficient on-the-go snacks. Sugar-free chocolate is keto-friendly, and dark chocolate containing 70% cocoa or more is especially nutritious. Dark chocolate has plenty of fiber, iron, magnesium, copper, and manganese, all of which will help your body function and feel better.
You can use all kinds of nuts and seeds in your trail mix. Macadamia nuts, almonds, pecans, brazil nuts, pumpkin seeds, and pistachios are some great options. You can even toast the nuts and seeds beforehand for an added touch of flavor. Consider adding dried fruits like blueberries and cranberries, too. Shredded coconut will also provide even more flavor without compromising your carbs. Special shoutout to all the MCT oil coconuts naturally contain!
Bacon Sushi (Keto)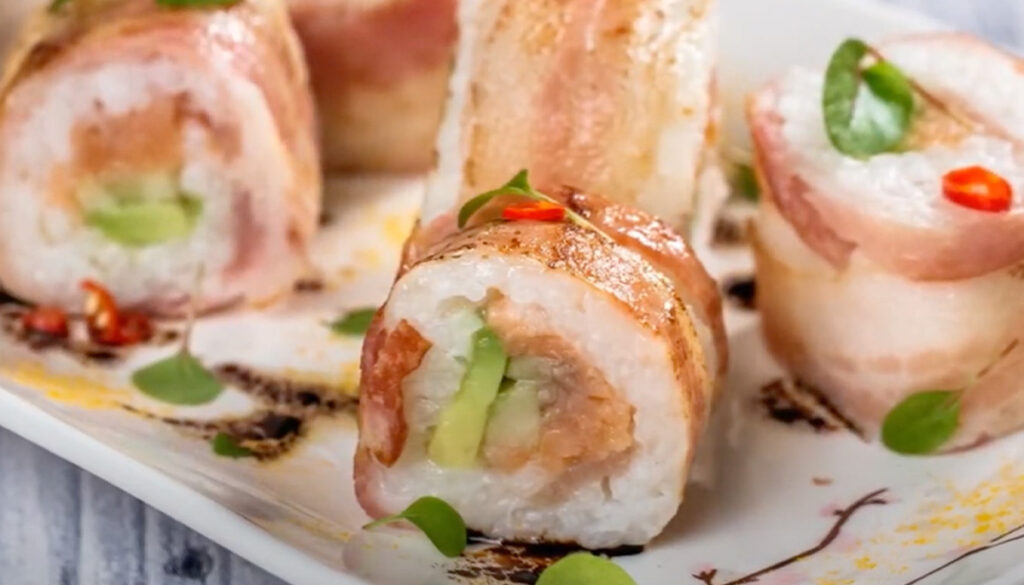 This keto-friendly snack seems a little wild to some, but the ingredients are so simple, there's no reason to be skeptical. Plus, a little bit of bacon makes everything, even boring vegetables, taste incredible.
Wrap rice, small pieces of shredded carrot, cucumber, and creamy avocado in a piece of bacon. This fatty treat is the perfect snack that you can leave in the fridge and pop whenever you need an energy boost. Pro-tip: wrap any veggies in a slice of bacon for the perfect delicious, satisfying snack.
Lettuce Wraps (Keto)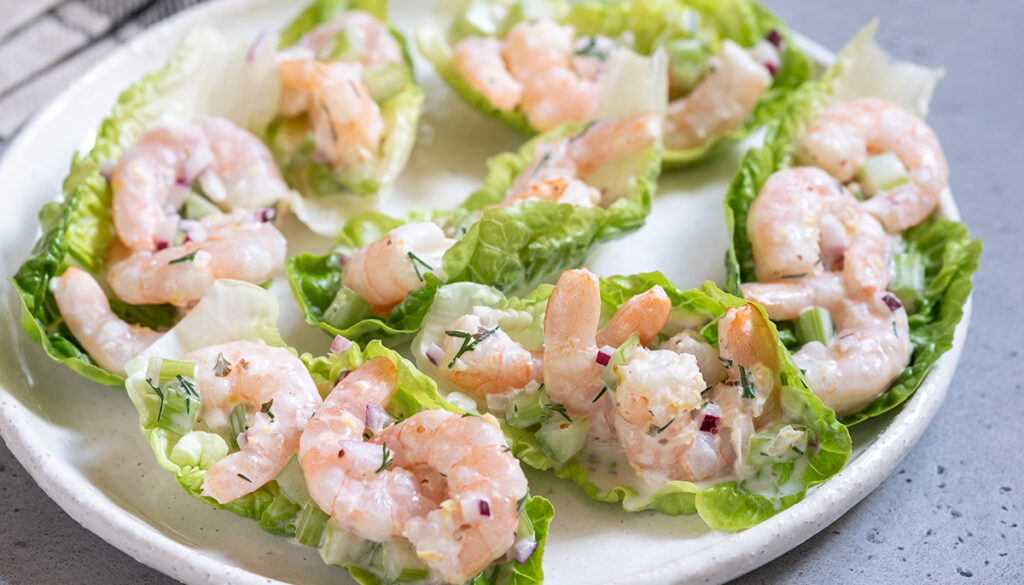 Low-carb diets like keto are easy when you realize lettuce wraps make for the perfect bread replacement. As long as the ingredients you stuff your wraps with are filling and flavorful, you won't even miss the bread.
Instead of eating a greasy sandwich from the store that will likely lead to a post-snack crash, keep your energy up by stuffing a spoonful or two of your favorite meat and veggies into a convenient wrap of lettuce. Ground chicken or turkey marinated in a fatty sauce is always a good choice. Try dipping the wrap in ranch, hot sauce, or soy sauce for added flavor.
Cobb Salad (Keto)
The ultimate keto salad that has everything we love! Cobbs are some of the heartiest, most filling salads around. Mix in your favorite veggies and throw it all on a small plate when you're feeling a snack; this will keep you going with plenty of energy until your next big meal.
Cobb salads are a low-carb dish with high fiber, and lots of protein. You can make this snack especially keto-friendly by upping the fat you use while cooking. For instance, if you want to add a meat to your salad, cook it in fatty bacon grease first. Keto guidelines also encourage you to use a nice, rich ranch. Yum!
Of course, you don't want to forget the hard-boiled eggs. The eggs are often the most filling elements of the Cobb. Slice a fresh avocado on top of your eggs, tomatoes, bacon, lettuce, and whichever meat you choose. This snack should take no more than ten minutes to prepare, and it's easy to meal-prep so that it's at the ready when you're hungry.