Alright, hear me out: it's time to start eating more plant-based meals. It's good for you, it's good for the planet, and it can even help combat climate change.
I'm willing to bet that you've heard of "Meatless Monday" at this point. At the same time, though, I bet you didn't know that it is actually a global initiative that was launched nearly two decades ago!
No, it wasn't just a clever hashtag that took off. The campaign was started in 2003, in association with the Johns Hopkins Center for a Livable Future. The whole thing is based around – you guessed it – eating a meatless meal once a week.
While eating less meat is obviously associated with animal rights, there are plenty of other reasons to ditch meat for at least one day each week.
Eating Meatless at Least Once a Week is Good for Your Health
First and foremost, there are tons of studies out there that show eating less meat is good for our health. Plant-based diets have been proven time and time again that they can help you live longer, reduce the risk of certain ailments, and lessen obesity. That's largely due to the number of vitamins, minerals, fiber, and antioxidants you get. A diet that focuses on a variety of vegetables, fruits, whole grains, legumes, nuts, and seeds introduces a diverse amount of essential nutrients.
Focusing on plant-based ingredients also leaves you with dishes that are lower in saturated fats, and are much less likely to raise your levels of LDL, or "bad," cholesterol. On top of that, red meats and processed meats especially are notorious for increasing the risk of heart disease, type 2 diabetes, certain cancers, and more.
Eating less meat can also help you lose weight if that is your goal. As I mentioned, meat products have a lot of saturated fats in there. Clearly, if you are closely monitoring your intake, it's important to know that meat products usually contain much more saturated fats versus unsaturated fat than plant-based ingredients.
Apparently, the iron in meat can also increase the risk of weight gain when consumed in excess. Too much of the mineral can suppress an appetite-suppressing hormone. If you don't believe me, check it out here.
Plant-Based Can Save You Money
Regularly eating meatless meals can help you save money on your grocery bill. If you think that isn't true, you're in denial. Just by cutting out meat for one day, you could be saving several dollars per week.
Think about the last time you purchased a good-quality package of ground beef, a steak, or even boneless chicken breasts. Now, remember that per serving, items like beans, pasta, and tofu are a fraction of the cost.
Reducing Meat Consumption is Great for the Planet!
Even just a single meatless day per week can do wonders for the planet. It may not seem like much of anything, but there are a lot of resources that go into raising livestock. The water alone is significantly greater when raising livestock versus produce. It takes approximately 1,799 gallons of water to produce just one pound of beef. For comparison, you're looking at around 39 gallons of water to produce a pound of vegetables. Raising livestock also requires other resources, like food, and more fossil fuels are used.
Reducing meat consumption does another good thing for the planet, too. Meat production produces tons of greenhouse gasses. Animal agriculture accounts for nearly 15 percent of global greenhouse gasses – that's a lot!
And again, eating less meat is an obvious choice when it comes to animal rights. A lot of the products you find in grocery stores or in restaurants came from less than humane operations.
I'm not going to dive into the specifics on the management and welfare of animals in factory farming, but just know it's not something to support, to say the least. In any case, shopping at farmers' markets or buying directly from small family farms is a great way to feel better about where your meat is coming from!
Eating Meatless Once a Week is a Lot Easier Than You Might Think
Okay, so how do you do the meatless thing? If you've never thought about meatless meals and plant-based eating, it might seem a little intimidating. However, it isn't as difficult as you might think. You don't even have to give up tacos!
Skip scouring Pinterest for how to make vegan seitan from wheat gluten. And you don't need those recipes that seem to call for 386 ingredients, either. All you really need to do is look at your favorite dishes and how you can make an easy swap.
If you're craving your favorite curry dish, just throw in chickpeas with your favorite veggies instead of chicken. They can also work well as a substitute for Asian-style stir fry. Chickpeas are high in protein, provide plenty of vitamins and nutrients, and are a great source of fiber.
Looking for a hearty chili-baked potato? All you have to do is swap that regular chili for a vegetarian one!! Make your own by leaving out the meat and using extra beans, or simply pick up an inexpensive can of vegetarian chili from the grocery store – just make sure it's labeled vegetarian and you're good to go.
But meatless tacos are probably the easiest of them all. Throw that taco seasoning in with black beans instead of ground beef. Or, you could also try out some of the plant-based protein crumbles on the market, like Gardein's Beefless Ground or Morningstar Farms Veggie Grillers Crumbles. They're both found in the frozen section of the store.
Besides, you are probably already eating meatless dishes on the regular. These don't even need ingredient swaps!
Eggplant parmesan, spaghetti, and other Italian favorites – As long as these dishes are made with marinara sauce instead of a meat sauce, chances are it's meatless!
Other pasta dishes – Of course, other pasta dishes can be meatless, too. Macaroni and cheese, some pasta salads, and even that viral baked feta pasta are tasty meatless choices.
Breakfast foods – No, bacon and sausage are obviously not included here. But, many other breakfast and brunch favorites are meatless, such as waffles, pancakes, biscuits (skip the sausage gravy), and hashbrowns. Eggs are in a grey territory when it comes to some vegetarians, but they are mostly considered fair game for a meatless meal.
Now, it's time for the fun stuff! Let's look at some super tasty meatless recipes to get you started.
Broccoli and Cheese Soup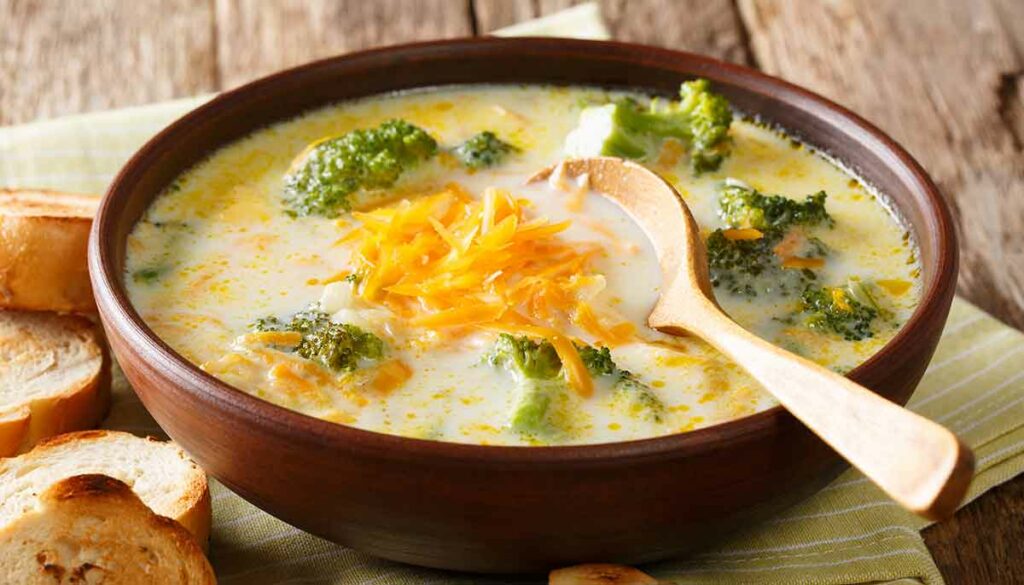 This recipe for broccoli and cheese soup is a delicious dupe of Panera's, and it's meatless! If you really want to get fancy with it, serve it up in a bread bowl à la Panera Bread. The recipe wants you to grate your own cheese. Don't skip this step. The pre-shredded cheese in a bag just doesn't melt the same and might not incorporate into the soup properly.
Here's the recipe: The Best Broccoli Cheese Soup
Easy Homemade Ramen Bowls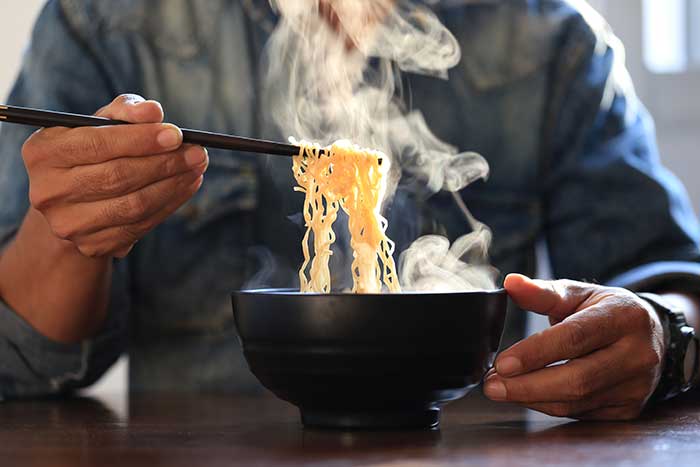 While ramen is traditionally made with animal products, you can make your own meatless version at home with this super easy recipe. It features simple, approachable ingredients, and you can customize it to suit your taste. As an added bonus, you only need one pot for the whole thing, so you'll have less to clean up.
Here's the recipe: Easy Homemade Ramen Bowls
Mediterranean Flatbread Pizza
Combining pizza night and meatless Monday is a match made in heaven. And if you want to take it up a notch, this delicious Mediterranean flatbread pizza is an obvious choice. The crunchy flatbread is topped with spinach pesto, mozzarella, feta, red onion, grape tomatoes, artichoke hearts, and black olives. Plus, it comes together super quickly, so you don't even need to spend a lot of time in the kitchen.
Here's the recipe: Mediterranean Flatbread Pizza
One Pan Pasta
This is another meal that you can put together in a single pot, leaving you with an easy, quick cleanup after. You don't even have to boil the pasta first. Everything all goes in! The noodles cook with the sauce and vegetables together. The author acknowledges that this isn't a traditional, authentic way to cook pasta. However, busy people will probably agree that it's a time-saving hack that's worth it. You also end up with pasta that has soaked up all those extra flavors.
Here's the recipe: One-Pan Pasta
Protein-Packed Breakfast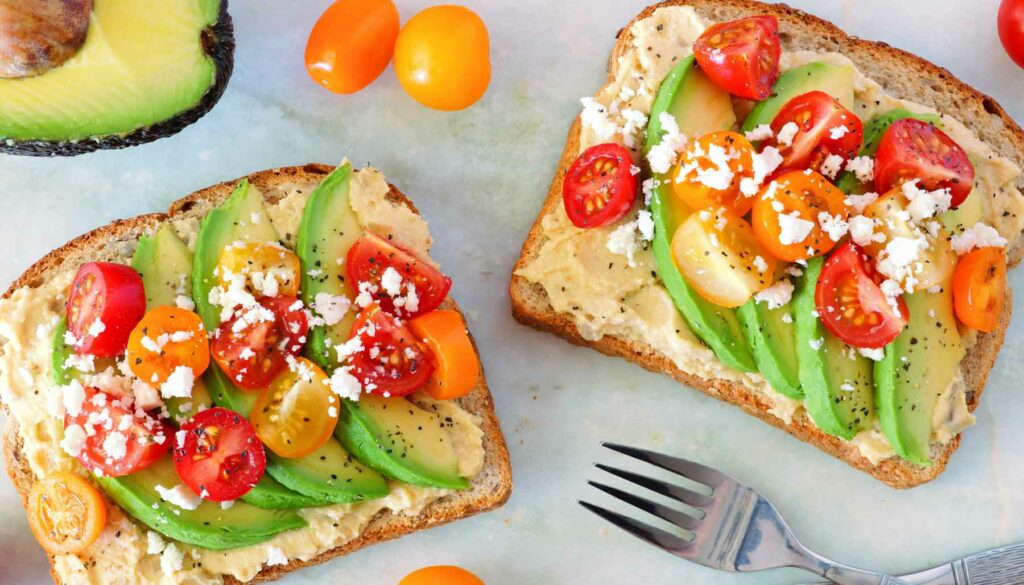 You'll also need a healthy breakfast to start your day! I actually did a deep dive into high-protein breakfast ideas when I was tired of eggs, but as a side effect, they are all actually meatless! With the likes of griddle cakes, no-bake energy bites, a French toast bake, and hummus toast loaded with toppings, you certainly won't go hungry in the mornings without sausage and bacon. And because they are packed with protein, they'll keep your energy up as you start your day.
Check them out here: Healthy Protein-Packed Breakfast Ideas for When You're Tired of Eggs