I have to admit that I am a big salad fan.
I'm not really talking about that basic iceberg lettuce with ranch that the local fast casual joint is passing off as a "house salad." (Although, I'll eat that too!)
Salads can, and should, be a lot more than that. In fact, "salad" is a pretty loose term. We'll get to that in a second.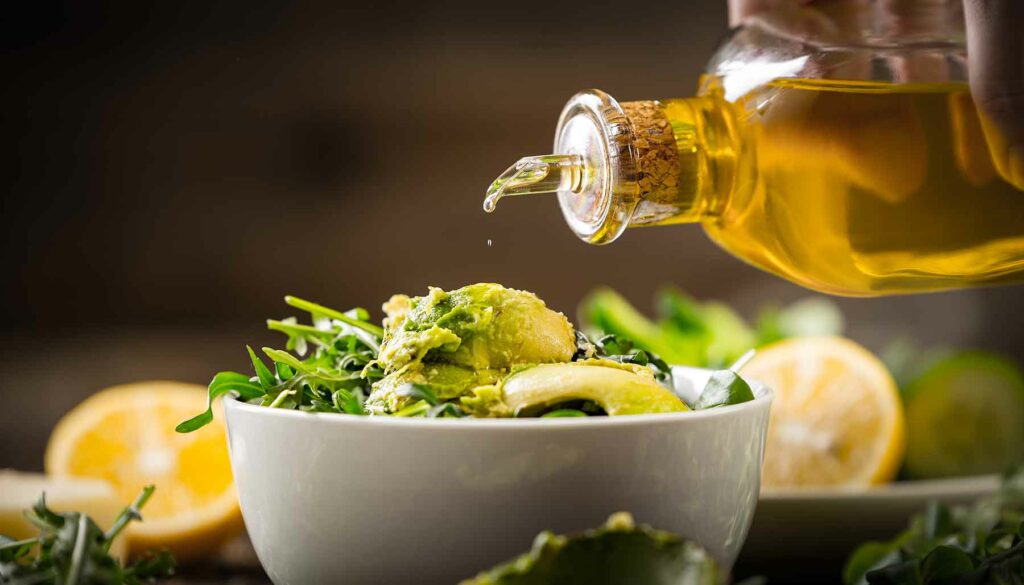 I love a good salad packed full of crunchy greens. I'll take iceberg, romaine, spinach, and butter lettuce. Throw me that arugula, rainbow chard, Boston bibb, kale, and dandelion greens. There really is such a variety when it comes to lettuce and other salad greens, and they all have their own textures and flavors.
Of course, you have to jazz it up with other ingredients, too. A good salad has a nice variety of elements that are balanced and work together. Items like cherry tomatoes, croutons, sliced cucumbers, and onions are a few expected salad additions, and they're classics for a reason. Sunflower seeds, fresh strawberries, almonds, dried cranberries, and even just fresh herbs can be easy ways to dress up a basic salad.
Clearly, there is no excuse for a boring salad!
But hey, a salad doesn't even require lettuce at all. Like I said, the word salad is a pretty loose term. While it might invoke visions of cool, crispy greens for many, that's certainly not all there is. I mean, haven't you ever had a good pasta salad? Coleslaw, despite missing the word "salad," is in fact a salad. Panzanella is a rustic salad that makes use of bread, and we definitely can't forget about potato salad.
With variety like that, there's no way that anyone can seriously hate salads. There's really something for everyone! Maybe you just hate sad piles of plain iceberg lettuce, and it's time to try out some delicious next-level salads.
Tips for Making Better Salads
First, let's talk about what really makes a delicious salad. I will absolutely eat a salad that is nothing more than lettuce and dressing, but that's not the kind of salad that gets you excited. You want something that brings you joy, that invites you to eat it, and that keeps you coming back for more.
Surprisingly, it's not that hard to take your salad game to the next level. To get started, here are a few tips for making better salads.
Don't Skip the Seasoning
When it comes to literally anything else, everyone knows the importance of seasoning. Somehow, though, we tend to forget it when we're talking about salads. Yep, even salad greens shine with a little salt and pepper mixed in, too.
Variety!
Avoid creating a dish that's one-note. A really good salad has variety. Aside from a variety of flavors, you also want to think about achieving a variety of textures. If you're using salad greens, use a mixture of a few different ones that complement each other. Greens like arugula and watercress can add a peppery kick, while Boston bibb will bring a mild, sweet flavor. You can add plenty of variety with your other ingredients, as well. Gain some sweetness with fresh or dried fruit, and get a nutty crunch with toasted almonds.
Add a Pop of Fresh Flavor
No matter what kind of salad you are making, it can always benefit from that pop of flavor that comes from using fresh herbs. The herbs you choose will depend on the other flavors in your salad, just like with any other kind of dish. Try boosting an Italian salad with parsley and basil, and definitely don't skip the fresh cilantro in a taco salad.
Go Beyond
Lettuce is great and all, but let something else be the star in the dish. It's easy to hear salad and immediately think of a lettuce-heavy dish, but it doesn't have to be that way. Rely on other vegetables, fruits, nuts, bread, and even cooked grains. In fact, you can even leave the leafy greens out entirely and still have a stellar salad.
Make Your Own Salad Dressing
It's really easy to open a bottle of salad dressing from the grocery store, and I can admit that I do use store-bought dressing. However, if you really want to kick your salad up a notch, making a homemade dressing will definitely do it. Besides, making a basic vinaigrette is arguably one of the easiest tasks when it comes to cooking. From there, you can mix and match all kinds of ingredients to create whatever dressings you can dream up.
Dress Before Plating
A lot of people eating salad at home do one thing much differently than restaurants do: they just pour the dressing on after putting the salad in a bowl or on a plate. This always ends in an overdressed salad with pools of dressing that easily overwhelm and overpower the other flavors. By dressing your salad before plating, it will mean that your dressing is evenly distributed throughout the entire salad and on every ingredient.
Bring On the Recipes!
Alright, so we've gone over some easy ways to take your salads to the next level. Keeping these in mind will help you create all kinds of delicious salads using whatever ingredients you like, or even just what you have on hand.
But before you head into the kitchen to try them out, let's get a little extra inspiration! From lentils to apples and everything in between, these seriously flavorful salads feature top-notch ingredients that will upgrade your salad game. None of them are boring, and will definitely change the mind of a salad hater!
Endive Salad With Goat Cheese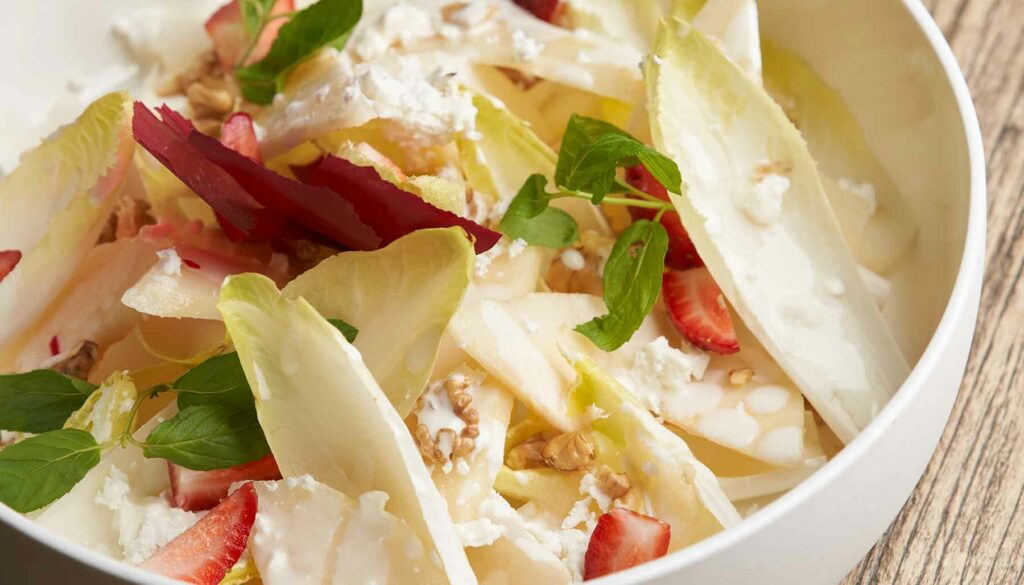 If you haven't (knowingly) had endive yet, it's a nutritious leafy green that comes from the chicory plant family. Eaten raw, endives are incredibly crisp and have a slightly bitter taste. This pairs so wonderfully with the sweetness of fresh sliced strawberries, the earthiness of walnuts, plus the slightly tangy flavors of goat cheese. This particular salad is so easy to put together, with just a few simple ingredients drizzled in honey and extra virgin olive oil. Add in some fresh basil, and this salad does quite the balancing act when it comes to flavor.
Check out the recipe here: Endive With Goat Cheese, Strawberries, and Walnuts
Mediterranean Lentil Salad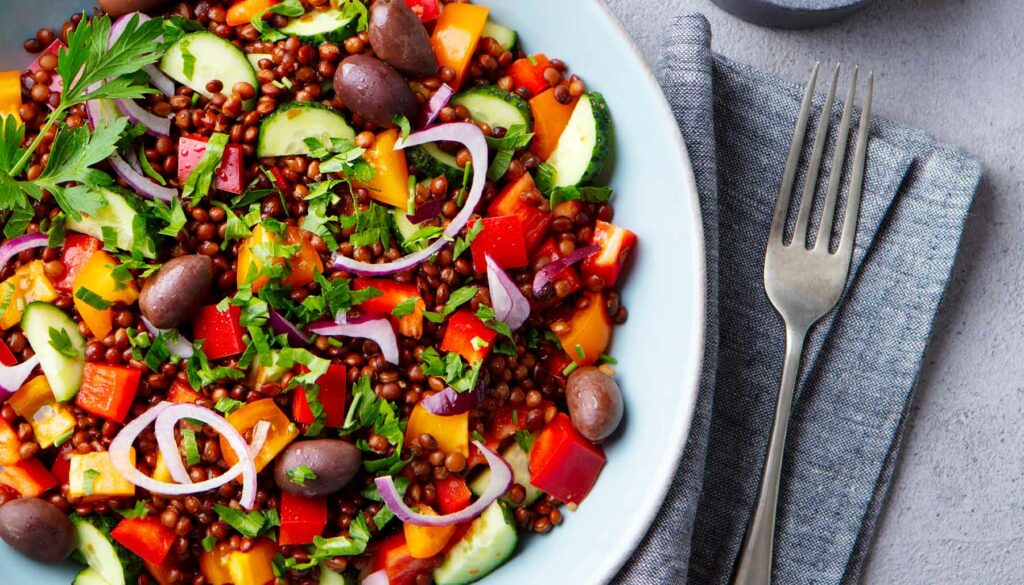 I really love the flavors of this Mediterranean salad. While the salad doesn't feature any leafy greens like a traditional salad, it is still packed full of veggies. The recipe calls for tomatoes, cucumbers, celery, red bell peppers, and Kalamata olives – along with some serious zip from capers. They are all in here to dress up cooked lentils, which are one of the world's oldest health foods. They provide a healthy helping of protein, fiber, potassium, folate, and more. Add in that freshly-made dressing from red wine vinegar, garlic, dijon mustard, maple syrup, and herbs, and this salad is a tasty party on a plate that might change your mind about healthy eating!
Check out the recipe here: Mediterranean Lentil Salad
Related: Lentils Are a Healthy Food That Needs a Spot on Your Grocery List
French Salade Lyonnaise With Bacon and a Poached Egg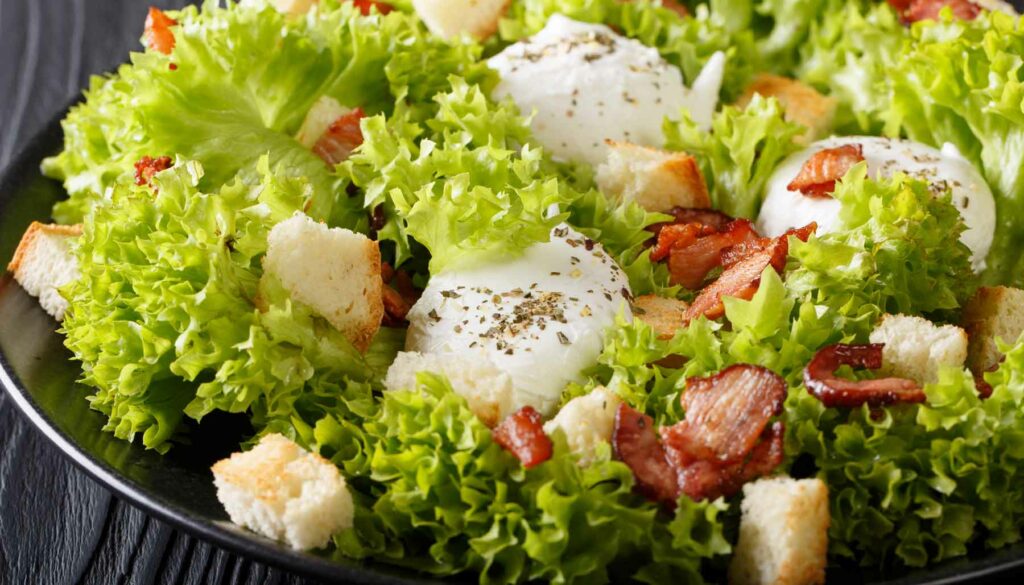 If you're a firm believer that bacon makes everything better, then I definitely urge you to try a traditional French salade Lyonnaise. It's a salad made with frisee lettuce, bacon, croutons, and a poached egg topped off with a dijon vinaigrette. Honestly, it sounds fancy and tastes extra fancy, but it's relatively simple to put together. The most difficult part here is poaching an egg, but it really only takes a few minutes. It sits on top of a bed of slightly bitter frisee lettuce. The salty and umami flavor of bacon, buttery croutons, plus the dressing that is equally tangy as it is sweet and spicy.  It's a fine (and tasty) balancing act.
Check out the recipe here: Poached Egg and Bacon Salad – Salade Lyonnaise
Traditional Panzanella Salad
I have to admit that no matter how much I love various salads, I had no idea that panzanella even existed. It's a shame, considering that I also love bread and I could have been eating this – honestly, nearly perfect – dish all along! Instead of a run-of-the-mill salad featuring leafy greens, why not put together a traditional Italian salad with bread and tomatoes? It's not just a great way to use up stale bread. It's also incredibly delicious… and I'm not just saying that because I love my carbs. Panzanella is hearty, bright, flavorful, and bold.
Check out the recipe here: Panzanella Courtesy of Ina Garten
Grilled Chicken Spinach Salad With Apples and Walnuts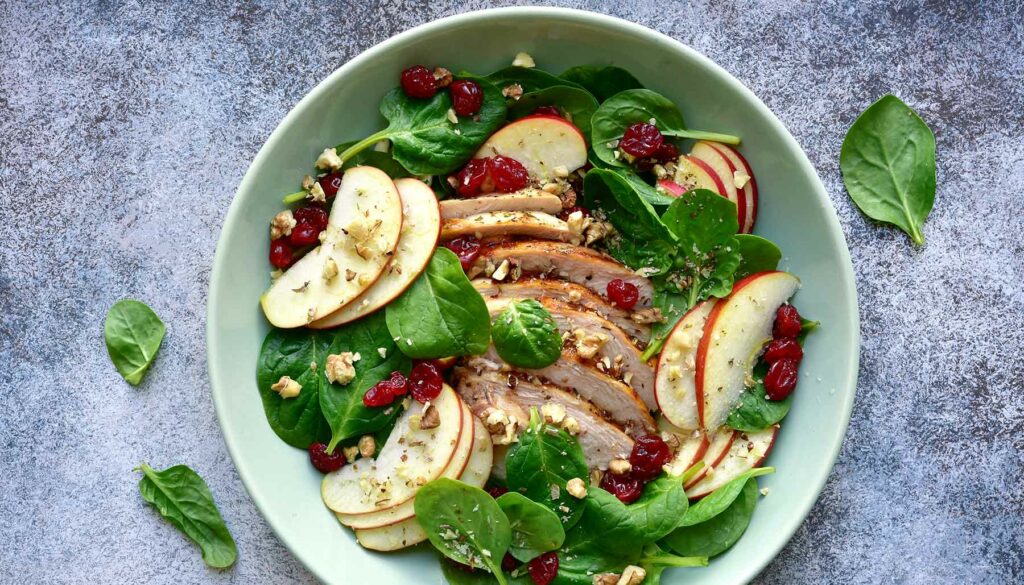 This recipe promises to be a crowd-pleaser bursting with flavor, and I have a feeling you might agree once you try it. We're talking about fresh baby spinach covered in grilled chicken, grilled red onion, chopped walnuts, crumbled feta, and dried cranberries. It's all dressed with a tangy apple cider vinaigrette, making for a deliciously balanced salad that serves as both a healthy lunch or a healthy dinner option.
Check out the recipe here: SnapDragon Apple, Walnut, and Chicken Spinach Salad With Feta and Cranberry