If someone were to ask me about my favorite small kitchen appliance, it's my immersion blender.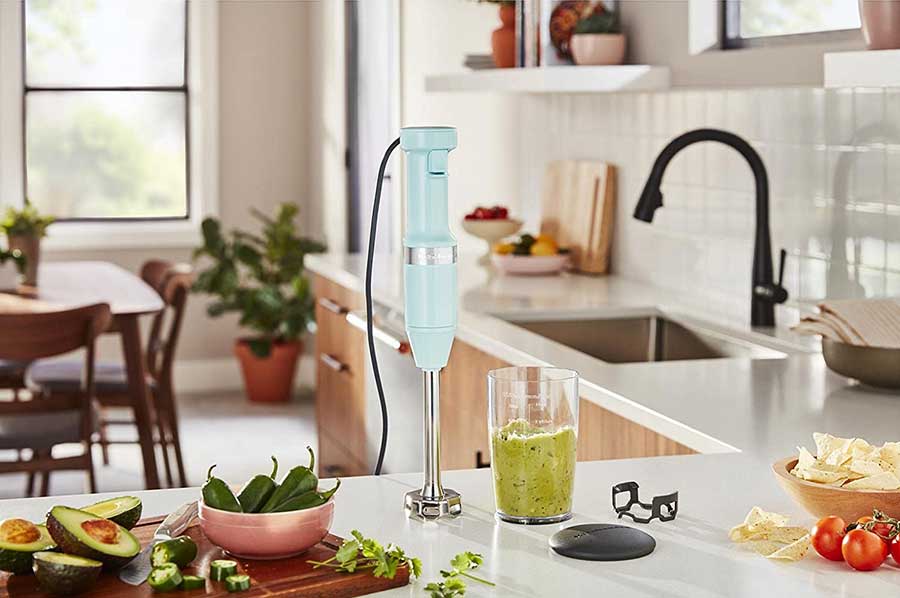 It seems funny I say that. I used to think I had no use for the thing. I already had a regular blender, so what on earth did I need a smaller handheld version for? There certainly wasn't anything that I couldn't put in the blender I already owned. From sauces to smoothies, my trusty ol' Oster blender was doing just fine. Purchasing another blender seemed like an unnecessary expense for what would end up unused. Just another small appliance cluttering up my precious cabinet storage.
Read More: My Favorite Kitchen Organization Products That Will Change Your Life
Boy, was I wrong. I was so wrong that I'm actually kind of miffed that I didn't buy one sooner. The day I purchased an immersion blender should be a celebrated holiday in this house!
I don't care if you call it a stick blender, a hand blender, a mini blender, or a wand blender – it's a gadget that every kitchen needs. It's one of those things that you didn't know you needed until you have it. And then when you have it, you can't imagine how you did things without it.
Okay, so why do I love this gadget so much?
How an Immersion Blender Differs From a Regular Blender
First, let's talk about how this skinny stick blender differs from a regular blender.
Both kinds of blenders have the same core function: they blend things. Easy enough, right? However, the way that they blend things is what makes them so different. With a regular blender, you pour the ingredients into the blender and turn it on. But with the immersion blender, you insert the blender into the ingredients you would like to blend, and then turn it on. The name clearly makes sense!
Pros and Cons of Immersion Blenders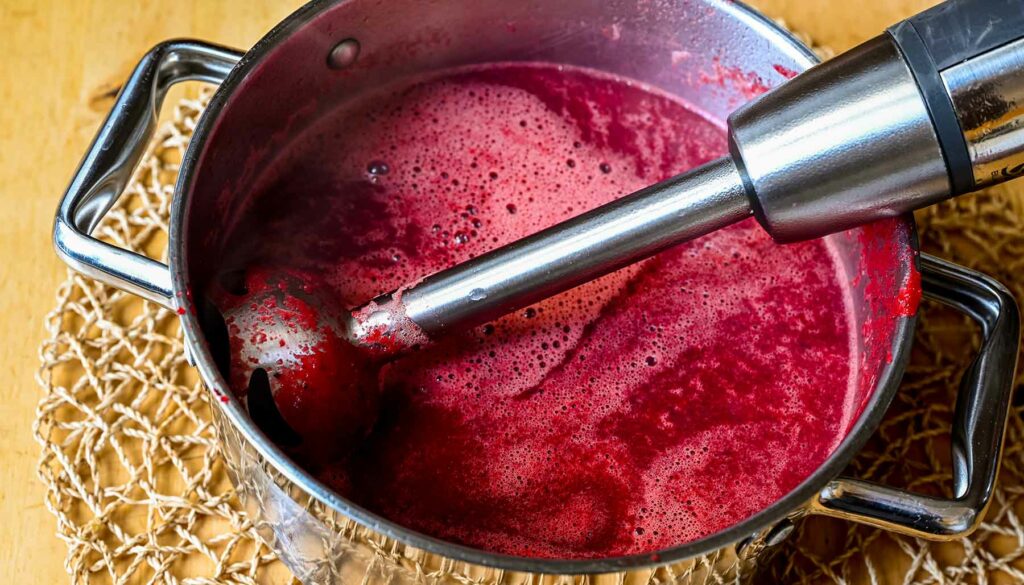 Because of the way it works, immersion blenders are incredibly helpful in a variety of situations. Obviously, this type of blender is the better choice when you're trying to make a large quantity of something, like a pureed soup, that won't fit in a single blender. It's also the perfect choice when working with something hot, because you don't have to worry about transferring said hot liquid from one vessel to another. If you're clumsy like me, this is always a risk for spillage!
I also really appreciate immersion blenders for their ability to create less mess. I do not currently have a full-sized dishwasher – just a small one to make do until we remodel the home's outdated kitchen – so extra dishes are even more of a burden. An immersion blender means I can puree the ingredients in the container they are already in, whether it's a pot, a bowl, a cup, or what have you. Fewer dishes? Sign me up!
Using an immersion blender means I don't have to disassemble a big blender to wash it, either. These smaller stick blenders are extremely easy to clean. There are considerably fewer parts.
It's also worth noting that a regular blender doesn't always do as well with smaller amounts of food. An immersion blender is compact enough to handle these smaller tasks, such as chopping a handful of nuts or emulsifying a salad dressing.
Although they are more compact and slim when compared to a standard blender, they're not wimpy. A good immersion blender will be powerful enough to process all kinds of ingredients, from ice cubes to vegetables.
Of course, not all immersion blenders are created equal, and not all of them can do everything a standard blender will do. If you're looking for something cost-effective, you're likely looking at an immersion blender that only has a few basic speeds and is best for simply pureeing and mixing. They might not do a stellar job with chopping. Higher-end (read: more expensive) models will have plenty of speeds and attachments to choose from, but you're looking at spending a lot more.
Choosing the Right Immersion Blender
Like I said, not all of these handheld blenders are created equal. While all of them will do a fine job of making smooth soups and silky sauces, there are plenty that does more than that.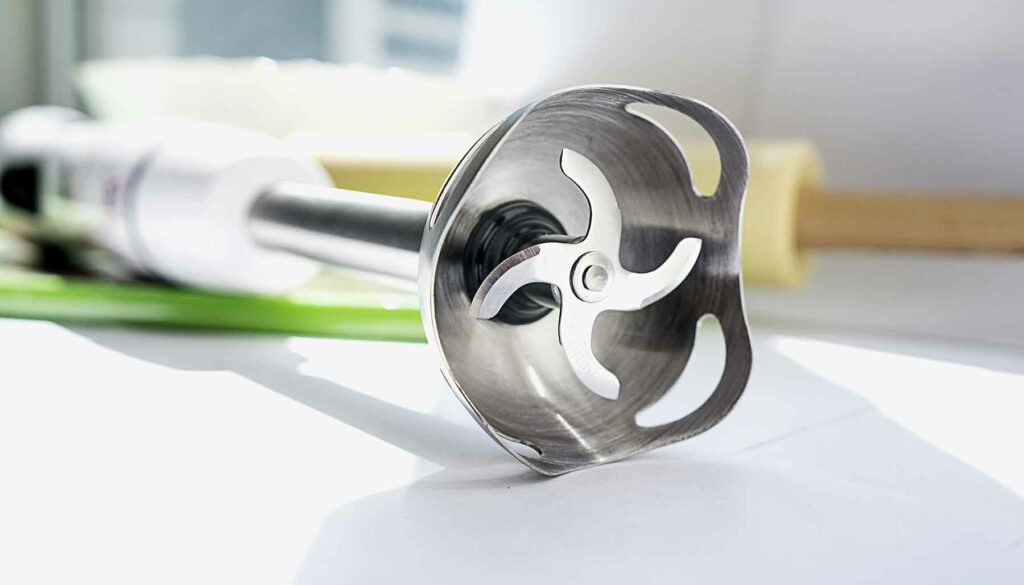 If you're looking for something simple and cost-effective, there are 2-speed stick blenders that can handle all the basic tasks. You won't find a bunch of attachment options with these, but they are more than enough for blending, pureeing, and crushing ingredients. If you need something that can whip up soups, sauces, dips, dressings, smoothies, and the like, this is more than enough to get the job done.
Other immersion blenders come with many more speeds than just two. You can find them with anywhere from five to fifteen speeds. A few brands also offer variable speed immersion blenders, where you can easily transition between a range of speeds at the pull of a trigger or the spin of a dial. Oftentimes, these are the handheld blenders that offer attachments.
Immersion blenders that offer attachments do even more to earn their keep. Whisks and choppers are typical attachments. Some brands include these in the box with their blenders, while others are add-ons you can purchase separately.
When picking out an immersion blender, you'll also want to pay attention to whether it's corded or cordless. Like many other small appliances and electronics these days, the stick blender has also been given a cordless makeover. This can be pretty convenient, especially if you don't have a plug nearby, or you're worried you might drag the cord through ingredients on the counter. However, corded blenders won't ever leave you stuck with a dead battery. Really, it's up to your personal preference here.
Immersion Blender Recommendations
So, you're convinced you need one of these gadgets, right? You know what you're looking for, you've decided between corded and cordless, and now you're realizing just how many immersion blenders are out there.
Here are a few of my top picks to help you wade through all the options.
Best Overall Immersion Blender: Breville Control Grip Immersion Blender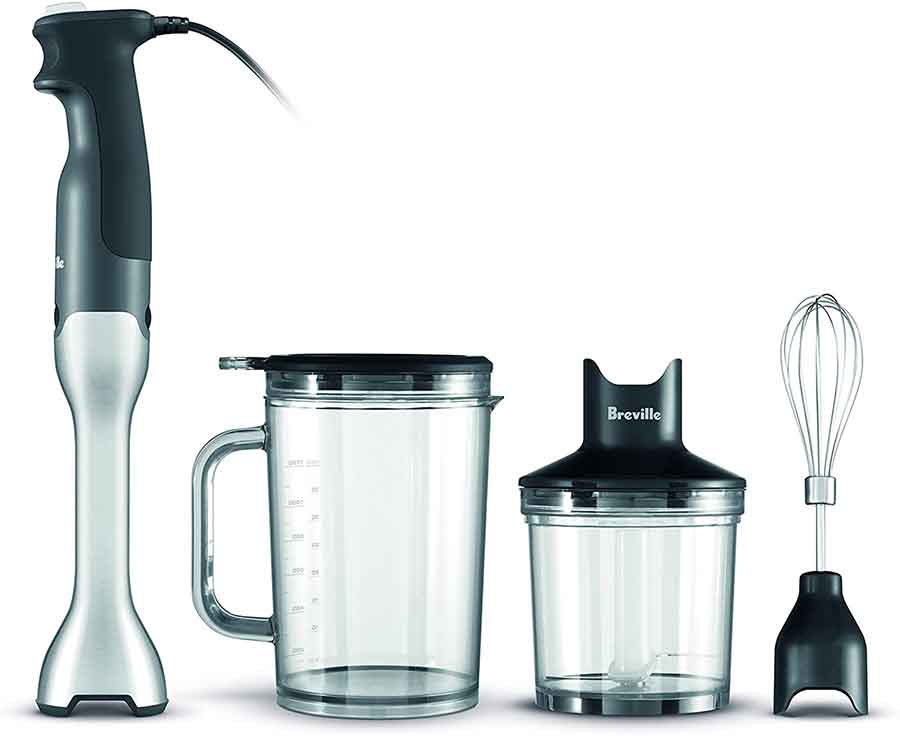 If you want everything, the Breville Control Grip Immersion Blender has it. This blender is a best-seller for a reason. It features fifteen speeds and comes with a whisk, a chopping bowl with blades, and a 42-oz storage jug with a lid.
It's a little larger than other handheld blenders, but that's the trade-off for the extra power and function. It is definitely well-built and sturdy enough to last for a very long time.
Best Value Immersion Blender: Nutribullet Immersion Hand Blender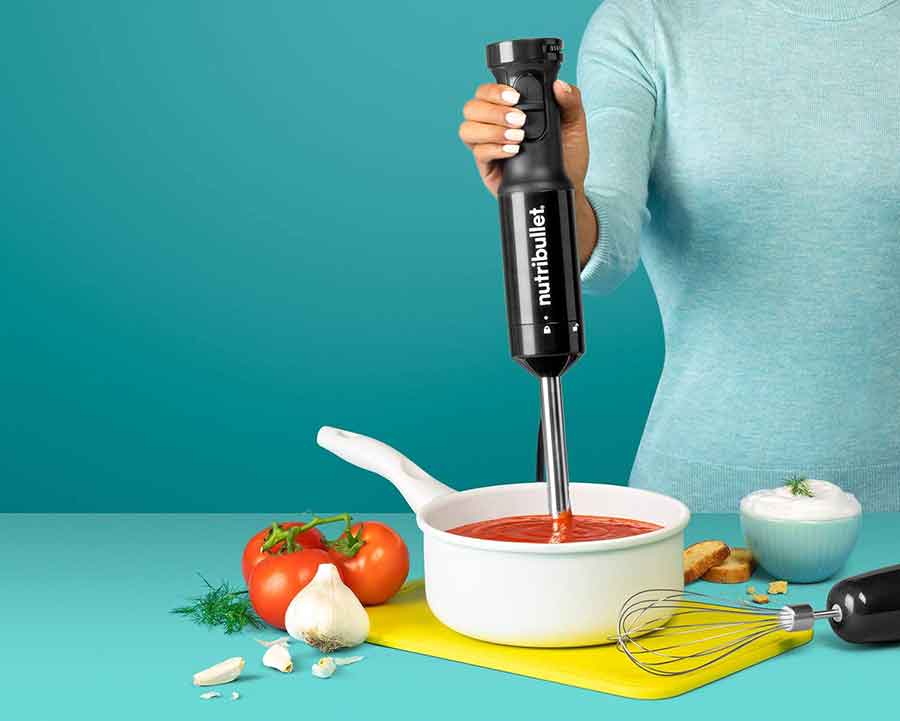 You really can't beat the price on this immersion blender. The Nutribullet Immersion Hand Blender performs just as well when whipping up smooth soups and silky sauces, but it does it at a fraction of the cost. Just like other handheld blenders, it's easy to clean.
As a more cost-effective option, it features a plastic body. It doesn't feel as substantial as say, a stainless steel immersion blender might, but it gets the job done. It's still pretty powerful and features a variable speed dial.
Best Cordless Immersion Blender: KitchenAid Cordless Variable Speed Hand Blender
If portability is at the top of your wishlist, the KitchenAid Cordless Variable Speed Hand Blender is the top cordless pick. It features a rechargeable lithium-ion battery, so you just plug it in when it needs a charge. According to KitchenAid, the battery will last long enough to blend 25 bowls of soup. I haven't tested that, but I know it doesn't need a charge very often.
This one doesn't necessarily come with attachments included in the box. They offer the handheld mixer on its own or with attachments. As an added bonus, it comes in "Empire Red," which makes me giggle. Hey, I have a Stormtrooper toaster, too.
What Can You Make With Your Immersion Blender?
Now that you have your very own immersion blender, it's time to use it! The obvious choice for these submersible blenders is soup. Lots and lots of soup. Maybe a few smoothies.
While I do use this useful gadget to make soups in a snap, there are plenty of other uses for your new culinary best friend.
Sauces are infinitely easier with an immersion blender, too. I am a big fan of not having to transfer hot ingredients from a pot to a blender. It's also worth noting that there is no cap on the amount you can make at one time. That means you can make an extra-large batch of your homemade tomato sauce without worrying if it will fit in the blender. Try your hand at developing a signature barbecue sauce, or create a velvety gravy with ease.
Outside of sauces, immersion blenders are extra helpful when making apple sauce, nut butter, and homemade jams. Emulsify salad dressings and homemade aioli like a pro. And attachments make this handy blender even more useful. Depending on the attachments, these gadgets can whisk eggs, mix cake batter, chop nuts, and more.