The last time you received a wedding invitation, was it a semi-formal event? What about casual, or perhaps they had a cocktail dress code? You may have even been invited to a unique, themed wedding.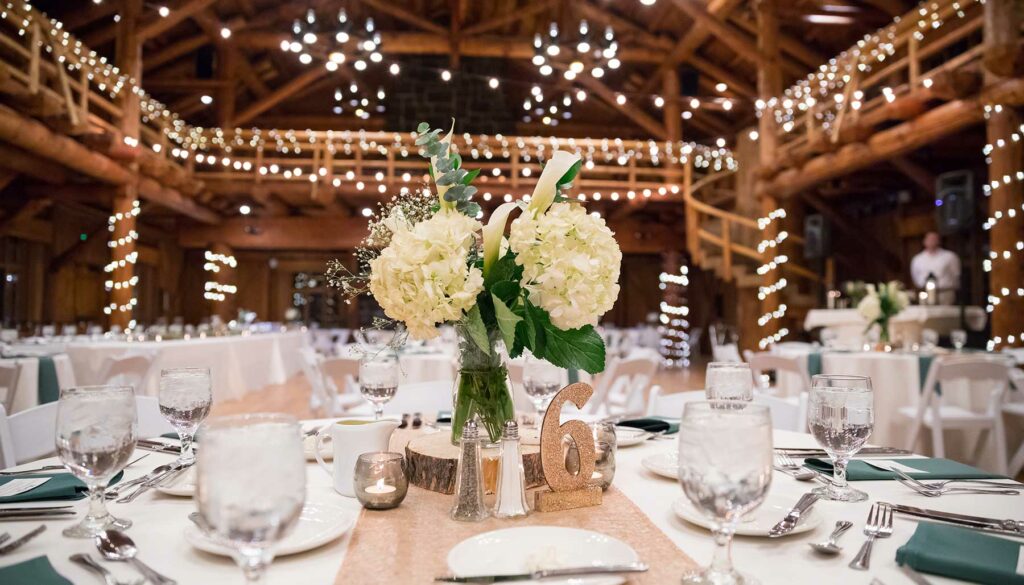 These different dress codes can be a little tricky to figure out. How do you know how formal is formal? What exactly is dressy casual, anyway? A really big part of attending a wedding is understanding the dress code. From "casual" to "black-tie," couples have different ideas on how they would like their big day to look. As a wedding guest, it's your job to dress accordingly! Although etiquette rules have certainly relaxed over the years, there are still some rules you should know – and definitely follow – as a wedding guest.
Related: The Pandemic Has Given Us Smaller Weddings – Is This a Trend That's Here to Stay?
Let's take a look at all the different dress codes you are likely to see on an invitation and break down exactly what the wedding attire wording means. Hopefully, this will help guide you the next time you RSVP to a wedding!
Come As You Are
This is dress-code speak for "wear whatever you want!" Couples who opt for this instead of giving their guests a dress code just want you to be there for their big day. They want you to feel comfortable and not make a big fuss about it. Although it seems relatively simple and straightforward, you still have a few things to consider. After all, you probably shouldn't show up in pajamas or a bathing suit.
Take time to think about the location, whether it will be indoors or outdoors, and what time of day the wedding is taking place. It's also good to think about what you feel like wearing! You want to be comfortable (especially if there will be lots of dancing later). You also want to be confident in what you choose. Looking good will help you feel your best as you celebrate.
And if you're worried that you'll feel under or overdressed, you can't really go wrong by leaning towards wearing something fancy. You are attending a wedding, after all!
Daytime or Casual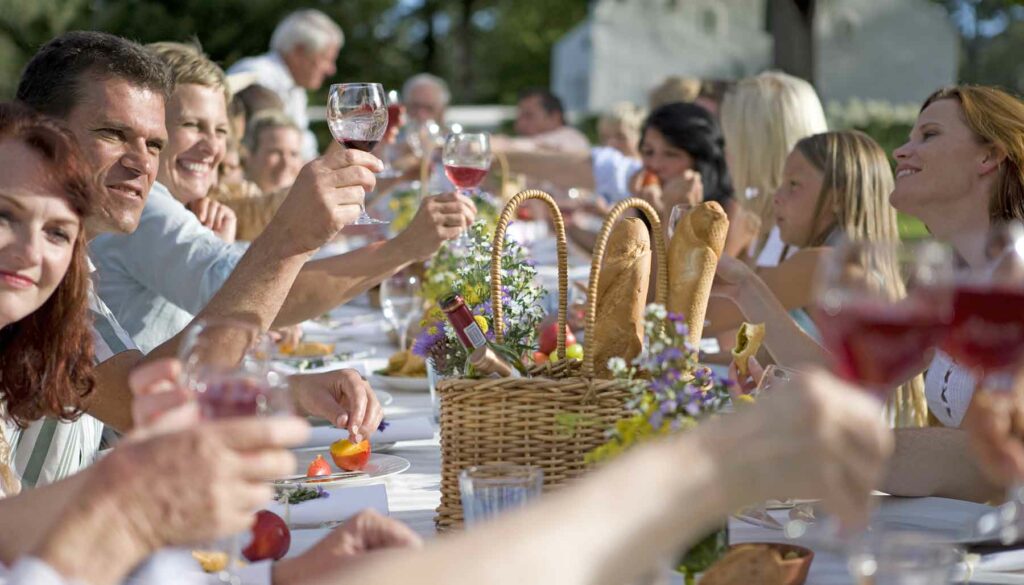 Don't get confused by the word "casual" here. It might be easy to assume a casual dress code means you can wear whatever you want, but this is not the case. That's only for those "come as you are" weddings! "Casual" in the context of weddings is different from "casual" in the context of everyday clothes. Skip the shorts, sneakers, flip flops, t-shirts, and jeans – that is, unless it is directly noted as acceptable.
Sundresses, dress pants and a nice top, a high/low skirt, or even a jumpsuit would be appropriate here. If you're going to be outside in the grass, it's best to avoid pumps and opt for dressy sandals or flats.
Suits are definitely too dressy here. Dress pants or khaki pants with a collared shirt are appropriate. Optionally, you can wear a tie if you like, and sweaters are acceptable if it is chilly.
Semi-Formal or Dressy Casual
Much like the casual and daytime dress codes, semi-formal or dressy casual is also one that can be a little confusing. What is semi-formal anyway? And isn't dressy casual an oxymoron? The answer is yes, it is.
Semi-formal sits between casual and formal. For a semi-formal wedding, you want to be a little on the fancy side. A dressy skirt and top, an elegant pantsuit, or a nice dress that hits at the knee are appropriate here. Flats, dressy sandals, or pumps are all good choices, and you can keep accessories simple if you like.
Suits are not necessary for a dressy casual wedding. You can't go wrong with a button-down shirt and slacks, with the optional tie and blazer. Opt for darker colors if the wedding is later in the day. But of course, you can wear a suit if you prefer!
Cocktail
Cocktail attire is also between casual and formal and is very similar to semi-formal. There are just a few distinctions that set it apart.
Dessy skirts and tops, elegant pantsuits, and knee-length dresses are also expected here. However, cocktail dresses tend to be slightly more formal than the ones you might wear to a dressy casual wedding. Cocktail attire tends to be a little more embellished, with nicer fabrics, statement jewelry, or dressy heels.
Tuxedos might be a little overdressed here, but a classic suit and tie will be appropriate for this kind of wedding. Combined with a crisp white or black shirt, it will be a classic, no-fail look.
Formal or Black-Tie Optional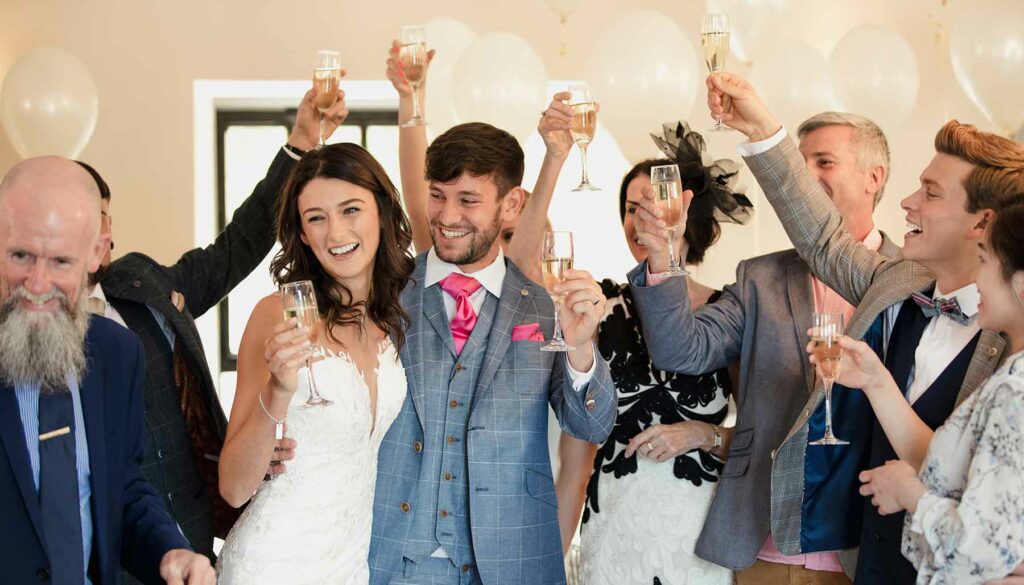 Formal is one of the most popular wedding dress codes. While dressy, it has fewer rules than black-tie events. You still want to look fancy, but you don't have to hide your ankles! In other words, it's just slightly less formal than black-tie – but black-tie attire is also acceptable, and probably appreciated.
Short hemlines are a no-no here, although it's more acceptable to wear a dress that isn't floor-length. Fancy cocktail dresses and dressy pantsuits are okay. And even though floor-length gowns aren't required, they are still a good choice here.
A more formal wedding requires a dark suit with a conservative tie and nice loafers. Tuxedos (the kind with dinner jackets!) are also great options, especially if the formal wedding is later in the day. Just don't wear anything too loud, like one of those trendy, patterned suits.
Black-Tie
Black-tie weddings traditionally take place in the evening, and they require a much more formal dress from wedding guests. It's one of the more strict dress codes, and there is little room for interpretation here.
A suit or anything less formal than that is off the table. It's called black-tie for a reason: this dress code requires a tuxedo and a black tie. You don't need full tails and a cummerbund, but the tux is a must. Do not wear a black suit, and definitely not suit separates. Dress up your tuxedo with details such as French cuffs.
Formal gowns are also required, and hemlines are expected to be floor-length. It should touch the ground or at least the top of the shoes. Elegant pantsuits are also an option. Upscale jewelry, like sparkly diamonds or classic pearls, works great to accessorize your look.
White-Tie
White-tie is the most formal attire possible, and chances are you won't attend many (or any) of these. Also sometimes called full evening dress, white-tie is usually for upscale events like royal banquets, formal balls, and White House state dinners these days. White-Tie weddings definitely aren't very common today. In any case, there is still a chance you may get invited to a very formal white-tie wedding one day. It is very important to dress appropriately for a white-tie wedding, so we're going to cover it, just in case!
Regular suits and dinner coats definitely will not do. A long and dark tuxedo with tails is required. Along with that, a classic white piqué button-down shirt, a white vest, a white bow tie, a white cummerbund, and formal footwear are to be worn. A top hat and white or grey gloves are optional – but hey, I say wear the hat and gloves. When else are you going to get to wear them?
Formal floor-length evening gowns or ball gowns are required, and there are no exceptions. The hem should touch the ground or at least the top of the shoes. Elbow-length evening gloves are required, as well. Tiaras and other elegant jewelry are optional, but again, I say wear them! When else would you get the chance?
Destination
Dress codes for destination weddings tend to be a little more relaxed than other events. That's because they are often on picturesque beaches, and it will likely be a humid and hot event!
Because of that, you will want to wear something light and airy to help you stay cool. Even so, remember that you're still attending a wedding. If you are concerned that what you are planning to wear isn't dressy enough, it's best to err on the dressier side of caution and pick something else. And if it's going to be extremely sunny, don't hesitate to top off your outfit with the perfect fancy hat.
Pay close attention to your shoes, too. If you're going to be traipsing around in the sand, it's best to leave the pumps behind. Dressy sandals, flats, or wedges will be a much smarter choice.
Theme or Concept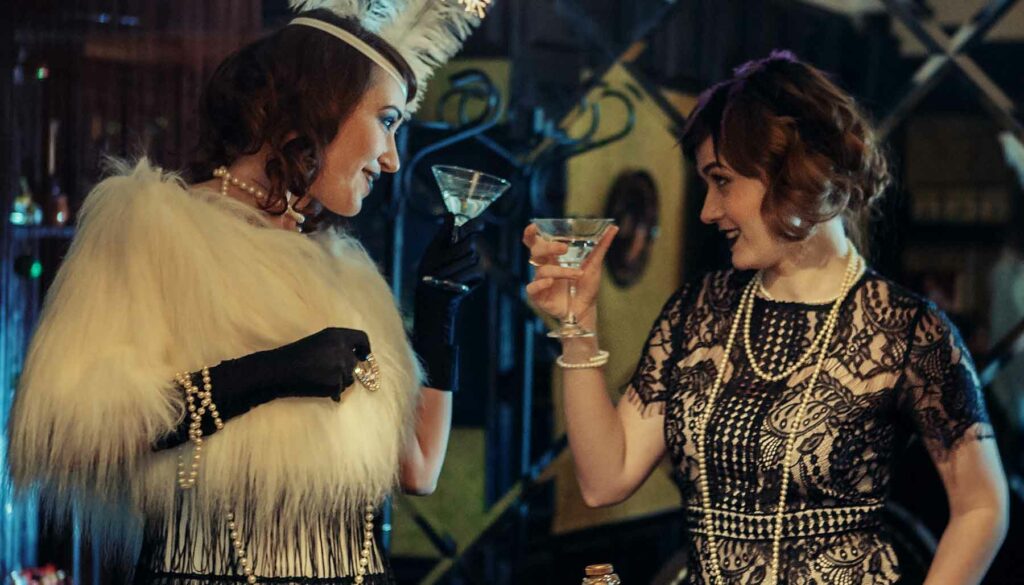 Although this isn't as popular as other dress codes, I've recently seen more weddings feature a theme or concept for their event. I recently had a friend encourage "spooky" attire for her wedding near Halloween. Couples may ask that you wear Roaring '20s themed clothing for a Great Gatsby-esque event, or they could simply ask for guests to wear a specific color to fit their aesthetic.
The key, here, is to not take it too far out of the wedding realm. Always remember that you are attending a wedding, even if they want you to dress like a flapper.