As the holidays close in, that means that the holiday parties are coming, too.
There's nothing better than getting together with friends and family. In all honesty, I love hosting parties. The only downside? Parties require so much work.
Sure, there's the extra cleaning, and putting up plenty of festive decorations. Then, I have to get rid of whatever random lego bricks the kids have sprinkled all over the house. But after all of that, you're telling me now I have to prep and cook food, too?! This is getting out of hand.
Catering is always a possibility for those of us that are too busy to make party appetizers and meals, but it can sometimes feel less special. Not to mention, it's always super expensive.
Instead, let's focus on appetizers that come together with minimal work! That way, you can get back to clearing the Lego minefield. Check out these quick and easy appetizers that will have your guests raving!
Cucumber Sandwiches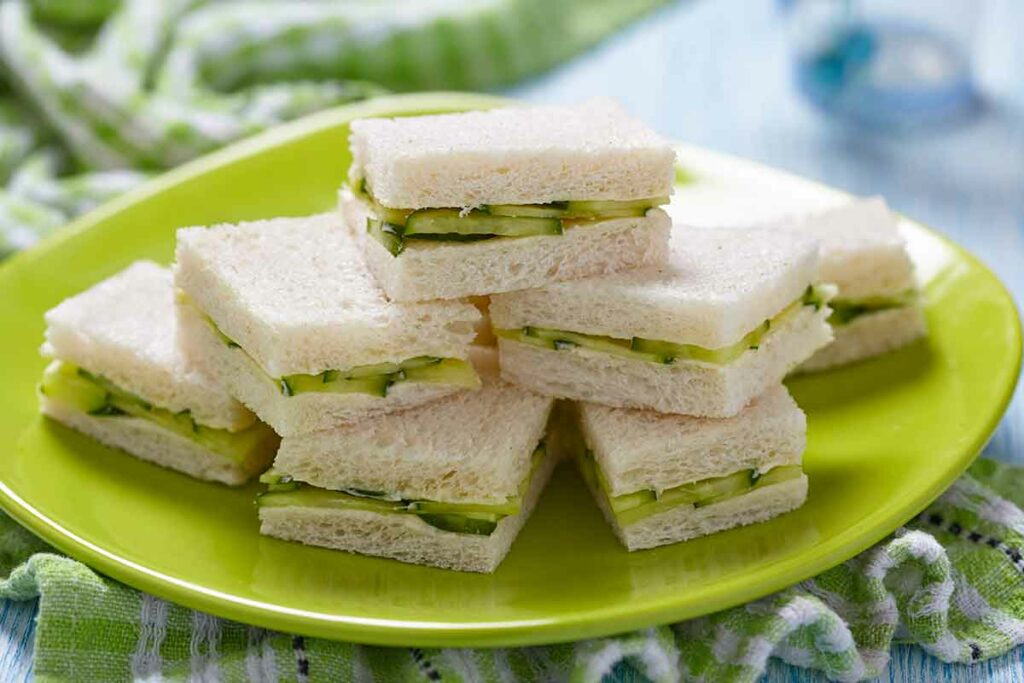 Cucumber sandwiches don't have to be restricted to fancy tea parties. These light and refreshing little sandwiches are a great appetizer to put out when you plan on guests stuffing themselves with a heavy holiday dinner later.
They are simple and quick to make, but don't let that fool you; they will disappear faster than you might expect.
Check out the recipe here: Cucumber Sandwiches
Stuffed Mushrooms
When I think of party appetizers, I often think of stuffed mushrooms. They're a classic. My mom used to make them all the time because they're always one of the first things to disappear.
These little mushrooms are stuffed with breadcrumbs and cheese, packing a big flavor punch for hungry party guests. Although the filling does take a little prep work, it's still easy to make. Plus, you can always stuff the baby bella mushroom caps ahead of time in preparations, and then toss them in the oven right before the party.
Check out the recipe here: Stuffed Mushrooms
Festive Cranberry Pinwheel Sandwiches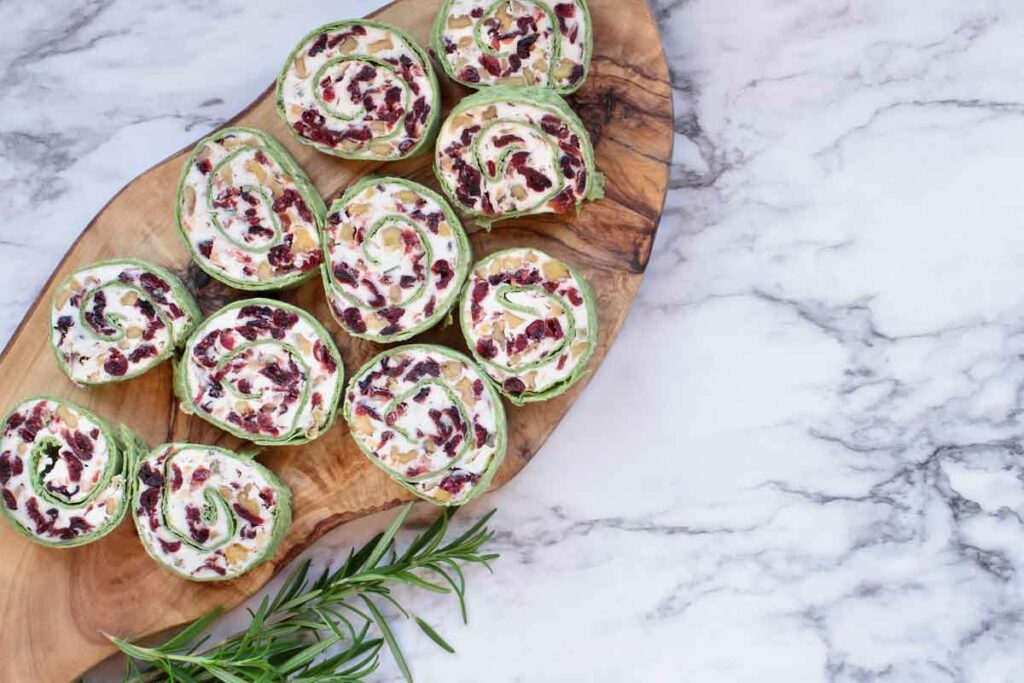 I love making pinwheel sandwiches because they're as pretty as they are easy. Plus, it's best if you refrigerate them for a while before slicing, so that means getting prep work ahead of time — no rushing to do all the work right before guests arrive.
Although you can make pinwheels with a variety of ingredients, this particular recipe calls for cranberries, fresh rosemary, and walnuts. That gives this easy appetizer a great holiday feel, don't you think?
Get the recipe here: Cranberry Walnut Pinwheels
Charcuterie and Cheese Grazing Board
When planning appetizers for party guests, you don't have to overthink it. A serving tray or board piled up with tasty things to graze on can really go a long way. You just have to do it the right way to make it party-worthy!
The key to a great board is the quality of the ingredients. Splurge on the "fancy cheese" — you know, the kinds that are priced by the pound in the deli, not the American slices in the case beside the butter. And make sure there's plenty of variety by including fruit, bread, crackers, olives, nuts, spreads, and more to go with your cured meats and cheeses. There will be a little something for everyone.
Check out the recipe here: How to Make an Epic Charcuterie Board
Fried Mashed Potato Balls
The instant your guests taste one of these fried mashed potato balls, they're going to fall in love. Be prepared to hand out the recipe!
The mashed potatoes inside are nice and fluffy, while the outside is crisp. They're also the perfect size for snacking. Serve them up alone, or with a tasty dip on the side. Sour cream and chives make an excellent pairing.
Check out the recipe here: Fried Mashed Potato Balls
Cheesy Garlic Tear and Share Bread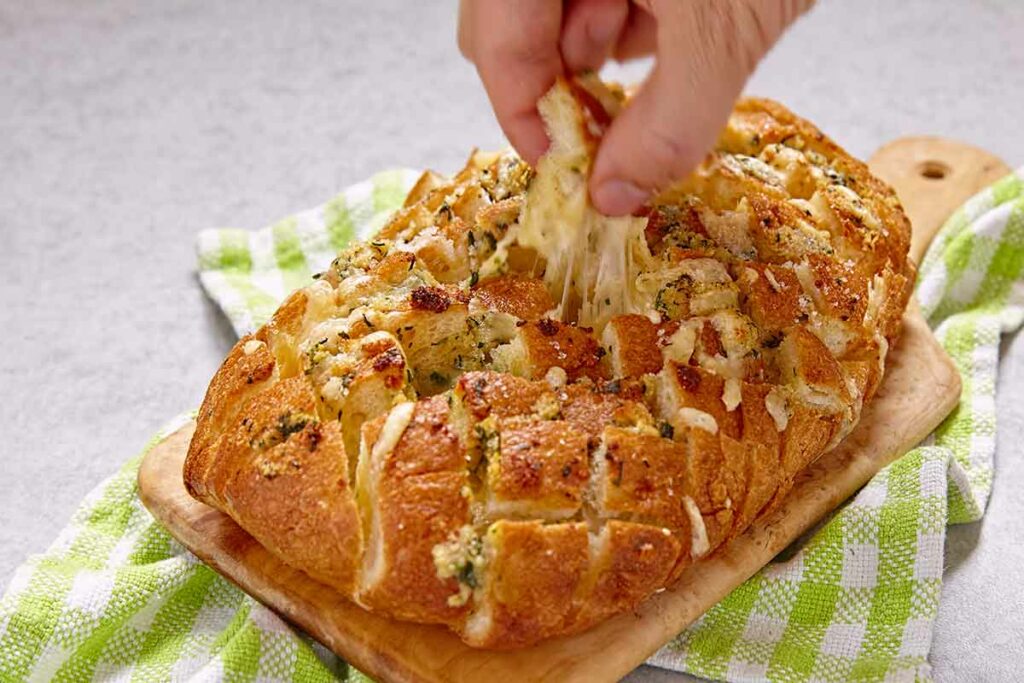 There are few things I love more than cheese and bread. Put the two of them together, and it's always a win. For something extremely simple that will also wow a crowd, this deliciously cheesy garlic pull-apart bread is the way to go. Considering how delicious this is, you might want to go ahead and make two!
It's super simple to make this crowd-pleasing tear-and-share appetizer. All you need is a large baguette, a serrated knife, and plenty of cheese and melted butter. Serve it on its own, or include a bowl of hearty marinara for dipping.
Check out the recipe here: Cheesy Garlic Pull-Apart Bread
Caprese Skewers
Okay, what do I love more than cheese and bread? Cheese and tomatoes. As you can imagine, a good Caprese salad is a favorite of mine. However, that isn't really the easiest thing for guests to just grab and snack on. So, let's make it handheld — with no utensils needed.
These Caprese skewers boast all the tasty flavors of a traditional Caprese salad but in a much easier-to-eat package. Guests can just grab a skewer (or three!), with no need to bust out plates and forks.
Check out the recipe here: Caprese Skewers