There's no doubt about it, the clothing resale industry is officially booming, especially on apps. In the midst of this fresh start for secondhand fashion, there's no better time to let go of those once-loved, perfectly good items you no longer need. And you know the pieces I'm talking about.
If it's taking up too much space and being worn too little (and/or never), it might be time to make room for a fresh wardrobe, sell those items to someone who craves them, and do something good for the planet while making some extra cash. Per Byrdie, "Consumers are prioritizing sustainability, retailers are starting to embrace resale, and policymakers are getting on board with the circular economy."
In the United States alone, billions of clothing items are tossed out every year, the majority of which are recyclable or reusable. But more and more shoppers have begun to rethink value, opting to put their pre-loved items into circulation and shop secondhand online.
Currently, there's more than ever to choose from online, all of which boast new options on a daily, sometimes hourly, basis. With so much up-and-coming competition on the internet, the resale marketplace has upped its game on a large scale, doing its part to guarantee customers are getting what they pay for, sellers are being compensated fairly, and everyone is having a quality experience.
Sustainability-oriented sites make doing our part in uniquely stylish ways a little more effortless. And these are some of the best in the online resale biz.
ThredUP
With ThredUp, you can buy or rent high-quality, fairly priced secondhand clothing directly from other shoppers and stores. One of the best things about this one is that you're guaranteed to get exactly what you paid for. Before anything is uploaded on ThredUp, all items go through a 12-point inspection.
ThredUp is officially the largest thrifting and consignment shop online, making the inventory seems endless. And so, finding a must-have item in great condition is pretty easy, even if it requires a little digging.
Depop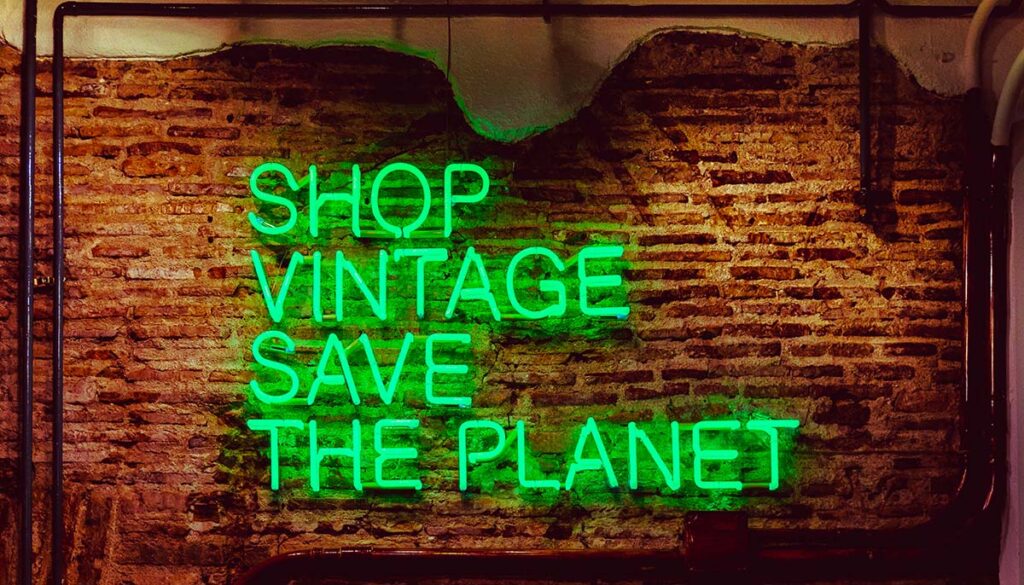 Looking for a peer-to-peer online marketplace that allows you to directly browse and shop other people's wardrobes for a steal of a deal? Depop is one of the thriftiest places to be right now. Their motto? "The home of circular fashion that's kinder to people and kinder to the planet."
With retro and newly trending options galore, Depop currently boasts over 20 million users and counting. But the vibe is more intimate, like a vintage swap shop. With Depop, buyer-seller trust is key. All sellers must add a detailed description to their items, along with hashtags, and several images. No matter how big they grow, this global community remains all about selling second-hand fashion, connecting, and taking better care of mother earth.
Vestiare Collective
In need of a luxury resale app? Vestiaire Collective has what you're looking for, and for a fraction of the price. You can snag high-end, fashion-forward, and luxury brand clothing items on sale between 30% to 70% off. And no need to worry, all products are authenticated before you buy.
Give Vestiare Collective a chance to prove that luxury doesn't always mean brand new. It also means lasting. Not to mention, their delivery service is notably speedy.
Read More: Generation Z Is About To Transform the Luxury Industry — How Should Brands Pivot?
Poshmark
Poshmark aims to build a friendly community of shoppers and sellers through a "connected shopping experience." And it seems to be working. Currently, this endlessly popular app is said to be the leading social marketplace for pre-loved clothing.
You can buy, sell, browse boutiques, or even attend "virtual Posh Parties." Poshmark is also a consistent go-to for those who need an outfit for a specific event. For those looking to sell, all postage and packaging materials will be provided and protected. And the power is very much in your hands. Those on this app are instructed to take the photo, list the item, share it, and earn cash.
The RealReal
The RealReal has become a fast favorite in the resale clothing app world. This app promotes both vintage and good-as-new pieces from some of the top luxury brands on earth.
Those who swear by The RealReal often say the hefty discounts are hard to beat, making it the best go-to for fashionistas on a budget. And all clothing comes with an authenticity guarantee.
eBay
As a secondhand clothing app, eBay has stood the test of time, no matter what else they might sell. Obviously, interested customers must bid on the pre-loved clothing item they're coveting.
eBay remains a great place to join an auction, roll the dice, and potentially claim something truly special for an unexpected bargain. For those looking to negotiate, it's an equally great place to sell.
Grailed
Easy to use and growing by the minute, Grailed functions a lot like ThredUP. However, it's exclusively men's clothing. So if you're secondhand shopping for a fashion-conscious guy in your life, I highly recommend checking out this menswear only (and iOS only) app. They're also a popular resale app for coveted kicks from top designers.
Grailed is all about luxury, and the prices tend to reflect that. But if you've done your homework, you can make a pretty penny and get the most out of their top-tier selection.
OfferUp
With millions of monthly users, OfferUp is a virtual hot spot for those who want to sell and buy pre-loved clothing items locally. Because this blossoming app is all about shopping local, shipping fees go out the window.
Similar to Craigslist, Offerup is in the business of more than just clothing resale. If you're looking for a pre-loved rug or even a pre-owned car, do yourself a favor and browse this one. You can also communicate through the messaging tool, allowing users the chance to work out a better deal and sell items quickly.
Tradesy
Are you holding onto designer clothing, jewelry, and other accessories that you just don't need anymore? Are those items in pretty good condition? Tradesy is here to help you clean out your closet with ease, make money, and give your pre-loved pieces to someone looking to "upgrade" their wardrobe.
Louis Vuitton bag? Check. Chanel pumps? Check. If it's luxury you seek, look no further. From David Yurman to Cartier, you'll also find some of the best deals on the biggest names in jewelry.
Swap.com
There's no shortage of women's and kids' clothing items to choose from on Swap.com. Interested in selling? You'll send your items in an Inbound Box with a prepaid shipping label and they'll let you know how much they'll pay you for the items they accept. Adding to their easy process, they list everything for you.
For items sold on this family-friendly app, you'll have the option of getting paid in cash or store credit. And much of what you'll find here is mostly "like new."
Read More: Thrifting Tips That'll Get You the Most Bang For Your Buck
Flyp
This San Francisco-based resale app continues to honor its mission statement: Less clutter. More empowerment. Flyp invites users to "grow your resale business with easy access to inventory and free automation tools." And of course, endless shopping and prices that keep dropping.
Part of what makes using Flyp so easy is that you'll be working alongside a professional seller. They'll help you get the most out of your pre-loved items and teach you about the biz along the way. With all of that said, this app is selective about brands. Here's a list of what you can sell on Flyp.
Rebelle
Are you a label-loving, designer-donning fashionista who always knows what's in? You'll feel right at home with Rebelle. On this luxury-oriented app, you can sell on your own or via a concierge service, but you must send all items to the company. Rebelle will take it from there, taking professional pictures and posting your items.
Supporting luxury sustainability, the quality of these second-hand items is often said to be unmatched. Whether you're hunting for a Burberry bag, rare Gucci flats, or your very own pair of Celine sunglasses, you'll find hard-to-find, fashion staples on Rebelle with ease.
Etsy
Etsy is frequently dubbed the "World's most imaginative marketplace." So it's no surprise this mainstay app is a consistent go-to for one-of-a-kind threads and unimaginably unique vintage items.
So much of what you'll discover on Etsy is both sustainable and handmade. In turn, the platform continues to be one of the most popular virtual shops around for all things thrifty and nifty.
Vinted
Vinted is ready to help you declutter your closet and comfortably thrift shop from anywhere. Users not only list items free of charge but clear communication between buyers and sellers is encouraged.
Overall, this direct sale platform makes thrift shopping and selling safe, secure, and simple. You can also purchase a protection fee to shop with a little more "peace of mind." Happy hunting!
Read More: Hidden Benefits of Thrifting