2022 is an incredibly exciting year for footwear. Trends that have dominated for the past decade or so are being replaced with fresh takes on iconic shoe designs. We're saying goodbye to the combat boot for now, but we're stoked about the new style that seems to be taking its place. Experts predict Y2K nostalgia will also continue to reign over the fashion world for months, so get ready for some styles that we haven't tried for quite some time.
Here's your guide to the hottest footwear that is currently dominating the runways. Soon, we'll see these trends popping up on the streets throughout the world.
Platforms
Platform shoes were worn in Ancient Greek theater productions to give important characters more height, and they were also used by many women in 16th-century London for the purpose of keeping their feet far away from the mucky urban streets. As time went on, the platform heel became more popular as a fashion statement than as a practical shoe. The exaggerated thick sole of the platform shoe is one of the biggest fads we'll see in 2022.
This eye-catching style had a major moment in the U.S. from the late sixties to the early eighties, but it quickly fizzled out. However, it's been making a comeback since the late 2010s, when designers started drawing inspiration from 1970s fashion. In 2022, it looks like the platform heel is also going to come back, this time with an emphasis on intriguing straps. You'll also see lots of sandals and slides with a large platform, a trend we first saw around 2004 that works perfectly for the Y2K-inspired looks we've seen on the runways this year.
A simple sandal is just one of the several shoe styles that benefit from a platform heel. Add height to your look with a shoe like this one from Salvatore Ferragamo, which is going for about $525. The golden Gancini buckle is reminiscent of the Mary-Jane trend that's been hot for quite a while now, but the shoe's chunky silhouette better suits the way fashion is heading this year.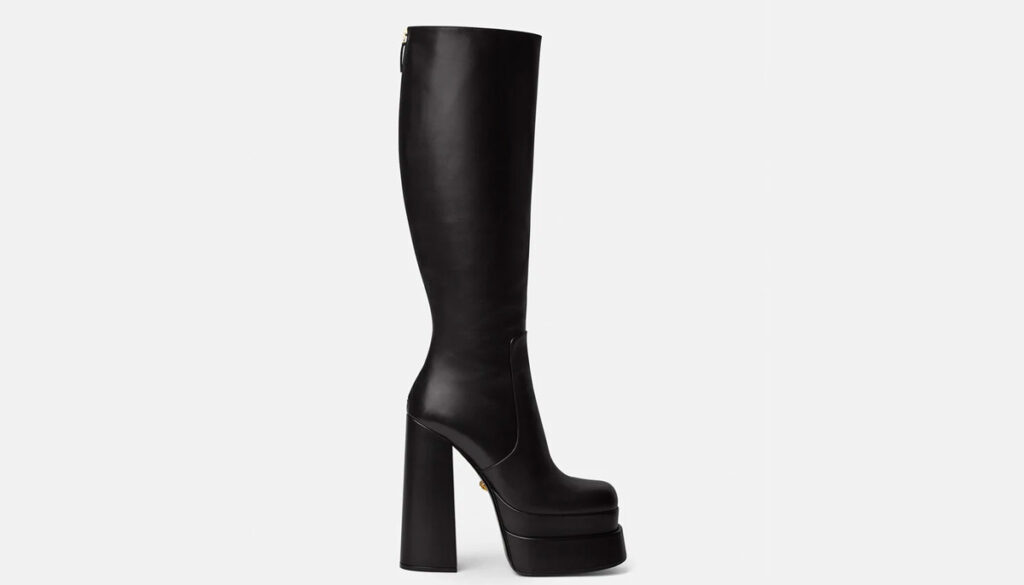 Another modern way to rock the platform look is to get a killer pair of boots. This style from Versace turns the trend into streetwear, while in the past we've mostly seen it at formal events. We love the dramatic height of this otherwise classic boot, which is going for nearly $2,000. Don't worry; there will be countless variations of these designs at affordable prices as the trend grows throughout 2022.
Sporty Sandals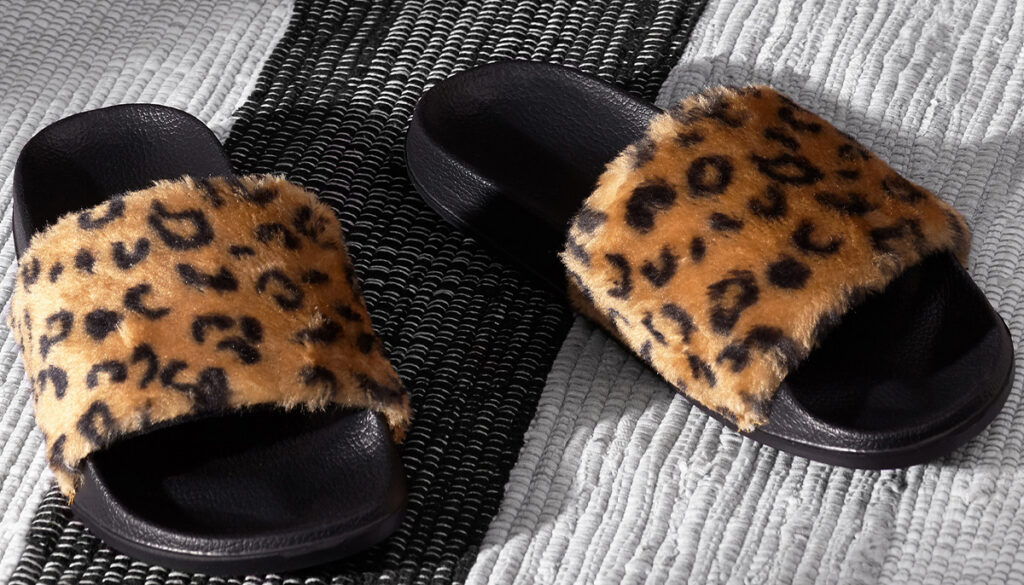 Almost no one needs to wear a platform shoe for function these days. On the other hand, the sporty sandal trend, which is also back in full swing for 2022, is one of the most practical styles you can wear.
Comfortable, cushioned slides like these first arrived in the 1970s, when Adidas aimed to create a breathable shoe for soccer players to wear in between practices and games. The goal was to protect athletes' feet from locker room floors, but the style was so comfortable, designers quickly adapted it for everyday wear. In 2022, expect to see more of this stylish, athletic shoe. Celebrities like Rita Ora, Karlie Kloss, and Kanye West are some of the biggest fans of this trend, and many more have been spotted pairing this simple style with comfy-chic outfits.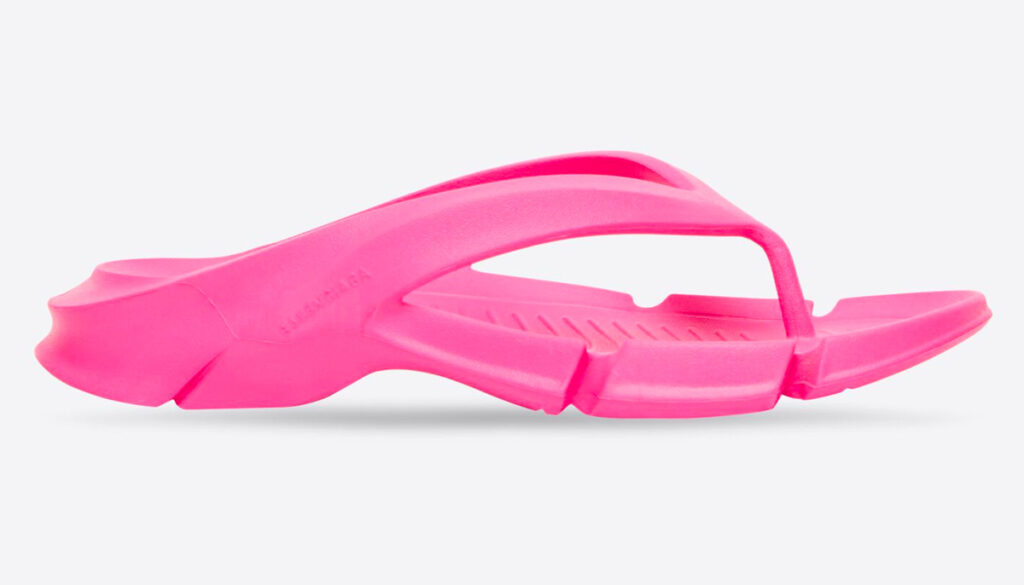 Balenciaga's Mold Thong Sandal is selling for $179 right now. Its design stays true to the athletic form of the original sporty sandal, and the most surprising element of this trend is how minutely designers have been playing with it.
Rather than reinventing the sandal, the biggest fashion houses are keeping forms simple this year, adding intrigue through sleek shapes and color instead. 2022 will not be a year of loud footwear, but more subtle spins on classic styles.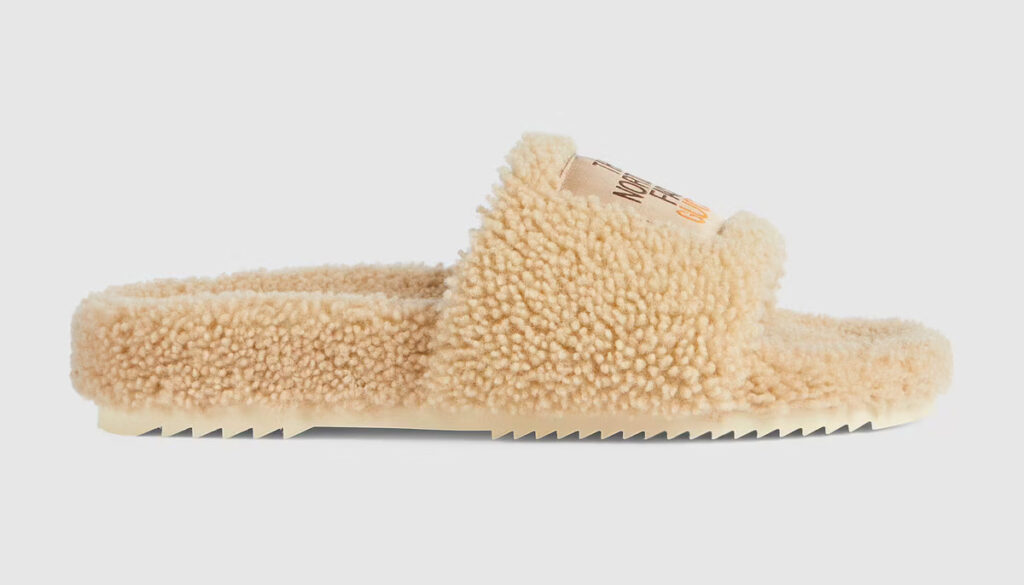 Gucci teamed up with the North Face to create this extra-comfy spin on the classic athletic sandal. The simple design is very on-trend, as basic silhouettes are back in fashion. These two powerhouse brands are selling this look for $890.
This slide also features another big 2022 trend of emphasizing cozier fabrics in the design of your shoe, which we'll talk about in just a bit.
Laces & Straps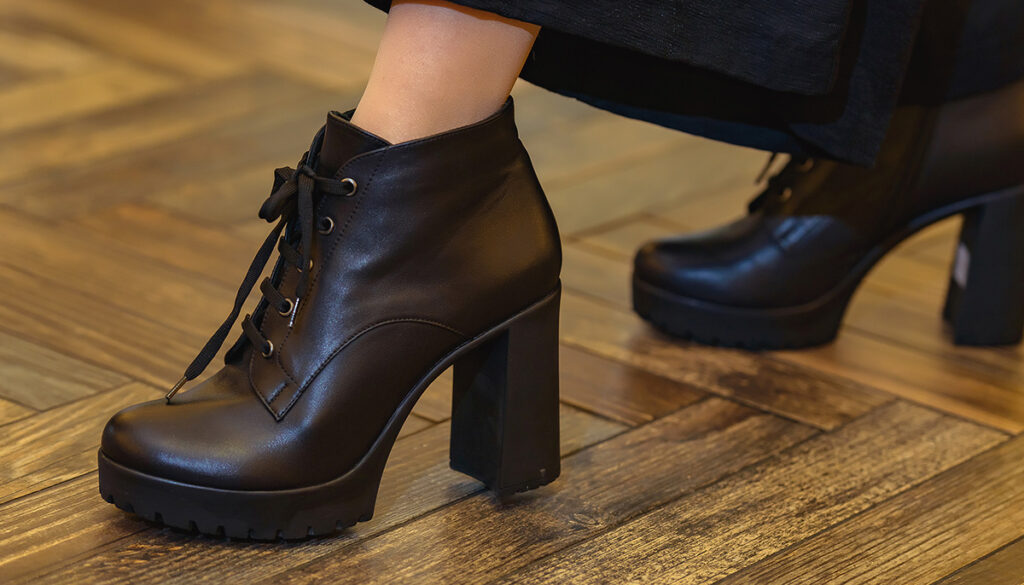 In 2022, footwear is all about that lace. Adorn your feet, ankles, and calves in gorgeous straps that always make a statement. While laces were originally used for function, making them an integral part of a shoe's look is a big trend this year.
This style works especially well in formal wear, as you can really play with your laces when you're attending a fancy event. However, the look is also great for adding some fun to a simple sandal, or, of course, a classic boot.
Steve Madden's take on the emphasized strap in this heel works for all kinds of occasions. You could wear this shoe to a black-tie event, or you could throw it on with a nice pair of jeans to add elegance to a casual outfit. Twist the laces around your ankles and lower shins to create a gorgeous, delicate look.
This particular pair of strappy heels is going for $109.95 from Steve Madden, but almost every designer offers a version of this iconic style. For even more drama, find a heel with laces that wrap all the way to the knee.
Gladiator-style shoes like the ones in this style from Stuart Weitzman offer an even more unique way to accessorize your look from the knee-down. Gladiator shoes, like many other styles, started off as a utilitarian design. The gladiators of Ancient Rome and Greece wore these shoes into battle, but now, the look is a fashion statement.
A shoe like this pairs perfectly with a mini skirt or an elegant shirt dress. It can also work with tights, showcasing your calves without compromising comfort. Stuart Weitzman offers this alluring heel for $550!
Western Wear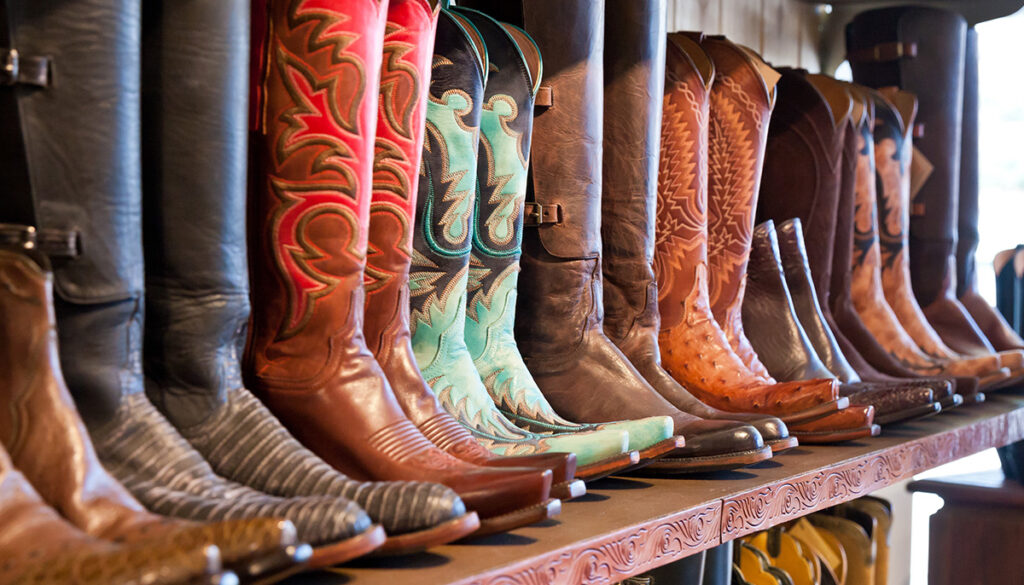 Giddy up! Western wear is back in fashion, and it's one of the most surprising trends we've seen in a while. The look has been making a comeback since the beginning of 2021, and by September, we saw the fad take over TikTok–one of the first places we see the biggest trends make their debut these days.
Now, everyone is getting in on this action, from A-list celebs to legendary fashion designers. This trend might just be the new combat boot, which has been a staple fashion statement for quite a few years now. Like the combat boot, cowboy boots can be stylish and comfortable, perfect for daily use. It seems we're all ready for something new in 2022, and we can't get enough of designers' latest twists on this classic western style.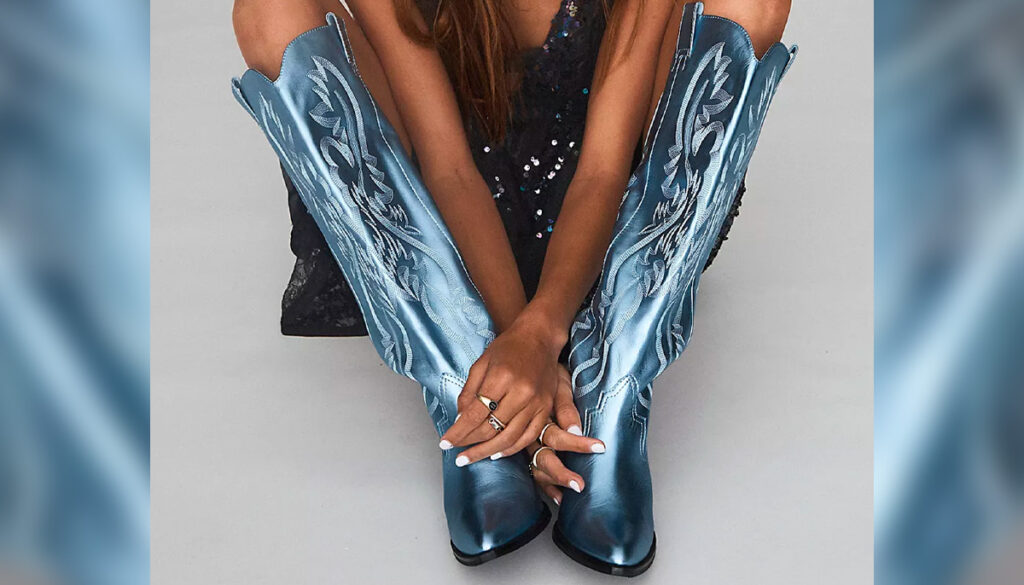 Free People is already selling cowboy boots in bold and unique designs. This shoe from Jeffrey Campbell is called the Finn Tall Western Boot, and it's everything we love about this rising trend.
These $358 boots practically dare you to look away from them! They sit just below the knee, accessorizing your legs in a playful and bold metallic blue. The best part about a nice pair of boots is that they'll likely be pretty comfortable, which is more than we can say for high heels–as much as we love to rock them!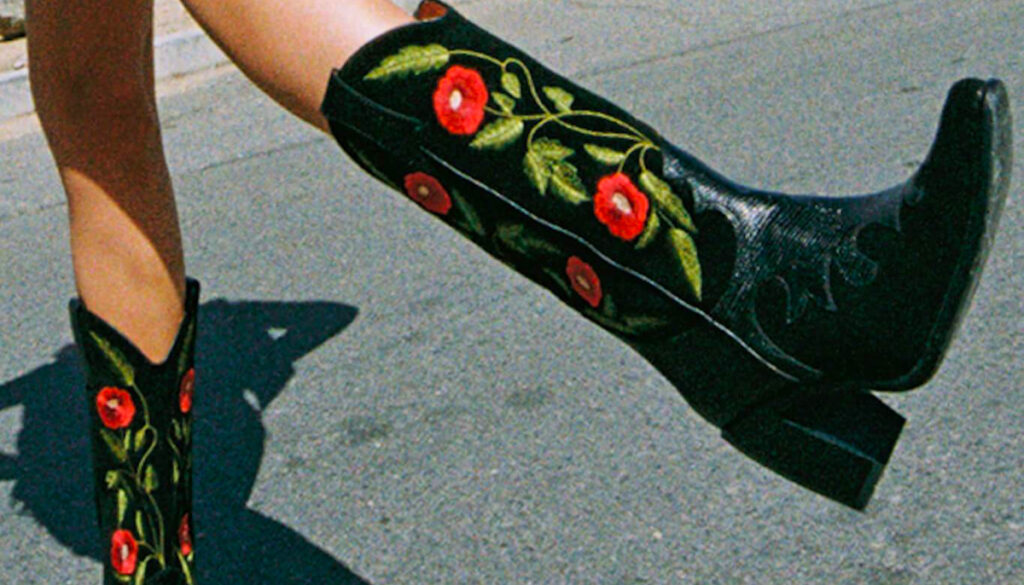 Here's another Jeffrey Campbell design that we just adore. Campbell is absolutely killing it with this trend! The embroidered flower patches are a beautiful addition to the otherwise simple and classic black boot.
This shoe, which is currently going for $355, also comes in a stunning lilac color. Lilac is one of the trendiest hues we'll see in 2022, replacing the popular pinks of the last few years.
Puffy Shoes
Comfort has been king for many years now in fashion. Athleisure has been on the rise since the early 2000s, and with more folks working from home than ever, chic loungewear is all the rage. Now, comfort-inspired styles are being implemented into high-fashion looks for some of the most innovative, fun designs we've seen on the runways this year.
Who says a high heel can't at least look cozy, like this gorgeous design by Stuart Weitzman? Even when you're dressing to the nines, you can envelop your feet in pillowy straps that look and feel amazing. Or, rock this look with a pair of cozy sandals and your favorite pants.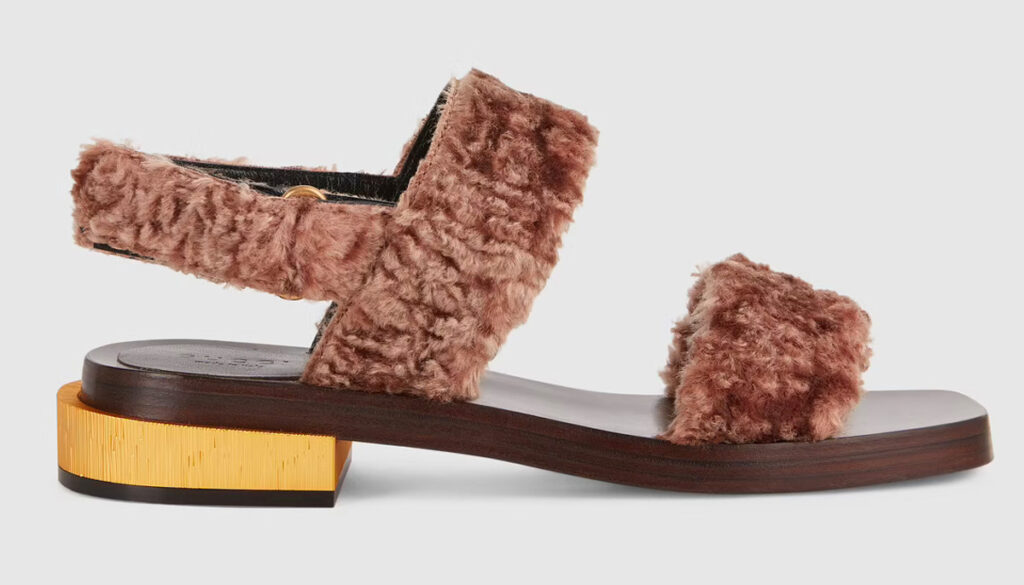 We'll be seeing fur-inspired fluff like this adorning toes everywhere in 2022. If you thought Gucci and other designers were going to limit this style to slides and slippers, think again!
Ski-wear has been rising in popularity for months now, and it's reached the point where this cozy look has been reinvented to fit every type of accessory–why not shoes, too? These stylish, adorable sandals are currently selling for $850.
The puffy shoe can also be very avant-garde. This $160 style from the Vicenza line, for example, is almost futuristic. The unique design of the sole balances the puffy toe strap, and the yellow color looks great peeking out beneath a pair of sleek pants. Or, take this look out at night with a dazzling dress. The puffy style can transition from day to night with ease all year long.