While it's nice to get pampered at the salon, an at-home manicure is a great way to treat yourself. Whether you're looking for a bargain drugstore brand, a trendy indie polish, or a decadent luxury lacquer, there's a nail polish out there for everyone.
Best Everyday Brand: Essie
You know Essie. You probably own at least one bottle of this long-time drugstore staple right now. (But one more wouldn't hurt, right?) At this price point, you can't beat the range of colors and durability.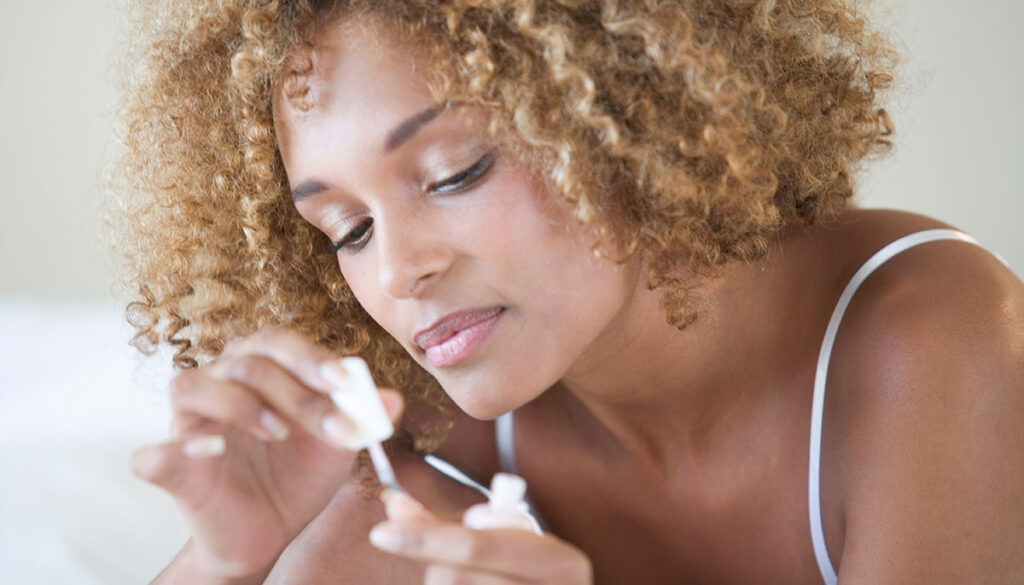 Fun Fact: Queen Elizabeth's favorite nail polish color is said to be Essie's "ballet slippers." It's a barely-there shell pink color—think your natural nails, but better.
Best Range of Colors: OPI
OPI has been around forever, and its range of classic, trendy, and sometimes downright odd shades is second to none. This spring, the brand partnered with Xbox for a capsule collection of game-inspired nail colors with names like "You Had Me at Halo" and "Achievement Unlocked."
There's a good chance that you'll find a color that speaks to your heart—or at least matches your new outfit—with OPI. Best of all, you can buy it pretty much anywhere.
Best Base Coat: butter London Horse Power
The perfect base coat protects and strengthens your nails, provides a smooth surface for polish, and extends the life of your manicure. That's a tall order, but butter LONDON Horse Power Nail Rescue does a fantastic job. Unlike many strengthening base coats, this product does not contain formaldehyde. That's really important for the health of your nails because formaldehyde can eventually make your nails brittle and more prone to breaking over time. Horse Power contains biotin, vitamin B, and horsetail extract (which comes from a plant; all butter LONDON products are cruelty-free).
Reviewers on Amazon especially like Horse Power for repairing nails that have been damaged by too many gel manicures.
Best Top Coat: Seche Vite
So you've found the perfect base coat—but what about the top coat? For that, there's just one brand that'll do. Seche Vite's legendary top coat dries fast and bonds to your nail color, ensuring a long-lasting, chip-free manicure. It's ultra-glossy and easy to use at home—and did I mention that it's cheap, too? Seche Vite's Dry Fast Top Coat has been made in the USA since its debut in 1991 and consistently wins awards from top beauty magazines.
The only downside is that this product does contain toluene, so if you're looking for a top coat that's free from potentially harmful chemicals, you should try a different brand.
Best Home Gel Mani: Sally Hansen's Miracle Gel
If you want a gel manicure without going to the salon or buying a UV light to cure the polish, then Sally Hansen's Miracle Gel is the next best thing. That's not a dig on our girl Sally; the website literally says that their polish is the next best thing to a salon gel manicure.
Available in a generous range of colors and sold at drugstores everywhere, Sally Hansen's Miracle Gel is a great way to try out a gel manicure for less than $20. Apply it is a two-step process, so don't forget to buy both the nail color and the activating top coat.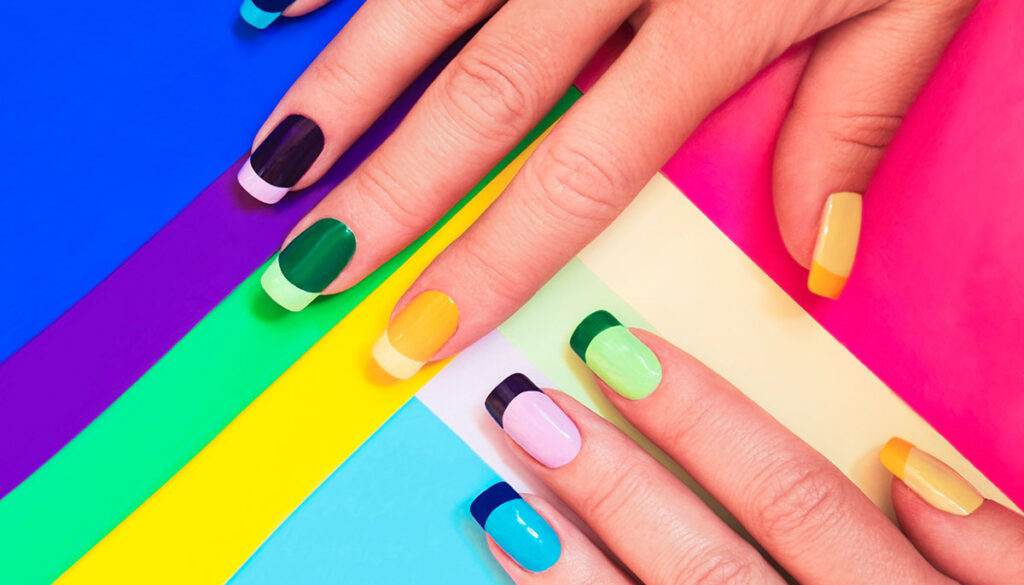 Kindest Nail Polish: NAILS.INC 73% Plant Power
If you're in the market for cruelty-free, plant-based nail polish, you can't do better than NAILS.INC. Their 73% Plant Power polish is free from 23 of the most common bad-for-you, bad-for-the-planet ingredients. I've seen plenty of 7-free or 10-free polishes on the market recently, but only one 23-free! This polish is vegan, cruelty-free, and halal-friendly, too.
Best Designer Polish: Chanel
Sometimes, you just want to indulge yourself in a little luxury. It doesn't get more classic than Chanel, and their line of Le Vernis Longwear Nail Colour comes in a variety of tres chic shades. You won't find glitter flakes or neon here, but there's more than just nudes and reds. That being said, you can't go wrong with the iconic Rouge Puissant—literally, "strong red." Naturally, Chanel is a little pricier than your average drugstore polish at $30 a bottle. But aren't your nails worth it?
Best Long-Wear Polish: Deborah Lippmann
Every nail polish brand claims that it's long-lasting, but how many can truly go the distance? Deborah Lippmann Gel Lab Pro nail polishes offer robust coverage and a chip-free finish. They promise "the gloss and cushion of a gel manicure without the nail damage," which sounds pretty good to me. If that wasn't enough, the polish is formulated with vegan-friendly carnauba wax, bamboo, and an array of extracts and additives that are great for your nails:
Evening Primrose
Keratin
Biotin
Green Tea Extra
Aucoumea (a type of tropical tree)
Rice Protein
Best Bottle: Mischo Beauty
Allure awarded Mischo Beauty's nail polish back-to-back Best of Beauty Awards in 2020 and 2021, and it landed on the list of Oprah's Favorite Things in 2021. It's not hard to see why! Not only is this a great all-around nail polish, but the packaging is the chicest thing I've seen in a long time. Unlike your standard polish bottle, Mischo's nail lacquer is topped with a golden ball that makes it look like something from an Old Hollywood star's dressing table. Be warned that the most popular shades tend to sell out quickly!
Read More: Bizarre and Dangerous Beauty Trends from the Past
Best Glitter Nail Polish: Smith & Cult
You want glitter polish that won't flake the minute you put it on? Check out Smith & Cult's line of trendy, pop-culture-inspired polishes. Every polish has a story to tell. A Little Lovely, for example, was inspired by a child's fairy-themed birthday party, and the result is a mix of baby pink and platinum glitter that's playful without being overly middle school.
Smith & Cult's 8-free formula contains no dibutyl phthalate, toluene, formaldehyde, formaldehyde resin, camphor, xylene, ethyl tosylamide, or triphenyl phosphate. In short, they have a "no nasties" policy.
Best Celebrity Brand: JINsoon
After building a reputation as one of the biggest nail artists in the world, Jin Soon Choi developed her own line of nail polishes in 2012. The Nail Guru of NYC has come a long way since she bicycled between clients, having opened a number of celebrity-friendly spas in New York. If you want a manicure that rivals the ones you see in fashion magazines, then go with the polish developed by the go-to artist for photoshoots and fashion shows.
Best Polish for Darker Skin Tones: People of Color
It isn't always easy to find a nail polish that flatters black and brown skin tones. When "nude" is pale pink by default, a lot of folks get left out. People of Color is designed for, well, people of color. The bold shades are designed to be noticed and celebrate the culture of the people who wear them.
"It is our mission to celebrate and represent people of color through our nail polish collections and the stories that they tell," the brand promises. "We want our tribe to know that our brand celebrates them and their beauty. People of Color. You are us. We are you."
Best Luxury Polish: Hermès
Hermès is a name synonymous with timeless elegance. Like a silk scarf for your hands, the fabled French brand offers just 18 shades of fashionable nail enamel. You'll find the expected shades of pink and red, but also Vert Égyptien (a malachite green), Jaune Impérial (royal yellow), Blue Encre (navy blue), and Violet Byzantin (deep plum). If you're lucky enough to own an Hermès bag, you can coordinate your mani to match. At $45 a bottle, these polishes are pricey but worth it.
Best Manicure in a Box: Olive & June
Olive & June makes trendy, adorable, and inclusive nail polishes, but they've stepped up their game even more with their Mani System. Starting at just $55, you'll get your choice of their award-winning nail polish colors plus a limited edition color, the Super Glossy Top Coat, cuticle serum with cactus flower, and an acetone-free polish remover pot.
If that's not enough, you'll also get a suite of nail care tools, including a precise cleanup brush, and a super cute floral cast to store it all in. O&J also offers video tutorials for learning how to give yourself salon-quality manicures at home. It's not just nail polish—it's self-care.
Best Splurge: Christian Louboutin
If you've got an extra $50 and a powerful desire to pamper yourself, then you might need Christian Louboutin's nail polish in your life. It's packaged in a faceted glass bottle with a wickedly spiked brush that's reminiscent of a towering stiletto. The colors are inspired by Louboutin's iconic heels, too, with richly pigmented formulas that deliver a glossy shine. In fact, the first color released in 2014 was the same shade of red nail polish that Louboutin famously used to paint the soles of his shoes, so the fashion story has come full circle.
This is absolutely the most indulgent polish on our list, and it's certainly not going to be the product of choice for most people's everyday mani. The towering bottle is meant to be displayed, not stashed in a drawer with the rest of your nail polish. As a statement piece, it's breathtaking.